7 Best Corporate Leather Gift Ideas for Employees
The year 2020 has affected individuals not only personally, but professionally. Many employees have had to adjust to new policies and guidelines, hours were spent adjusting goals and strategies, and the stress was often overbearing. 
Leather goods and accessories are a great way to show your employees that you appreciate all the work they have put in the past year. Genuine leather products are typically made of high quality materials, last for years, and are timeless. They are also durable and can handle being transported to and from the office. Additionally, leather goods are easy to customize, reminding your employees who the gift came from, increasing engagement levels, and showing that your company believes each employee deserves only the very best. 
To help you save a little time, we've generated a list of seven of our favorite leather gift ideas for employees. 
It is important that your employees are not only organized, but that they appear professional as well. The Cutter & Buck® Bainbridge Zippered padfolio is the solution. This leather padfolio has a unique design and many features for your employees to keep all of their most important supplies in one place. The padfolio features a gusseted document pocket, expanding the volume of items each employee carries. A phone holder pocket makes it easy to grab a mobile device when needed, and USB loops and pen loops allow you to have a charging cord and writing utensils readily available at all times. 
The Cutter and Buck® brand doesn't skimp on quality and your employees will receive genuine brown leather. You can personalize the front pocket with the artwork of your choosing, such as your company logo. This zippered padfolio includes an 8.5" x 11" writing pad and will be packaged in a Cutter & Buck® gift box. 
---
Today, more individuals than ever are spending time working from home. This can create a challenge for individuals who need to transfer documents and projects from one computer to the next. A leather USB flash drive is not only a wonderful corporate leather gift idea for employees, but it can be used by individuals regardless of their position, job title, and the type of work being completed. 
This USB flash drive features a leather casing with the color of your choosing — black, brown, red, and white color options are available. The flash drive features a metal closure loop, to prevent damage to the drive, protecting all important documents and files. Additionally, you can have fun with the customization of this device by screen printing or laser engraving artwork on the front or the back of the drive. You also have the option to upload data, attach a key ring, include a lanyard, and present it to your employees in gorgeous custom packaging. 
The capacity of the drive is also your choice and it can range from 64MB to a large 32GB. 
---
As you consider corporate leather gift ideas for employees, do not overlook the Gioia II Double Wine Carrier. This unique carrier features a rich, black leather exterior that you can personalize with your logo on the center of the item. 
The interior of this wine carrier is padded and insulated, keeping your wine cool even if you travel quite a distance before you open the bottle. Plus, the folding separator inside prevents bottles from clinking as you travel.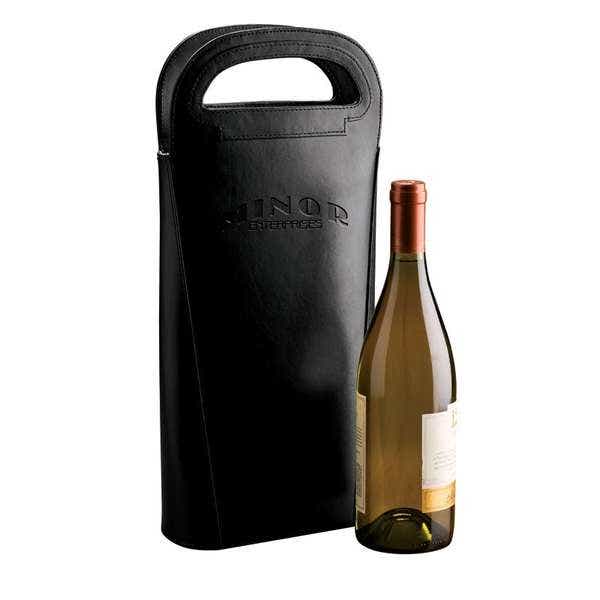 ---
Whether your employees sit at their desks and listen to music or they pop in their earbuds the minute they head out for the day — a leather AirPods case will not only be appreciated but frequently used. This case is made with real leather, which protects all components from your wireless charging case to each individual earbud. This leather case features an opening on the bottom of the case, making it easy to plug in a charging cord and power up the headphones.
With these leather AirPods cases, personalization is extensive and easy to complete. You can choose from five different colors: black, blue, brown, orange, and yellow. Your logo or other artwork can be laser engraved on the front of the case, reminding your employees of your business and their role in the company every time they go to listen to a new playlist or begin their favorite podcast. 
---
If you are looking for a gift that shows you care, this Westbridge Two-Tone RFID Leather Money Clip/Card Case is ideal. This case is made from genuine, full-grain leather. It also features built-in RFID protection to prevent unwanted access to your credit card information, keeping your identity safe. 
This product also boasts a two-tone design — you can choose between a black and tan or brown and tan design. The logo or artwork of your choice can be placed on the front of the product with the artwork heat pressed onto the card case, giving it a classic, professional look. 
Your employees will love this gift as it can go with them everywhere. It is large enough to hold 10 credit cards at once and it is the perfect size to slide right into a back pocket. This Westbridge money clip comes in a gorgeous gift box so you'll have little preparation to do before giving this to your entire team. 
---
No matter if your employees are on the other side of the world or are heading on a vacation close to home, a Barrington Wickham Luggage Tag will remind them of your company and their job at home. This classy luggage tag is made from Milan or Florentine leather and will look excellent on any suitcase or duffel bag. 
The durability of the leather helps this tag withstand being transported far distances, and a leather strap ensures you won't lose the luggage tag in transit. Additionally, a clear leather pouch is located on the side of this tag, making the luggage easy to claim. 
Many customization opportunities are available with this product as your design can be heat-pressed on one side of the tag. This product is available in brown or black leather. 
---
As you sort through leather gift ideas for employees, you'll want to find an item that your recipients use often, both in and out of the office. You also want to consider a product that your employees likely won't buy for themselves but will bring lots of joy, and make their lives a little easier. The Solo® Bayside Leather Duffel offers all of this and much more. 
This item is the ultimate travel bag. It is made from stunning grain pebble leather and it boasts a twill camouflage lining. This bag is designed to make your employees' life easier and much more organized with a fully-padded laptop compartment, internal tablet pocket, and two large zipper compartments for papers, books, and other important items. The front of the bag features two large pockets as well as a third zippered pocket with a key clip. 
Your employees will be able to take this bag on business trips, or just bring it in and out of the office with ease. It features a removable 53-inch shoulder strap and padded carry handles. The zippers are made with metal hardware, increasing durability and ensuring this bag lasts for years to come. 
To remind your employees of your company and how much you appreciate all of their hard work, you can customize the front left pocket. You can place a 3-inch tall by 3-inch wide logo on the pocket, which is large enough that the artwork is easily seen but is not too overbearing that it takes away the professional, stylish appearance of the bag. 
---
Whether you are searching for the ideal gift to show your employees appreciation, to recognize a certain accomplishment, or you are looking for the perfect holiday gift idea, customization will take your gift to the next level. Our selection of leather gift ideas for employees will help you give a professional, well-loved, and highly-used gift. At iPromo, we will make gift-giving a simple, yet exciting adventure — no matter the occasion or time of year.