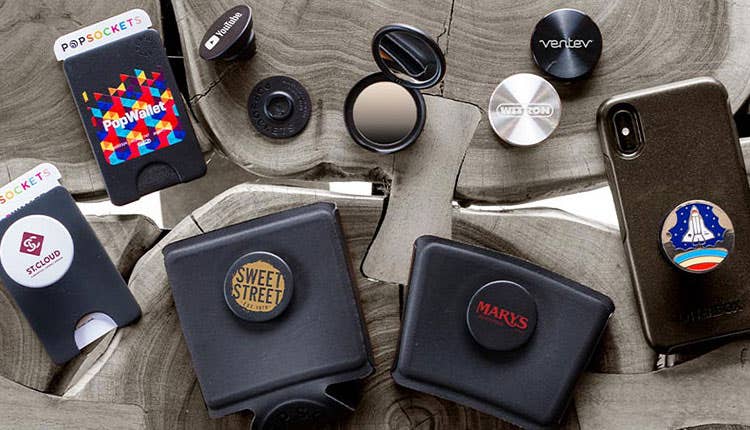 The Best Guide to PopSockets for 2022 – Not Just a Phone Grip
PopWallets, PopGrips, Pop Socket Mounts, PopTops, PopMirrors, and PopThirsts – the different PopSocket lines can get confusing fast, especially if you want to add the customization and personalization to the mix.
What are PopSockets and why are they the most popular mobile accessory in the world and consistently top the best selling charts at Amazon, Walmart, Best Buy, and even Target? PopSockets released so many new PopSockets products in the past year that it can sometimes feel a bit intimidating to try to navigate the complete selection. Let's start at square 1:
PopSockets 101
Tired of Dropping Your Phone? You're Not Alone
Even people who have been living under a rock this past year might still find it hard not to notice that everybody seems to be rocking circular disks on the back of their phones.
While the rapid proliferation of PopSockets themselves might be hard to ignore, one thing that might leave the uninitiated scratching their heads is the question of what purpose these disks might possibly serve, aside from looking good, that is!
Well, anybody who has ever owned a smartphone has probably more than once gone through the very jarring experience of feeling it slide out of their hands and land on the ground below with a sickening thud (or crack). It is also highly likely that at least some of these times, that screen has also become smashed or damaged, and this generally is not a cheap fix.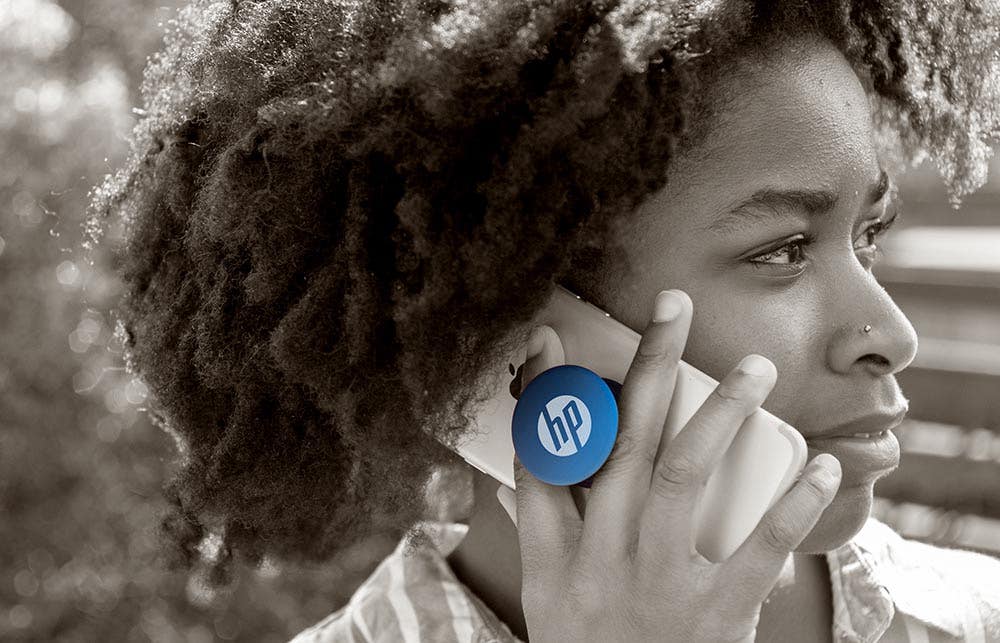 Of course, there are high-tech protective cases that people can buy to keep their phones safe, however, this is really only a band-aid solution since these cases do little to prevent people from dropping their phones in the first place. This can be a major problem since phones don't always land safely at peoples' feet when they fall.
Suffice it to say that more than a few smartphones have met a premature end by being dropped in water, from a high surface, into cracks or gutters, or even just ending up victim to a particularly hard hit that even the most expensive cases can't protect them from.
Basically, the root of the problem here is that smartphones are just so easy to drop, and protective cases can do very little to prevent that from happening. This has indeed become an especially pressing issue in recent years as newer models tend to favor larger screens, and while a bigger screen certainly goes a long way to enhancing the functionality of the phone itself, it hardly makes it easier to hold.
In addition, should anybody switch up their phone model, they will likewise expect to have to shell out for a brand new case as well, and cases, or at least ones that really work, tend to be costly, and often do little to enhance the look of the phone itself. 
PopSockets to the Rescue!
Now, this is where custom PopSockets comes in with a genius solution to save the day. PopSockets are basically round disks that attach to the back of the phone. The original model involves a plastic circle that is designed to attach easily to either the back of a smartphone or smartphone case via a surprisingly strong and fully removable gel adhesive. This is called a PopGrip, and one PopGrip can easily hold a variety of different PopTops.
While a Popsocket might simply look like a simple disk when not in use, this disk is built to extend outwards like a little accordion when pulled. Two pops later, and you have a fully functional hand-grip that allows people to slip their fingers between the custom PopTop and the phone, thus ensuring a tighter, more secure grip that makes the phone much easier to hold onto and much more difficult to drop.
---

---
Even better, a branded PopTop will also double as media stands for phones or tablets alike, and can also be lowered to work for video chats, not to mention the fact that they make for a great selfie-facilitator to boot.
The PopSocket was also actually originally designed to keep accessory cords in order, and that it does, especially when paired up or gifted in this nifty PopMini format that allows you to cash in on three tiny PopSockets PopGrips for the price of one.
Meanwhile, the intuitive design means that it folds back on itself when not in use, so much so that it is barely noticeable at all! Even better, they are designed to be easy to remove or reposition so that nobody has to worry about making any type of long-term commitment. The PopTop portion is particularly easy to switch up, and can effortlessly be switched out for different designs at a user's leisure, meaning that it is super easy to switch it up and customize PopSockets for different occasions. It also means that the more promotional PopSockets a person owns the merrier!
Of course, this is great news given that there is such an amazing selection of PopSockets to choose from.
In addition to the original design that first took the world by storm, we also carry a full range of unique looks and feels that will allow your product design to stand out from the pack. These super popular Aluminum PopSockets come in your choice of seven fun color picks to perfectly offset your stunning precision laser-engraved design, while users can enjoy the lightweight feel and inherent durability, not to mention sleek look or aluminum under their fingers.
For those looking to create a more minimalist, contemporary or natural look, offsetting their stunning laser-engraved design with these Wood PopSockets in Rosewood or Bamboo is the way to go, while these Diamond Aluminum PopSockets are the perfect way to create a futuristic yet upscale vibe.
Of course, speaking of upscale, don't sleep on these uber-classy Vegan Leather PopSockets in black or brown that are just as trendy as they are understated, while these Iridescent PopSockets are likewise super hot right now, and a great way to make sure that your branded logo design really steals the show.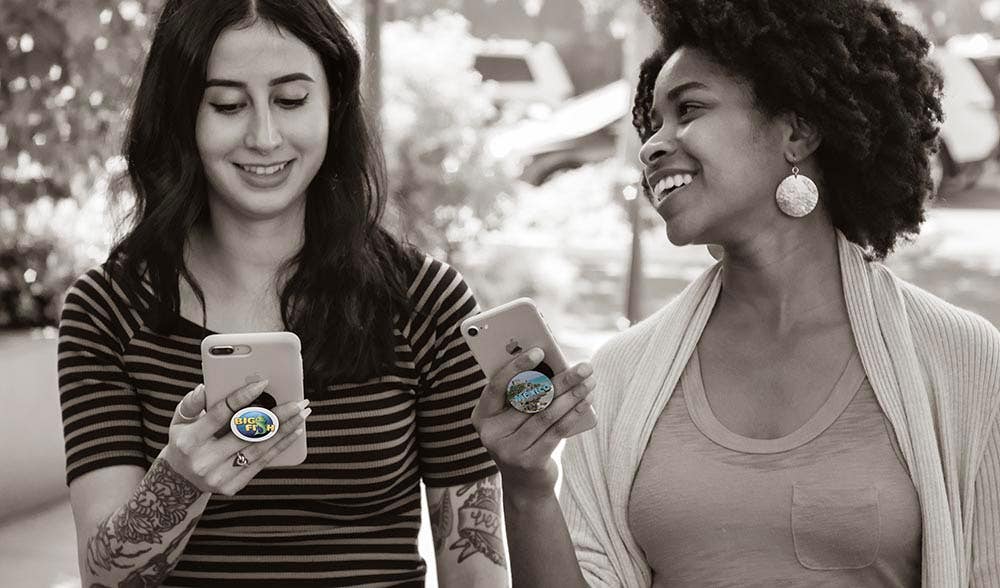 Getting the Party Started
PopSockets actually came into being when an enterprising philosophy professor named David Barnett decided he had had it with tangled earbud wires, and picked up two giant cloth buttons to glue to the back of his iPhone3Gs.
Well, suffice it to say the concept stuck, and after a perfecting his invention to be the ultimate solution to all of his smartphone-related woes, 12 prototypes later, he finally released his first Kickstarter campaign back in 2012.
After he lost his home in the Colorado wildfires, he used his insurance money to really get the ball rolling, and from that point on, the rest is history.
Since he first started distributing about 30,000 PopSockets out of his garage back in 2014, times have changed, the founder, creator and Chairman of the Board now had just shy of 160 employees from across the globe working to distribute no less than 40 million products to 40 countries around the world, and is just in the past year alone. Popsockets have since sold 35 million units and are expected to sell over 60 million in sales in the years to come.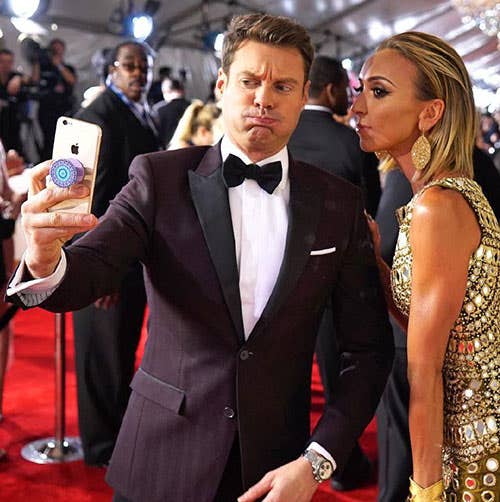 PopSocket fans are so grateful to have an affordable and accessible product that can function as a phone stand, cord holder, and finger grip all-in-one that Barnett even reports receiving fan mail on a regular basis. Talk about a winning idea!
So how can you encourage your clients and employees to join in the phenomenon? Sometimes, getting people to try your product can be the best marketing in itself. According to Marble Head Marketing, PopSockets are hot right now, and for good reason!
They are an extremely functional tool for the one thing that most people never leave home without your mobile phone.
Your branding and/or messaging is front and center. A lot!
They're relatively inexpensive.
They are also light enough to "pop" in an envelope and mail and thus can make a great promo incentive for online marketing campaigns. 
However, when it comes to getting your PopSockets on the back of everybody's phone, you could also take a page from David Barnett himself, who decided to use social media to grow the business.
In an interview with Daily Camera, David's partner Tom Croke pointed out that, "social media is a huge driving force for their sales. They did a marketing partnership with YouTube star, Jenna Marbles, where she designed her own line and followed up with a partnership with another YouTube star, CutiePie."
The cool thing about PopSockets is that they are just so customizable, and this means that it is easy to team up with big stars to design a specific influencer line that can be used to tap into an already loyal follower base, and if it worked for David Barnett, it can work for you too!
---
---
A Versatile Branded Gift That Keeps on Giving
Obviously, there are a lot of reasons that Popsockets are all the rage these days. When it all comes down to it, one of the coolest things about promotional PopSockets has really got to be the amazingly affordable price point. As such they make for the perfect gift or giveaway for almost any budget or occasion.
The fact that tends to cost a fraction of the price that a buyer could expect to shell out for a high-quality phone case means that PopSockets are the type of thing that everybody wants to get their hands on these days, and justifiably so!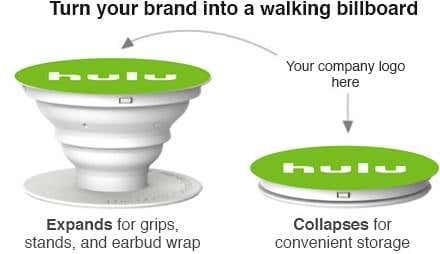 That said, when it comes to promotional product advertising, Popsockets are not only the type of affordable gift that will appeal to almost anybody, but there are also are a highly effective way to get your name noticed. The 1.53-inch diameter disk of the classic PopSocket design is not only highly visible but also a perfect, unobstructed canvas for your one-of-a-kind custom color logo design.
Wholesale PopSockets basically work like a mini-billboard for your branded message, whatever that may be, and the fact that they are literally designed to stick out means that your logo design will be hard not to notice! The fact that people take their smartphones everywhere and anywhere these days means that you get the opportunity to drum up endless positive impressions when you seize the opportunity to customize PopSockets to spread a one-of-a-kind message. Talk about smart advertising!
Of course, as an added bonus, you can't go wrong when you choose to co-brand with one of the top tech-accessory brands that everybody knows and loves, and as such, it should come as no surprise that PopSockets have continued to sweep the competition as the best-selling phone accessory, a title which these one-of-a-kind custom products have now held for several years, and with more and more amazing PopSockets products continually being added to our selection, that trend is not likely to let up any time soon!
So what new products are we alluding to here, and how do they differ from the original PopSocket design? Read on to find out more!
Don't Forget to Level Up Your Marketing Game With These Must-Have Custom Pop-Socket Accessories
Okay, so now you know the basics. But here's the thing. Since PopSockets originally hit the market back in 2014, the company has continued to push the capabilities of this amazing invention even further by offering a full range of custom accessories to complement their one-of-a-kind invention. 
This is great news for anybody who is looking for a great way to take that trade show giveaway, employee gift or promotional event to a whole new level. Basically, these must-have PopSocket accessories are the perfect way to ensure that your promotional campaign really hits home by offering your clients and employee even more ways to maximize the use-value of their promotional PopSockets while you ensure that you maximize your exposure.
Win-win!
So the question becomes, what accessories and components are available to help your bulb PopSockets marketing campaign really stand out from the pack?
The Essential Branded PopSockets Glossary
To help sum it all up and differentiate between all these cool PopSockets products, their accessories, what they do and what they can do for you, we have assembled a handy little glossary of all the PopSocket terminology and must-have accessories that you need to know to really the promotional giveaway party this year.
Custom PopSockets
This is not only the official company name behind the innovative tech and beverage accessories like the PopSockets Grip, PopThirst and all the genius variations and accessories that can enhance these one-of-a-kind products.

It is also the moniker of the product that started it all, the Classic PopSocket PopGrip, which is a PopGrip paired with a customized swappable plastic PopTop that makes this product all your own. 
PopGrip
The PopGrip, otherwise known as the PopSocket PopGrip or sometimes just PopSocket for short, is really the heart and soul of the PopSocket brand. Basically, it is that classic circular expanding tube that started it all.
This smartphone grip that sticks to the back of your device using a reusable, repositionable gel adhesive. Once extended, it becomes a media stand and grip, making it easier to text one-handed, snap a selfie, organize your accessory cords or stand up your phone or tablet for easy usage. The accordion design allows it to fold flat, so your smartphone will still fit in your pocket.
That said, when it comes to nailing the trends, why not hit two birds with one stone by gifting this Backspin PopSockets Grip. When it comes to combining the meditative enjoyment of fidget toys with a winning promotional product that is taking the world by storm, there is really no way to go wrong. This groundbreaking custom Popsocket is actually equipped with a ball bearing that allows for endless spinning enjoyment, not to mention super easy cord wrapping capabilities.
The sleek, eye-catching PopTop Design is available in black or silver and is a great way to lend a futuristic and sophisticated air to this already amazing product.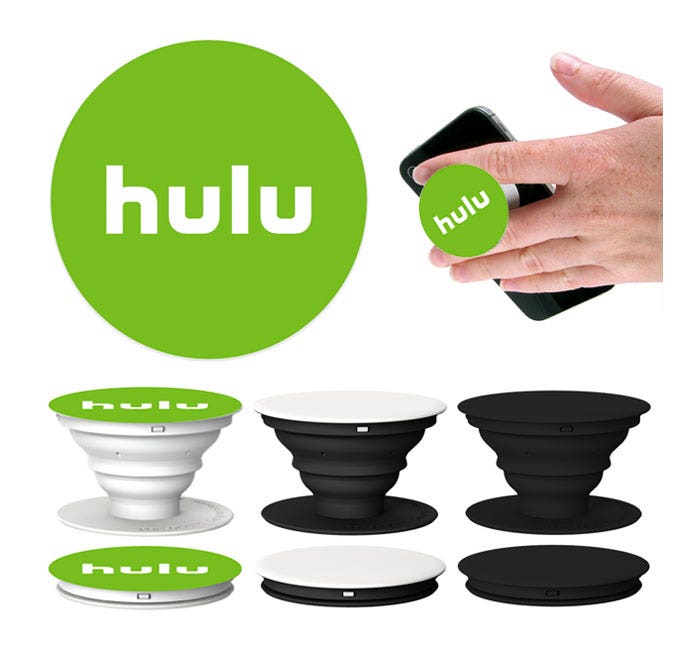 ---
PopTop
PopGrips are paired with PopTops, which are essentially the design component, and the integral part of the PopSocket that allows for your branded logo design to take center stage.
This is also why any PopSocket fanatics on your list are sure to appreciate this PopSockets Swappable PopGrip. Basically, this easy-to-swap out grip offers all the same functionality and perks of the much-beloved Classic PopSockets Grip, and sticks flat to the back of your phone with a repositionable gel. Even better, when paired with your choice of any of the cool PopTop products listed above, it likewise still be extended to become a media stand and grip, making it easier to text with one hand, snap photos, and watch videos hands-free.
Of course, all this comes with the added benefit of making it easier for your clients to rock a whole family of your branded PopSockets products with ease. This product also makes it a breeze to pop off the PopTop so that you can cash in on all those great custom Qi Wireless Charging products with absolutely no muss and no fuss as well.
This nifty upgrade product is available in black, light gray and white and comes complete with a PopTop attachment boasting your laser engraved branded logo design so your clients can start their collection today.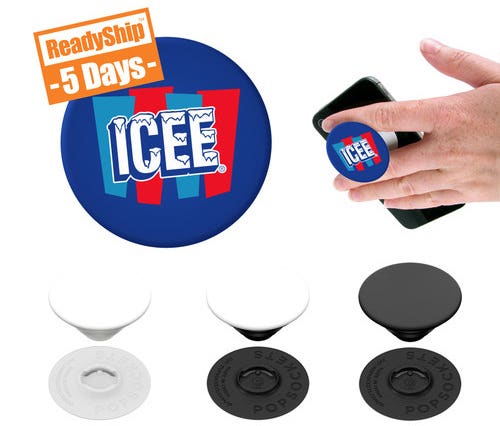 ---
PopMirror
Looking for a smart way to double up on functionality and really get people talking? The PopMirror features a custom PopGrip but with a top that pops up and opens to reveal a nifty double-sided mirror.
Forget scrambling to find a bathroom to check your look on this fly. The top mirror provides standard reflection and collapses flat while the base mirror offers 2x magnification for a closer look, so who said anything about asking questions to a mirror, mirror on the wall when you have everything you need to check your reflection whenever and wherever you literally at the tip of your fingertips.
After all, multi-functional tech gadgets are all the rage this year, so why not make sure that your clients and employees can really make the most of your next campaign.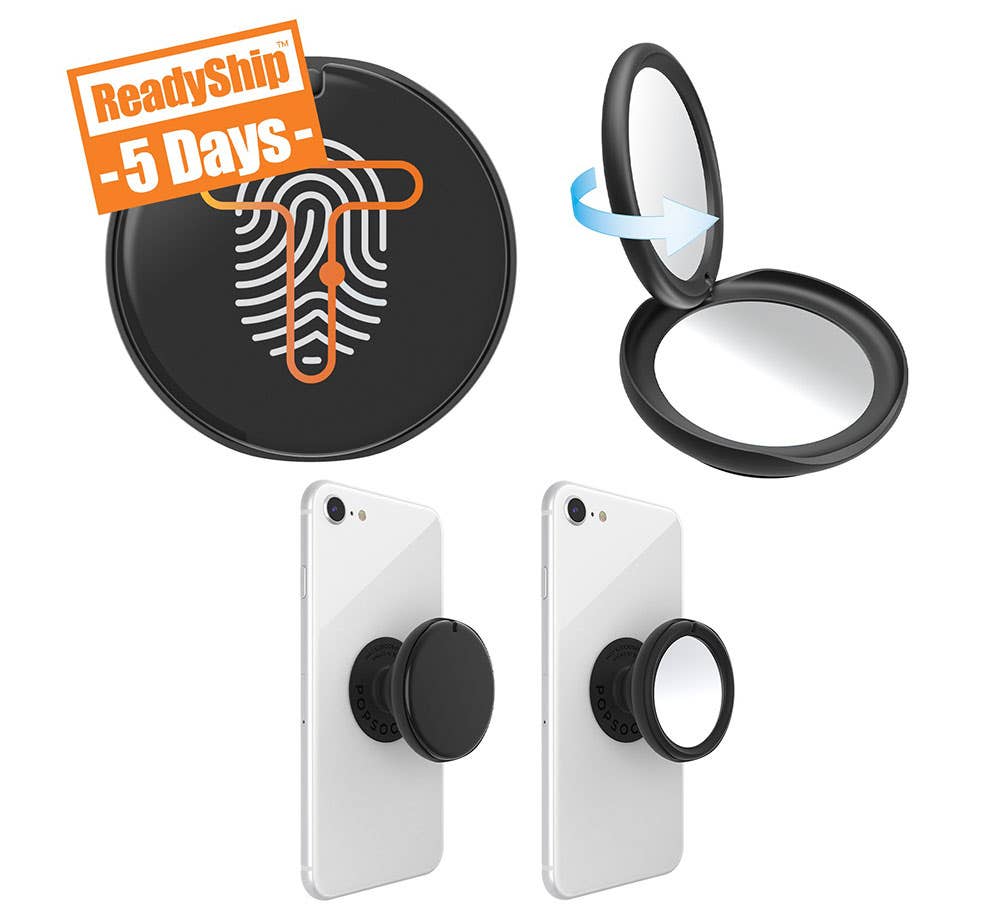 ---
PopThirst
The PopThirst basically takes the removable, extendable grip technology that the custom PopSocket PopGrip has become famous for to create a super convenient beverage holder.
The PopThirst Can Holder will keep cold beverages cold and in your hand where they belong while mobilizing integrated, swappable PopGrip technology for portable, foldable convenience on the fly. If it is designed with a non-slip foam material to prevent hand slippage and features a unique compact design collapses flat for no-fuss pocketability and storage, all with your one of a kind branded label sticking out for everybody to see in your choice of black or white.
Likewise, the PopThirst Cup Sleeve is the best way to hold your beverage, keep it cozy, and avoid scalding burns when you use a custom PopSleeve that is backed by custom PopSocket technology. With your stunning screen printed logo design of your choice offset front and center on your choice of a black or white background, this product is a surefire way to impress, not to mention get people talking!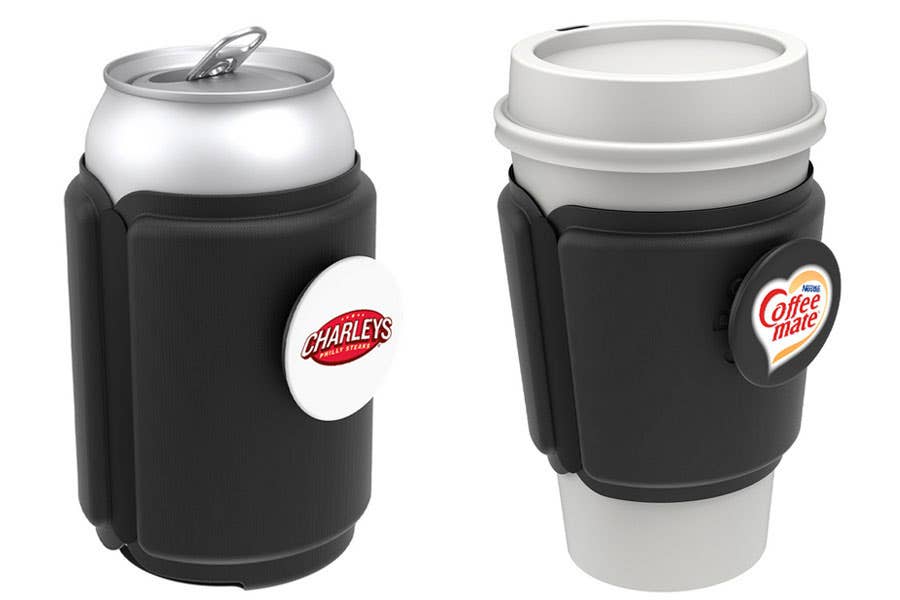 ---
PopWallet
PopWallets are a mobile wallet made by PopSockets and provide you with a killer co-branding opportunity that allows you to pair up with one of the most in-demand names in mobile accessories while cashing in on one of the hottest tech trends of the year. 
One of the coolest things about a PopWallet is that it mobilizes the innovative, removable, repositionable gel technology behind PopSockets to allow users to leave that bulky wallet behind and keep up to 3 credit cards or 6 business cards on the back of their phone.  The PopWallet can easily be removed from the base by simply pushing the top left corner and sliding right, allowing users to seamlessly support wireless charging compatibility.
Even better, unlike a standard phone wallet, PopWallet+ Lite is literally designed to work hand in hand with a PopSockets Grip for the ultimate combination. The silicone wallet includes a built-in PopSockets¨ Grip that extends to become a media stand and grip while folding it flat to fit in a pocket for easy portability.
Basically, this product is designed to provide a low-cost way to wow users and maximize functionality by pairing the classic silicone mobile PopWallet design with everyone's favorite phone grip. That said, for those who really want to keep it classy, the original PopWallet + PopGrip Combo is the way to go.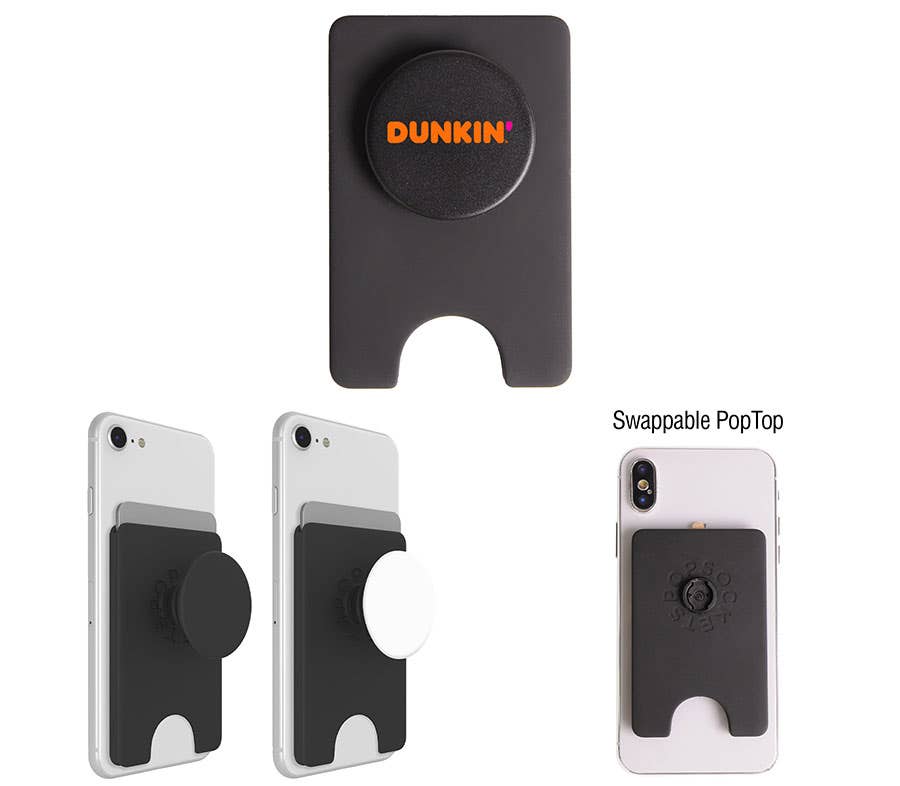 ---
PopPack
Looking to really knock your marketing campaign out of the park? A PopPack is truly the ultimate way to level up your game. Basically, these uber-versatile combo packs pair a classic PopGrip with a nifty multi-surface mount to make sure that your branded logo design is literally indispensable.
So, what is a PopMount, you ask? One of the more recent additions to the custom PopSocket family, PopMounts are multi-surface mounts that allow users to securely attach their phone almost any surface imaginable, including countertops, walls or car interiors via a handy slip-on mount attachment. Do keep in mind that the PopMount is designed to work with most, but not all PopGrip PopSockets, so the best way to make sure that everything pairs up is to give the gift of a PopMount and promotional PopSocket all-in-one.
Keep in mind that a PopPack doesn't have to stop at the standard design either. These PopPacks are available in Iridescent, Vegan Leather, and even Swappable PopGrip variations. Meanwhile, you can also use a PopPack to combine PopWallet and so you can be sure that your branded message will really stick!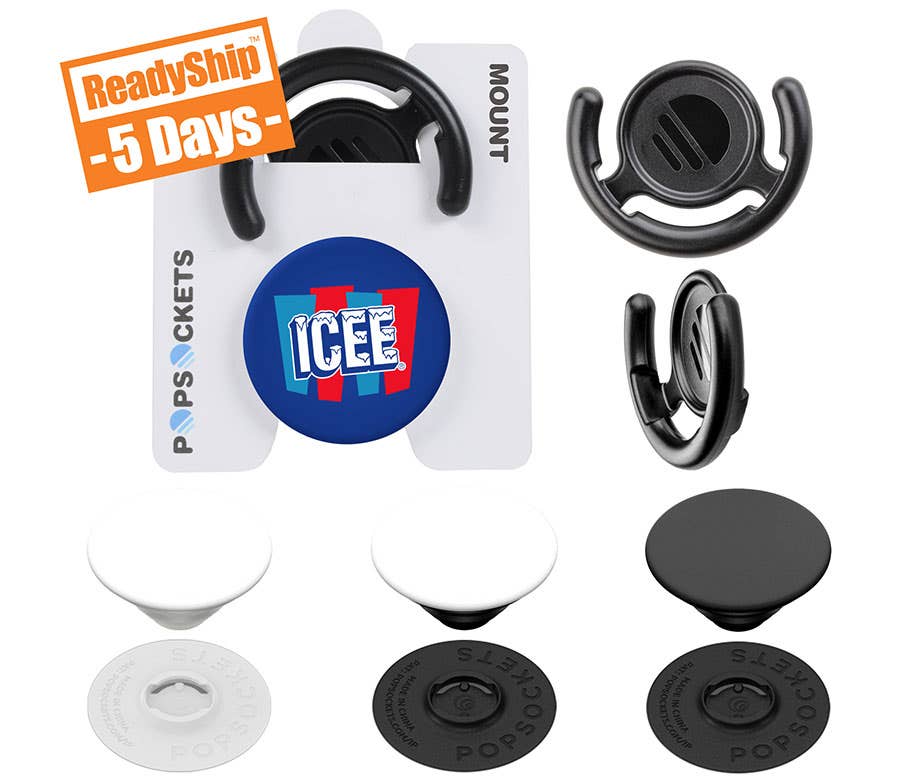 ---
PopCorn 🙂
A crunchy snack enjoyed at the movies, a PopGrip for your unicorn, or PopGrips to hold your corn. Choose your own adventure!
Speaking Of Choosing Your Own Adventure…
So, now that you are ready and armed with all the information to create a killer Popsockets campaign that will really knock your clients and employees off their feet, let's get the ball rolling today!
Come check us out to browse our killer selection of branded PopSockets products and accessories place your bulk PopSockets order using our handy online upload tools that make the ordering process a real snap.
Of course, if you want to find out more, don't hesitate to reach out today for a free custom quote and virtual preview. Our qualified representatives are standing by and ready to help make your next marketing campaign really stick with the best wholesale PopSockets and custom PopSocket accessories!