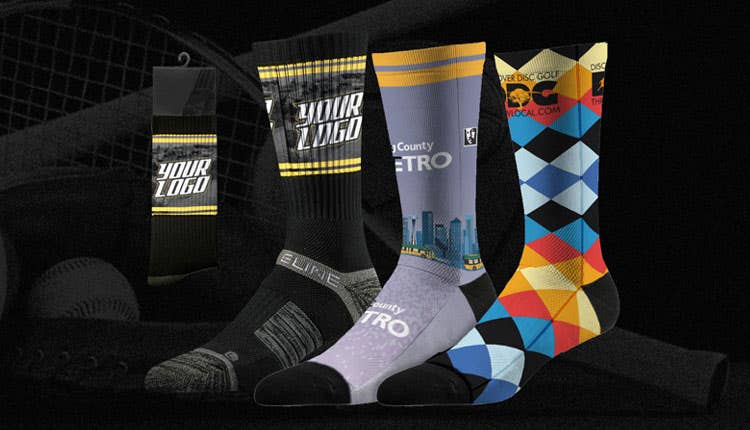 Your 2020 Guide to Personalized Socks
From "face socks" to branded socks with a company logo, custom socks are proudly shown off at corporate events and college giveaways. In this guide, we'll help you pick socks that rock!
Stylish dress socks are in higher demand than ever before and continue to grow in popularity. Colorful and bright patterned dress socks can be seen in all workplaces and companies have been taking advantage of that trend with custom socks and it's not slowing down in 2020.
We are looking at the rise of customizable, brilliantly designed, eye-popping socks that make a statement with your logo. A market research study from September of 2018 found that:
Global demand is on track for a 6.7% increase by the year 2025
Demand for natural fibers is on the rise
The majority of growth in demand is represented by developing countries, such as Brazil
This leads to a reasonable expectation that customized promotional socks have the potential to take your brand to new heights. A 2019 study conducted by the ASI shows that promotional apparel, including socks, have excellent staying power with recipients. Depending on the type of clothing, 65% to 80% of Americans report owning promotional apparel. It also shows that these items are kept as long as 10-16 months on average.
"…Taking the market growth rate into consideration, the socks market is projected to experience robust growth during the forecast period in contrast to the apparel industry in general. The rising demand for socks is primarily driven by improving fashion trends and the growing retail sector." – Transparency Market Research
For proof of this upward trend, look no further than celebrity personalities on a worldwide stage. Anyone from Pop Stars to prominent politicians have been caught on camera sporting their favorite funky socks. Closer to home, you can observe the same phenomena among students at your local high school or fans at the homecoming football game.
What Are Custom Logo Socks?
First, to cleanse your mind of outdated, drab, and dreary memories of monotone socks, let's take a look at what a successful custom logo sock looks like. While there are many unique and varied styles of socks, the most successful promotional socks are characterized by a few important traits:
Comfort – After all, who would want to walk around all day in something that doesn't feel good? In general, this means a soft, high-quality material that makes feet feel at home.
"WOW" factor – A major reason that socks are on the rise is because of their ability to catch eyes and express a person's individuality. This typically calls for a combination of aesthetically pleasing designs and eye-catching colors.
Purpose – Aside from being trendy and expressive, a good sock still fulfills its original role as a clothing item with a specific purpose. From athletic and casual socks to dress and business socks, be sure that your choice is best suited to your target audience.
If you consider all these factors when wading through the many options that are available, you'll have the most success in reaching potential clients. Even the coolest looking and highest quality pair of socks will be of little use to consumers if they are not suited to their lifestyle. The good news is that virtually everyone wears socks of some kind, so there is always a window of opportunity.
What Are Your Options with Custom Socks?
As with any type of apparel, there are styles and designs suited for all different types of people. Usefulness is a key factor for any successful promotional product. As such, it is absolutely essential that you cater to the needs of your potential clients. Depending upon what kind of business or product you are promoting, certain socks will make more sense than others. Long or short, zany or sleek, it is your decision to make!
Take, for instance, a sporting goods brand. You can make the assumption that most people interested in what the brand has to offer will also find a use for athletic socks in their day to day lives. It makes perfect sense that a sporting goods brand can best connect to future customers through an athletic style sock designed for athletes. This type of sock usually consists of:
Extra length (sometimes all the way to the knee!)
Thick and durable fabric, designed to stand up to the demands of physical activity
Comfortable and breathable material
On the flip side, maybe an audience is heavily saturated with business personnel and white collar workers. Many people have a need for business attire on a regular basis. Why not supply a customized, promotional dress sock for their arsenal? Our high quality and super comfortable socks are sure to impress.
With the latest in fashion trends, you won't even have to worry about picking a sock that "matches" with typical business or formal wear. In fact, it's considered "in" if the socks stand out and catch attention! Our business socks provide a footwear option that is:
Medium to long in length, reaching from mid to upper shin
Made from high-quality and ultra-comfortable material, perfect with any dress shoe
Light and stretchy for a snug and clean fit
For the average person, there is a third style of sock that almost anyone can use. Sometimes referred to as "casual" or "every day" wear, this is the kind of sock that you could wear for a casual night out with friends or a relaxing night at home with family.
While the preferred length can vary from person to person, the most popular custom socks tend to be shorter. No-show and ankle length socks are in high demand, but there is also a market for "crew socks" that reach a little bit higher. In general, this type of sock is found to have:
Lengths from "no-show" and ankle, to crew style or tube socks, sometimes reaching as high as mid shin
Fabric of average thickness for the right balance of day to day comfort and durability
Reinforced toes and heels to combat the wear caused by frequent use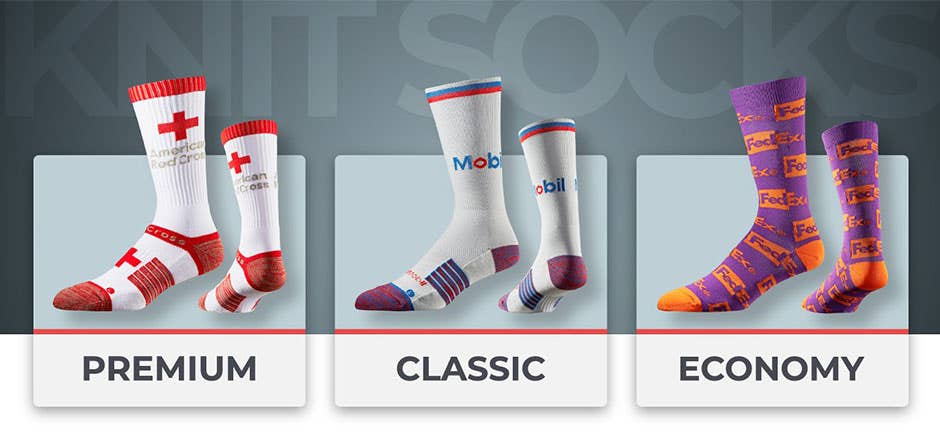 Of course, there are many brands and products out there that seek to reach out to all different groups and demographics. This can make it difficult to decide on just one type or style of sock to give away to potential clients. After all, the many different choices of socks have been developed for a reason. The good news is that you don't have to limit yourself to just one pick!
For businesses and brands that are branched out and looking to draw in all kinds of people, order multiple styles. It makes sense to order multiple styles and provide consumers with a choice. In fact, many of our options can be ordered in extra small quantities, even as few as 30 pairs at a time. This means that you can provide clients with a multitude of options without blowing out the budget.
As time goes on, you can keep track of which styles seem to be the most popular. You can then adjust your order quantities in the future.
How Are Promotional Socks Created?

With the use our of easy to use custom sock configurations, you can quickly design a sock that is appealing to consumers and unique to your brand. Start by choosing from our wide selection of type and styles of custom logo socks. After you have chosen a sock that meets your desired tastes and purpose, simply upload the brand image. You then just need to choose from available placement and color options.
Once you have designed custom socks to your liking, choose the quantity that makes sense for your situation. The per pair price decreases as the quantity ordered goes up. This is the case for most items purchased in bulk, especially promotional items. You will have an opportunity to save 20% or more on purchases made with larger quantities. With options starting at just over $3 per pair, you can jump onto the sock scene for next to nothing in terms of Cost Per Impression (CPI).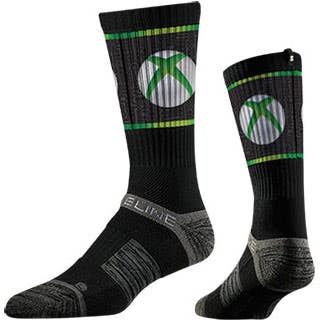 If you are hesitant to order hundreds of pairs of socks that you have not even seen in person, have no fear! Simply work with our team to finalize a design, and then request a quote. When you provide your desired image our team will handle the rest.
Taking your provided image, our staff will overlay the logo onto your chosen sock and supply you with a preview image before you place your order. Once you are satisfied with how it looks, most orders can be decorated and shipped in as little as 15 business days.
Custom Socks: They Are Here to Stay
At the end of the day, socks are a clothing item that will never go out of style. As long as people have feet, socks will continue to be a valuable commodity. For comfort, protection, fashion, or just for fun, people are fond of socks. If you have any questions, reach out to one of our promotional specialists today!