Best Types of Blankets for Corporate Gifting and Giveaways
When temperatures start falling, it's a great time to start thinking about a cozy blankets as part of your giveaways, employee swag boxes, and corporate gifts. We know that choosing a blanket for a giveaway can feel overwhelming, so we've put together a guide to help you find the perfect custom blanket for your needs. Whether you want a cozy chenille blanket or a custom beach blanket, here's what you need to know about selecting a blanket for a promo:
How to Choose a Blanket for a Promo
If you're not sure where to get started with choosing a blanket for a promo giveaway, here are our top six tips for choosing a custom blanket:
Know how many blankets you need.
Most promo items have a minimum order quantity that you must purchase, and this can vary widely from item to item — even within the same category, including blankets. Make a tally of how many blankets you need and add a couple extra for safekeeping, and then use that to narrow down your search. For instance, if you only need 25 blankets but a particular blanket requires you to order a minimum of 48 units, then you know you need to keep looking.
Set your budget.
After you decide on your order quantity, you will need to define the budget that you can spend on your blanket promo. If you feel like our budget might be a little on the low end, fret not — at iPromo, we offer dozens of types of blankets at all different price points. Whether you're looking to stretch your budget or splurge on a luxury item, we've got options for you. Keep in mind that iPromo also offers discounts for larger order quantities, so if you hit a certain threshold, the price per unit might actually drop, making your money go a bit further.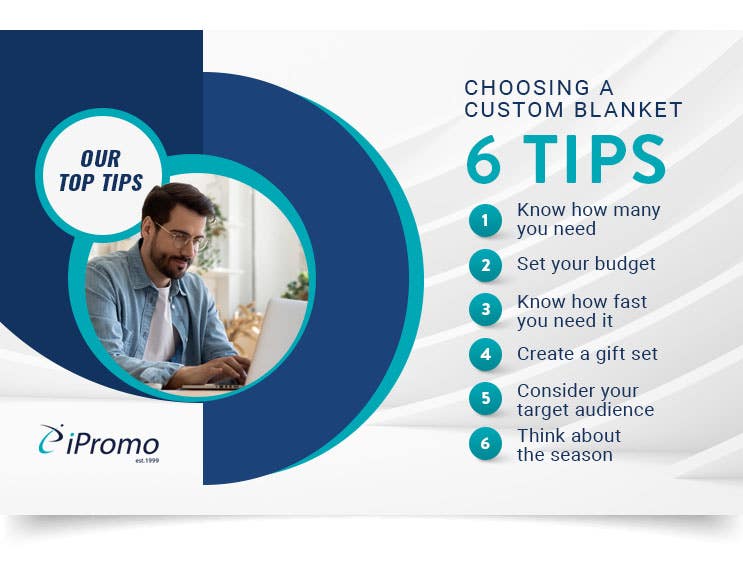 Know how fast you need it.
If you're working on a time crunch, that might narrow your options in terms of what products can get to you in time. Most of our blankets have a standard production time of either five to seven or seven to ten business days, with a few select products being offered for rush shipping at an additional cost. For best results, we recommend ordering at least a month in advance to give yourself plenty of time to approve the design proofs and also to leave some margin for error in case there is a shipping delay.
Consider your target audience.
There are many different types of blankets available, which is why you need to think carefully about what target audience you are hoping to connect with during the promo. For example, outdoorsy, adventurous consumers would probably love a picnic blanket with a waterproof backing, while book lovers will appreciate a custom fleece blanket they can curl up under while they read. Choosing the right type of blanket will ensure that your blanket giveaway communicates your branding accurately and reaches your target consumers.
Think about the season.
Blankets are somewhat of a seasonal item, which is why it's important to think about what time of year you want to run your giveaway: It doesn't really make sense to give away a picnic blanket in the dead of winter when no one can go outside — a custom sherpa blanket would be the better choice in that case. There are also blankets that can be used year round, such as weighted blankets, if you are looking for a more versatile giveaway item.
Decide if you want to create a gift set.
Blankets are awesome giveaway items on their own, but they are even more impressive when part of a curated set. If you'd like to create a gift set around a blanket giveaway, try browsing the rest of our promotional products for inspiration or reach out to our customer service team for help. Our associates would be happy to help you find the perfect blanket gift box or put together a custom set.
Looking For Additional Cold Weather Giveaway Ideas? Here Are 6 Products Sure To Wow Your Customers and Coworkers.
Best Types of Blankets for Promos
Still need some inspiration for your blanket giveaway? Without further ado, here are 10 of our favorite types of blankets for promos:
A sherpa blanket is a classic option that you absolutely can't go wrong with for a back to school giveaway (or any kind of giveaway, really). A sherpa blanket features a super-soft fuzzy material on one side and a cozy faux sherpa fabric on the other so that you can choose which one you want next to your skin. This particular blanket measures 50″ x 60″ unfolded, making it a  great size for one to two people to snuggle underneath. Choose from six different colors — tan, navy blue, gray, green, burgundy, and black — and screen print your logo on the corner for a memorable giveaway item.
If you like the idea of a fuzzy blanket but aren't completely sold on the sherpa design, then consider a chenille blanket like this one, which is equally fuzzy and warm on both sides, thanks to the 100% plush polyester fabric. The blanket measures 62″ x 48″ and comes in six colors: light green, royal blue, red, forest green, black, and navy. Your logo will be embroidered on the corner for a classy branding touch that won't wear off no matter how much the blanket is washed. An optional carrying bag is available; please contact our customer service team for more details and a quote.
If you want to reach a more adventurous crowd with your blanket giveaway, consider a waterproof blanket that's perfect for picnicking or attending an outdoor concert. This particular blanket has very large 72″ by 80″ dimensions that can comfortably seat multiple people, but packs down to a small 16″ x 12″ size that is easy to transport in the car. The front is made from a cozy fleece lining that is comfortable for sitting on, while the waterproof backing protects the recipient from rain and mud. Choose from three colors (gray, black, or navy) and either screen print, embroider, or full color your logo on the corner for a blanket promo that will get used for years.
For the recipient who is always on the go, the Roam travel blanket is the ideal cozy companion. This warm, packable fleece blanket measures 50″ x 60″ when unfolded but only 10.24″ by 11.6″ when packed in the included tote, which features a carrying handle. This blanket comes in four colors (navy blue, red, green, and black) and can easily fit into a bag, suitcase, or car so that there's no excuse for not taking it on the next adventure. The front of the tote can be screen printed with a logo or graphic of your choice. 
For a truly luxurious sherpa blanket experience, consider this offering from Field & Co.®, which measures 50″ x 60″ unfolded. This blanket design features a trendy buffalo plaid print in three color combos — red and black; blue and black; and white, black, and blue — on an ultra plush fabric, plus a cream-colored cozy sherpa backing for contrast. Your logo or graphic will be embroidered in the corner, and there are free run charges for embroidery up to 7500 stitches. If you want an elevated blanket giveaway that will take your recipient's coziness to the next level, this is the blanket that you want.
If you're trying to connect with athletes or sports fans, a fantastic type of blanket to consider is a stadium blanket for staying warm during games. We love this model in particular because it folds into a 13″ x 11″ tote bag that also doubles as a seat cushion, so you get two products for the price of one! When unfolded, the blanket measures 50″ x 60", and the separate tote bag features a generously sized external pocket that will hold your game essentials. Choose from a navy/gray or black/gray color combo and screen print your logo on the front pocket of the tote to make a winning impression on your giveaway recipients.
Have you ever wished that your favorite sweatshirt could be a blanket? Your wishes will come true with this roll-up blanket made of fleece sweatshirt material. The large 48″ x 53″ easily folds or rolls within itself and secures with a hook and loop closure that will stay put during transit. The blanket also comes with an attached handle for easy carrying. The flap matches the blanket color and can be screen printed with a large logo or graphic of your choice. Choose from six colors — gray, dark blue, royal blue, red, hunter green, or black — to find the one that best suits your logo.
If you want to keep things classic, you can't go wrong with a traditional sodium blanket. This one is made of 260 gram brushed polyester fleece with whipstitch edges for durability and decorations. The 50″ x 60″ blanket comes in eight colors — royal blue, wine, orange, charcoal, red, dark blue, hunter green, and black — and the corner can be embroidered with a logo of your choice. There are two packing options available for this particular blanket; contact our customer service team to learn more and get a pricing quote for either of them.
Contact us today to get started on a pricing quote or design proofs for your blanket giveaway! Our customer service team will be happy to help with whatever you need.
Image Credits
joy abedin/Shutterstock.com
mxsbmbrg/Shutterstock.com
Roman Samborskyi/Shutterstock.com