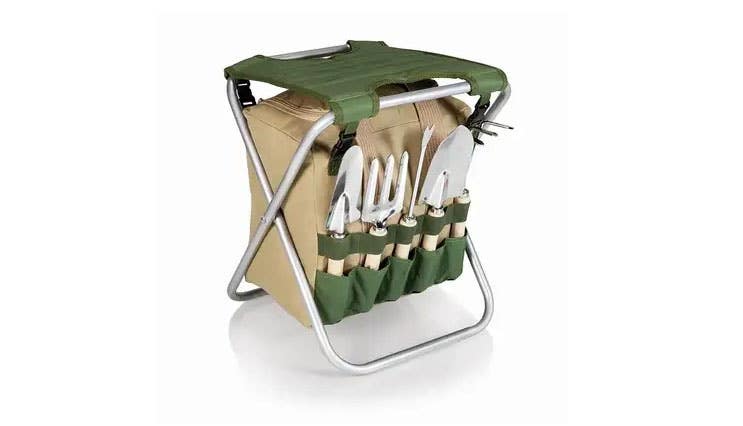 Must-Have Corporate Spring Gift Ideas
Spring is in the air, which means that it's the perfect time to order some corporate spring gift ideas for your customers or clients. We've compiled some of our top-selling seasonal corporate gifts for spring, from custom golf gear to gifts for gardeners. Here are the items that should be on your corporate shopping list this season:
Gardening Tool Set Gift
Spring is the best season for gardening, making a gardening tool gift set one of the most timely corporate gifts for spring. We love this folding seat, which comes with five gardening tools like a trowel and a cultivator, as well as a detachable storage tote. The entire thing folds up flat (as long as there's nothing in the tote) for easy storage in a garage or closet. The front pocket can be screen printed, embroidered, or full color printed with a logo or graphic of your choice for a great springtime giveaway.
Plant Growing Kit
If the recipients on your corporate shopping list aren't dedicated gardeners yet, then they will still likely appreciate a plant growing kit for use at their home or office. We offer a variety of plant growing kits including flowers, herbs, and house plants to suit a variety of needs. Some of them come in reusable ceramic planters while others feature biodegradable plants for an eco-friendly gift. We also sell custom planters for the plant parents on your list who already own more greenery than they know what to do with.
Branded Picnic Baskets
Spring is the perfect time for a picnic, which means that it's also the season for giving away branded picnic baskets as a spring gift idea. We sell several different varieties of branded picnic baskets at the iPromo store, including insulated baskets, backpack-style totes, and even a classic woven picnic basket for a picture-perfect look. No matter what style of picnic basket that you choose, it comes with the option to brand the side with a prominent logo placement so that everyone at the park will see your business branding.
Custom Umbrella
A custom umbrella is one of the most useful corporate spring gift ideas that you can give away. We sell a wide variety of umbrella designs at the iPromo store, from super-wide umbrellas with a 62-inch diameter to transparent umbrellas made of clear materials, to a Bluetooth umbrella with a speaker in the handle. Each of our umbrellas features the option to screen print your logo on one of the side panels so that it will be visible to everyone that your recipient passes on the street. Most umbrellas also offer multiple color options so that you can choose one to match your branding look and make a good impression on customers and employees.
Personalized Rain Jacket
If you prefer an apparel option for your corporate spring gift idea, then a personalized rain jacket should definitely be at the top of your list. We offer products to suit every budget, from inexpensive ponchos that are perfect for bulk giveaways to high-quality rain jackets from trusted retail brands like Columbia and Eddie Bauer. Simply set your budget, choose the type of rain jacket you want, and we'll get started on your custom windbreaker order!
Golf Corporate Gifts
Golf giveaways are one of our perennial bestsellers, and the warmer weather of spring is the perfect time to consider a golf-themed corporate gift. We offer plenty of custom golf equipment, including golf balls, golf pencils, golf tees, golf umbrellas, golf towels, golf bags, and more. We also sell custom golf apparel such as polo, jackets, hats, and gloves so that you can outfit your recipients in branded apparel from head to toe whenever they hit the course. Order your custom golf gear today so that you're ready for the start of golf season!
Fitness Equipment
Many people rededicate themselves to their fitness goals with renewed energy once the weather starts to warm up, making custom fitness equipment a great corporate spring gift idea. Whether you are looking for a personalized pickleball set or a branded yoga mat, iPromo has got you covered with a wide array of custom exercise gear options for your employees, customers, and clients. We also offer lots of custom sports equipment beyond just golf, such as branded basketballs and baseballs, so you can capitalize on the various spring and summer sports.
Still haven't found the perfect corporate spring gift idea? Check out the rest of our outdoor corporate gifts for more inspiration!