10 Welcome Back Gift Ideas For Employees Returning To The Workplace In 2021
2020 was a work year like no other for the vast majority of businesses. Employees were quickly forced to pivot and transition to a fully remote work environment for the most part. But thankfully, with vaccine rollout programs happening all over the country, you and your employees are likely starting to return to the workplace in 2021. It's an exciting prospect, but at the same time, you are all likely feeling trepidation about sharing a communal space again after so much time spent social distancing. 
Luckily, we've compiled a list of useful corporate gifts and promotional products to give employees to support their return to work, thank them for working though the challenges of working remotely, and showcase your brand at the same time. 
This attractive computer backpack is all your employees will need to transport their essentials to and from the office. With an exterior composed of 100% recycled water bottles, this backpack is the perfect blend of style and sustainability and is tailor-made for your eco-conscious workplace. The polycanvas bag's top-loading main compartment will make short work of packing for a day at the office.
Better yet, its high volume design means your employees can stash their gym clothes alongside their laptops for some post-work cardio. And when it comes to the environment, this backpack puts its money where its mouth is: through a partnership with 1% For The Planet, 1% of sales of this bag— and all Ecosmart products— will be donated to nonprofits. The Parkland computer backpack comes in 4 colors. Better yet, your logo can be embroidered or screen printed right on outside flap for everybody to see.
The workplace will undoubtedly look different in 2021. While the vaccine promises a much-needed return to normal, it will be a "new normal." You'll want your employees to put safety first through masks and diligent hand washing and disinfecting. This reusable face mask and sanitizer kit is the ideal pouch in which to store their essentials when they're on the move. 
The handsome RuMe Reveal Quart features a zipper to keep everything in one place. It's paired with two machine-washable, reusable face masks, available in 4 colors, including black, gunmetal grey, navy, light camo classic, and quiet grey heather. Masks are constructed with a breathable 100% cotton outer layer and a 96% polyester/4% spandex inner layer for maximum comfort. The kit also includes a handy 2oz container of hand sanitizer, so your employees can sanitize their hands after using the elevator and opening doors, to name just a few. Your company logo can be screen printed onto both the pouch and masks.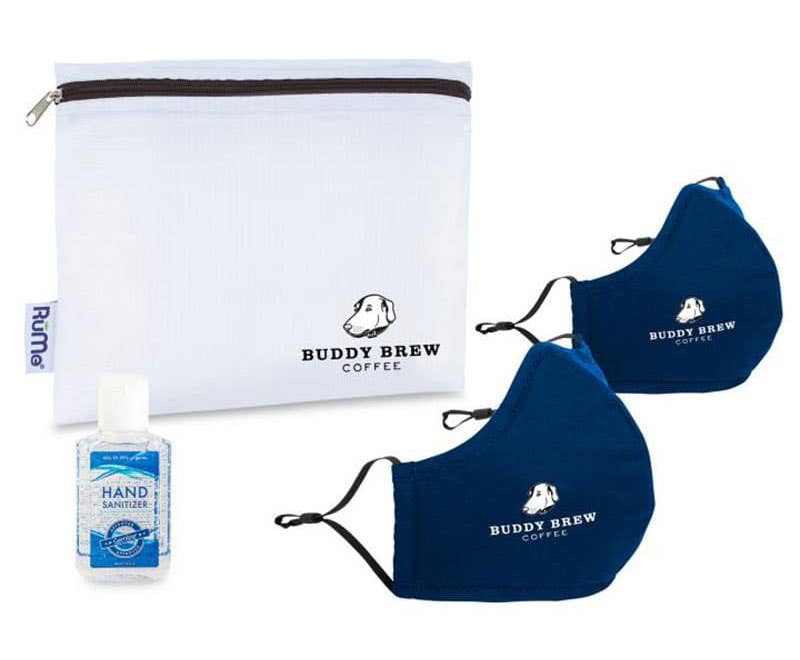 Help your employees say good riddance to bacteria with this 5-in-1 charging cable with an antimicrobial additive that reduces unwanted bacteria and fungi! 2021 will see hypervigilance in the workplace by reducing germs and bacteria on all work surfaces, including charging cables. This 5-in-1 charging cable will ensure that your employee's devices never run out of juice.
It's conveniently outfitted with a USB-A tip and Type-C Input tip on one side and a 2-in-1 dual compatible tip for both Apple iOS and Android devices (up to 2A current) on the other. It also sports a microtip (up to 3A current) and a Type-C Output tip (up to 3A current). At 30", the cable is long enough for your employees to get a charge on various work settings. And despite its small stature, this handy cable still provides enough room to print your logo via screen printing. 
Water cooler talk is a thing of the past —or at least for 2021. The most sure-fire way to safeguard your employees and keep germs at bay is by encouraging them to bring their own water bottle from home—or better yet—provide one for them! This stylish S'well water bottle is just the ticket. Its ThermaS'well™ technology and triple-walled design keep beverages cold for up to 24 hours and hot for as many as 12 hours. 
This bottle is vacuum-insulated, high-grade stainless steel and provides the perfect backdrop to showcase your company logo with laser engraving or screen printing. This eco-friendly water bottle is BPA-free and reusable and comes in 8 attractive colors to keep your employees on-trend. Better yet, its sweat-free exterior ensures that everything around it stays dry.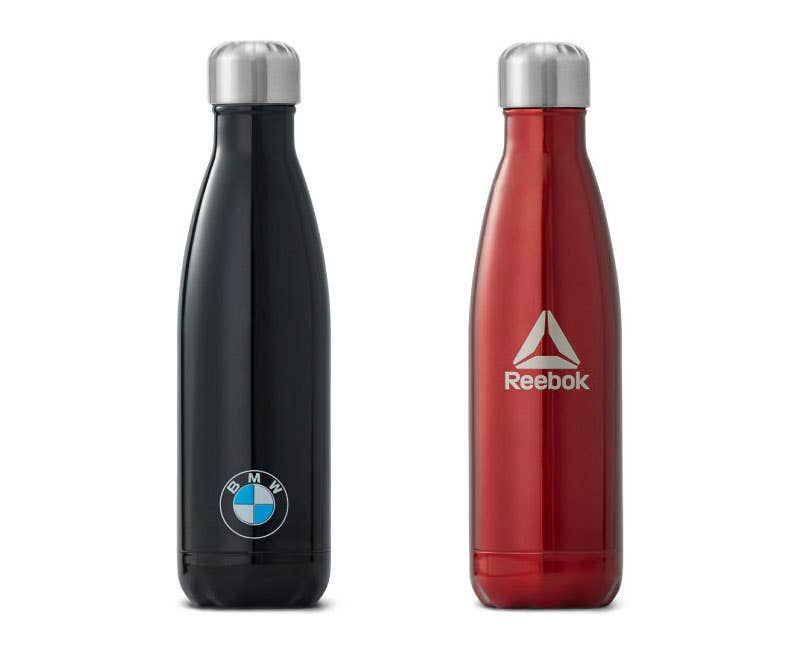 There's nothing like putting pen to paper during daily meetings, and this journal will enable your employees to do it in style! Help them keep their notes in one place with this spiffy Mezzo Saddle Stitch JournalBook bundle set. Set includes both a large ("5.5 x 8.5") and small ("3.5 x 5.5") journal and an Ambassador Square ballpoint pen. Both journals come in 3 colors and have 40 sheets of lined paper and a handy elastic enclosure to carry the pen. You can print your company onto the smaller size journal for a cool branding accent effect.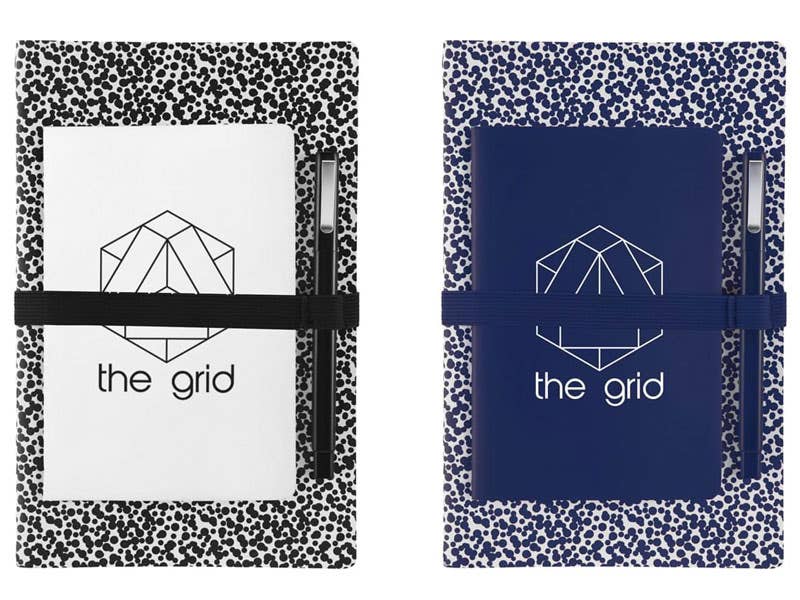 By outfitting your team with a Parkland Tag lunch cooler, you'll make the lunch making and transporting process more efficient and more enjoyable too. This nifty bag is constructed from recycled 6000D polyester to support sustainability in the workplace.
Fortunately, it doesn't scrimp on style either, with an adjustable strap that can string across the shoulder a la mini messenger bag. And its spacious interior will fit most large bento box containers to keep anti-waste front-of-mind for your employees. This cooler is insulated and a breeze to clean. Be sure to screen print your company logo on the front to boost team morale. 
Encourage your employees to bring their own cutlery to help prevent the spread of germs as you head back to the workplace. The 3 Piece Metal Cutlery to Go is the perfect set for your office because it lets employees socialize over lunch while reducing the spread of germs. This durable silver set is made of alloy and features a knife, spoon, and fork. An elegant metal holder keeps the utensils together securely and doubles as a bottle opener! Add a small branding touch by laser engraving your logo onto the holder. 
Highlight your company and support your staff with this sustainable and useful wheat straw lunch box. This container comes in 3 colors, including black, blue, and lime, and provides ample room on top to customize with your logo. Your employees will appreciate the tray that keeps food separated too. Carrying the container is made easy via a handy locking lid. This cool lunch box is FDA-tested and BPA-approved. Best of all, this product supports your company's sustainable agenda by donating 1% of all sales to nonprofits committed to protecting the planet.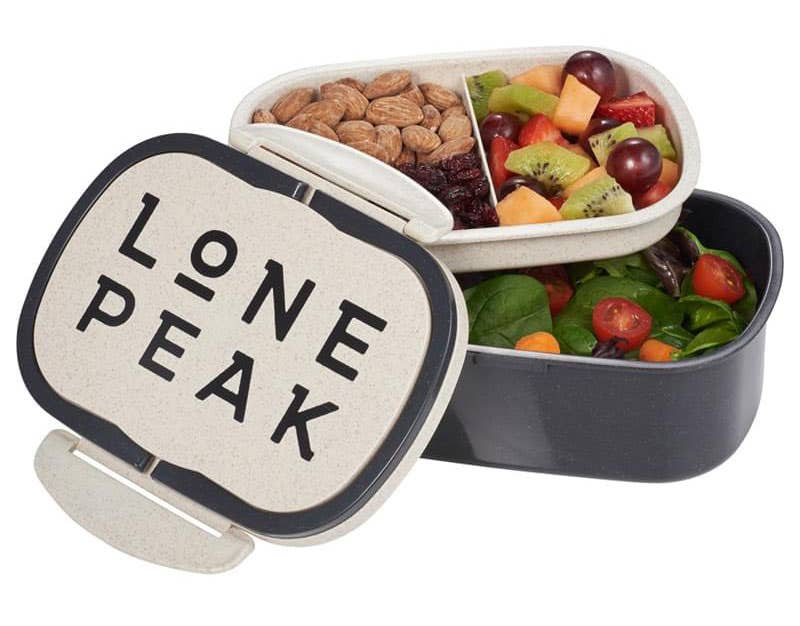 Welcome back your staff in style with a set of True Wireless stereo earbuds. The best part is that these buds sport a large imprint area right on the front to showcase your brand. (Available: Print your logo in full color and boost the perceived value!) But these buds are more than just a pretty design. Featuring Bluetooth wireless earbuds that can play in either stereo mode or single mode and a wireless range of 32.8 feet, this product will be the talk of the office. Earbuds have a charge time of 1.5 hours and a playtime of between 2.5 and 3 hours.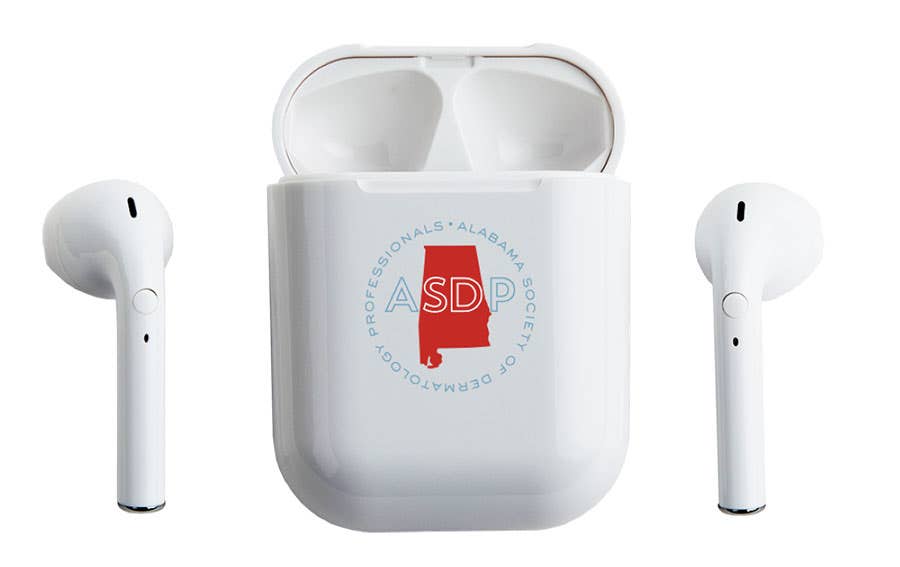 The beauty of this wireless power bank with UV sanitizer is that your employees can use it to clean multiple items besides their phone, including mask, pens, calculators, keys, and any other products fit inside. This item will be an essential part of your workplace in 2021. UV Sterilizer: Sanitize your phone and other personal items within 15 minutes to neutralize bacteria and stay healthy. Wireless Charger: Your phone or other Qi-enabled devices will automatically begin to charge when you place it in the sterilizer. USB Charger: Charge an additional device while cleaning other units with the built-in USB charging port.
As a sanitation device, the charger is ingenious. Using a system of UV-C light technology without chemicals or mercury, it kills 99% of microorganisms. Your employees will enjoy the added convenience of not having to remove their phone cases before use.          
Welcome your employees back to the office with these thoughtful gifts, or take a look at other Hot & New promotional gift ideas from iPromo.