How Can Employers Reduce Stress in the Workplace?
More than ever before, stress relief is needed as the continuing effects of the global pandemic challenges coupled with the daily demands of work-life are testing the workforce limits. Having to worry about COVID-19 on top of workplace stresses can build up and truly start to affect your employees mental and physical health. To help your employees, there's some useful tips and fun stress relieving activities that are sure to improve the mindset and environment of your workforce whether they're remote or in the office. 
De-Clutter and Revamp Your Work Environment
With so much on the brain to work through, you don't need additional clutter in your surroundings to create a distraction or make you worry about trivial things. Stress comes not only from what you go through on a personal and professional level but from the environment around you. Think about what in your office space affects the functionality as well as the productivity of your employees. 
Get rid of unnecessary materials and ensure your employees are working with as much space as possible, only equipped with what they need to carry out their tasks. You can also make the atmosphere more pleasant, adding simple things like plants and artwork to make the mood feel calmer. Updating the office with some new calming colors or paint schemes can also add an improved aesthetic quality to the surroundings. 
Promote Wellness on the Job 
Working on a computer all day leaves you both sedentary and susceptible to all sorts of health issues as well as back and joint pain. Not to mention that staring at a laptop all day can lead to strain in your eyes and bad posturing if you're having to constantly adjust to view something on it. 
Knowing this, you should encourage wellness and exercise in the workplace at every turn. Tell your workers to take walks to and from their desks now and then during their workdays and/or throughout their breaks. Stock the fridge and cupboards with healthy snacks such as fruit or yogurt. Studies show that doing so improves workplace mood by over 80%.
Sort out some virtual or in-person workout sessions that employees can partake in during their breaks or right after work to get the blood flowing properly. If you're into sporting activities, adding things such as a ping-pong or foosball table is a nice touch. If they can't get away from their computers for too long, desktop games and puzzles make for fun stress relieving activities. You can even get some custom stress balls to help employees squeeze out the frustration when they feel like they want to get their hands on something when work becomes stressful. 
Encouraging wellness creates a more personal connection with employees, showing that you care for their well-being. 
Promote Social Activity
Workplace harmony is enhanced once you create a social atmosphere where employees from different departments and backgrounds can mingle. Host workplace parties and meet-and-greets to encourage employees to break the ice, share bits about themselves and build some trust with each other. A happier workplace is a healthier workplace. 
If you're working virtually, hosting a Zoom meet-and-greet of another type of gathering is helpful to try and make up for the lack of physical interaction. Employees can establish chemistry and put names to faces as they work with each other from afar.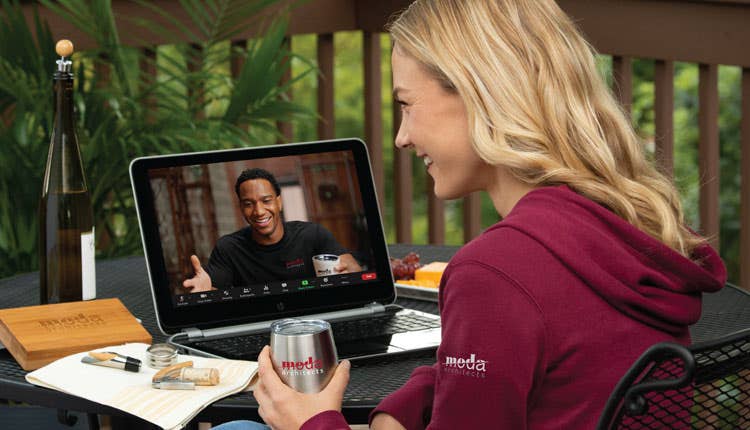 Offer Counseling
The added worries triggered by the pandemic make this paramount, with more companies employing counseling services to help workers not only manage work stress but anything that may be going on at home. This can be done inside the office, over the phone, or through a video call/conference, with individual or group settings. 
Light Up the Atmosphere
Liven up the surroundings with some natural light to make the place feel enjoyable, like a hub where mass productivity can be achieved. The emphasis here is on natural light as artificial lighting will cost more due to the amount of energy it burns. Natural light will not only save you money, but will enhance the mood and focus around the office. 
If your employees are working from home, advise them to work in an area where some good lighting or sunlight can shine through, so they feel better mentally and actually become more productive at the same time. 
Put in Some Fresh Scents 
Much like some bright lights, some fresh smells can uplift the mood in your office spaces and make things more refreshing. You can use something simple like a scented candle, scented oils to plug into various sockets across the spaces, or a diffuser. Give the surroundings a good spray with some Febreeze or similar brands now and then as well in case any funk smells emerge. Breathing good air breathes fresh life into your workday. If you haven't thought about it like that before, this Stress Relief Month would be a great time to start.
Clearly Define Work Responsibilities
Workers feel more at ease when they know what they're doing and for how long. Once employees know what their job responsibilities are and the expectations that are attached to them, they'll have a clearer understanding, giving them more confidence to perform and easing pressure.
You know that pressure is a given with any job, but having the knowledge and confidence from management to do a task makes handling that pressure more manageable. Outline daily, weekly and monthly tasks as well as targets, so workers have something tangible to achieve. Should they be successful in achieving their targets/tasks, then rewarding them, either with an award or perks, will make them feel valued, and you feel personal satisfaction. They may well like you after all!
At the same time, ensure the shifts you're handing out to employees are reasonable as overexertion and being pressed with too many responsibilities trigger stress and underwhelming productivity. Try to limit work shifts to 10 hours or less if possible, so employees have adequate rest time, boosting output, energy, and focus.
Stress-Relieving Products For Your Employees
Instead of hurting your hand by punching something or eating junk food to ease the frustration, here are some products iPromo offers to help you deal with stress more constructively. 
Pop Fidget Toys
Using custom pop fidget toys is a playful way to reduce stress levels. It replicates popping bubble wrap, easing the tension in the fingers, especially after an extensive day of typing. These promotional stress relievers come in different shapes, including octagon, unicorn, and heart shapes, calming nerves and suppressing anxiety in the process. They can be customized with your logo and are available in bulk so your entire workforce can have one.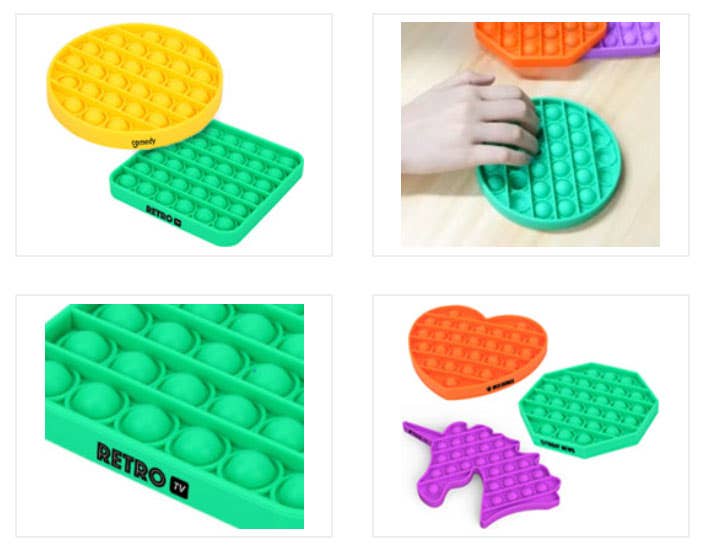 Stress Balls 
You can squeeze custom stress balls and ease your brain on the move. They come in many colors, sizes, and designs, customized with your logo. You can even get football-shaped promotional stress balls, which may also come in handy during next season while cheering on your team. There are also custom stress balls that come with sound and can hold your mobile device. Options are endless, contact us for more custom stress ball ideas.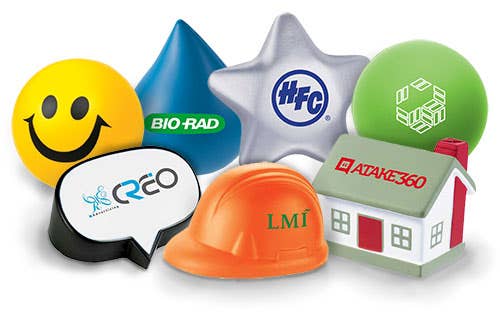 Fidget Cubes 
Another good toy for anxiety relief is with custom fidget cubes. These cubes allow you to press buttons, click and "fidget" in multiple motions while relieving stress at the same time! They can also be customized with your company logo.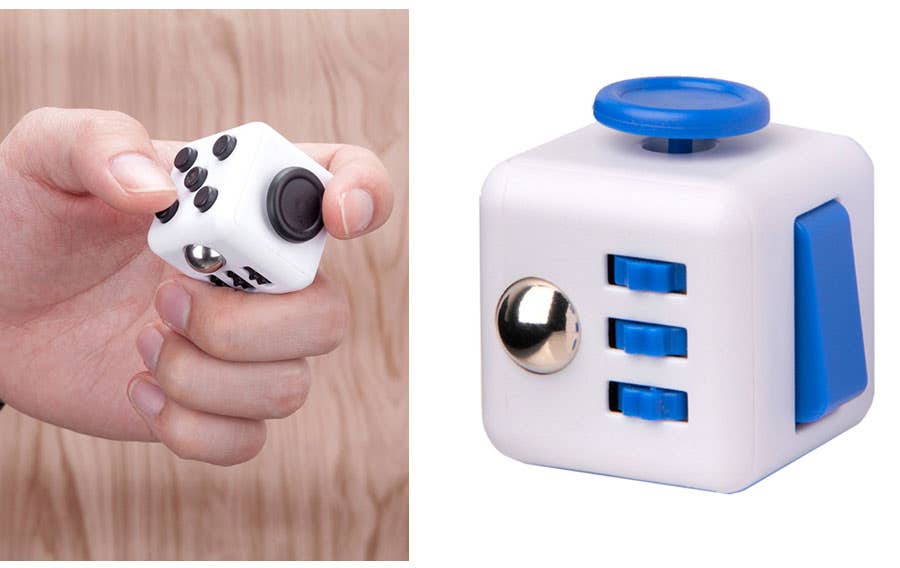 Fidget Spinners 
Custom fidget spinners are held between your middle finger and thumb, spinning them in a constant motion for up to three minutes creating a calming effect.  They come in every shape and color, from multi-functional bottle openers to ninja stars. Your logo or artwork can be printed or laser engraved on the center disk of your custom fidget spinners to add a small branding accent.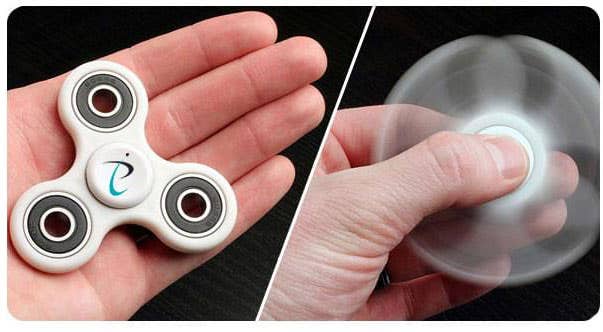 Activity Books 
If your employees aren't necessarily into rekindling childhood memories and prefer reading, promotional activity books are useful items to have. These books allow you to visit places like the doctor and bank, with puzzles and games to keep your brain active for hours. Plus, the book covers can be customized with your logo. 
Desktop Games/Puzzles 
When it comes to promotional stress relievers, desktop games and puzzles are a quick way to relieve stress and have fun right at their desk. There's custom mini-basketball sets, stacking games, and toss games. You can shoot hoops or arrange puzzles whenever you need a break from the computer.
Relaxation Kit
Featuring a stress ball, crayons, bags, and more, this relaxation kit includes multiple stress relieving items that will allow you and your employees to breathe easier on the job while ensuring better energy flow for each shift. 
Investing in products that will reinvigorate the workforce, build camaraderie and ease tensions amidst all the uncertainty that exists right now is great idea! Visit iPromo to get these promotional stress relievers and much more!