15 Top Employee Work From Home Gifts
With more employees than ever working from home on a long-term basis, many workers are scrambling to outfit their home office with all of the necessary accessories to stay productive. For managers searching for ideas for great employee work from home gifts, look no further — giving your employees something that will enhance their work from home experience will not only show appreciation for their hard work, it can also increase their productivity! Here are five of the best strategies for improving the home-office experience and fifteen ideas for work from home gifts that fit the bill.
Organization
It doesn't take long for a desk to become cluttered, so for employees who have been working from home for a while, staying organized is key. These work from home gifts will help employees keep their office space well-ordered and maintained so that they can work with ease.
Whether it's coffee, tea, smoothies, or water, many workers have drinks on their desks throughout the day. These coasters are sturdy with skid-resistant cork bottoms to help employees prevent water stains, and when they're not being used, they can be neatly organized in their bamboo holder. Both the coasters and the holder can be printed with a company logo or other custom design.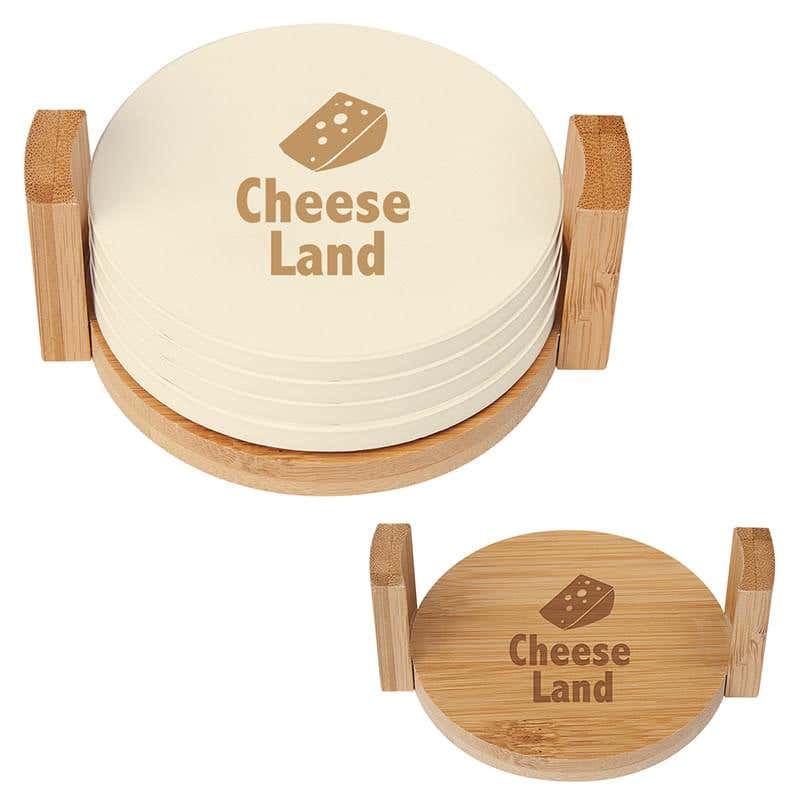 ---
The Office Buddy Cube will thrill any Type-A organizer — especially those who love to color-code their notes. The cube itself comes in one of five colors and the top can be printed with a custom logo. Inside, it holds sticky notes, five neon colors of mylar sticky flags, and a built-in pen holder. No more scrambling to find a pen and paper — it's all in the Buddy Cube!
---
Of all of the employee work from home gifts out there, this one just might pack the most punch in terms of keeping workers organized. This 2021 planner allows employees to see their week's appointments and assignments at a glance, as well as leaving them plenty of space to make notes. With your company's logo on the cover, this planner will show appreciation to your employees and help them stay on track!
---
Comfort
One of the joys of working from home is that employees have the opportunity to make their workspace extra comfortable. Outside of the occasional Zoom meeting, most people don't have to worry about putting on a suit and looking formal. These employee work from home gifts are sure to help workers to get cozy.
This stylish plaid blanket is made of coral fleece and is the ultimate creature comfort. Workers can keep warm by laying this blanket across their lap while they work, or even wrapping themselves in it completely! With three color choices available and the option to have a custom logo sewn in, this blanket is sure to be among the best work from home gifts employees receive this season.
---
Encourage employees to get comfortable with this lightweight tri-blend hoodie. With five color options and the ability to customize each hoodie with a logo, this sweater is sure to make workers feel stylish and at ease in their home office.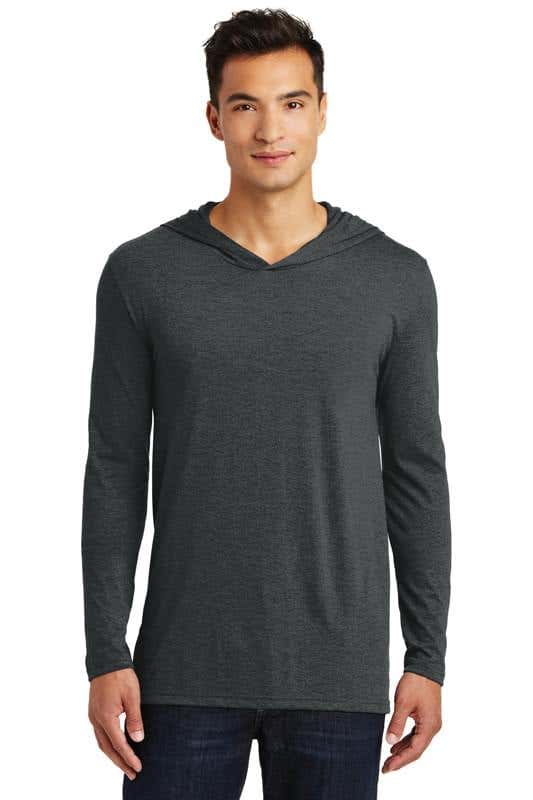 ---
Productivity
These employee work from home gifts are packed with the potential to help workers be more productive. Choosing these gifts will show employees they are appreciated and will send a clear message: their managers understand the challenges of working from home and want to make the experience as easy as possible.
Working from home inevitably involves using a lot of personal electronics, and the battery on tablets and phones can drain pretty quickly during a long workday. Why send employees scrambling for their chargers when they can use this wireless charging pad? With a customized logo etched right into the surface, having this pad right on workers' desks will make it easy for them to stay focused and keep their batteries full.
---
Listening to music at work can actually help to improve productivity, making these headphones a fantastic gift choice. Plus they can help to block out background noise and workers can use the built-in microphone to easily answer calls. These headphones come with a customized logo design, a drawstring storage bag, and a gift box.
---
This work from home essentials kit is one of the top work from home gifts because it comes with everything employees need to stay productive, including:
Mason backpack with custom logo

25 oz BPA Free water bottle 

Equinox wireless charging pad

Vienna SoftBound JournalBook

® 

Preston Dual Ballpoint Stylus
This gift package will make it easy for workers to stay hydrated, organized, and fully charged throughout the day, and is sure to improve their work at home experience!
---
Fun
While getting top-quality work done at home is important, it can also be nice to add an element of fun into employees' home offices. Keep workspaces looking and sounding bright with these employee work from home gifts    :
This hydroponic set will add a little greenery to any workspace and allow employees to grow their own edible herbs! The hydropod features frosted glass, which can be imprinted with a company logo, and it comes with seeds and plant food powder.
---
Encourage employees to play their favorite songs during their coffee breaks with this Bluetooth speaker. A built-in microphone and music control allows workers to switch songs and control volume easily without using their phone, and the stylish woven fabric can be imprinted with a company logo.
---
Ease
Some of the best work from home gifts are items that will make employees' everyday activities easier. Since technology is such an important component of working from home these days, why not gift workers with a handy tech accessory?
The iCam Cover is a great accessory for any desktop, tablet, or laptop. It easily attaches to any webcam to help prevent digital hackers from using the camera. The discreet plastic cover has custom color printing capabilities to include a logo, and using it is easy: simply slide the cover over the webcam when it's not in use.
---
These earbuds are top-quality Bluetooth headphones and are completely wireless. The Auto-Pair feature enables them to automatically sync with each other as soon as you take them out of the case. The case also doubles as a charging station and the accompanying charging pad can quickly and easily charge either the earbud case or a cellphone. Plus, both the earbud case and charging pad can be customized with a logo!
---
Energy
Long workdays can be tiring, so why not give employees a boost of energy to help keep them motivated? These employee work from home gifts will go a long way to keep workers happy and make them feel appreciated.
Coffee is one of the best and most commonly used energizers out there, and this gift is sure to make mornings much more enjoyable for employees. Choose from a variety of freshly ground gourmet coffees and customize the bag with a hot stamp or a greeting card to make sure workers can stay caffeinated.
---
This stainless steel tumbler is a great gift to pair with the ground coffee, making it easy for workers to enjoy coffee, tea, or other hot beverages at their desk without worrying about the drink getting cold. The spill-resistant thumb-slide lid will help to prevent any messes and the four different color options can each be customized with a logo.
---
Don't stop at liquid energy — making sure that workers have something to snack on is just as important! Print your custom logo on the tube and give your employees some mini Jawbreakers to chew on as they work. The sugar rush is sure to get some energy flowing and may help their thought process as well!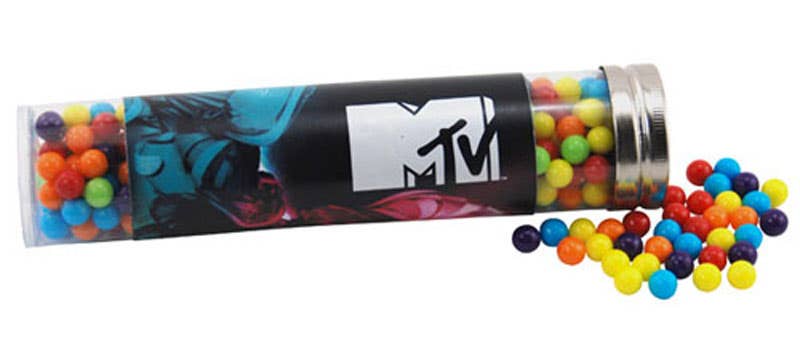 ---
All of these work from home gifts are sure to help employees have the best possible home office experience. Whether it's keeping their desk organized, helping them stay comfortable, increasing productivity, creating a fun workspace, making everyday tasks easier, or giving them lots of energy, employee work from home gifts will provide benefits to both employers and their workers. These gift ideas from iPromo show workers that their managers appreciate all of the work they do and that they want to make employees' lives easier. Many of these items are things that employees will use every day, so they will be consistently reminded of the care their employer takes to ensure their comfort. The ability to add a logo to any of these gifts can also increase brand recognition. Whether it's for a birthday or special occasion or simply an everyday morale boost, workers will love these stylish and useful gifts.