7 Best Employee Care Package Ideas
The pandemic has caused numerous challenges for employees transitioning to working remotely. While some employees might be returning to the office, many have transitioned to working from home full-time as the new normal sets in. With all of the workplace changes and stress, it's important to ask yourself how you can thank your employees for being flexible and to show your appreciation. Customized care packages are a great way to improve employee engagement for your remote workforce, or for transitioning them back into the workplace. To help you out, we hand picked 7 great customizable care packages that your recipients will love and appreciate! 
This BRAGbox™ comes chock full of fun swag that your employees will love. These items are designed to help your employees' daily work life and ensure that your brand is memorable printed on all of the items. The Boss BRAGbox includes:
Ultra Plush Blanket
This beautiful blanket will help keep your employees feeling comfortable, whether they're working at home or the office. It is a large blanket at 50" by 60" inches, unfolded. Folded up, it's an easy to manage 17" by 17". 
20oz. Arctic Zone Tumbler
This travel tumbler is vacuum-insulated and includes a push-on lid. This tumbler can keep drinks hot or cold for hours, depending on the desire of your employees. It also features a trendy powder-coated finish. Your employees will love using this handy tumbler, whether they prefer a hot or a cold beverage. The whole time they're enjoying this drink, they'll also be advertising your brand. It's a win-win for you and your employees.
Wireless Charging Journalbook
This handy book will allow your employees to plan their day while keeping their devices charged. It's made of Italian ultrahyde with an elastic closure and pen loop. The journal can be refilled and includes 80 pages of cream-lined paper. It makes for an excellent branding opportunity as well.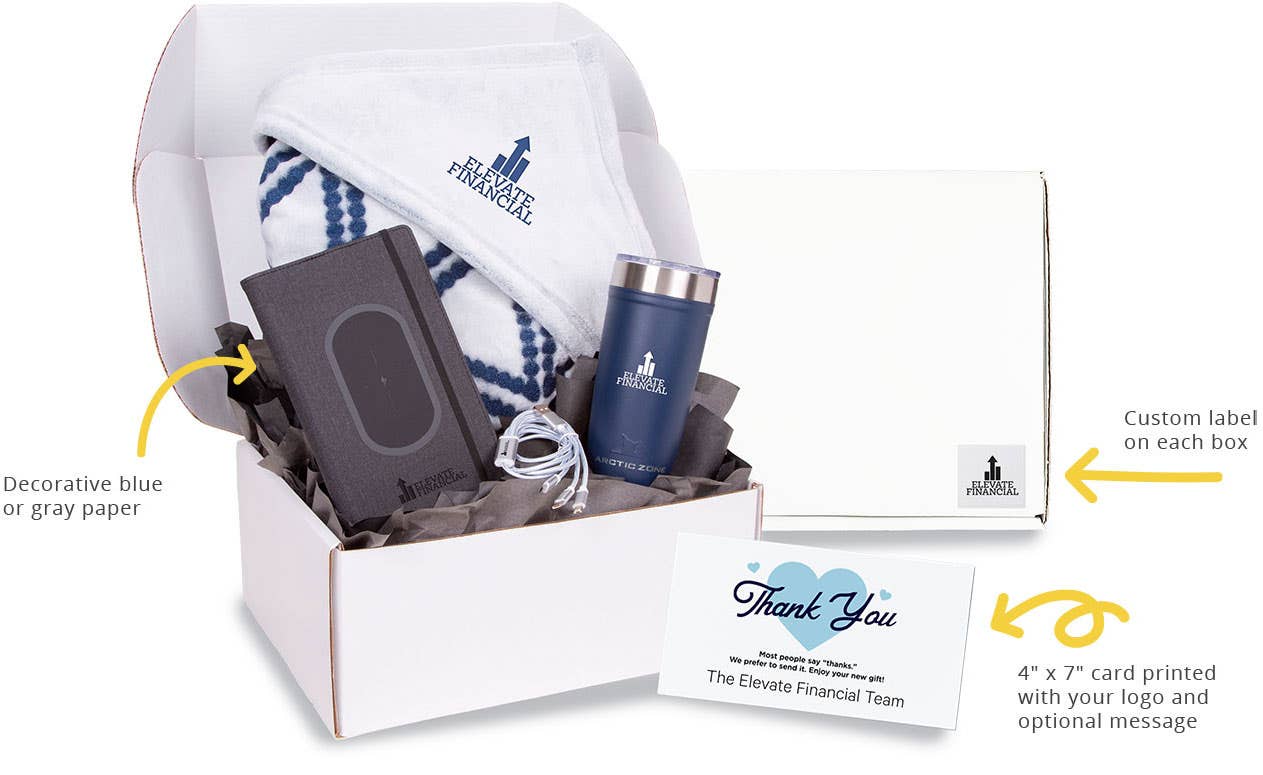 Ensure that your employees are happy coming back to the office or working remotely when you give them this cookies and crumbs swag box. They'll love the cookies, and you'll love the branding opportunity. You can also include a personalized message with the cookies for that extra morale boost, making this one of the best employee care package ideas. 
This box is packed with treats to make sure your employees have a wow unboxing moment with all the goodies included. The snacks include a raspberry honest mustard dip with pretzel twists, dark chocolate almonds, and butter toffee. The box comes in a lovely gift-wrapped package. You can choose a complimentary ribbon in the color of your choice, from white, red, navy blue, royal blue, black, or grey. If no color is chosen, then the default color is white. This box comes branded with your logo, so you can make a fantastic impression while your employees enjoy these tasty treats. 
This BRAGbox comes stacked with items your employees will love as things begin to return to normal. These items are designed to support an on-the-go lifestyle and help your employees perform their best at work and home. The box contains the following:
Non-Woven Drawstring Bag
Your employees will love having this branded bag to carry around their things. This bag will work well to carry all of your essential items. It works with either over the shoulder or backpack carry styles, so whichever suits them best is fine. Your branding will be eco-woven to promote reusability. 
16 oz. Acrylic Tumbler
This tumbler is super handy for your employees' water drinking needs. The double-wall design helps your drinks stay colder for longer. The cup is also BPA-free for your health-conscious employees. Your brand will be displayed right across the front of the tumbler, making it an excellent branding opportunity. Your brand can be associated with hydration and wellness, which is why this is one of the best employee care package ideas. 
Metal 3 in 1 Charging Cable With Key Ring
Your employees will be able to charge their devices anywhere with this well-designed key ring. It's suitable for charging a device from any style of charging port. It also comes stamped with your logo, so you can make impressions while your employees are charging their devices. 
Soft Bound Journal Bundle Set
Your employees can take notes in style with this journal made of Italian ultrahyde. Your employees will love this handy and functional journal, and you'll be spreading brand awareness. When people think of being organized, they will think of your brand.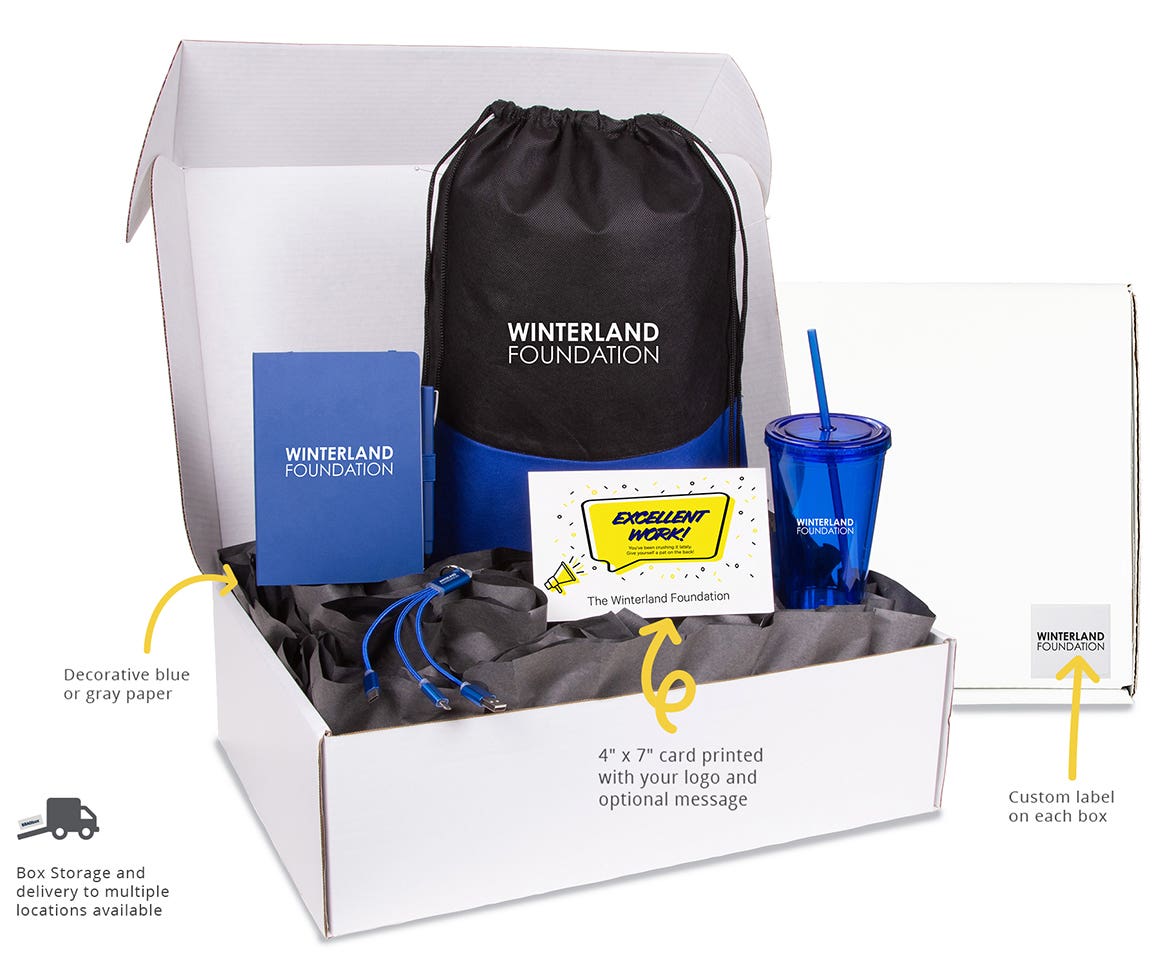 This gift set is perfect for the socially and environmentally conscious employees. This set comes with one hand soap and one hand lotion that is environmentally friendly and vegan, paraben-free, and cruelty-free. Furthermore,  for every soap purchased, one is donated to someone in need. This purchase is kind to both people and the planet. Let your logo be associated with kindness when you purchase this beautiful gift bag.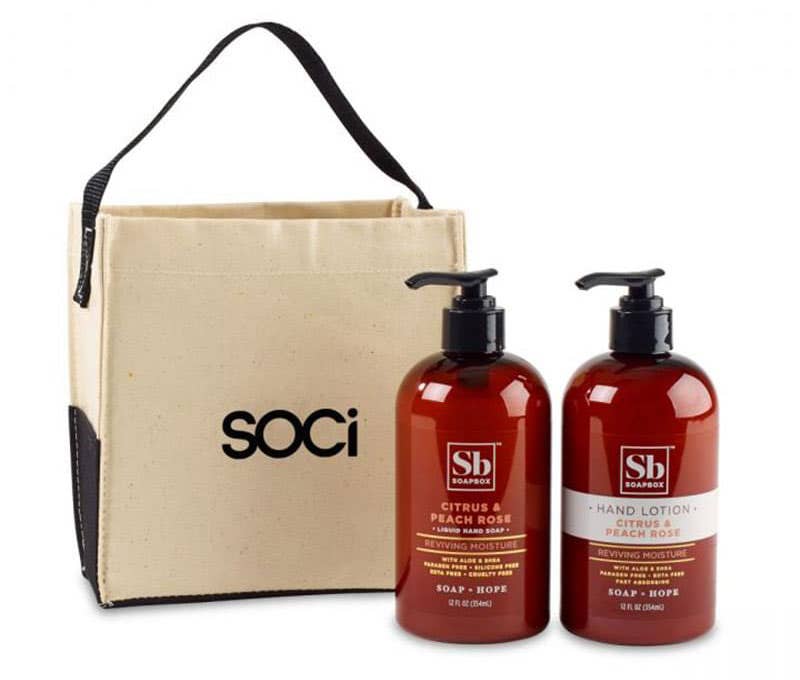 This swag box comes with a variety of treats to make you the hero of the office or at home. Your employees will appreciate you more than ever when they dig into the popcorn, classic rice crispy treat, coffee chocolate almonds, original pretzels, and a libretto journal. Your logo will be displayed prominently on the box so people know where this act of generosity is coming from. 
This calming box is great for letting your employees know you care about their mental health. It comes with 20 tea bags in either lemon ginger, earl grey, or premium green. This box also contains a cozy ceramic mug with a vintage finish on the body. It features a wooden push-on and spill-resistant lid. Even better, it's dishwasher safe and features your logo prominently.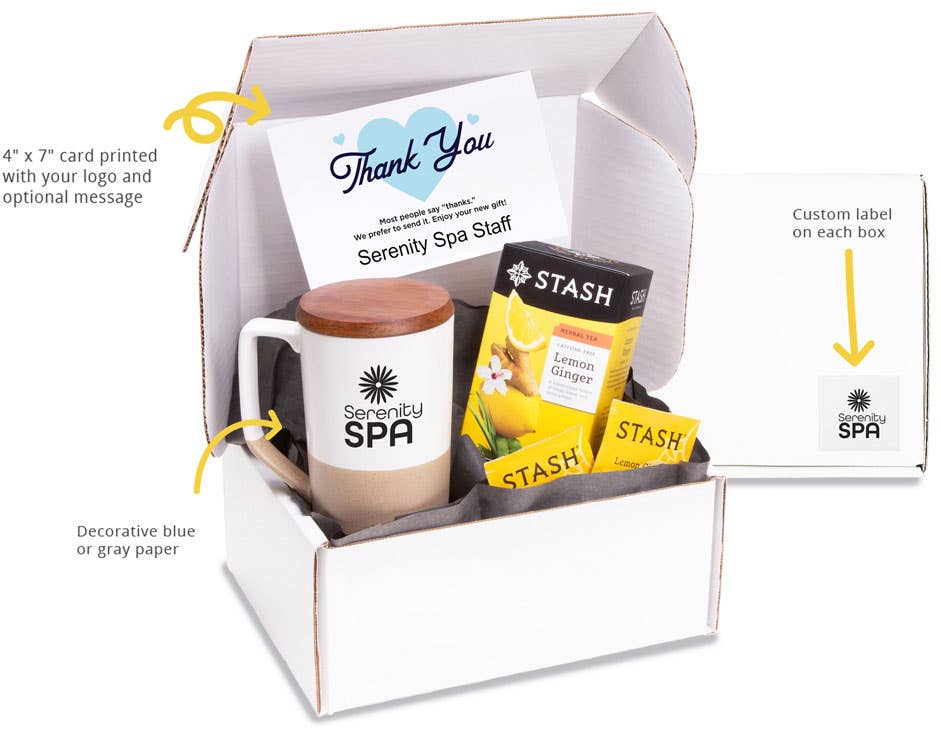 All of these great care packages let your employees know you care and appreciate everything they do on a daily basis, whether that's working from home or the office. Your employees will love them, and you'll win both their admiration and plenty of impressions of your logo. It's the perfect win-win situation. iPromo has plenty of great care package options to choose from. You can also contact us for a quick quote and free preview of your design on any of them!