11 Thoughtful Corporate Thank You Gifts Meant To Impress
One of the easiest ways to show appreciation for your most loyal clients and hard working employees is with thoughtful and impactful thank you gifts. You can increase client and employee satisfaction while building on a long term and successful relationship, all while making numerous impressions with high quality branded items. Here are 11 of our favorite corporate thank you gifts guaranteed to make a lasting impression!
This care package makes for one of the best corporate thank you gifts. This combination of hand and body wash is just the thing to get anyone's skin feeling fresh and soft. Goat milk creates a natural moisture barrier that can keep skin from getting irritated and protect sensitive skin. This product is just the thing for the conscientious client, free of parabens, phthalates, formaldehyde & synthetic colorants, 100% vegetable-based, and cruelty-free. Your logo will be displayed prominently on the front of the bag, so there will be no doubt who is providing this luxurious experience. 
As many people have transitioned to working remotely, many of us have also adjusted our fitness routine too. To facilitate this, you can gift your clients the Work it BRAGbox. This package includes a 20 oz. Camelbak water bottle so your clients can stay hydrated. It also boasts Skullcandy Bluetooth earbuds, so they can listen to the music they want while getting their sweat on. Finally, there's a gorgeous duffel bag made from recycled materials, so both you and them can feel good about doing your part for the planet.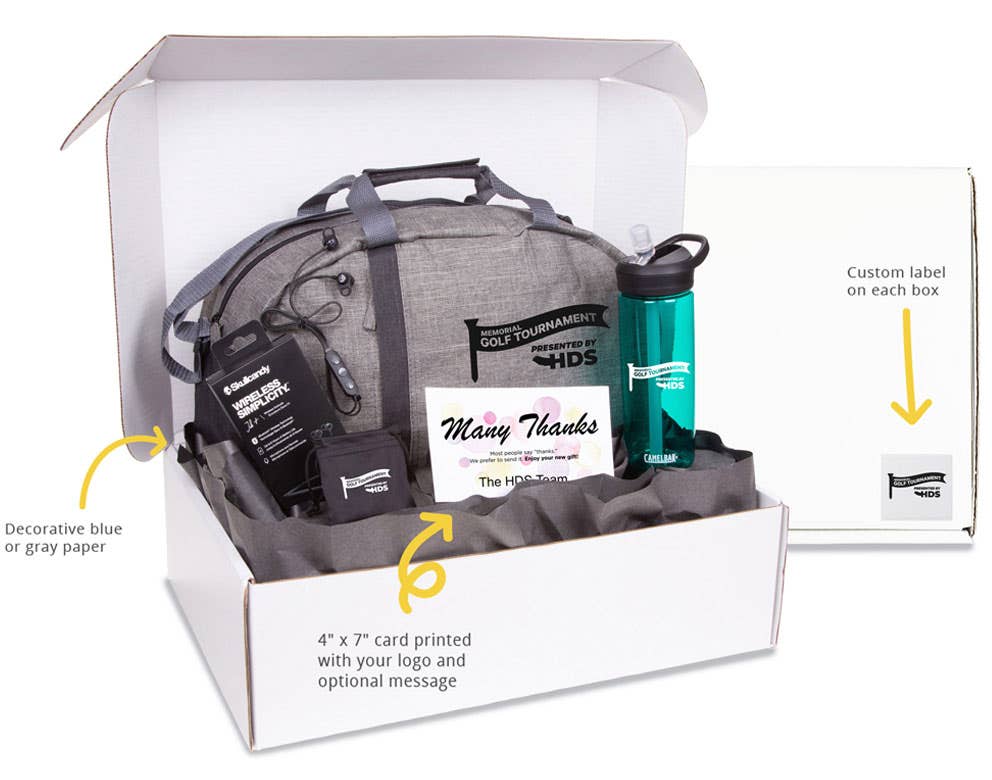 This makes an excellent gift for all the campers or those who like to take drinks on-the-go. This durable, double-layered mug keeps your beverage cold for up to 24 hours and hot for up to 6 hours. The copper insulation and double-layered design also aid with preventing condensation on the outside of the mug. It fits current trends with powder coating. Finally, laser engraving lets you make brand impressions while people take this mug wherever they go.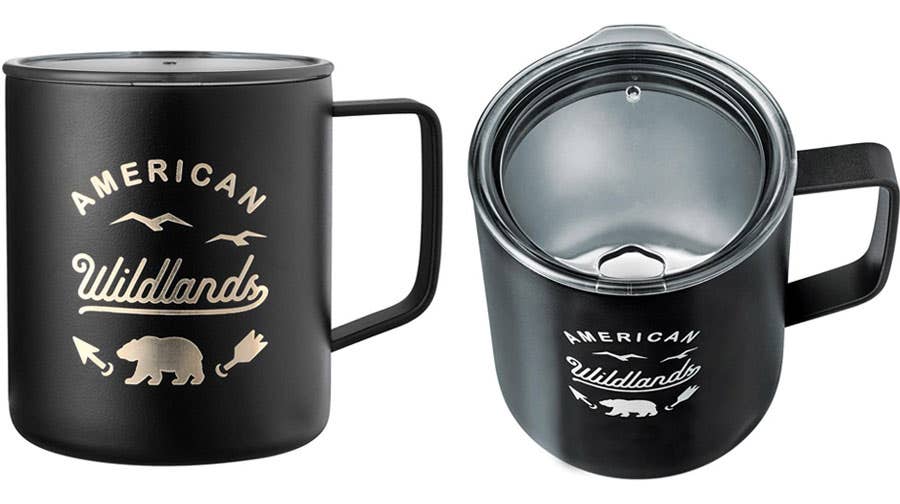 This aesthetically pleasing organizer makes for a fantastic corporate thank you gift. It comes complete with your logo prominently displayed on the tray. This tray will help your recipient organize their desktop belongings, and the wireless charger with a micro-USB input is the perfect thing for QI-compatible devices. 
This swag box is sure to make you popular with whoever you gift it to. It comes laden with plenty of snacks and goodies so there's something for every taste. This box includes:
Delicious Poppy popcorn

Classic rice crispy treats from Byrd Cookie Company.

Coffee chocolate almonds from Giddy Up Nuts

Original Pretzels from Martin Handmade

A Libretto Journal
This gift set is a super unique and creative combination of candle and planter. Your clients will appreciate the two-in-one nature of this item. They'll have a 12oz scented soy candle to enjoy, and when it runs out, this package includes everything that they need to start their own beautiful aloe plant. It has non-GMO seeds, a soilless grow medium, plant food, activated carbon, and instructions to make sure the plant turns out great. Your logo is featured prominently on the side. It makes a great impression as both a candle and a plant. 
Work. Live. Fiesta! This gift set is just the thing to give your clients a memorable night. You surely know a taco lover who will light up when they see what this gift set has to offer. This bag includes a solid 2 lbs of food, so no one is going hungry tonight. Each bottle is good for up to 3 lbs of meat as well. This kid includes everything that your clients need to whip up a delicious batch of flavorful tacos. Inspired by a fusion of styles, these tacos will give. 
This colster is just the thing to put a smile on the face of your clients with the instant brand recognition of YETI. This colster keeps drinks cold for so long it will make you wonder if the rules of nature apply anymore. Standard-sized cans and bottles would fit this thing like a glove if that glove were double layered and capable of extended temperature maintenance. The load and lock gasket will keep your drink in place, and the no-sweat design will prevent any annoying condensation. This is available in stainless or duracoat. It has a spot for your logo to co-brand with one of the most recognizable brands in America, so your clients can spread your brand awareness while having a good time for years to come.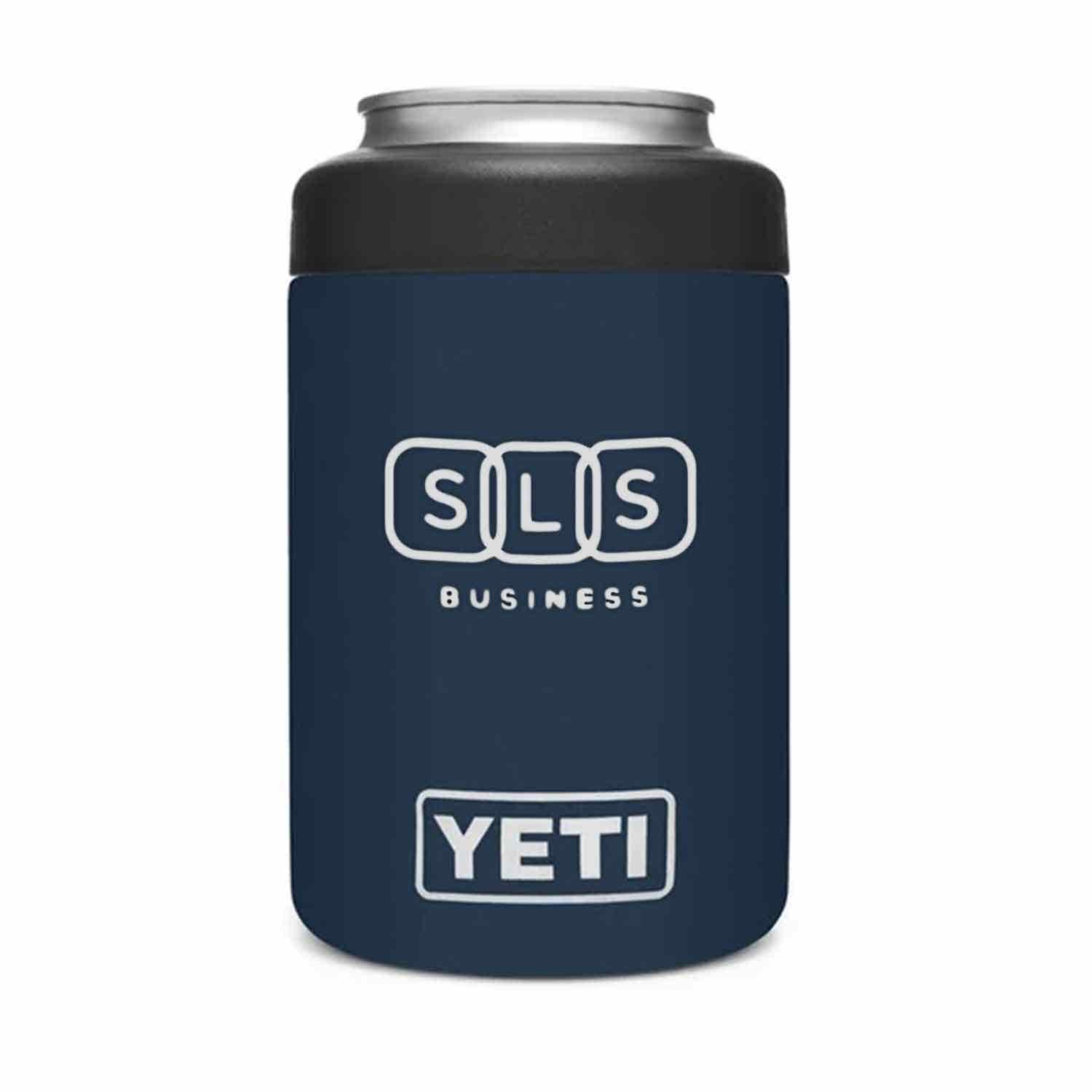 This product is perfect for the client who loves charcuterie. The Acacia Serving Ladder has a great design for maximum cheese delivery. This serving ladder will keep the products visible and separated whether you're serving fruit, cheese, meat, or other snacks. These make great corporate thank you gifts, and will make a classy addition to any dinner occasion creating quote the conversation starter.
Wireless earbuds and a wireless charging pad, what more could you ask for. This pairing will make a great impression as a corporate gift. Say goodbye to tangled wires and constantly replacing broken chargers, and say hello to satisfied clients. This combo comes in a beautiful retail style gift box that will instantly make a high value impression and will be enjoyed for years to come.
The tea drinkers in your life are going to love this BRAGbox. It comes with a 16oz ceramic mug with a wooden lid. It has a vintage look to bring that cozy comfort that we all crave from time to time. The wooden lid is pushed on and spill-resistant for ease of use. Finally, the mug is dishwasher safe to keep the theme of convenience. It also comes with a box of stash tea in your choice of flavors. Choose from Lemon Ginger, Earl Grey, or Premium Green, depending on what your client prefers. Make a great impression with the Zen Time BRAGbox today!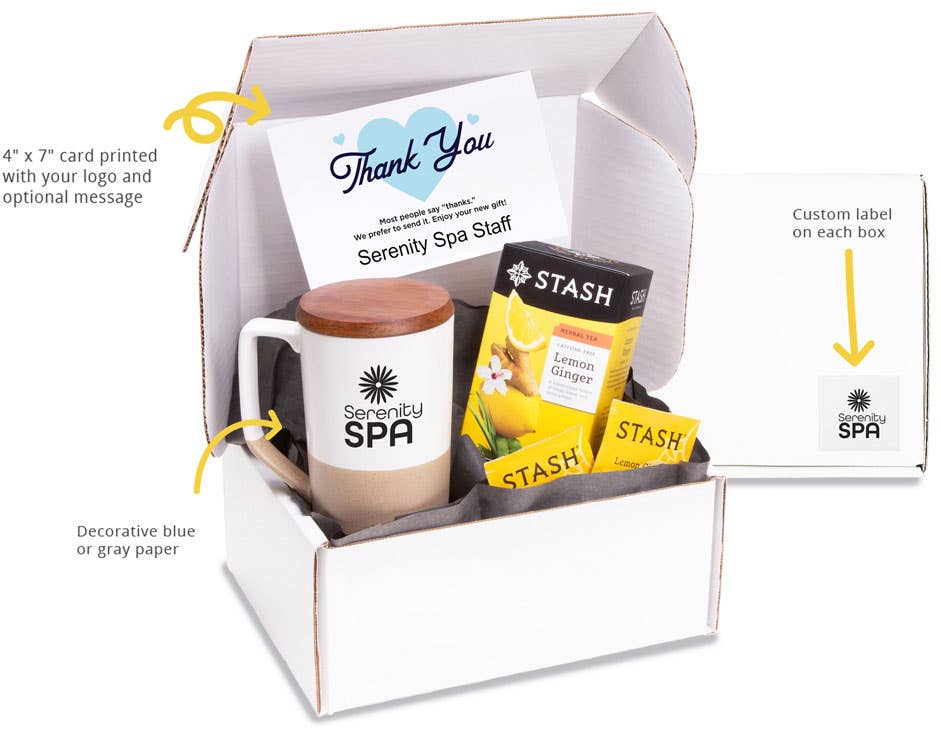 If you're not taking advantage of the benefits of corporate thank you gifts, then iPromo is a great place to start with your gift selection. Be sure to contact us today if you like any of the  corporate gifts above or if you want to learn more about our other corporate gifting capabilities. We can't wait to get started on your next project!