8 Best Vegan Corporate Gift Ideas
When it's time to give gifts to your employees, you need something that everyone will like. After all, most managers don't have the time to hunt down individual gifts for everyone on their team. But not everyone likes the same things, so how should you approach this? 
Buying corporate gifts based on your audience is the smart solution. These vegan items can be customized with your company's logo, and physical items are far more memorable than something like a gift card. Here are 8 vegan corporate gift ideas that you could choose for this year's staff acknowledgment gifts.
What are vegan corporate gifts?
Many people who are vegans and vegetarians expand their lifestyle beyond dietary restrictions. In these cases, "vegan" means no leather or other animal-derived substances. The vegan corporate gift ideas we selected below are plant-based, planet-friendly, and guaranteed to satisfy even non-vegans.
Why give vegan corporate gifts?
#1, If you know your clients or employees are vegan, then personalizing their corporate gifts to fit their lifestyle is a wonderful way to ensure that you're giving something special and shows you care. People who don't consume animal products deserve to feel appreciated and respected, too.
Secondly, these vegan corporate gift ideas are eco-friendly. You don't have to be vegan to understand that the planet needs our protection. Animal products create a lot of extra pollution and they're often more expensive. Choosing vegan corporate gifts can be kinder to the planet, too.
Here are eight vegan corporate gift ideas that would be perfect for seasonal gifts, or for office parties to commemorate professional achievements. They're all customizable and absolutely free of animal products. 
---
You'll knock their socks off with this plant-powered gift kit. This gorgeous collection of eco-friendly items is packed into a bamboo tote with your logo on the front of the bag. Inside, your team will discover a stylish bento box for packing lunches. There's also a selection of plant-based ingredients that will make their mouths water. Your employee can enjoy a meatless ground veggie mix for making Sloppy Joes, plus a tzatziki dip and chipotle parmesan seasoning. 
This is a wonderful gift because it's a two-part item. First, there's a meatless meal they can prepare with their families for a memorable night with their loved ones. Second, they get a branded sustainable tote bag that can be used over and over again. From the grocery store to the library, this customizable bag will take pride of place when running errands. This is a wonderful vegan-friendly gift that all your employees can enjoy, regardless of dietary preference.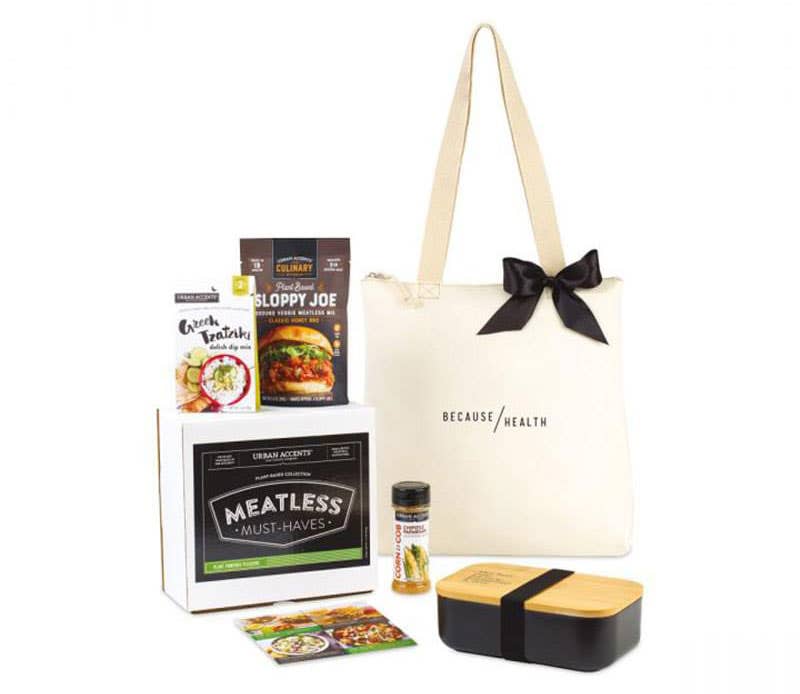 ---
This is a luxury travel accessory that is sure to impress every person on your team. Plus, it's made of vegan leather so no animals were harmed in the production of this item. The kit is perfect for containing toiletries or makeup while traveling. It has a sturdy zipper and a glamorous aesthetic.
Customize it with a full-scale design that covers the entire body of the bag. You could create a colorful graphic using your company's logos, and then choose from one of 10 zipper colors to complement the design. This is an item that will be used over and over again.
The Vegan Leather Dopp Kit is appropriate for employees of any gender. With a high-quality finish and a customized appearance, this kit will be the talk of the office. You could even make it an annual event and release a new design every year. This item is unique on our list of vegan corporate gift ideas because it can be repeated each year with the same delight.
---
Whether in the office or on the go, now your employees can lunch in style with an eco-friendly travel meal kit. It comes with three utensils and is made of 50% wheat straw and a bamboo lid. Not only can your team keep waste out of the landfills by bringing their own cutlery, but the product itself is sustainable, too.
There's an elastic strap to hold the compartments together for safe traveling. The bamboo is smooth and durable, and on top of the lid is where you can get your company logo neatly etched. This is a great gift because everyone in the household can make use of it. Your employees can take it traveling, hiking, or to the office. Their partners and children can also use these for packed lunches on the weekends. 
---
Choose this gift set if your company is passionate about giving back. Your team will appreciate that every purchase helped deliver soap to someone in need. It will make them feel involved in your corporate social responsibility plan, and they can feel confident knowing that they work for a company that cares.
The Soapbox gift set includes a cotton zippered pouch that displays the logo or design of your choice. Inside are two bar soaps with different scents, such as peach rose or black citrus. This is a highly environmentally-friendly gift, as bar soaps clean your hands without creating any plastic bottle waste. Your team will enjoy the olive oil and shea butter mix, which restores moisture to dried-out hands that type or answer phones all day.
Finally, this is a favorite on the list of vegan corporate gift ideas because it's made in the USA. It's vegan, paraben-free, cruelty-free, and made without any of the artificial colorants that can create irritation. Whether you have any vegans on your team or not, this soap gift set is a thoughtful way to spread the love.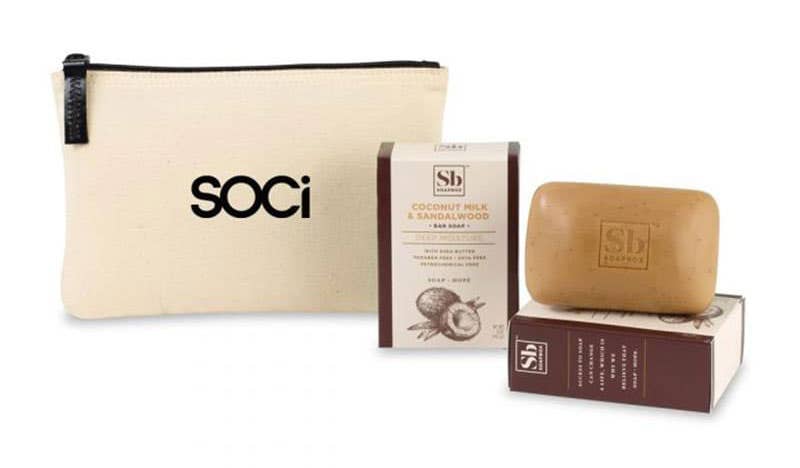 ---
Reusable bags are on-trend right now. They're a great way to reduce plastic waste and show your style, whether going to the gym or the grocery store. Most people have a stash of old canvas bags that are worse for wear. Why not gift your team with new cotton drawstring bags this year?
This item is lightweight and breathable with a drawstring closure. It's got a durable bottom, where your artwork is applied permanently via precision printing press. It could be the perfect bag to bring to a farmer's market, or to hold wet veggies from the produce section. This bag could hold gym clothes or running shoes, library books, snacks for a hike, and more.
The Cotton Mesh Drawstring Bag is versatile and reusable. You don't have to be a vegan to appreciate this bag, but vegans will love how earth-friendly this gift is. Get it screen printed and surprise your team with a gift that's actually useful this year.
---
With scents like chocolate fudge and white tea, there's a perfect option for everyone here! Soy candles last 50% longer than other candles, so this is a smart way to spend your budget on vegan corporate gift ideas. Soy candles are natural and friendlier to the environment. 
The jar itself is not too large, but sizable enough to make a good impression. You can get your logo wrapped around the jar for a commemorative note, or add a festive design that's relevant to the season or accomplishment you're celebrating.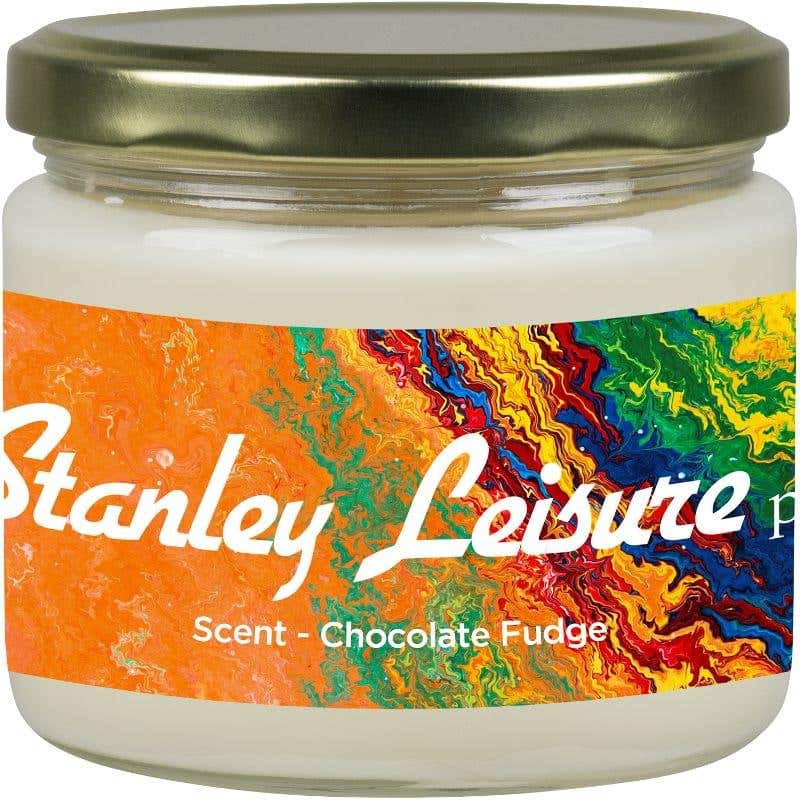 ---
Encourage your employees to get fancy with this bamboo water bottle with detachable fruit infuser. Staying hydrated is an important part of wellness, but it can get boring to drink tap water all day. This gorgeous 24 oz. water bottle is the perfect solution! 
It's BPA-free and the flat top lip resembles bamboo. The diffuser can be filled with fruit and herbs for a delicious daily beverage. You can fill it with strawberries in the summer, lemon and rosemary in the winter, and just about anything you can think of. Get your logo printed on the side of the clear bottle, and your employees will think of you whenever they hydrate.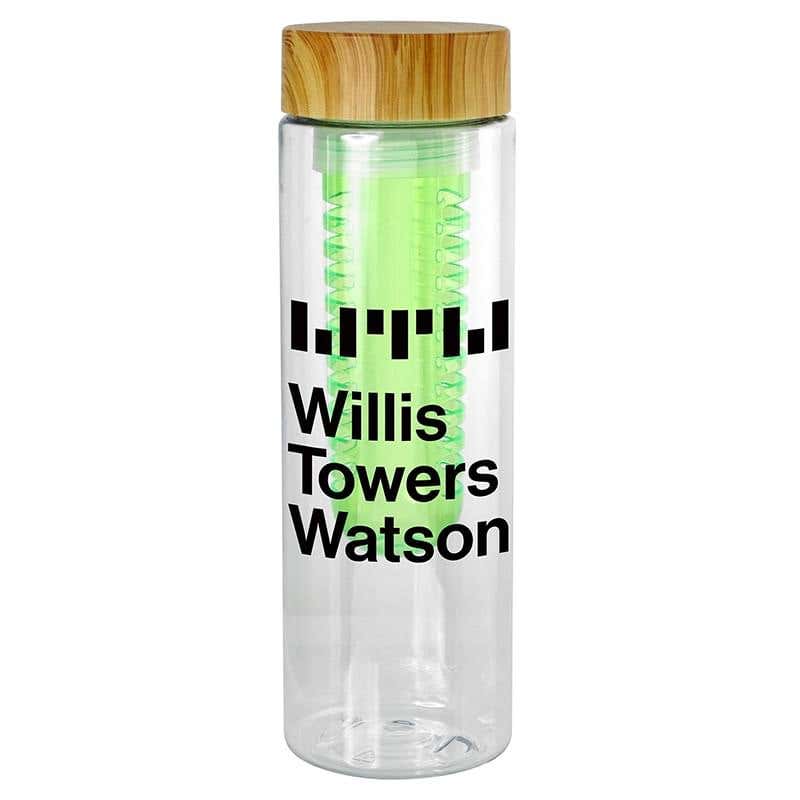 ---
Vegans eat a plant-based diet, so their kitchens look a bit different from meat eaters' kitchens. One prized possession for vegans is a vegetable peeler. Available in green or black, this high-quality vegetable peeler can replace whichever item they already use. It has a stainless steel blade to make quick work of carrots and potatoes. There's also a plastic guard for safe-keeping when it's tossed into a drawer.
Get your logo printed on the handle and your employees can toast you every time they prepare a plant-based meal at home. When you're considering vegan corporate gift ideas, a vegetable peeler is guaranteed to delight the plant-based members of your staff.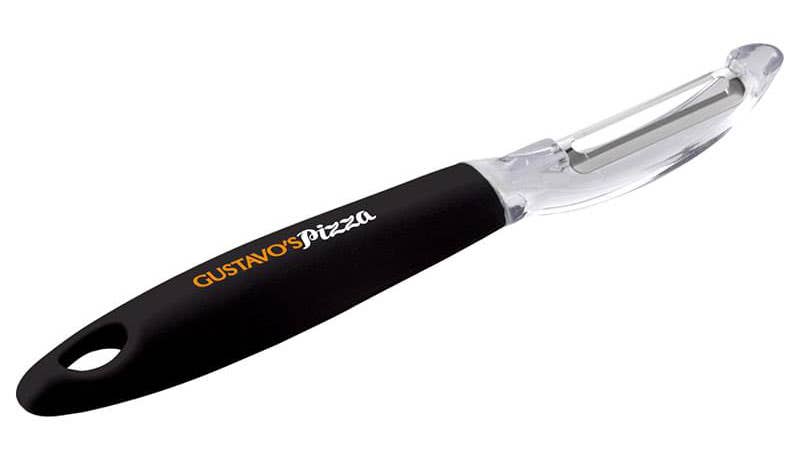 ---
It's important that every employee feel appreciated. Gifts can help with retention and productivity. Choose a customizable, eco-friendly option from iPromo to ensure that everyone on your team gets the celebration they deserve!