Branding With a Purpose: Every Custom Corkcicle Order Brings Clean Water to People in Need Through Charity: Water
There are 785 million people around the world that live without clean and safe water. Families living in remote areas often spend hours walking just to find and collect water, some of which is not even safe for human consumption. As a result, children cannot attend school, and parents cannot earn a living, resulting in their communities declining rather than thriving.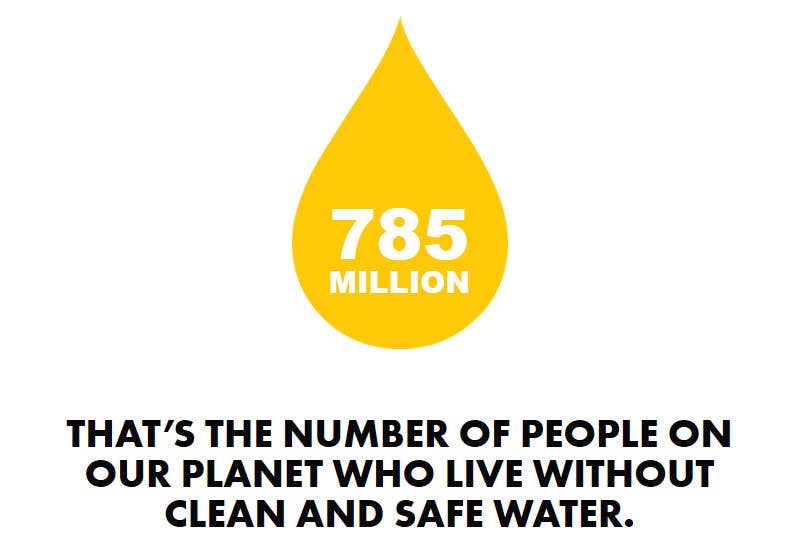 Corkcicle offers a great product that not only provides your clients and employees with quality drinkware but also helps them support community clean water initiatives. From the beginning, Corkcicle has continued to be recognized for not only what they make, but their priority to bring clean water to those in need. They've partnered with charity: water, a nonprofit organization that brings clean and safe drinking water to people living in developing communities around the world.
What's better than a thoughtful gift is knowing that your purchase will help in giving to those in need. Additionally, people are more likely to buy from companies that display a commitment to social and environmental responsibility. It's more important than ever before that businesses seize opportunities to give back, and promotional items are a great place to start.
By ordering custom Corkcicle drinkware, you're showing clients and customers that your company cares about its impact on the world. Corkcicle's products convey "stylish simplicity," making your artwork will look fantastic, as well as refreshing and modern.
What's more: customers will remember which company provided the incentive or gift. Useful branded products can magnify your brand's exposure, keeping people engaged with your brand and any messages you want to communicate about your company.
Let your brand be seen with every sip. Promotional drinkware takes your brand everywhere, making anyone who carries your branded items out in public an unofficial ambassador for your company and the causes it supports. By co-branding with Corkcicle's mugs, canteens, and glasses, you'll garner attention for your socially responsible stance.
So whether it's a mug, reusable bottle, or some other more elegant product, clients and employees will appreciate a gift that provides them a sense of purpose and appreciation when enjoying their favorite drink. 
This canteen is designed with an active lifestyle in mind. Its industry-leading three layers of insulation eliminate condensation and won't burn your hands, meaning it works great with not only cold beverages but hot ones as well. As people continue to spend more time outside to stave off lockdown boredom and loneliness, this is a strategic way to keep your brand at the tip of your client's lips. This canteen comes with easy-grip sides and a non-slip bottom, which will come in handy if your clients are out for a run and can't leave their water behind. With four colors to choose from, you can imprint your logo on the front of the canteen for optimal viewing opportunities.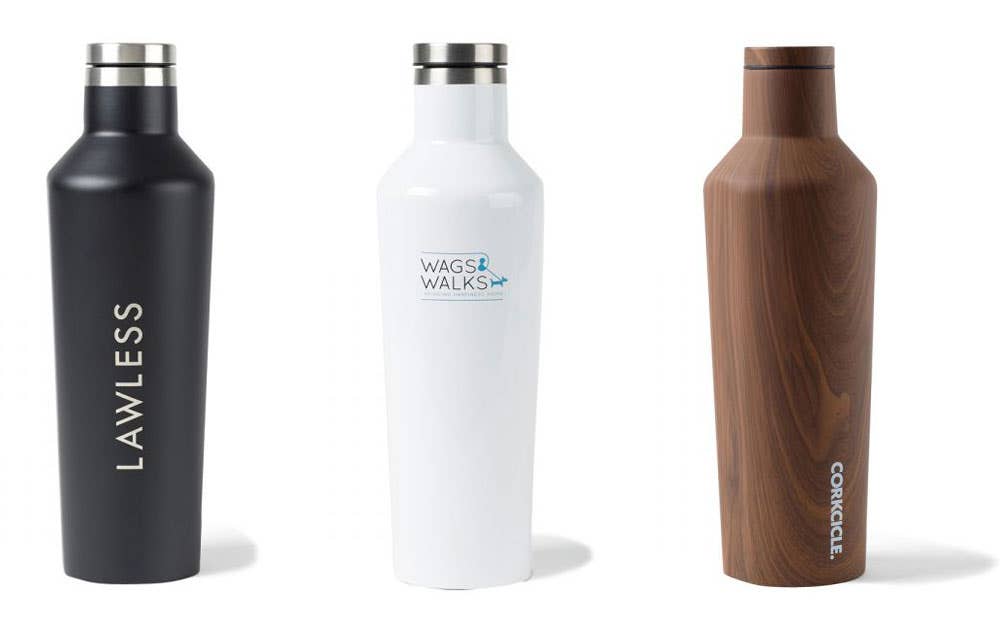 ---
Promotional drinkware with logos or slogans can work as a useful marketing tool to promote your corporate message. People will remember your message after they see it printed on this coffee mug. While promotional drinkware can vary based on seasonality, everyone can benefit from a quality mug for their beverages. Keep your employee's morning moment or afternoon pick-me-up hot for hours with the Corkcicle Mug. Whether they prefer a coffee, cocoa, or chamomile tea, it ensures that their favorite hot drink stays toasty for up to three hours. It also includes a clear, sliding, spill-resistant lid that your clients and employees will enjoy while on-the-go. When using your custom drinkware inside or outside the office, your employees will feel a sense of pride and loyalty to your company or organization.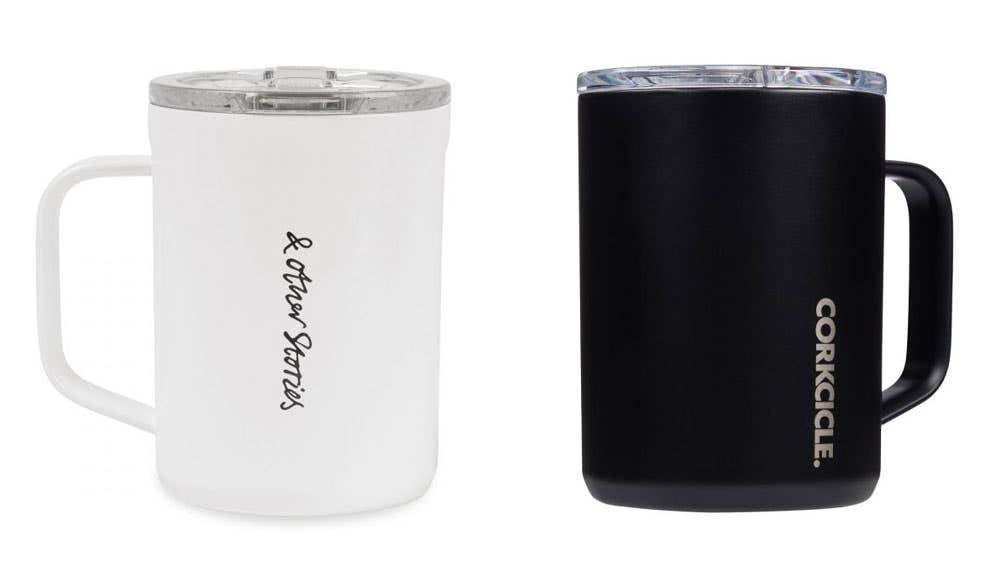 ---
Say hello to the coolest cup ever! Crafted from stainless steel with triple insulation, this vacuum-sealed wonder cup is much like your business: it just doesn't quit. Compared to wearable promotional products, drinkware versatility increases visibility for your brand since it is more likely to be used daily. 
This stemless glass is a great gift option for your clients or employees, both of whom will look forward to using this product at the next company retreat or social outing. Their drinks will stay colder even longer with drinks containing ice — even out in the sun. From sunrise to sunset, their beverages will remain at the perfect temperature.
---
Any good salesperson will tell you that planting the initial seeds of interest in a potential customer is only half the battle. This tumbler does a great job of introducing your brand in a friendly, approachable manner. The Advertising Specialty Institute suggests that nearly half of all American consumers own promotional drinkware, and they generate over 1,400 impressions over its lifetime, which means this tumbler can be the difference between people who remember your brand, and people who stick with your competition. 
The perfect blend of form and function, each tumbler comes topped with a stylish, sip-through, spill-resistant lid equipped with a built-in slider to maintain the ideal temperature in-between sips. Your clients will be thirsty to use this product for all their beverages, and when they're done, they can simply hand wash with mild dish soap for easy cleanup. 
---
Promotional drinkware doesn't just have to be for work-related items. They're also great for promoting your brand outside the office. This can cooler will surely make a trendy custom gift to build your brand. This product is perfect for tailgates and picnics since this on-the-go drink holder won't sweat like other take-along containers. Its sleek stainless steel design ensures your logo or artwork is displayed clearly on the front. Simply freeze the cooling core base, and your brand will be noticeable with every sip your consumers take. Designed to outperform the typical foam can coolers, this promotional gift will be a real showstopper at any social gathering, whether in the office or at home.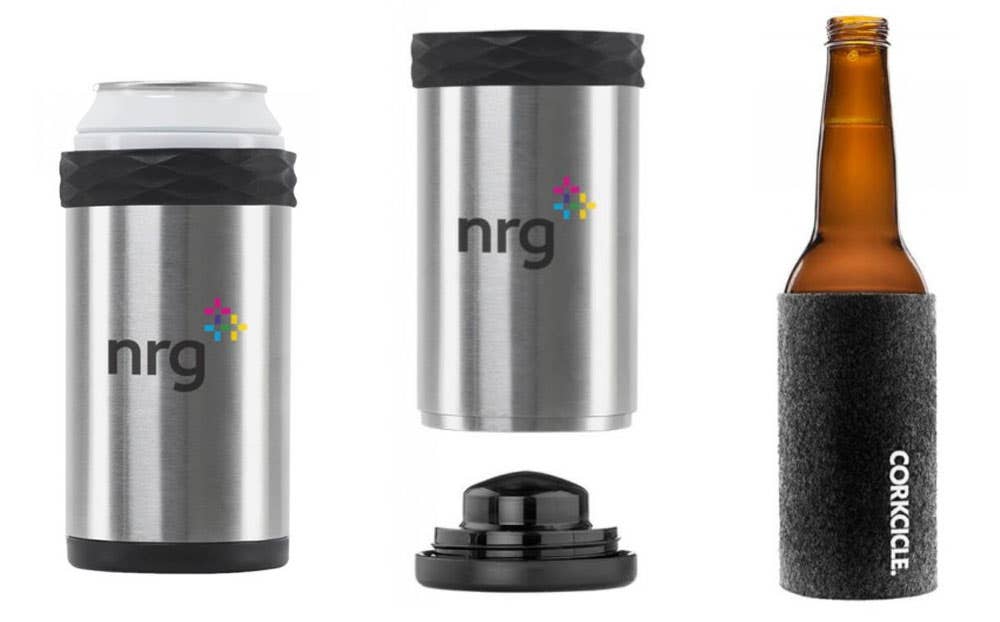 ---
Giving a premium corporate gift set is a great way to make a huge impact on your recipients. If your business or organization is looking to establish itself as luxurious, offering them a unique premium Corkcicle® Canteen & Stemless Wine Cup Gift Set can instill a good impression of your business's nature. Not only will your gesture be a great marketing tool, but it's also practical and gives back to communities in need. Each gift set includes two wine cups and one canteen, all customized with your logo!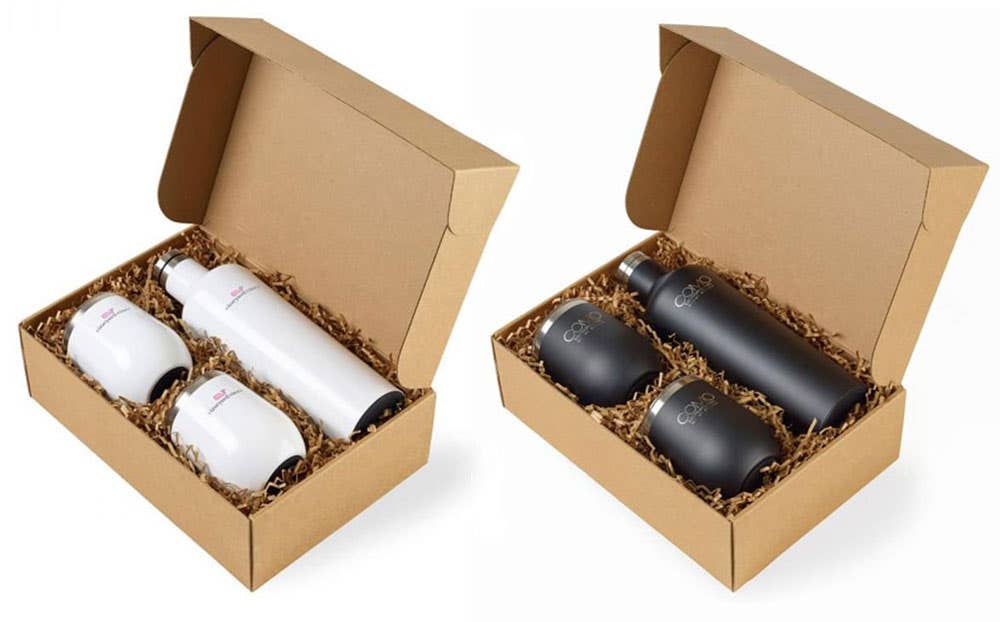 ---
Everyone appreciates a warm beverage on a cold day or having their drink stay chilled while they are on-the-go. If you think a client or consumer will forget about your business the moment you give them a promotional gift, you're wrong. Seven in ten people will remember your brand's call to action, and nearly all will recall branding on promotional products.
There are also many cost benefits associated with investing in premium promotional drinkware. One of the most significant benefits of marketing promotional drinkware is cost-effectiveness. Let your clients and employees know that part of your company's core values is helping support environmental and social initiatives.
For those looking for a great corporate gift that is sustainable, socially conscious, and on trend, look no further than custom Corkcicle drinkware. Loyal customers, vendors, partners, and stakeholders also make great brand ambassadors. Learn more about all of the Corkcicle product offerings from iPromo and be sure to check out many more gifts that give back from many other great retail brands we offer. Reach out today to request a quote to get started today.