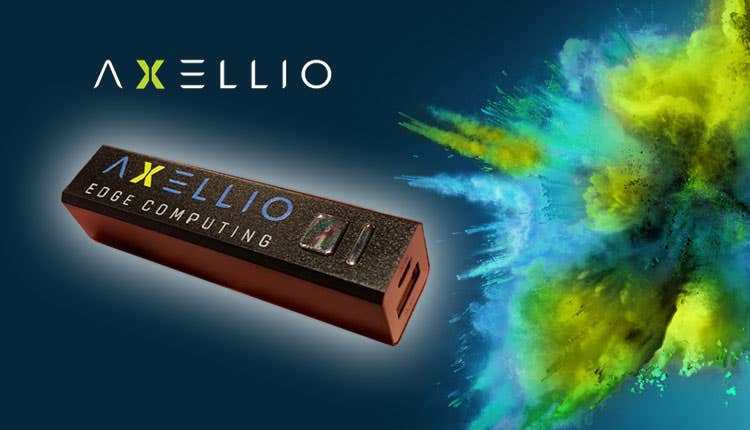 Case Study: Axellio Edge Computing Used Custom Power Banks to Wow Trade Show Attendees
We always love hearing stories about how our customers have personally benefited from using iPromo's great promotional products. Those types of stories are a testament to our mission as a company – providing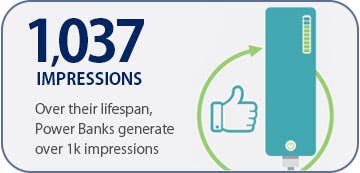 businesses with the best in custom promotional products to help elevate brands to entirely new heights. Lately, one product in particular has been receiving tons of rave reviews from our clients. We're referring to our custom power banks, a best selling product with limitless promotional potential.
Custom power banks are small portable batteries that provide a boost to mobile devices while on the go. It's a truly great promotional product that can save the day when someone is out and about and in need of a charge. Technology has increasingly become integrated into our everyday lives. You can pretty much do anything on a mobile device these days. However, mobile devices have one big limitation – their battery life. That's why portable power banks can add so much value.
Custom power banks work well as promotional products because they are extremely useful and universally accepted. Your customers will be reminded of your brand name or company every time they use your custom power banks to charge up their devices.
Custom power banks are the perfect product for corporate events, giveaways, and trade shows. One of our clients, Axellio Edge Computing, recently used them to great success at the Microsoft Ignite trade show in Orlando, Florida.
Choosing the Right Product
Cara Sigler, a digital marketer at Axellio Edge Computing, was looking for a promotional product that would make a big splash at the 2018 Microsoft Ignite Tradeshow. Since Microsoft Ignite is a trade show focused on technology related products and companies, Cara was looking for something that would appeal to that crowd. She wanted something "techy and useful" that would increase traffic at their booth during the trade show and build hype about their brand long after it was over.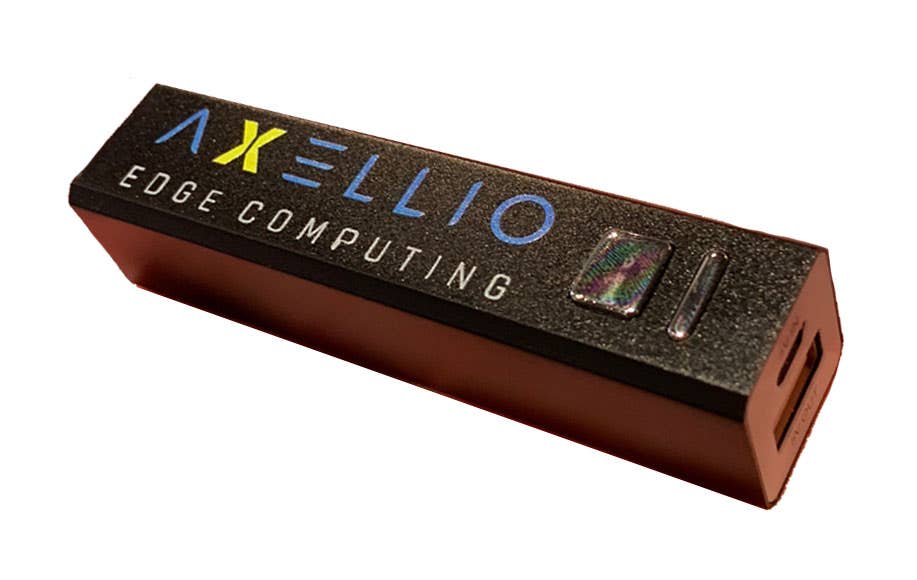 While Cara was browsing through iPromo's selection of technology related promotional products, she noticed that the reviews for our power banks were extremely positive. She decided to go with our best-selling Volta Power Bank as well as the more compact Tesla Power Bank. Both products are great due to their sleek designs, ease of use, and high quality materials.
How Custom Power Banks Made an Impact
Cara was easily able to add custom Axellio Edge Computing logos on both types of power banks and had them quickly delivered prior to their tradeshow. The Tesla Power Banks, which are smaller, more compact, and feature a visually appealing brushed aluminum outer material, were used as promotional giveaways at Axellio Edge Computing's booth throughout the trade show.
She told us that trade show attendees absolutely loved getting their hands on this useful and intelligently designed product. The larger Volta power banks were used as incentive gifts that encouraged potential clients to sign up and complete software demos that showcased Axellio Edge Computing's products.
What Were the Results?
Saying that the custom power banks were a success is an understatement. Microsoft Ignite tradeshow attendees were nothing short of thrilled to receive such a useful and well-designed gift. The Tesla Power Banks were very popular and stayed in high demand throughout the entire tradeshow. Cara stated that they received tons of compliments about their giveaways and the overall aesthetic of their booth. Without a doubt, the custom power banks helped to increase traffic at their booth.
With regards to the Volta Power Banks, Cara followed up with all of the individuals who participated in the demo and received them. She stated that the recipients were "shocked by the quality and usefulness of the gift". In fact, the recipients raved about the Volta Power Banks so much that Axellio Edge Computing now gives them out to their most important partners as gifts.
Cara told us that the Volta Power Banks have been enthusiastically received by their partners and are helping to strengthen their valuable business relationships. Overall, Cara believes that the custom power banks fulfilled their purpose, exceeded initial expectations, and were essential to the success of their booth at the Microsoft Ignite trade show.
Design your Custom Promotional Products Today
Stories like this show how truly impactful and rewarding a custom promotional product can be for businesses. We were so happy to hear that Cara and Axellio Edge Computing were able to increase traffic at their booth and make positive impressions on anyone who stopped by during the trade show thanks to our custom power banks. If you are interested in designing your own custom power banks or would like to learn more, head over to iPromo's website today!