September 12, 2023
Corporate Gift Ideas for Executives
Many executives lead intensely busy lifestyles, juggling tremendous responsibilities while pursuing perfection in their brands. They have discerning tastes cultivated by exposure to the finest things in life. Simply put – they've seen it all.
That's why when it comes time to show appreciation for these influential leaders, whether to thank them for their business or mark a major milestone, the gift needs to check all the boxes. It must demonstrate you understand their world without looking like a desperate pandering for a favor. It should appear elegant and understated rather than extravagant. Most importantly, it must hold meaningful value beyond just the item itself.
With executives, choosing wisely allows you to strengthen crucial bonds and leave a lasting positive impression. That's the goal with every executive gift – to thoughtfully convey gratitude, respect, and understanding of the recipient's unique position and personality.
We will explore various tasteful executive corporate gift options that satisfy even the most discerning executives and elite clients. From tech and luxury accessories to customized items and experience gifts, you will learn good ideas that feel refined, useful and appreciated. By the end, you will understand how to choose presents executives will genuinely value for years to come, cementing you as a savvy and considerate partner in their world.
Presenting Tasteful Gifts for Executives
The gifts listed below strike the right balance of thoughtful yet refined for executives. Each option exhibits elegance tailored for professional settings without flashy excess. Because it is important you choose presents that display insight into the priorities and preferences of these discerning professionals.
Potted Money Tree Plant
This stately Money Tree plant makes for an elegant and luxurious desk ornament for top executives. Its lush green leaves and climbing stems emulate the imagery of wealth and prosperity that Money Trees are known to symbolize. Having such a lush indoor plant on one's desk would help create a sense of ambient natural beauty and relaxation amid the busy work environment of an executive.
The Money Tree's longevity and low-maintenance care needs make it a practical choice. Unlike cut flowers that wilt quickly, this decorative potted plant can be enjoyed for months with only occasional watering. Busy executives will appreciate not having to fuss over a high-maintenance plant. Its growth habit of climbing vertically also allows it to fit aesthetically into any executive or home office space without taking up excessive desktop real estate.
Receiving such an impressive-looking indoor plant as a gift would give executives a feeling of being valued by their company. Its wealth and good fortune symbolism could also provide inspiration and positive energy for professional success.
Over time, watching the Money Tree thrive could become a source of joy and stress relief for executives working long hours. Overall, its luxurious look and practical care needs make this Money Tree plant an elegant corporate gift choice that executives would find beautiful and meaningful for their home office environment.
Tentree® Organic Cotton Juniper Blanket – 60″ x 60″
As leaders, executives always look for ways to showcase their companies' commitments to environmental stewardship. This is why the organic cotton blanket from Tentree would make an excellent sustainable gift for top-level executives. This blanket is made from 100% organic cotton, allowing the gifting company to demonstrate its values of social responsibility and planet-friendly practices.
The stylish nature-inspired design of trees and foliage is understated yet sophisticated, fitting for senior business professionals. The blanket comes in a large size of 60″ x 60″, so it is sufficiently substantial without being overly casual. 
Executives can take it on business travel to cozy up on long flights or keep it in their home office for relaxing after hours.
By choosing a product from the eco-conscious brand Tentree, gift-givers can feel good knowing that ten trees are planted with every purchase. This impactful buy-one-give-one model supports reforestation efforts globally. Executives concerned with sustainability will appreciate supporting such initiatives. The soft organic cotton material also provides health benefits as executives seek to relax and recharge.
Ember Metallic Mug² – 14 oz.
The Ember Metallic Mug offers several features that will appeal to executives' busy lifestyles and preferences. One key feature is its ability to keep drinks at the desired temperature for up to 80 minutes. Executives often have back-to-back schedules with little time in between. 
It is very convenient to set their coffee, tea, or other beverages to the ideal temperature and not have to worry about it getting cold in the short time between meetings. They can organize their mornings more smoothly without continually reheating their drinks.
In addition to convenience, the mug provides a high-quality blank slate for branding. As it is made from stainless steel, your company's logo or message can be beautifully etched onto the surface through laser engraving. This creates a personalized gift that executives will use daily, being reminded of the giver's thoughtfulness each time. It differs from low-quality novelty gifts that may be forgotten or disposable.
The advanced technology built into the mug will appeal to executives accustomed to innovative products. Controlling the temperature from a smartphone app allows for precision and ease of use that tech-savvy professionals will appreciate. Receiving a gift incorporating the latest technology demonstrates an understanding of the types of products this demographic truly values for their lifestyles.
The North Face® Apex Barrier Soft Shell Jacket
As corporations look to gift executives, practicality should be a top priority. After all, executives lead busy lives and need products that enhance their daily routines, not clutter their calendars. The North Face Apex Barrier Soft Shell Jacket ticks all the boxes as a corporate gift cut above the rest.
With water-resistant WindWall fabric and durable construction, the Apex defends against unpredictable weather that could derail an executive's day. Zippered pockets keep small essentials secure whether commuting or traveling. Features like adjustable hem ensure optimum comfort as the temperature fluctuates.
Unlike clothes confined to single settings, the Apex transitions seamlessly from boardroom to client meeting to after-hours function. Executives have the convenience of reaching for one jacket regardless of the agenda. Its subdued styling also means the recipient can wear it without drawing unnecessary attention.
Gifting a product from an elite brand like The North Face communicates that the company invests in only the highest-performing items. Executives will appreciate wearing apparel from a name they know delivers function and fit that lasts for years of use.
Charcuterie Snack Set with Bamboo Serving Board
This charcuterie snack set provides a luxury experience that any executive will appreciate. The board allows for an artful presentation of high-quality meats, cheeses, and crackers curated in the set. Executives with busy schedules do not always have time to visit fine food shops, so this brings that experience directly to them.
The board itself is made of beautiful bamboo material. It can be a focal piece on an executive's desk or entertaining area at home. The recipient can enjoy the snacks while retaining a nice decorative accessory. The included serving implements like the knife and crackers provide everything needed for an elegant afternoon snack or appetizer course.
A gift focused on food and entertainment demonstrates thoughtfulness about the executive's lifestyle outside of work. Executives host and attend social occasions between client dinners and business travel where charcuterie and cheese are commonly served. This set gives them a premium option to bring along or serve at their events.
Presenting logos or branding on the bamboo board provides an appropriate gift that raises company visibility. Executives will enjoy using and displaying a quality item that subtly promotes their company to guests and colleagues. The gift conveys appreciation for the executive while supporting marketing and client relationship goals.
mophie® MagSafe Snap+ Multi-Device Travel Charger 
This portable Mophie MagSafe Snap+ Multi-Device Travel Charger would be practical and useful for busy executives constantly on the go. Charging a phone and AirPods simultaneously using MagSafe compatibility would allow harried executives to quickly top up devices without fumbling with multiple chargers.
Including additional USB ports also makes this charger quite versatile – executives could use them to keep other essential mobile devices like tablets or smartwatches charged during flights or long days of back-to-back meetings away from their offices. This multi-functionality provides excellent value and ensures that an executive's tech needs are covered with just one compact accessory.
As executives lead busy lives that involve frequent travel, having a portable charger they can easily carry with them, like this Mophie model, would be very convenient. Unlike larger, less sleek power banks, this charger folds up small enough to fit neatly in a bag or luggage. This makes it ideal for charging on the go without the hassle of bigger, bulkier chargers.
The design has been upgraded with 30% post-consumer recycled plastic materials, which would appeal to environmentally-conscious executives and promote their company's sustainability values. It's a gadget gift with a purpose beyond just functionality.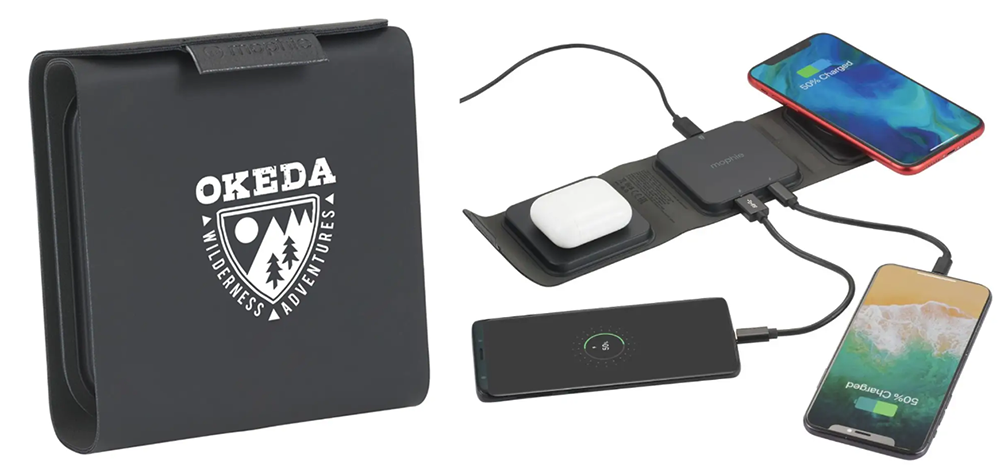 Thule® Stravan 15″ Laptop Backpack
This high-quality Thule laptop backpack from Thule would be a practical yet appreciated gift for busy executives on the go. As leaders constantly juggling meetings, travel, and work wherever they are, a well-designed backpack that can comfortably carry a 15-inch laptop and other daily essentials would be very useful.
The padded laptop compartment and protective features like SafeEdge lining ensure an executive's valuable tech devices and documents remain safe and protected from bumps and falls when moving between appointments. Extra pockets allow them to store items like files, chargers, and other accessories they need close at hand during their day.
Executives expect high quality in the products and tools they use. This backpack is made from durable nylon fabric reinforced with TPE backing to withstand the rigors of travel and daily use. Dependable zippers and pleated expansion gussets give it sturdiness and versatile storage.
Rather than a random gift sitting on their desk, this backpack helps executives maintain their productivity wherever the work takes them. As a personalized gift embroidered with their name or company logo, it shows gratitude for their leadership in a practical way that supports their active, on-the-go work style.
Batch & Bodega Mixologist Gift Set
This Batch & Bodega Mixologist Gift Set would be ideal for executives who enjoy cocktails and entertaining clients or colleagues. As a premium collection of mixers and bar tools from a renowned craft brand, you valued their time and wanted to provide something memorable.
The mixers and bitters included are of high quality and contain thoughtful touches like custom syrups – it demonstrates you put care into the selection. Presenting bar mixing tools personalized with the recipient's initials or name lends an air of sophistication.
Being able to add a short custom note makes it more personable. Executives receive many gifts, so this stands out as something they could utilize, whether hosting important guests or relaxing at home. Its elegant curated package also leaves a good impression.
Rather than a disposable item, this gift set provides lasting value and use. Mixing craft cocktails has become a trendy hobby, even for busy professionals looking to unwind. Receiving professional-grade tools and ingredients to pursue that interest would feel appreciated.
Conclusion
Finding the right corporate gift for executives can be challenging, but certain best practices emerge. An ideal gift demonstrates thoughtful insight into the recipient's personality and lifestyle beyond work. Most importantly, the gift conveys that the executive's contributions are valued and appreciated. When these criteria are met, any gifted item can lift spirits and leave a lasting positive impression.
Shop Executive Corporate Gifts
Thank your leadership team with thoughtful and memorable corporate executive gifts customizable with your logo. These gifts will be cherished and appreciated by those who put so much back into the company.