Custom Face Masks & Covers Are Now a Fashion Accessory
If there's one item that's likely to permeate our society as a result of the COVID-19 pandemic, it's the ubiquitous face mask. From the images that we see plastered across the news to the scientific evidence showing that we may be wearing them for a long time, everyone is thinking about face masks when it comes to leaving our homes. In fact, many rules are making masks a necessity to go into certain spaces. However, many people are happy to comply without any extra prodding.
While the idea of wearing masks in workplaces and other locations is a source of frustration for many at first, as it becomes normalized, some people are even starting to have fun with it. Some may design or decorate personal masks for artistic flair, but there's also a branding opportunity with custom face masks that you don't want your company to miss out on. Here are some of the options and the differences between them.
Why Choose Custom Face Masks?
Before showcasing the different customizable options, it's important that you fully understand the different masks out there and the needs they fulfill. Basically, COVID-19 and other viruses are transferred via microscopic particles. While skin exposure isn't as dangerous, our eyes, nose, and mouth are key entry points.
While you may know not to stand around someone coughing violently, it may be harder to avoid touching something, then touching your face, even if you assumed you were safe. Masks are key for avoiding the transmission opportunities you don't notice.
With that in mind, we can talk about some of the mask options available. The premier option is the  KN95 respirator face mask. This helps filter out particles and other airborne contaminants, which supplies the most protection against COVID-19. However, these aren't necessarily the masks you want to be purchasing, for a variety of reasons.
These are more expensive than a lot of the other masks out there on the market.
These should be saved for people in extreme exposure situations, like medical professionals and first responders.
The effectiveness is severely limited if you don't have a clean filter and properly set fit. This makes a respirator mask more complicated to use.
These are not customizable, losing any branding purposes.
For these reasons, a respirator mask may be the most effective option on paper, but not in practice. The good news is that cloth/disposable masks offer a combination of versatility and protection, just in a different way.
How so?
A respirator mask offers protection by filtering particles in the environment. What cloth/surgical masks do is keep any large particles from a person from contaminating a space, rather than protecting the person wearing the mask. So, if you have an entire office/workplace of people wearing their masks, even if one is an asymptomatic person with COVID-19, the chance of spread is drastically reduced.
So, if this is the case, why look into custom face masks?
The reasoning is simple: any customer/client-facing employee you have is going to be wearing a mask of some sort, possibly by law. Why not turn it into a branding opportunity by putting your logo on the mask? In addition, this helps show your clients that you are forward-thinking, both in terms of protection and marketing.
The Perfect Options For Custom Face Coverings And Masks
Now, with this, in mind, we can start looking into the custom face coverings available. For those that prefer disposable over reusable, our Custom Printed USA Made 3-Ply Face Masks make for a great option. This non-woven face mask offers 97% bacterial filtration efficiency, and can be brought in bulk so your entire team always has enough on hand. For customization, you can showcase your logo on the front of the mask with either screen printing or full-color printing options.
However, let's say that you would rather have reusable cloth masks? These do create less waste, after all, and cleaning them is relatively easy. We have a variety of different options to choose from, starting with
Custom Cotton Reusable Masks. These 4-layer options provide protection while staying comfortable and breathable. For customization, you can put your brand out there in all interactions with a screen-printed logo addition. For a more familiar brand name, consider the Hanes Cotton Reusable Face Masks. Just note that these don't have the customization options of the previous mask.
A lot of what separates the different mask options we have available, besides the visual style, are the different materials. For example, our Custom Microfiber Face Mask Washable and Reusable is made of 210gsm microfiber material, with two elastic bands holding the mask in place. This is also easy to put on and breathe in. Whether you want to put a piece of custom brand artwork or just the company logo on it, we can help you with a full-color UV printing option.
---
For people who may be wearing a mask for their entire shift, as opposed to just when facing the public, certain types of mask construction are better than others. Our Custom Champro Triple Layer Sublimated Cloth Mask is a good example. Choose your fastener type, then take advantage of the 3D design to provide some additional space between you and the mask. This cuts down on condensation, making it more effective and comfortable for long periods of time. The outer layer is a polyester fabric, while the inner layer is unbleached cotton for added filtration. You can also apply your logo with full-color sublimation.
---
Another cotton/polyester blend option is the Custom Patriot Reusable Masks – Black. With an elastic band holding the mask in place, what makes this unique is that our screen printing process applies the logo by the cheeks, rather than on the mouth area. If this strikes you as a better style choice for your logo or artwork, this is the mask for you. Two sizes are available for men and women, and for every mask sold, Patriot Coolers will donate $1 to Homes For Our Troops.
For those with sensitive skin or just certain preferences, you may want a softer material for your custom face masks. The Bella + Canvas Jersey Knit Daily Face Cover makes a great option for those that prioritize comfort. The contour shape and earholes mean that this can fit a variety of different face and head sizes, and the combination of jersey fabric with cotton and polyester means this is great for those concerned about skin problems while wearing masks.
While the primary concern when buying custom face masks may be protecting your immediate employees, you should be thinking about their families also. From an emotional perspective, this is a way to show that you are thinking about the wellbeing of those they care about, which is always good for building trust. From a practical perspective, with the way COVID-19 travels through households, protecting families is essentially protecting employees.
With this in mind, we offer 3-Ply Napkin Face Masks (Small – Child Size). While you can't customize these with logos, you do have the option of many different colors to choose from. 3-Ply Napkin Face Masks (Large – Adult Size) are also available if you want to put together family-style bundles for your employees. These are made with 3-ply paper and metal staples, and make for a good backup if you need to go out in a rush and your cloth masks are either unavailable or in the wash.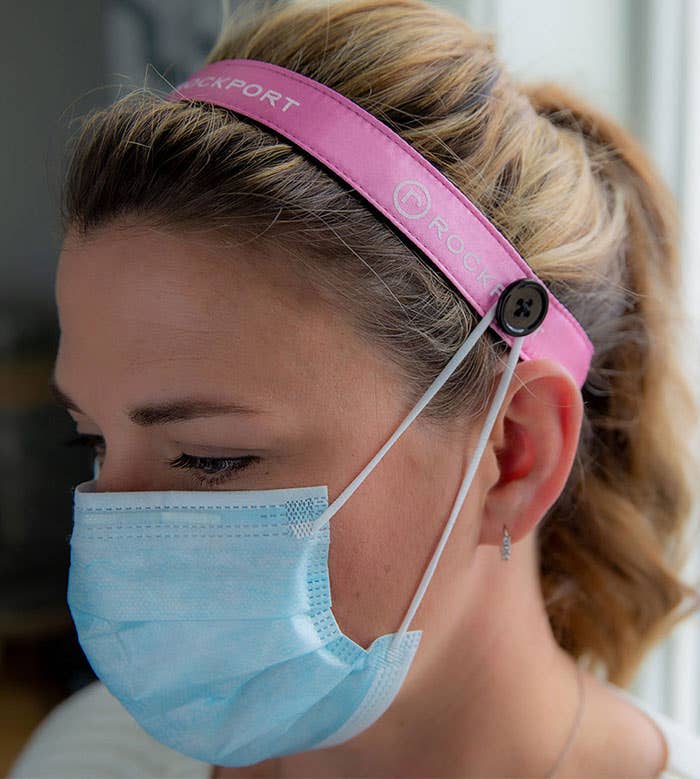 With masks more common for general wear, as opposed to emergency scenarios, a lot of people may find sources of discomfort while wearing them. For example, making sure people's masks stay secure may end up rubbing their ears raw, especially when wearing glasses. Our Custom Face Mask Snap & Hook Ear Savers offer a method to avoid this. Simply snap the mask in question between the front and back piece, then hook the mask around the snap and repeat.
This not only works with masks, but headbands, hats, bandannas, and other items people may use as mask substitutes in a pinch. These are easy to sanitize, and you can add your company logo to the front and back of all 4 snaps with full-color printing.  If you're looking for an alternative with a similar function, check out our other custom ear savers available, they go great with any custom face masks with ear loops we've shown above.
Major fashion brands are already getting creative when it comes to providing an artistic element to custom face masks. There's no reason why your company can't do the same.
Show your employees and clients that you care about their safety and health, and let the rest of the world know as well with your company logo and artwork. Best of all, at iPromo, we offer a variety of custom face masks, so your needs are covered no matter what.