July 28, 2023
Elevate Your Branding with These 8 Unique High-End Corporate Gifts
When it comes to business gifts, going the extra mile and choosing something genuinely unique can leave a lasting impression that strengthens customer relationships and elevates your brand. Thoughtfully curated high-end corporate gifts show clients, partners, and employees that you value them and care about exceeding their expectations. Choosing the right gift demonstrates your brand's creativity, sophistication, and eye for quality details that bring joy. Explore our exclusive guide to discover eight extraordinary and handpicked high-end corporate gifting ideas to elevate your brand and leave a lasting impression.
Why Choose Unique High-End Corporate Gifts?
Showcasing Exclusivity and Sophistication
Unique high-end gifts signal that your brand delivers custom, bespoke solutions, not just generic off-the-shelf products. So instead of handing out the customary logo mouse pads or mugs, seek out gifts that are tailored to the interests and tastes of your recipients. Think outside the box: curated gift baskets with artisanal snacks and beverages, vintage-style barware personalized with the recipient's name or initials, high-end travel accessories, luxury tech products, and outdoor gear made from premium materials.
Building Lasting Impressions and Relationships
For clients and partners, customized gifts show you truly see and appreciate them as individuals beyond just dollar amounts on a balance sheet. Prior research to uncover their hobbies and style preferences can elevate a run-of-the-mill business gift into a treasure they'll enjoy for years to come. Such gifts convey that you'll go the extra mile for your customers – a sign your brand truly values long-term relationships built on trust. Whether it's a custom-engraved executive pen, a luxurious leather-bound notebook, or a one-of-a-kind artwork, each gift tells a story of exceptional quality and taste.
Elevating Brand Visibility and Recognition
These unique gifts offer an excellent opportunity to extend your brand's reach and visibility. Every high-end gift becomes a tangible representation of your brand, from stylish accessories that are used daily to eye-catching decor that sparks conversation. It becomes a conversation starter, an emblem of distinction, and a constant reminder of your organization's value.
8 Unique High-End Corporate Gifts
Mophie® MagSafe Snap+ Multi-Device Travel Charger – 15W
The Mophie® MagSafe Snap+ Multi-Device Travel Charger – 15W showcases cutting-edge technology, exceptional functionality, and an elegant aesthetic, making it an exceptional choice if you're seeking a high-end corporate gift that embodies quality, utility, and style. It has an innovative MagSafe technology that ensures a secure and effortless connection with compatible devices, providing a seamless charging experience.
The versatility of the charger allows for simultaneous charging of multiple devices, making it highly practical for business professionals on the go. Its sleek and compact design adds a touch of sophistication. Additionally, with its 15W charging capability, it offers fast and efficient power replenishment, catering to the needs of busy individuals. And it has a designated AirPods Charging Spot with up to 5W of power to keep you plugged in on the go.
Imprinting your logo on the case cover is seamless. Using our exceptional printing allows for a high-quality and professional finish.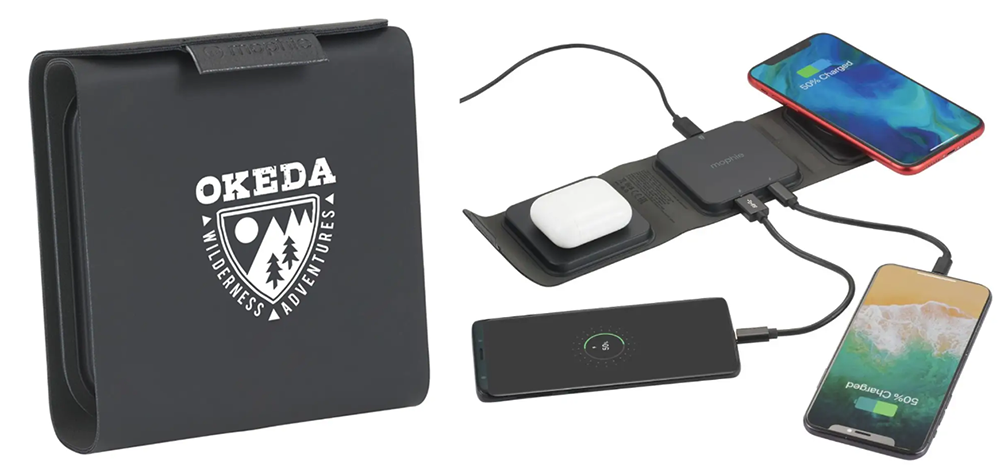 Solo Stove Bonfire 2.0
As a high-end corporate gift, the Solo Stove Bonfire 2.0 offers more than just a fire pit; it provides a unique and memorable experience. It fosters relaxation, camaraderie, and a sense of appreciation among clients, partners, or employees, offering a unique and unforgettable outdoor experience. Crafted with meticulous attention to detail, this premium fire pit features a modern, portable design showcasing its high-quality stainless steel construction.
The fire pit features patented airflow technology that promotes a smokeless and efficient burn, ensuring minimal smoke or ash. This ensures a comfortable and enjoyable experience for your recipients, allowing them to fully immerse themselves in the warmth and beauty of the fire without the inconvenience of smoke.
In addition to its exceptional design and functionality, the Solo Stove Bonfire 2.0 provides opportunities for personalization and brand enhancement. You can customize the fire pit by engraving your company logo, turning it into a powerful branding tool on the ultimate conversation starter. As the fire pit becomes a centerpiece of outdoor gatherings, your logo will be prominently displayed, creating a lasting impression and reinforcing your brand in the minds of those present.
YETI® 35 oz Rambler® Tumbler with Straw Lid
Yeti products have become synonymous with superior quality and durability, making them a go-to choice for high-end gifts. The YETI® 35 oz Rambler® Tumbler with Straw Lid is no exception, combining Yeti's reputation for excellence with a design that offers remarkable functionality. Crafted with top-notch stainless steel, the tumbler ensures long-lasting performance and exceptional insulation. It keeps beverages hot or cold for extended periods, making it an ideal companion for busy professionals on the go.
The generous 35 oz capacity provides ample space for drinks, reducing the need for frequent refills and enhancing convenience. The magnetic lid secures tightly to prevent leaks, making it a practical option for indoor and outdoor use. The straw lid offers a convenient alternative to sip drinks on the go, perfect for recipients who will use the tumbler while traveling for work. The straw is replaceable and can be swapped for a new one whenever needed.
Engraving is available to customize each tumbler with your logo, with name personalization available, a great corporate gift touch that shows gifts were meticulously chosen for each individual while ensuring your brand remains visible and memorable.
The North Face® Skyline Full-Zip Fleece Jacket – Men
The North Face fleece jacket delivers a subtle brand association with sustainability, style, performance, and quality innovation. As a corporate gift, a North Face fleece jacket communicates that your company values function, luxury, and innovation.
This full-zip Skyline fleece is made from recycled polyester fibers, indicating that North Face exemplifies sustainability and environmental stewardship – values many business clients admire. The soft and insulating fleece fabric provides exceptional insulation without bulk, making it comfortable for layering under a coat or wearing on its own and suitable for various climates and activities.
With its robust construction and attention to detail, it withstands the demands of daily wear, ensuring longevity and reliability. In addition to its practical, sleek, and sophisticated look, it can be custom embroidered with your logo with the additional option to add the recipient's name or initials available.
Osprey Arcane™ Roll Top Pack
Osprey backpacks are renowned for their durable, functional, ergonomic designs optimized for comfort. And the Arcane roll top pack exemplifies these Osprey hallmarks of craftsmanship and performance in a versatile daypack ideal as a corporate gift. Its rugged yet refined design ensures longevity and reliability, capable of withstanding the demands of daily use and travel. With its roll-top closure, this pack offers expandable storage capacity, adapting to the needs of the modern professional.
The functional organizational pockets and padded 15″ shoulder straps provide convenient carrying for daily use, whether commuting, traveling, or recreational activities. The breathable mesh back panel and lightweight construction prevent fatigue even with heavy loads.
But its most peculiar feature is that the Arcane Roll Top is ingeniously crafted from 13 recycled plastic bottles, utilizing a sustainable polyester fabric that exemplifies eco-consciousness without compromising durability, aligning your brand with sustainability and innovation. Customization is available by embroidering your brand message, logo, elevating a practical gift into a personalized luxury.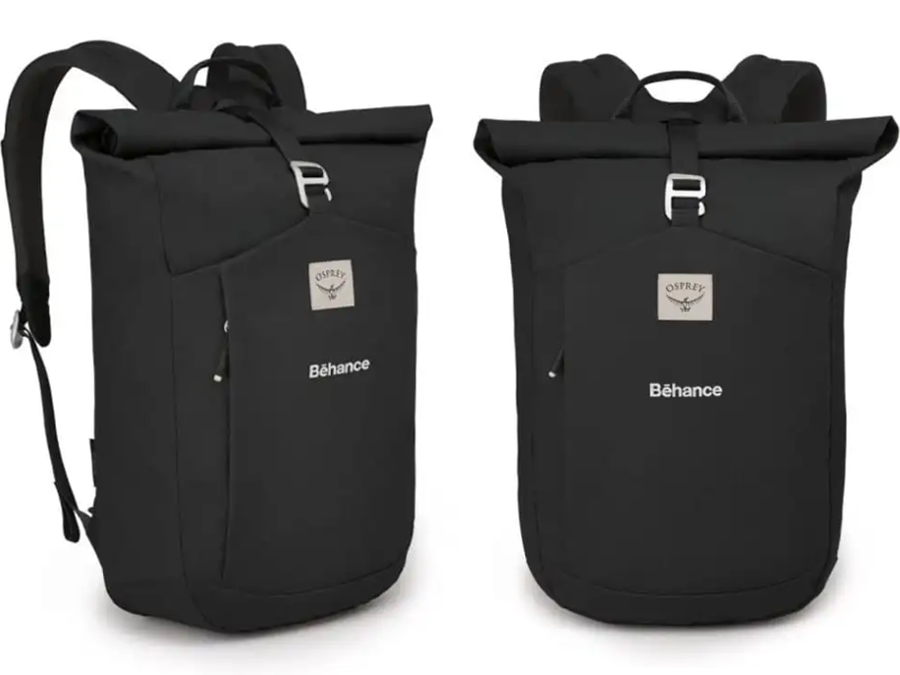 MiiR® Camp Cup & Slowtide® Blanket Gift Set
The MiiR® Camp Cup, with its sleek and timeless design, elevates the art of sipping beverages on the go. The insulated and double-walled stainless steel cup keeps drinks hot or cold for hours. It is made from 100% recycled steel with a bamboo lid that is naturally antimicrobial.
Complementing the Camp Cup is the Slowtide® Blanket, an embodiment of comfort and style. With its exquisite craftsmanship and premium materials, this blanket becomes an essential accessory for cozy moments or outdoor gatherings. The lightweight and packable blanket folds up small but provides full coverage and comfort when spread open. It is also made from 100% recycled plastic bottles and designed to be machine washable for long-lasting use.
Together, the cup and blanket provide everything needed for relaxing outdoors. Gifting this ensemble communicates that your brand, like MiiR, prioritizes luxury, craftsmanship, comfort, and accessibility alongside a commitment to sustainability.
Charcuterie Snack Set with Bamboo Serving Board
A professionally curated charcuterie snack set with a serving board as a corporate gift communicates an appreciation for high-quality ingredients and artisanal goods. And the meticulously curated Charcuterie Snack Set with Bamboo Serving Board brings the flavors of a gourmet charcuterie board directly to the fingertips of your recipients.
The centerpiece of this gift set is the exquisite bamboo serving board, handcrafted for both functionality and aesthetic appeal. Its natural beauty and durable construction make it a stunning addition to any gathering or office space, serving as a perfect canvas for arranging a delightful assortment of artisanal treats. Accompanying the serving board is a selection of carefully chosen gourmet snacks. Each element has been thoughtfully curated from mild cheese to Swiss cheese, beef summer sausage, deluxe mixed nuts, jelly beans, meat and cheese cleaver, and salt crackers to provide a delectable culinary experience.
The beautifully presented Charcuterie Snack Set with Bamboo Serving Board offers a prime branding opportunity, as a personalized hot stamping of your logo on the serving board elevates your branding.
Moleskine® Notebook and Pen Gift Set
A Moleskine gift set that includes one of their legendary hardcover notebooks and a matching pen lets the recipient immediately put the gift to practical use. Note-taking and journaling are timeless activities that will only become more valuable with a premium tool that enhances the experience.
At the heart of this gift set lies the iconic Moleskine® Notebook, renowned for its exceptional quality and craftsmanship. With its smooth, acid-free pages and durable hardcover, this notebook provides the perfect canvas for recording insights, plans, and reflections. Its compact size makes it ideal for on-the-go use, ensuring that creativity and productivity are never limited by location.
Complementing the notebook is the accompanying Moleskine® pen, meticulously designed to enhance the writing experience. With its smooth ink flow and comfortable grip, this pen becomes an extension of the writer's hand. Together, the Moleskine® Notebook and Pen Gift Set embody professionalism and creativity. By presenting this high-end gift set with your logo and/or design debossed on the front, you can showcase your brand's prioritization of refinement, usability, and productivity from organizing one's thoughts on paper.
Conclusion
With careful consideration and a spirit of generosity, unique high-end corporate gifts can elevate your brand's image as one that values excellence, craftsmanship, and the art of meaningful giving. From functional accessories to luxurious experiences, they leave a lasting impression on recipients, fostering connections and elevating your brand. Choose these gifts to make a statement and stand out this upcoming gift season into next year as well.