Tailgating is more than than just grilling outside and having a few beers. It's about gathering your closest friends together and supporting a sports team that represents the iron will of your city or college. It's about grilling delicious hot dogs and burgers and giving them out to fellow fans of your team for free. It's an opportunity to get outside and to celebrate comradery. Tailgating is a lifestyle.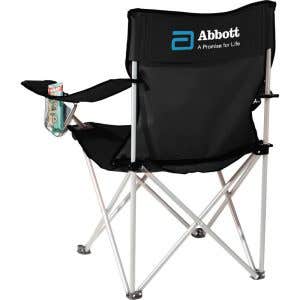 There are a ton of different promotional products that can help make a tailgate an unforgettable experience. You can expect great brand exposure for your company or business by investing in these custom promotional products ahead of this year's tailgate season.
Tailgating Chairs
If you're planning on tailgating, you're going to need a place to sit down every once in a while in between grilling and getting pumped up for the big game. Custom folding chairs are a great option for any tailgate, as they can provide a comfortable place to relax and are easy to transport. Some folding chairs even come with cup holders and a cooler built into their armrests!
Barbecuing Accessories
Every tailgate is not complete without someone firing up the grill! There's something truly special about grilling your favorite foods outside in a parking lot before your favorite team goes out to play their hearts out on the field. Promotional products that are beneficial to their recipients are the best received.
That's why barbecuing tools are a great option for catering to people who enjoy tailgating and grilling outside. iPromo can provide your business with custom branded barbecuing tools of all shapes and sizes. BBQ sets, aprons, thermometers, and even portable grills are all among our items you can have customized.
Portable Speakers
If you're at a college tailgate, you simply have to have a speaker ready to blast the school anthems at all times. A simple fight song can bring strangers together like they were family. Another great promotional product option for tailgating season are portable Bluetooth speakers, like the Brick Outdoor Waterproof Bluetooth speaker.
These speakers pack a lot of sound into a tiny package and can connect to any of your devices with Bluetooth connectivity. Your brand name or logo will be front and center on a speaker as it helps your loyal customers get the party started!
Custom Drinkware
Drinks are another essential ingredient to a proper tailgate, especially if the tailgate occurs on a hot summer day. Any drinkware related promotional products will certainly come in handy at a tailgate. iPromo has
different custom coolers of all shapes and sizes that will keep drinks icy cold for hours. Also, customized h2go Drinkware is another fantastic choice, as it's a very stylish bottle that can keep a beverage cold for up to 24 hours!
Weather Ready Apparel
Sometimes, attending a tailgate means being prepared to deal with the elements. There's nothing worse than heading out to a tailgate and not being ready for a cold night or torrential downpour. That's why the last promotional product item on our list is weather ready apparel. Items like customized rain jackets or promotional umbrellas are lifesavers if the weather at a tailgate takes a turn for the worse.
iPromo even has a custom rain jacket that converts into a backpack! You can never be too prepared for the weather at a tailgate. Your customers and clients will be very thankful that you provided them with apparel that comes in handy during rainy or cold tailgates.