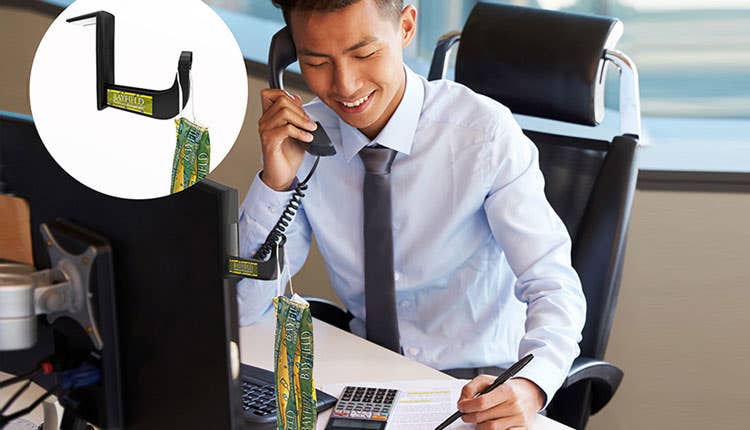 How to Store & Optimize the Life of Face Masks
As employers and business operators develop their reopening plan, one key consideration is ensuring that staff is properly trained on how to safely put on and take off, wear, clean, and store their masks.
Wearing non-medical masks in public, particularly in situations where social distancing is not possible, has been shown to be an effective intervention to slow the spread of the coronavirus. However, non-medical and surgical masks only work well if they are worn correctly. The objective of the cloth and disposable masks that people have been wearing in public is to contain respiratory droplets from infected individuals, especially those who do not know that they have the virus in their system. 
Whenever a person exhales, speaks, coughs, sneezes, yells, or sings, small particles of moisture from their mouth, nose, or lungs are expelled. These droplets carry the novel coronavirus and other infectious diseases. When a surgical or cloth mask is worn, these larger particles of moisture are contained, protecting those in the surrounding area from the infected individual. In short, the objective of face masks in public settings to protect those around an infected individual, not the wearer. When everyone complies with this strategy, a measurable reduction in the spread of the virus can be achieved.
However, if masks are not worn correctly, droplets carrying the virus can escape. Additionally, if the mask is not taken on and off correctly, stored appropriately, and kept clean, the mask wearer can infect themselves if the outside surface of the mask has come into contact with the virus.
As employers develop their reopening plans, ensuring that all employees, especially those in high-traffic settings, are consistently wearing masks correctly is a vital component of a good strategy. Fortunately, there is excellent guidance available for employers that they can use to train employees on how to use masks optimally. For some aspects of safe mask utilization, there is different guidance for cloth versus disposable masks. 
Optimizing Wearing and Disposal
When putting on a mask, employees should ensure that their hands are washed or sanitized first. The mask should not be touched by the elastics only while being donned. Some masks are designed with a wire piece that is designed to tighten over the nose bridge. This is a helpful feature that helps masks to stay in place. If a mask is equipped with this feature, it is okay to touch this portion of the mask to tighten the wire.
When the mask is taken off it should also be touched by the elastics, ear loops, or other securing mechanisms with clean hands. If the mask is disposable, it should be placed immediately in a closed receptacle designed to ensure that anyone using or emptying the bin will not come into contact with disposed masks. 
Optimizing Fit
In order to be effective, masks must cover the nose and mouth completely. A mask that fits optimally will go up to the nose bridge and down to the chin. The mask should fit snugly against the wearer's face so there are no gaps where droplets can escape. The mask also needs to be made of a material that is tightly woven enough that it can contain droplets, but breathable enough so that the wearer is not breathing around the mask.
A common issue with masks that do not fit correctly is that they will slide down so that the nose and/or mouth are not covered. Busy employees may not notice that this has happened. Employers can reduce this risk by furnishing their teams with adjustable masks to ensure that everyone has a mask that fits well. They can also encourage employees to be mindful of their masks throughout the day and get in the habit of checking whether their mask is on properly when they are in the restroom. Another strategy is to promote a work culture where staff feels comfortable letting their colleagues know if the mask is not on properly. If the mask needs to be adjusted, employees should do their best to adjust it using the ear loops, rather than touching the front or outside of the mask.
Optimizing Cleanliness
Reusable cloth masks have become very popular as an affordable, environmentally-friendly option that facilitates the widespread implementation of this public health measure. Providing staff with one or two reusable masks that fit well is a good way to ensure employee compliance with this unprecedented and controversial measure. 
However, if employees are wearing the mask all day, putting it in their desk at the end of the workday, and then putting it back on the next day, the efficacy of the intervention is significantly reduced. Cloth masks should be washed regularly to ensure they have not become contaminated with the coronavirus or other pathogens.
Cloth masks can be washed with regular detergent and should be laundered in water that is at least 1400F. It is fine to launder the masks by hand, but in this instance, gloves should be worn to ensure the wearer is not infected while touching the masks. Employers can optimize mask cleanliness by encouraging staff to hand wash their masks in warm water at the end of the workday. Disposable gloves can be provided in the restrooms so this can be accomplished safely.
iPromo offers plenty of easily washable and reusable cloth masks that can help employees comply with this strategy. The masks can be decorated with company branding or logos. There are designs available in screen print, full color, or both. 
For example, USA Full Color Face Mask is available in full-color screen print. Made of quick-drying foam encased in polyester, this 3-ply mask has stretchable ear loops that fit comfortably on most adult faces. The entire surface of the white background can be imprinted with the employer's design. This easy-to-wash mask can be produced in 5-10 business days.
We also offer mask accessories and UV sanitizers to keep them germ-free. The Custom PPE Mask Holder provides employees with a dedicated location for storing their masks at the office. It can be decorated on both sides with company branding in full color. Designed to attach to any desktop monitor, this product can be produced in 10 business days. Holders such as these reduce the likelihood of masks coming in contact with contaminated items. 
UV sanitizers are also another good option to consider as part of a reopening strategy. Ultraviolet light stations can be used to sterilize masks without the need for washing. UV sterilization is a great option for working environments where employees need to don and doff their masks throughout the day and need options for sterilization without getting the mask wet. We offer a selection of personal UV sanitization stations that can be customized with branding and issued to employee workstations in such settings.
Optimizing Storage
Once cleaned, masks need to be stored correctly to ensure proper hygiene is maintained. The best way to store a mask is in a sealed plastic bag.
When the mask is removed, it should be carefully folded in half so that the surface that touches the face is not exposed. After the mask is in the bag, hands should be thoroughly washed. 
The public is advised not to hang used masks in enclosed areas, such as cars. The infectious disease theory is that if the mask has come in contact with contaminated particles, they now have an opportunity to travel through an enclosed space.
Masks that come with travel pouches to protect them are a very practical choice to ensure that masks are stored safely. We offer this Comfort FLEX Mask with a travel pouch. Available in black, it can be decorated with screen print or full color in one location. Made of moisture-wicking polyester, this fabric has good elasticity so it can fit comfortably and sleekly on most faces. It includes a zippered storage pouch that can be clipped on to a purse, laptop bag, or similar item for easy access. 
Another option that comes with storage is this Refresh Microfiber Cooling Mask. This 2-layer mask is designed to keep the wearer cool for all-day wear. It can be decorated with the business logo in one location in screen print or full color. 
Employers have a great deal on their plates as they reopen their businesses. Ensuring that employees understand the importance of complying with mask-wearing, and are informed on how to optimize mask utilization is a key way that employers can maintain a safe and healthy working environment.
As establishments reopen, employers should provide training that covers the information provided above. Another good idea is to provide written mask-wearing instructions that can be publicly posted for the benefit of staff and customers.
By promoting and facilitating optimal mask utilization, employers can protect their business, staff, and customers, and reduce the social and financial impact of the pandemic. If you need masks for your team, check out our massive selection of custom cloth face masks. You'll definitely find the right fit!