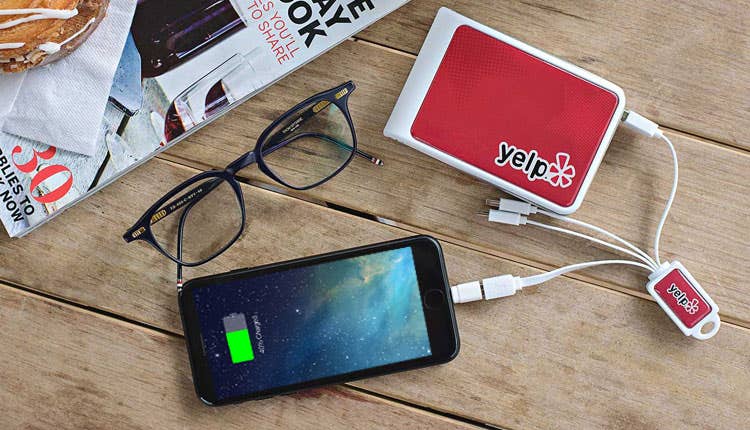 The Ultimate Custom Power Bank Buying Guide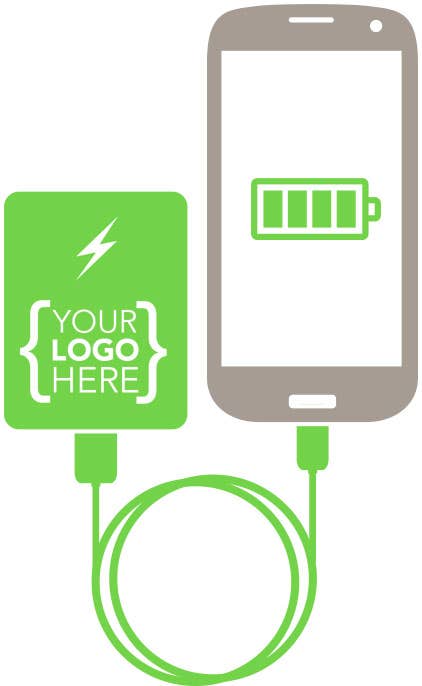 Have you ever been out and about and desperately in need of your phone, only to have the device run out of power at the most important moment? This is unfortunately a common occurrence in today's technology dominated lifestyle. Smartphones and tablets have become fully integrated into our daily routines.
They are more than just a means of communicating. You can use these devices to handle banking, help out with directions, run a business, and much more. Our devices are becoming increasingly useful with every passing day. However, there is one limitation to these amazing devices that still has a long way to go in terms of innovation – the battery life.
What is a Power Bank?
Most devices like smartphones and tablets are powered by rechargeable lithium ion batteries which have a very finite lifespan. Limited battery life for our devices can be a real pain. Fortunately, there is a fantastic product available that can provide a much needed battery boost for all of your favorite devices.
Portable custom power banks are lightweight and easily transportable devices that allow you to charge your phone or tablet without needing a direct power outlet. They come in a variety of shapes and sizes, but all of them function in a similar manner. Charge up the power bank prior to leaving the house, and you will have a mobile charging station for whenever you might be in need of a battery boost.
Things to Consider Before Selecting Your Power Bank
The first thing to ask yourself before deciding on a particular power bank what size of power bank fits your needs. Portability is obviously important, but you also want your power bank to be able to meet your specific charging requirements. mAh, or milliamp-hours, is a common way to measure the capacity level of a power bank. Sizes typically ranges from 2000mAh all the way up to 20,000mAh. The higher the mAh, the more power or charges that the power bank will be able to provide.
It's also important to think about how many devices you will be using the power bank to charge. Some promotional power banks offer multiple USB ports to charge several devices at once. Additionally, take a look at the power bank's certifications to make sure that it complies with all legal standards of safety. Buying the cheapest power bank on the market might mean you are sacrificing some valuable safety and quality standards.

Branded Power Banks & Marketing
The benefits of power banks are numerous, especially due to the prominence of battery powered devices in our lives. However, a huge benefit we haven't touched upon related to power banks is the opportunity to use them for marketing your business or brand. Mobile power banks make great promotional products, because they are extremely useful and leave a lasting good impression on recipients. Mobile power banks can generate over 1000 impressions over their lifespan, and 60% of consumers stated that they would be more likely to do business with an advertiser who gave them a power bank.
Still not convinced? A recent study showed that 87% of consumers would keep a promotional power bank because it is a useful product. Just imagine the immense potential for increased brand recognition by using power banks as a custom promotional product that represents your business. Custom power banks are currently one of iPromo's best selling promotional products. There are several recommended products in the power bank category to check out, let's take a look at them below.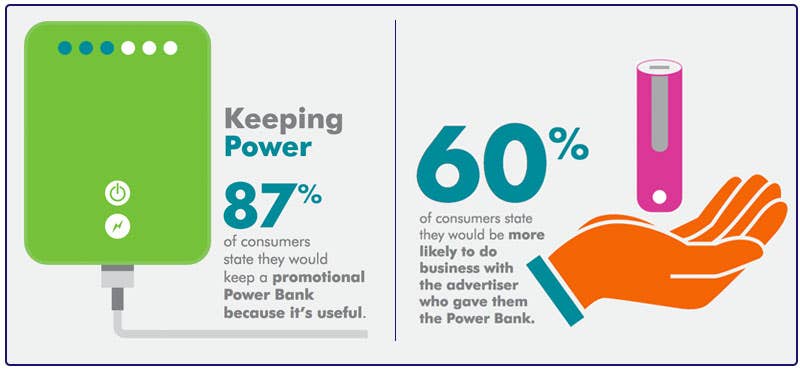 Budget Friendly Options
Marketing budgets can be limited, but that doesn't mean you have to sacrifice quality and functionality when choosing a power bank. Ipromo offers several budget friendly options that can still make a big impact on your marketing endeavors. Our best selling model is the Dynamo Power Bank 2500mAh which easily fits in pockets and purses and comes with a micro USB charging cable.
If you are looking for a more uniquely shaped power bank, the Edison Power Bank Portable Charger 2200mAh has a durable metal casing and comes in a cylindrical and eye-catching design at a great price. It's sleek appearance and aluminum materials are sure to make a positive impression.
Power banks are great promotional products because they will provide value to users for extended periods of time. To make sure your logo or brand stays intact over the long term, choose a power bank like the Element Power Bank Portable Charger 2200mAh. With this product, the power bank cartridge is enclosed in a clear shell. Your logo is then printed underneath the translucent casing for optimal imprint protection.
---
Budget Friendly + High Capacity
Looking for a higher capacity unit at a great price? The Faraday Power Bank 4000mAH is a great option with a durable modern metal with a matte coating on the outside to really make your logo or artwork pop. Additionally, the Cherokee Power Bank is a great budget friendly option that is made from natural bamboo material and provides a 5000mAh charging capacity.
If you want something with even more power at a great price when compared to other power banks of the same charging capacity, you have to check out the Volta Power Bank Portable Charger 10,000mAh. You aren't necessarily required to sacrifice capacity by deciding to go with a more budget friendly option.
---
High End Retail Brands
Sometimes, you don't want to settle for anything less than the best. iPromo offers a variety of higher end custom power banks that will certainly create a positive association with your business. The Origaudio PowerPix External Power Bank is a high quality power bank that utilizes a HD LCD display screen to leave a lasting impression with a seven-image rotating slide show. Additionally, the Origaudio Powerpix can charge two devices at once and packs an impressive 5200mAh capacity.
Anker is one of the leading retail brands in the power bank marketplace, and the Anker PowerCore II Slim 10,000mAh is the best selling unit in their line. You can get up to 3 full charges with this awesome power bank at a lightning fast speed, which means more time living and less time charging. You can really feel the quality of this power bank when you hold it in your hands, as it's sleek and light body provides great charging power in a compact package.
Finally, if you are looking for the largest possible charging capacity, the Anker PowerCore II Clim 20,000mAh is your best choice. It offers all of the great features Anker PowerCores are known for, like blazing fast charging speeds and an amazing design, along with a massive 20,000mAh capacity that can keep an iPhone 8 running for an entire week.
---
Mobilize Your Brand With Custom Power Banks
Buying a power bank is always a great investment, particularly if you are trying to use these amazing products to promote your business. The best promotional products are those that are used on a daily basis to add lots of value to your customer's lives. Power banks accomplish this and more. We hope our guide has given you some great insight on how to select the right power bank for your own unique business needs. Contact iPromo today if you'd like to discuss how we can design the perfect custom power bank for you.