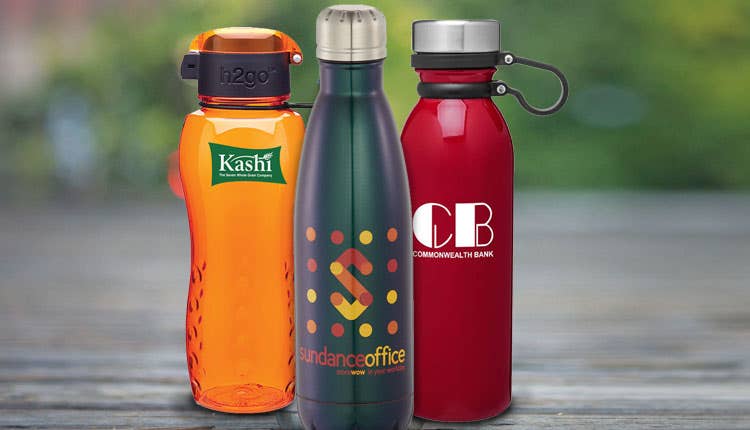 Why Custom h2go Water Bottles Should Be Part of Your Summer Promotional Marketing Strategy
Summer is the best time of year to be outside doing yard work, sitting out by the pool, or spending some time relaxing in a park. But when the temperature seems like it has never been hotter, a cold drink is everything you want in your life at that moment.
Enter the stylishly designed h2go drinkware. It's the perfect fit for your summer promotional marketing strategy. This bottle can keep your beverage ice cold for up to 24 hours, and provides the refreshment you needed to get back to truly enjoying your summer day. As you take another sip of your ice cold drink from your h2go bottle, you see the logo of the company that gave you the gift and think to yourself "Wow, this company really knows how to take care of it's customers!"
Finding the right promotional marketing product means you have to understand the needs of your target audience. You have to choose a promotional product that really adds value to their lives. Doing so can mean that your product will be used for many years to come.
During the hot summer months, you really can't go wrong with a promotional product like custom h2go water bottles. It's one of the most popular promotional products on the market and will add immediate value to the lives of anyone that enjoys spending time outside. We've seen our clients have immense success by choosing custom h2go drinkware as part of their promotional product strategy. The best part is the double wall insulation will also keep drinks warm for up to 12 hours during the colder months.
Impeccably Designed
This high quality drinkware isn't just your average water bottle. It has been scientifically designed to retain the internal temperature of beverages for up to 24 hours if the beverage is cold or 12 hours if the beverage is hot. The bottle is vacuum insulated, which limits the possibility of heat transfer. There is also a copper plated wall within every bottle that also prevents heat from entering or exiting the bottle by thermal radiation. The science behind these products is simply amazing!
Additionally, these bottles eliminate any condensation that builds up on the outer walls. It's an intelligently designed product that really works. Your customers or clients will be amazed at how efficient h2go drinkware really is, and that their beverage is still cold by the end of the day.
Fully Customizable
Choosing to customize h2go drinkware for your promotional marketing strategy means you are choosing a product that is durable, innovative, and well-designed. It also means you are choosing a product that allows for extensive customization. There are several sizes and shapes of h2go drinkware to choose from. The 17oz h2go Force bottle is typically the most popular option, but there are plenty of others to choose from. iPromo offers a variety of sizes, materials, and colors of custom h2go drinkware to choose from. You can even choose bottles made of materials like wood and colors like chrome and bronze. The possibilities are seemingly endless.
After you have decided on a color, size, and material, you can then move on to what type of artwork or logo you would like to include on each bottle. Just imagine your company logo or brand name on a bottle that's used every single day by your ideal customer or prospect. If you want to take things a step further, iPromo offers custom packaging as well to really make your promotional product offering pop.
Environmentally Friendly
Sure, we discussed why custom h2go drinkware is a useful promotional product, especially during the hot summer months. However, what really sets this product apart is its environmentally friendly aspect. Think about how many plastic water bottles are thrown away every single day. It's overwhelming to consider where they all might be going.
By giving away a reusable water bottle as a promotional product, you are showing the world that you care about the environment and want to make a positive impact on the amount of garbage and plastic that is consumed worldwide. Custom h2go drinkware is also BPA free, meaning that the harmful chemicals that are usually used in plastic manufacturing will not be found in these products.
Custom h2go drinkware is a fantastic option for anyone looking for the perfect promotional product during the summer months (as well as the winter months). It keeps drinks either hot or cold for extended periods of time, it is fully customizable, and it is also environmentally friendly. Most importantly, it's the type of product that will be used over and over for many years to come, which means that it provides repeated brand exposure. If you are interested in custom h2go drinkware, iPromo has a huge variety of customizable options to choose from including custom packaging. We would love to help you get started on creating a great summer promotional marketing campaign! Just start a live chat with us or give one of our h2go experts a call at (888) 994-7766.