Why Custom Stress Balls Should Be Your Next Giveaway
Like it or not, handling stress will always be part of life. There are so many different ways of dealing with stress, some healthier than others. It's funny how often some of the simplest techniques can be the most effective.
One of the best ways of dealing with stress doesn't require medicine, meditating, or expensive therapy. You can actually deal with stress by simply gripping a nice squishy ball or object. Custom stress balls lets you take out the anxiety and tension of your life in a fun, healthy, and addictive way. Stress balls are a great product that everyone can use, which means that they provide a great promotional marketing opportunity. Below, we will take a look at some of the main reasons why branded stress balls should be your next promotional giveaway.
Budget Friendly
Using promotional products to grow your brand and make an impact in your customer's lives is a great idea that every business should take advantage of. A common misconception of many business owners is that they
don't have room in their marketing budgets to afford a customized promotional product. That's not the case here, as custom stress balls are actually very affordable and budget friendly.
iPromo offers high quality promotional stress relievers at a great price. We offer minimum orders as low as 100 units so you don't have to worry about spending a ton of money. Additionally, you can order stress balls in bulk to receive big discounts. There are many different types of branded stress balls to choose from, which means selecting one that fits the personality of your business is easy. Two great options are the Fortune Cookie Stress Reliever and the House Shaped Stress Reliever, which are perfect for food related businesses and real estate businesses.
Stock Shapes to Fit Every Brand, Style, or Message
The great thing about branded stress balls is that they are appealing to everyone. That means that they can add value to pretty much anyone's life. They are a promotional product that is useful, budget friendly, and
endlessly customizable. Promotional stress relievers come in so many different styles that you won't have trouble finding the perfect option to match your unique brand and message.
For example, if you work in the construction industry, the Construction Hat Stress Reliever is a great option that will keep your company at the top of your customer's minds. If your business is related to the education industry, you can't go wrong with the Mortarboard Hat Stress Reliever. If your business offers a mobile application, you can actually have your application icon transformed into promotional stress relievers with the Mobile App Icon Stress Reliever. The options for customization are endless, thanks to iPromo!
Addictive, Fun, and Very Helpful for Relieving Stress
Custom stress balls are one of the most popular promotional products on the market. If you've ever used a stress ball before, you know how addicting and satisfying they are. Using branded stress balls is just plain fun! Squeezing them can quickly become a habitual way to relieve stress and anxiety. If you are a business owner, this is great news. Your logo will be front and center every time someone needs to use your branded stress balls to help relieve their stress. It's hard to believe a tiny cushioned ball can provide so much relief!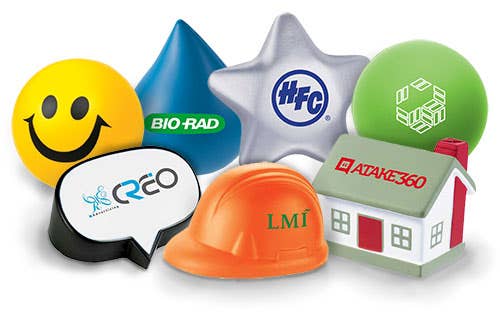 Using branded stress balls to grow your brand name and get your message out there is a fantastic idea for any business. They are affordable, endlessly customizable, and fun for people to use. You might even end up keeping some for yourself! Contact iPromo today to discuss how we can help create the perfect personalized stress balls for your business.