10 Best Gourmet Food Gifts For The 2020 Holiday Season
When it comes to holiday gifts, you can never go wrong with food. It's a guaranteed crowd-pleaser and a classic corporate gift that always goes a long way. To help narrow down the best options, we've rounded up our top 10 favorite food gifts for the 2020 holiday season. From sweet to savory, we've got all sorts of customizable goodies for everyone on your list. Dig in and check them out below!
1. Premium Mug Gift Basket-Choc Chip Cookies
Chocolate chip cookies are the ultimate comfort food. That's why we love this premium gift basket filled with two stainless steel travel mugs, coffee, tea, hot chocolate, and most importantly, loads of chocolate chip cookies. Just throw your logo on the mug, and it's the perfect customized gift set.
---
2. Taste Tempting Tower Of Appreciation
You don't need to choose between sweet and savory with this elegant tower of deliciousness. It has three boxes filled with delightful snacks: Gourmet Chocolate Chip Cookies, Chocolate Covered Peanuts, Chocolate Sea Salt Caramel Corn, and crunchy Choice Virginia Peanuts. It's the perfect holiday gift to snack on all season long!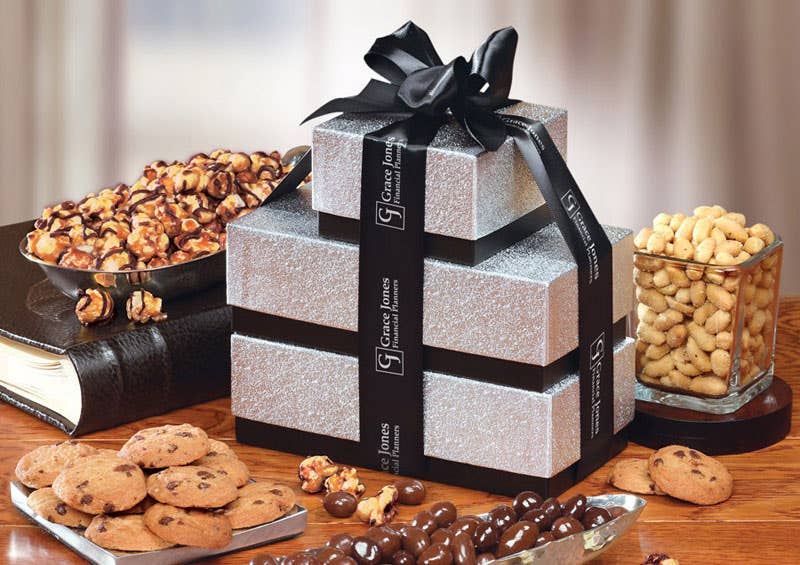 ---
3. Chocolate Cookie Tower
You can never go wrong with the gift of dessert. Delight everyone's sweet tooth this holiday season with a customized chocolate cookie tower. This decadent set comes with two boxes, one filled with chocolate meltaways, and the other with a mix of different kinds of cookies. Add a subtle touch of personalization by putting your company's logo on the ribbon.
---
4. Heritage Supply Highline Tote Gourmet Gift Set
Looking to make a lasting impression? This is the ultimate gift set that combines elegant corporate gifts with gourmet food selections neatly packed within the tote bag for the ultimate wow factor! Included is the sleek modern tote bag, a leather and suede writing pad and pen, along with a coordinated desktop gift box filled with gourmet snack and dip that are kosher. All this is paired with the ribbon color of your choice to perfectly match your brand.
---
5. Gable Box with Gummy Bears
Gummy bear lovers rejoice! This is a lovely little gift basket packed with delightfully chewy gummy bears. If you're looking for a yummy, fun gift for anyones inner child, this is it. Make it custom by choosing your favorite ribbon color and adding your logo to it.
---
6. Classic Gift Box Chocolates
Life is like a box of chocolates, and a box of chocolates is the perfect gift for any occasion in life! This decadent box of dark and milk chocolate meltaways is a classic corporate gift to sweeten up this holiday season for your customers and employees. Add a subtle, bespoke touch of customization by adding your logo to your ribbon of choice.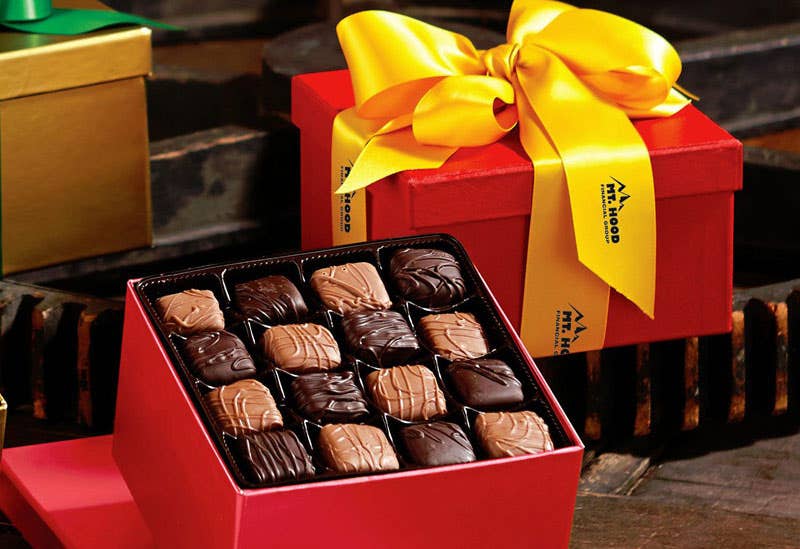 ---
7. Gift Box with Chocolate Covered Peanuts
Your logo is custom printed on a large ballotin box with Chocolate Covered Peanuts inside and will keep your name within reach of their finger tips.
---
8. Deluxe Travel Mug & Candy Gift Basket
This premium gift set is the kind of classic corporate gift that is always appreciated. It comes with two stainless steel travel mugs, tea, coffee, hot chocolate, and chocolate covered almonds. Delicious and functional, it's a no-brainer. Plus, the reusable mugs are the perfect item to customize with your logo.
---
9. Cube Shaped Candy Set
Delight their inner child this holiday season with the gift of candy cubes! These thoughtfully-designed containers come filled with fun candy treats like jelly beans, gummy bears, chocolate almonds and chocolate littles. The perfect gift for any sweet tooth. Create a bespoke candy box with your logo on the outside.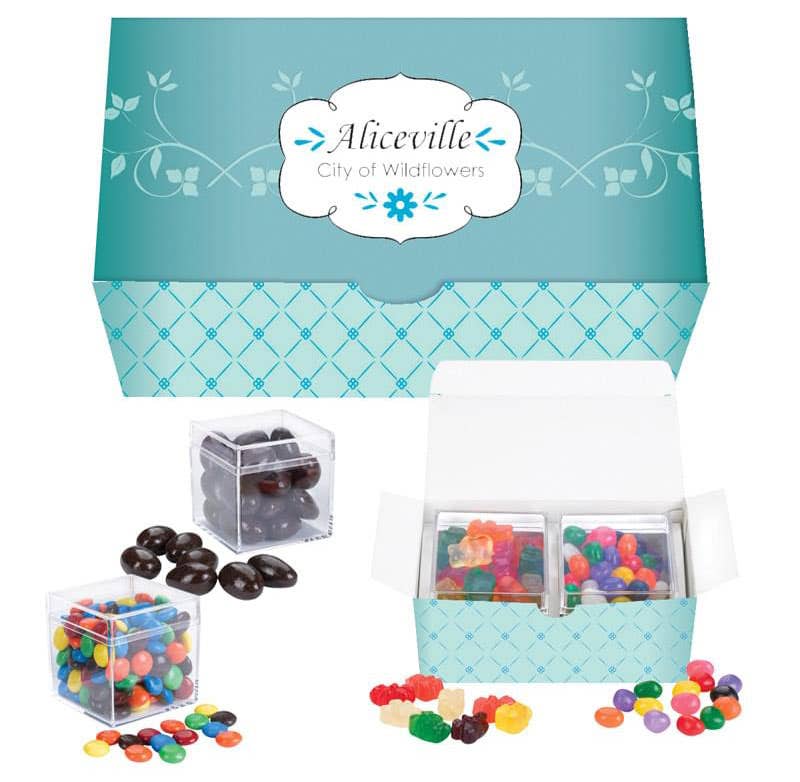 ---
10. Chocolate Bars Gift Box
Chocolate makes our list once again because let's face it, you can never have enough of it. This decadent gift box is filled with 9 premium chocolate bars. It comes in gold or silver foil which provides an elegant backdrop for your company's logo.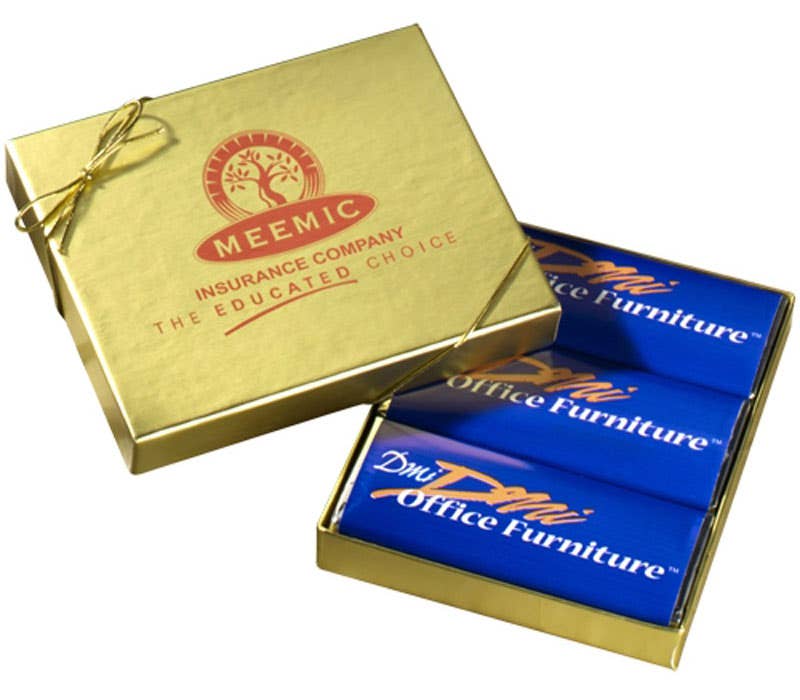 ---
When in doubt this holiday season, go with promotional food and candy corporate gifts. They're simple, easy, great for sharing, and are guaranteed to delight all tastes.
While the 10 customizable food gifts above are a sampling of our favorites, we have plenty of other edible gifts to choose from. Whether sweet, savory, healthy, or decadent, you're sure to find something delicious for everyone on your list this holiday season.
Plus, they come in a variety of packaging and customization options, so you can tailor your food gifts to match and promote your brand. Give your employees or customers a special treat this holiday season with our delicious selection of customized food and candy corporate gifts.