7 Fun Yet Practical Corporate Christmas Gifts
Looking for ideas for the corporate holiday gift giving season? Finding pragmatic gifts for clients and employees is never easy.
Giving corporate Christmas gifts is a great way to express gratitude and appreciation to employees and customers during the most wonderful time of year! It can have a big impact on your business, both in terms of employee morale and customer perception since people like to feel acknowledged and appreciated. They're more likely to feel good about you and your business, which means happier employees and longer-lasting client relationships.
Whether your budget is big or small, it's important to ensure that your corporate holiday gifts are highly-useful. It's always a good idea to choose something that will be used frequently; this can include products within a range of budgets, and sometimes a little (when it's useful) can go a long way! 
If you're feeling stumped, we've curated a list of our favorite corporate Christmas gifts — these are truly great products that will be used long after the holidays into the new year. Plus, with iPromo's customization options, you can easily enahnce any gift with custom packaging, taking your gifting and branding to the next level.
Roma Tech Portfolio with Power Bank and Wireless Charger
This nifty little piece of tech takes the classic portfolio to a whole new echelon. In addition to looking sleek and professional, this custom tech padfolio comes equipped with a built-in power bank and wireless charger that is compatible with most smart devices. The inside cover has a power button, wireless charge pocket, 3-in-1 charging cable, phone/tablet stand, card case, pen loop and a writing pad. It's truly the perfect companion for any business professional and will definitely get plenty of use!
---
Oversized Mink Soft Touch Blanket
Because who doesn't love a soft, warm, cozy blanket? This is one business gift that is especially welcome when the temperatures drop around the holidays. Whether for employees or clients, this is truly the kind of gift that keeps giving, and can be enjoyed by the recipient's entire family. Plus, it's hypoallergenic and constructed with an anti-pill material, meaning that it will certainly pass the test of time! And of course, there are plenty of opportunities (and space) for custom embroidery or laser engraving.
---
Ulla Smart Hydration Reminder
Give the gift of wellness with Ulla – the world's first hydration reminder bottle attachment! This nifty device can be mounted on water bottles of all sizes and materials, or attached to any standard glass or mug. It blinks to remind you to sip, and smart detection sensors remind you to hydrate at least once a per hour. Help your clients stay hydrated, practice healthier lifestyles, have more energy and avoid headaches with their very own customized hydration coach.

---
Analog 5-Piece Technology Gift Set
This handy little gift set includes all of your favorite go-to tech items. It has a twin port USB car charger, silicone stereo earbud headphones, a 4-port 2.0v USB-A hub with type A and C connectors, a multi-use finger grip holder and stand with a 3M adhesive backing, and a stainless steel, vacuum-sealed tumbler with copper lining and exterior powder-coated finish. It's the perfect gift for all your tech-loving friends and associates.
---
Beverage Lovers Gift Set
This is the perfect corporate gift for happy hour lovers! This gift set includes an Alsace Vacuum-Insulated Wine Bottle and two stemless vacuum wine tumbler with lids. While wine is certainly encouraged, this convenient set is designed for use with both hot and cold liquids, and helps keep them at your desired temperature.
This is a classy and functional gift for employees and clients alike, and will certainly get plenty of use. Plus, you can put your desired customization on all 3 pieces in the set, which is great exposure for your brand.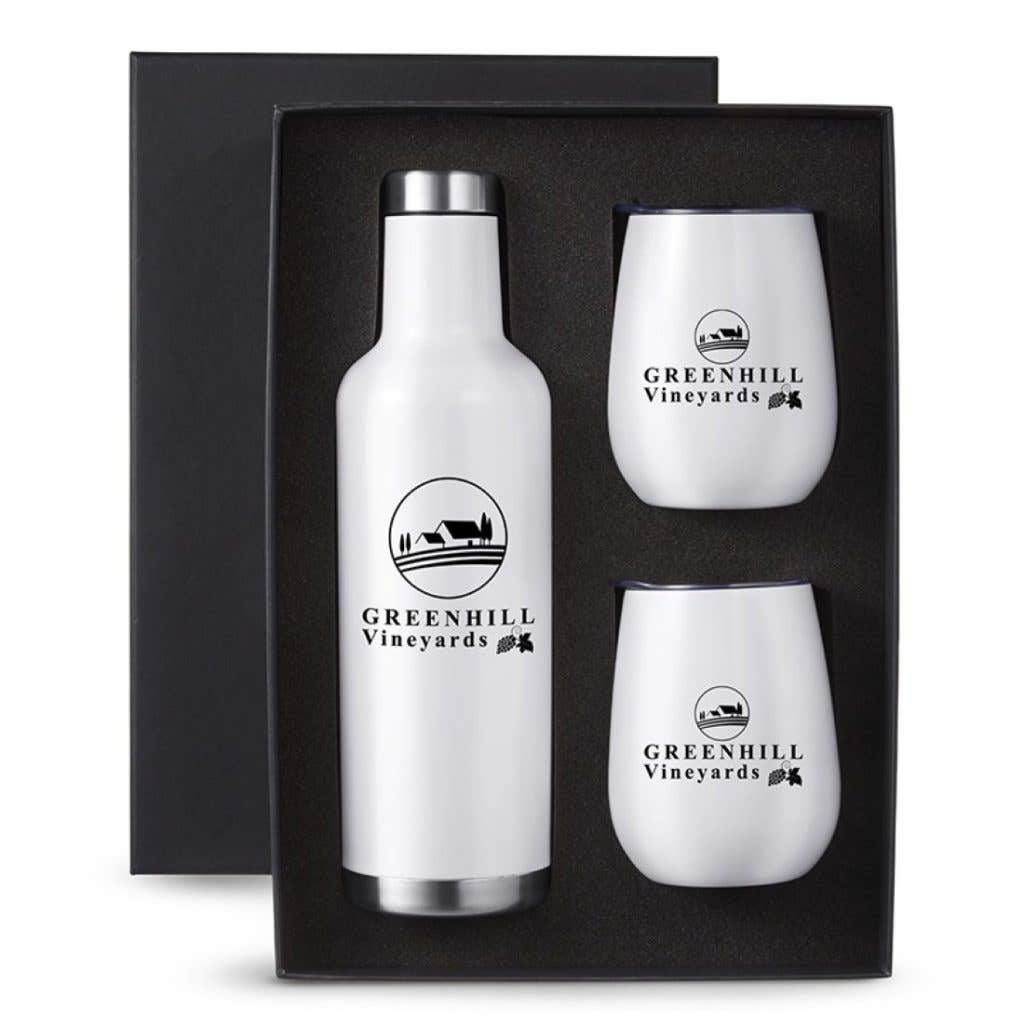 ---
Bluetooth Dopp Kit
If you've got music lovers on your list, this is the perfect business gift to keep them jamming to their favorite tunes. This 1680 ballistic nylon travel bag comes equipped with two Bluetooth speakers, so they can take their music wherever they go. The outside of the pouch has plenty of real estate for customization, whether you choose your company's logo or the recipient's name.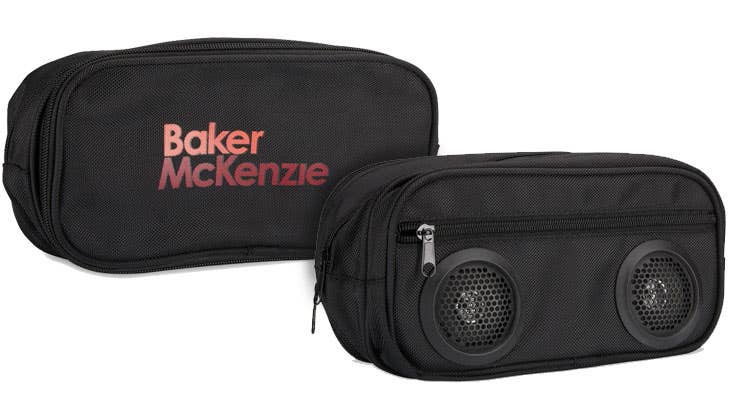 ---
Wireless Ear Buds
Good things come in small packages. These wireless ear buds are the kind of business gift that will be used every single day. Help your clients or employees get rid of unsightly wires and simplify their listening/talking habits. The charging case provides a perfect place for customization – whether your branding or a personalized message.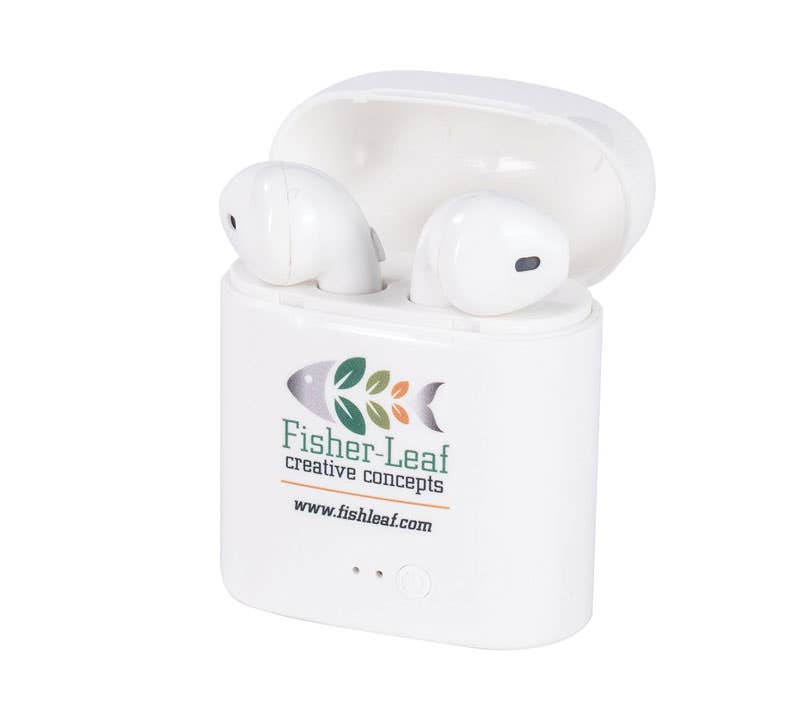 ---
The Challenger Alternating Panels Umbrella
Keep your clients and employees dry and toasty with the world's strongest umbrella! It's constructed with patented wind-venting technology and enhanced FlexTech fiberglass with double rib frame. This durable accessory is a great business gift to help keep rainy days at bay. It comes in 5 different colors and plenty of panel space for customization.
Keep in mind that planning months ahead will guarantee these items are in stock and available without rush shipping and production charges once we get closer to the holidays. Need more ideas? Reach out today or visit our corporate Christmas gifts headquarters to find exactly what you're looking for. Happy Christmas gifting!