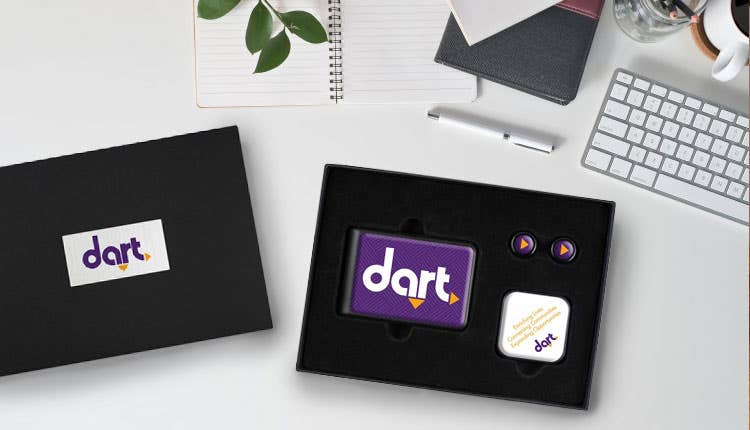 7 Incredible New Employee Welcome Kit Ideas
The welcome gifts your new hires get on their first day show them (and their friends & family) that you really care and help them with transition into a new company.
Most people understand just how nerve-wracking it can be as a new employee. Everyone has been hired by someone at least once in their lives to get where they are today. This process can be scary as you often don't know anyone within the company besides the hiring manager you had your interview with. To make new employees feel welcomed and included in the company the first day, try integrating a new employee on-boarding welcome kit into your office.
These kits will set up your new employees for success. A new employee will notice your company culture and dedication right away with welcome kits that are above and beyond. Their first day will feel even more special if they know you're committed to watching them grow from the very start. 
What is a Welcome Kit?
A basic new hire welcome kit combines helpful information with practical office supplies. Having a list of important contacts, frequently asked questions, contracts, core values, logins, and other general information can help them get acclimated quickly. This information will help answer the important questions that most new hires will have so you don't have to feel like you're constantly repeating yourself.
An added bonus is if you include personalized messages from top-level executives welcoming your new employees to the company. These can make new employees feel included and ready to take on their new job with added motivation. Adding fun and useful company swag makes them feel special and a part of the brand from day one.
7 New Employee Welcome Kit Ideas
Welcome kits are a great way to show your excitement and appreciation for any new employees. These helpful kits often include a combination of office, travel, and dishware that can be used at work or at home. Here are seven incredible new employee welcome ideas for you to start incorporating into your business or adding to your current welcome kit.
1. Powertrip Kit
Everyone needs a little extra power in their lives. People use their cell phones far too often, which leads to them needing a charge more frequently than normal. Make a statement with our tech kit which includes a branded power bank, wireless earbuds, and a cord with a micro-USB tip displayed in a custom black metal box will truly show that your company cares.
The Powertrip Kit can be used whenever you need a quick charge from anywhere in the world. Every item included can be branded with your company logo, placed on the front of each product.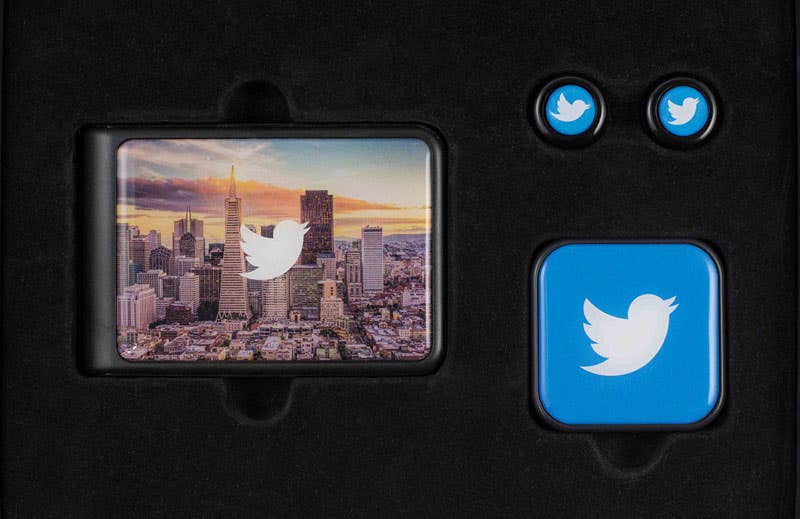 ---
2. Big Bite Lunch Kit
To promote a more environmentally friendly office environment, welcome your new employees with a reusable lunch bag and lunch container. Buying lunch every day has a huge impact on the environment. Using single-use lunch items like disposable plastic containers, plastic wrappers, and plastic utensils contributes to landfills filling up faster than ever before.
More and more businesses should begin to take steps towards eco-friendly solutions in the workplace. By simply encouraging more people to bring their lunch from home, your company can significantly reduce its carbon footprint.
The Big Bite Lunch Kit should be a top contender for your new employee welcome kit. It will advocate for healthy eating and a better lifestyle for new hires across your office. The lunch bag and lunch container included can be screen printed with your logo to show that you care for their well being and the environment. This budget friendly kit is available for as low as $9.65
---
3. 10-in-1 Office Supply Kit
At any level, people need office supplies. The 10-in1 Office Supply Kit is perfect for home, school, or an office setting. You'll be able to stay more organized at your desk with your basic essentials all in one place. This kit includes a pair of scissors, tape, a stapler and staples, a pencil sharpener, and paper clips in a convenient container that is easy to bring on business trips.
Your logo will be screen-printed onto the front of the container so that everyone will be able to see exactly what company provided this incredible kit. New employees will be thankful they don't have to purchase any of these supplies right away. This must-have desk accessory kit is available for as low as $5.49 and makes for a great addition to any current welcome kit you may have.
---
4. Somerset Stationery Kit
A stationery kit is a perfect new employee welcome gift for any business professional. This compact set includes a small-scale pen, a ruler, some sticky notes, and a pad of paper. It's the optimal way to take notes on-the-go. Plus, the detailed laser engraved logo on the front plate only adds to the elegance this kit provides.
Keep the Somerset Stationery Kit in mind when coming up with new employee welcome kit ideas. This luxurious set is packed with all the essentials to make it easier to carry everywhere you go. You'll be more driven to write more and spend less time on your phone during downtime. Available in 5 business days, this product can be customized for as low as $33.34.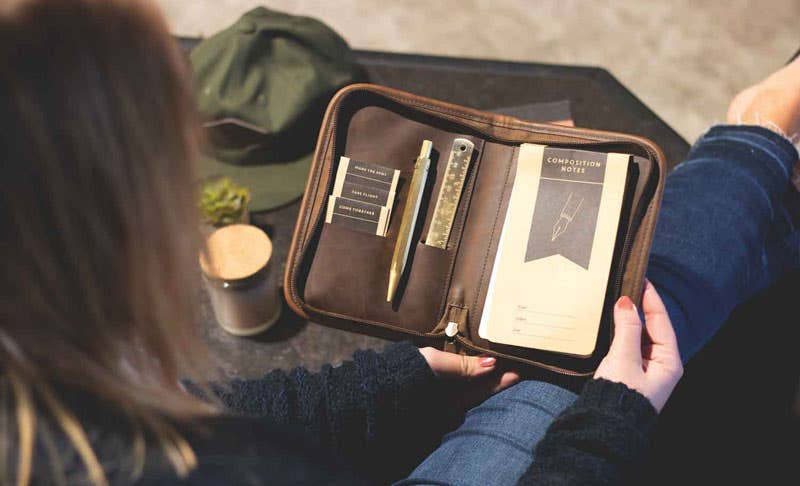 ---
5. Unwine V
A little wine can be just what the doctor ordered. Purchasing a wine new employee welcome kit is a great way to embrace new hires with open arms. The Unwine V is a wine accessory kit snuggled nicely within a cherry-finished wood box. The tools included are a stopper, multifunctional opener, a pourer and a ring. This sleek design can include your logo on the top of the lid, either laser engraved or screen-printed.
The Unwine kit can be as low as $35 and your logo can be screen-printed or laser engraved on the wood box. The imprint colors available are black, bright gold, classic gold, silver, and white. Within five to eight business days this kit can be used for your new hire welcome kit. Plus, you know any new employees will now be all set for holiday parties in the future!
---
6. Basecamp Hanging Travel Kit
Travel kits are necessary for the world of business. A sales representative will usually make multiple business trips each year in order to meet with clients all over the globe. This means they will often be in and out of hotel rooms and suitcases.
To get your new employee ready for what to expect in the near future, a travel kit is extremely helpful. This travel kit has a hanging hook that provides more space for toiletries and other travel essentials. The main compartment has tons of storage. With a front zip pocket and side grab handle, your employees can become travel pros in no time.
The Basecamp Hanging Travel Kit will have your company logo displayed on the front, screen-printed to your liking. In three to five business days this kit can be in your hands. This super useful travel accessory can be customized for as little as $17.49. We also donate a portion of this specific kit sales to fund the Warrior Spirit Retreat.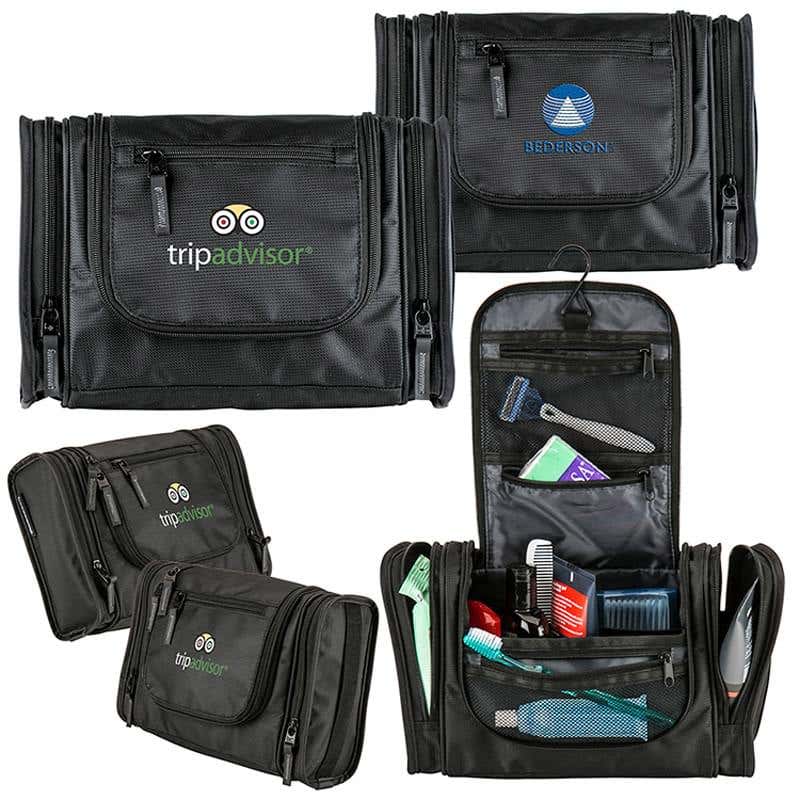 ---
7. Himalayan Outdoor Kit
Promote spending time in the great outdoors with the Himalayan Outdoor Kit for new employees. This set includes a Himalayan Performance cooler bag, along with a 20-oz tumbler. The logo is screen-printed and placed on the front of both the cooler and tumbler.
The light-weight materials and sleek design will only motivate you to go on more outdoor adventures from this point forward. There are numerous color options available for as low as $49.99 and can be shipped to you in as little as 10 business days.
---
It's time to welcome new hires with more than just an email. You want your new employees to feel accepted into your workplace so they don't feel obligated to accept another offer.
The first day at a new company can be one of the most stressful things anyone experiences in their lifetime. From not knowing where the lunchroom is located to not trying to figure out the login to their work computer, every new hire can use a little help.
Providing new hires with a positive gift right at the beginning of their employment will only show how confident you are in their abilities. Including important information like your corporate history, your company's future goals, and a list of other general questions can prepare them for the first day better than anything else. iPromo offers hundreds of different welcome kits and options and can be completely customizable to your branding needs. Reach out today for more ideas or to get a quick quote with a preview of your design.