10 Creative Corporate Gifts for Your Business Under $50
The best 10 ideas for luxury gifts for employees and clients that don't break the bank. A good guide is to stay within $50 per person. This way you'll be able to set a budget, while still providing exceptional gifts for your entire office. These gifts need to be fun yet professional, long-term yet exciting, but affordable enough to purchase hundreds (or dozens) of the same gifts.
What Types of Gifts Are Included?
Below is a list of ten corporate gifts under $50. These range from headsets to blankets and everything in between, ensuring that everyone in your office will take away a piece of branded merchandise that they love.
1. Anker PowerCore II Slim 10,000mAh Power Bank Portable Charger
Help your employees stay at the top of their game with the Anker PowerCore II Slim 10,000mAh Power Bank Portable Charger. This portable charger is top of the line in terms of quality and very reasonable for the price.
The production time for this charger to be customized with logo takes around seven to ten business days to complete. You can get up to three full charges on multiple devices such as smartphones, tablets, and other USB devices. The portable charger can be fully recharged in only four short hours, allowing you to take on the world faster than ever before. Anker is a leader in power banks, making them great promotional products under $50.
---
2. S'well 17oz Vacuum Insulated Stainless Steel Water Bottle
Carry your water in style from now on with the S'well 17oz Vacuum Insulated Stainless Steel Water Bottle. Available in 12 sleek and modern colors like moonstone, hunting green, teakwood, blue suede, rowboat red, smoky quartz, and sparkling champagne, you won't have any reason why you won't want to bring this bottle everywhere you go. Your logo can be screen printed or laser engraved on the front of the bottle.
S'well is one of the best water bottle manufacturers in the entire world because of its polished finish, eco-friendly materials, long-lasting technology and on-trend color options.
---
3. Tile Mate Bluetooth Tracker
So small it can fit on your keychain! The Tile Mate Bluetooth Tracker is 25 percent smaller than its competitors and will easily attach to anything you don't want to lose. This is often keys, but it can also be used for finding your smartphone. Connect your phone to the Tile device and it will start ringing, even if it was switched to silent. Within five business days, you can have this Bluetooth tracker shipped with your logo printed just below the Tile logo.
---
4. Yeti Rambler 14oz Mug
Take on the wilderness with a brand new Yeti Rambler 14oz Mug. These camp mugs are engineered to be the toughest on the market today. They are double-wall vacuum-insulated which can keep any liquids inside stay protected from the exterior elements. Despite the mug having a larger mouth, the standard Rambler 30oz Lid comes included so you can keep your hot drinks warmer for longer.
Your logo will be laser engraved above the Yeti logo on the front of the mug. Available in all of the popular YETI color options, these high-quality customized mugs will be ready to go in seven business days. Make the Yeti Rambler 14oz Mug a memorable gift this upcoming holiday season and into 2020.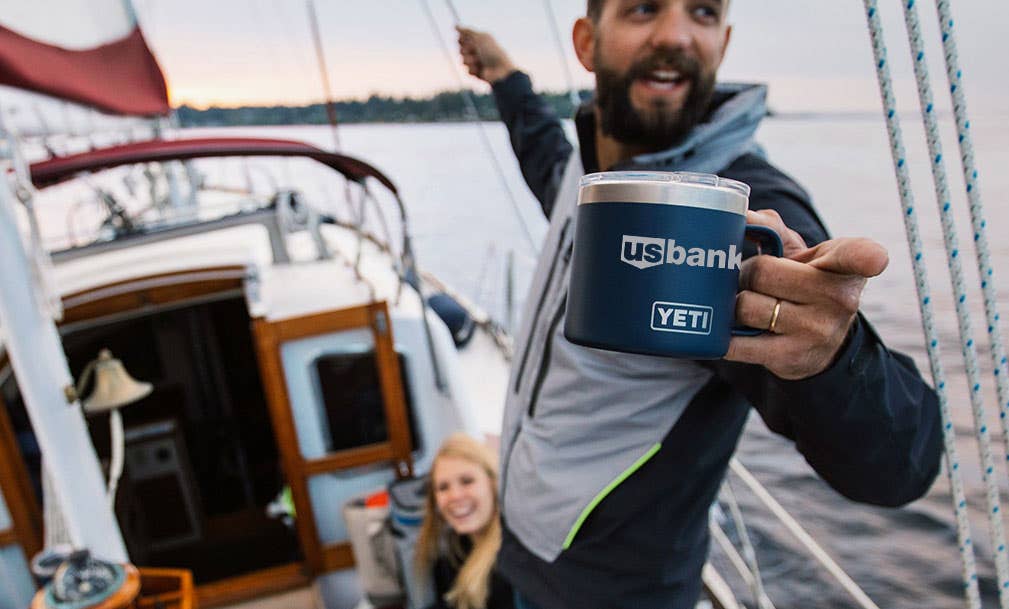 ---
5. Callaway SuperSoft Custom Golf Balls
Everyone dreams of hitting the fairway during the colder months. That's why it's important to get your sporty employees and clients a gift they can actually use and enjoy! The Callaway SuperSoft Dozen is the lowest compression golf ball on the market today. The low compression is designed to reduce spin and increase distance dramatically. Your logo can be pad printed on the opposite side of the Callaway logo within 5 business days of artwork approval.
---
6. Radium X Wireless Headset
A wireless headset is great for making business calls around the office. The headset allows you to stay connected to any wireless device for up to 30 feet away. It takes around two hours for these headsets to become fully charged for up to nine hours of talk time. The control unit allows you to skip music, play/pause music, and accept incoming calls. Have your logo printed on great branding real estate on the outside of both earpieces.
---
7. NoWire Wood 10W Qi Charging Coaster
Is your cell phone at five percent when the workday is only half over? Forget your charging cable at home? You'll have no more worries with the NoWire Wood 10W Qi Charging Coaster. From now on, you can keep this handy wireless charger that doubles as a coaster at work whenever you need a little extra juice.
The material option for this product is  bamboo or walnut finish. Each coaster is laser engraved with your company's logo for a sleeker design. These custom charging coasters do twice the work of any regular phone charger. Not only will it be used as a classic and elegant looking coaster, but being able to wirelessly charge your phone, making it one of the most unique and memorable employee gifts under $50. This ultra-thin design will look stunning on any surface and can be at customized within five business days.  
---
8. Cutter and Buck Pacific Stylus Pen Set
Who doesn't need a great working pen? This brass set includes a ballpoint stylus and a rollerball with only premium blank ink cartridges. The stylus can be used with any type of touchscreen device. This will make everyday life so much easier as the stylus can eliminate all smudges on your device.
The Cutter and Buck Pacific Stylus Pen Set is ideal for those business people that are constantly on the go. You can get your logo screen printed or laser engraved onto the pen cap depending on the look you're trying to go for.
---
9. Porter Hydration and Fitness Duffel Bag
For your employees that travel a lot, you can try to get them one of these duffle bags for promotional gifts under $50. The Porter Hydration and Fitness Duffel Bag is top of the line and is great for those short business trips to different cities. There's a shoe compartment, padded laptop screen, and top water bottle pocket included. This duffel bag comes in popular colors to match your logo, which can be imprinted on the front of the bag.
---
10. Cable Knit Blanket
A blanket is one of the great custom gifts under $50 that everyone can use. It comes in six colors: black, cobalt blue, grey latte, red, vanilla. The stunning pattern is located on one side while there is a soft lambswool that decorates the other. Your logo will be embroidered and placed elegantly near the bottom corner of the Cable Knit Blanket.
---
Corporate gifts need to be items that your employees will be able to use time and time again. If you purchase these types of items, your employees will see how much you actually care for them. If you have a large sales team, they might be more appreciative of a portable or wireless charger because of how often they're on the phones. On the other hand, a higher-level executive may be more inclined to enjoy a set of top-quality golf balls or a pen set. It all depends on what certain clients or employees will use more often. Check out iPromo today to find exactly what you're looking for.