Abbott BinaxNow™ vs. Quidel Quickvue® vs. Ellume COVID Tests Reviewed
Whether it's individuals who want to check themselves after a scare, or businesses who want to test people who are entering their premises, there's an ever-growing demand for COVID-19 test kits. The Coronavirus has put a huge strain on all of us, but using these testing kits is a great way to achieve a bit of peace of mind in a time where that can be hard to come by. Make sure you know everything there is to know about these at-home test kits, and you'll be able to make an educated decision about which one is right for your organization's needs. The reviews below discuss 3 brands of COVID-19 testing kits: Abbott BinaxNow™, Quidel QuickVue®, and Ellume, hopefully it will help you make a more informed choice.
Abbott BinaxNOW™ 
Abbott offers a great variety of at-home test kits for COVID-19. Their BinaxNOW™ test kits are a great way for you to find the peace of mind that comes with a negative test result and the sure knowledge that you're not infected. There are 3 versions of the BinaxNOW test, one of them having additional functionality related to their companion app for a Digital Pass. All BinaxNOW tests detect the SARS-CoV-2 antigen using lateral flow technology, which is a proven method with decades of usage behind it. Tests such as these are used by the US ARMY, the White House, and other respected organizations. Their tests are currently the most popular on the market and for a good reason. Abbott's BinaxNOW boasts the following, depending on which version you use:
Has FDA Emergency Use Authorization (EUA)

Involves self-collected anterior nasal swab collection.

Results reporting in 15 minutes so that you can get the results in a hurry and minimize the stress and anxiety of waiting around for a result.

Test sensitivity of up to 97.1% and specificity of up to 98.5%, meaning you'll have a highly accurate result with almost no chance of a mistake. 

Benefits with the BinaxNOW test enabled by eMed are:

Third-party verification ensures authentication.

Digital Health Results sent to a mobile app with Digital Health Pass or Guide To Care Instructions

24/7 Live Support – eMed certified guides & customer support agents so that you always have access to the important information that you need.
Quidel QuickVue®  
This is another excellent option in your search for COVID-19 test kits. These kits offer a lot of the same capability as the Abbott BinaxNow tests, allowing you to check for Coronavirus in the comfort of your own home and bring the peace of mind of a negative result, or let you take the proper action in the case of a positive result. Either way, you'll be doing what's best for yourself. Quidel has been involved in the medical industry for over 40 years, so you can be sure that you're getting a quality product when you purchase something from their catalog. Collecting a sample takes about 15 seconds and is a simple, painless procedure, getting results in just 10 minutes.
Uses tried and tested technology that has been in use for decades by professionals in the healthcare industry.

It has FDA Emergency Use Authorization (EUA).

I

nvolves a gentle self-collection anterior nasal swab sample to detect the SARS-CoV-2 antigen.

Results are as quick as 10 minutes, so you're not left waiting and stressing to see the result.

Positive results agreed with PCR test 83.5 percent of the time, while negative results agreed with PCR test 99.2 percent of the time (PCR test actually detects RNA that is specific to the COVID-19 virus – normally done at a clinic, hospital, or drive-through site, and results can take up to 24 hours). This is widely considered a superb performance.

This test is intended to be used twice over two to three days, with at least 24 hours and no more than 36 hours between tests.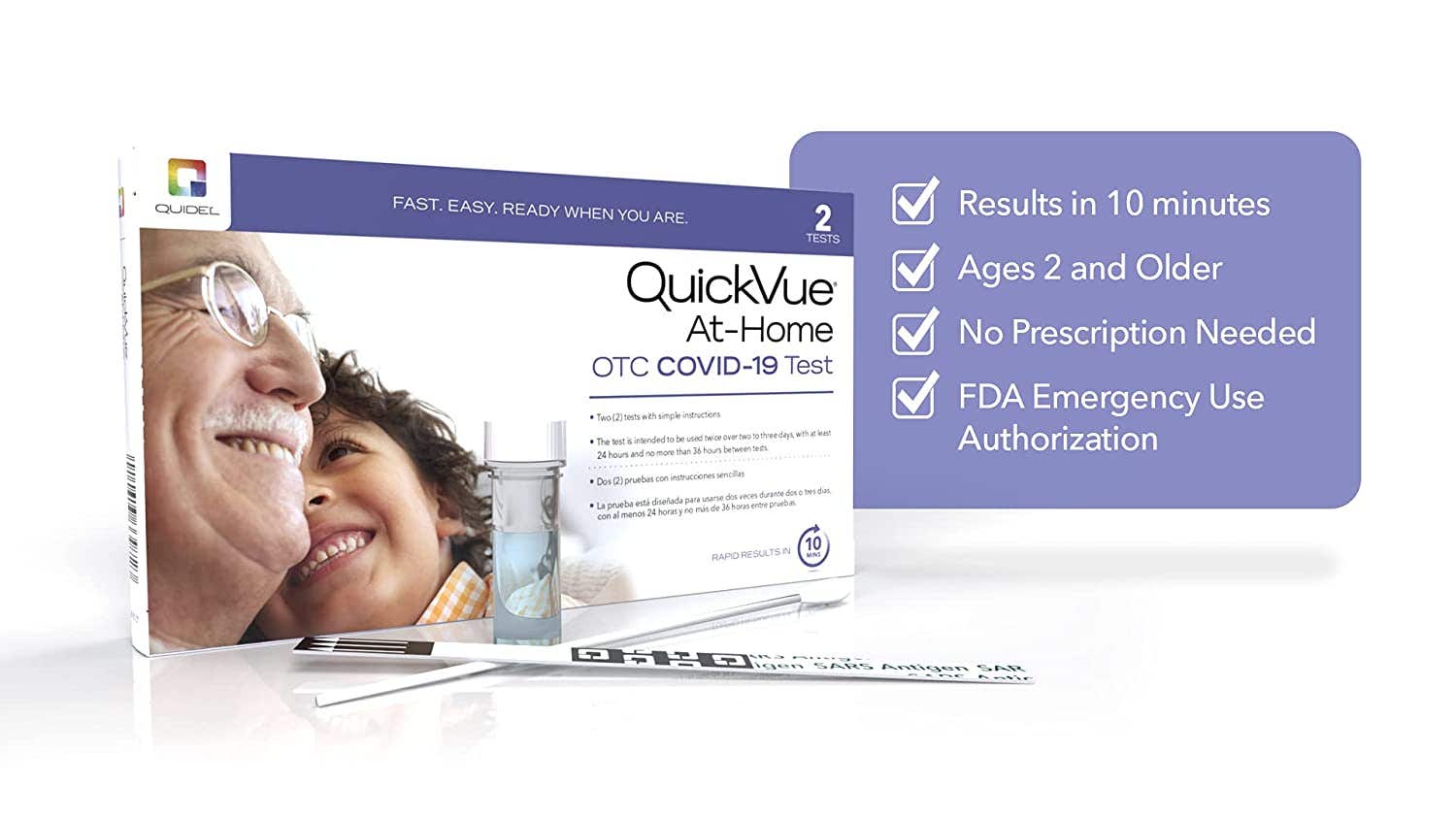 Ellume COVID Tests 
The Ellume COVID-19 tests are also quite potent and have similar results to the previous ones. They are another way to get your results as quickly as possible and remove the stress of a hospital visit. Testing at home is the best thing to do if you're concerned that you've been exposed to COVID-19 in any way, you don't want to take an unnecessary risk. The Ellume test boasts the following qualifications:
It has F

DA Emergency Use Authorization (EUA).

 

Offers test results in as little as 15 minutes so that you won't be left waiting around for the positive or negative result and stressing all the while.

Includes a companion app that will walk you through the test with step-by-step instructions and an integrated informative video.

After 15 minutes, the sample is tested, and the results are shown on your phone.

The software saves the results and allows you to share them via email.

This test complies with the CDC requirements so that you can rest easy.
All three of these tests have FDA EUA and boast highly effective and fast results, so honestly, you're probably going to feel pretty good about whichever one you decide to go with. Purely looking at the stats, it seems that the Abbot BinaxNow test is the preferred choice for many, and it's easy to see why when you look at everything they offer. If you're new to at-home COVID-19 tests, then you're probably better off using the Abbot BinaxNow. It's simple to use and offers a slew of options for you to customize your experience. Hopefully, this article has been helpful, and you have a better understanding of COVID-19 testing kits.