12 Best Promotional Items For Fall & Winter
For businesses, the first chill in the air means it's time to get ready for the holidays. But this season will be different. The pandemic has pushed for the closure of many workspaces, and celebrations have moved online. With a large percentage of workers and clients still at home, the nature of your corporate gifts should also adapt to the new normal. 
Sending a token of appreciation to staff members and clients is  an excellent way to boost your team's morale and keep your brand on your clients' minds. If this sounds like something your company needs to check off it's holiday to-do list, here are some great gift ideas! 
Everyone likes a high-quality candle. They can be used in any room of the house to improve the ambiance with its light and fragrance. It's perfect for those cold fall afternoons when all you want to do is cuddle up with a good book and a hot drink. Bamboo soy candles blend perfectly with any decor style and having your logo front and center is a great way to become associated with those good vibes. The candle is made with soy wax, which is non-toxic and burns longer than paraffin. Best of all, it's also kind to the environment. Your brand's logo can be screen printed or laser engraved directly on the glass so you can be sure it will look amazing. 
---
Fall means that it's time to warm up with a hot drink. What better way to do it than to use a ceramic mug to help it stay hot for as long as possible? The combination of a wooden handle with black coated stainless steel with a matte finish gives the mug a touch of elegance. The slide lock makes it perfect for those times when you have to take your drink on the go. A great travel tumbler mug to print your logo perfectly on the side, and is a must-have for all those pumpkin and cinnamon spice lattes! 
---
What better way to enjoy the beautiful colors of fall than by going on a weekend adventure in the outdoors? This is probably the last chance your staff and clients will get before it's too cold. No camping excursion is complete without enjoying some delicious s'mores around the campfire. For best results, pair it with a hot drink. The graham crackers and marshmallows in this kit are handcrafted and use local ingredients. This gift keeps on giving as a portion of your custom MiiR order is donated to trackable charity projects. Your brand's logo is  printed on the mug and gift bag so no one will forget your company's knack for cool gift giving. 
---
Everyone is putting away their shorts and t-shirts and taking out those warm clothes. Whether it is a windy fall day or a freezing winter night, a beanie is a must-have accessory for any wardrobe. These beautiful beanies are woven and dyed to suit all of your business's needs. Choose from a standard 9-inch beanie, perfect for those cold days in the city, or add a cuff and a pompom to use on the ski slopes. One of the biggest reasons this beanie is so popular, is the ability to match the beanie color to the exact pantone color of your your logo. Wearables are a tried-and-true way to promote your brand, that's why you want to ensure that they look great. The more your clients and employees wear them translates to an increase in brand exposure.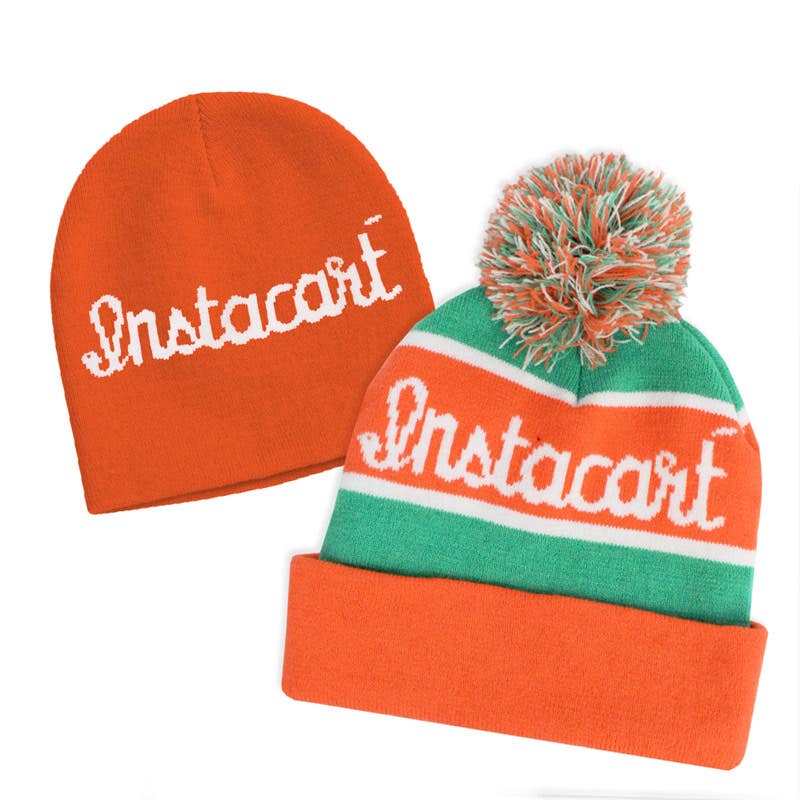 ---
Fall is a weather transition season. It's not cold enough to crank up the heating, but the warmth of summer is gone. This calls for some relaxing family time hanging out on the living room couch, watching a movie or reading a book. For these situations, there is nothing like the comfort of a plush throw blanket—if it's made with comfy coral fleece, even better. Don't forget to make them plaid, the official pattern of the season. This is a great way to associate your brand with the warmth and protection of a cozy blanket. Bundle this item with drinkware to make the perfect fireplace kit. 
---
With sweater weather upon us, having an excellent quality fleece jacket is a must. Needless to say, The North Face is one of the most well-known brands associated with outdoor activities. This 100% polyester jacket is warm yet breathable and a smarter alternative to a heavy knight sweater. Have your brand embroidered in a variety of locations to co-brand with one of the highest respected brands in the apparel business. It's made with two hand pockets to help you keep warm, and a zip left chest pocket to ensure nothing gets left behind. 
---
A warm plate of soup is the best way to comfort the soul. This gift will surely make a good impression with your clients and employees as they can use it every day. It's also a fantastic container to fill with other goodies before you ship them. Include a few seasonings and a couple of delicious soup recipes to make it extra special. This ceramic mug comes paired with a spoon, is easily hand-washed, and meets all of the FDA requirements.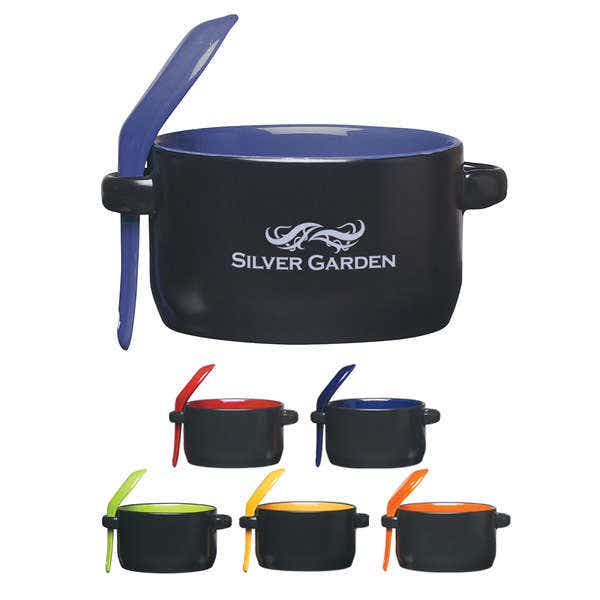 ---
When you're going away for a camping adventure this fall, a great lantern is essential. Nothing compares to the comfort of a lighthouse COB lantern. Not only does it have super powerful light strips, but it also has two metal handles that are perfect for hanging on a tent or carrying around with you. Best of all, this versatile lantern is also a great everyday addition to any emergency car tool kit. Not to mention, your logo is artfully applied via the precision-printing process to top of the lanterns.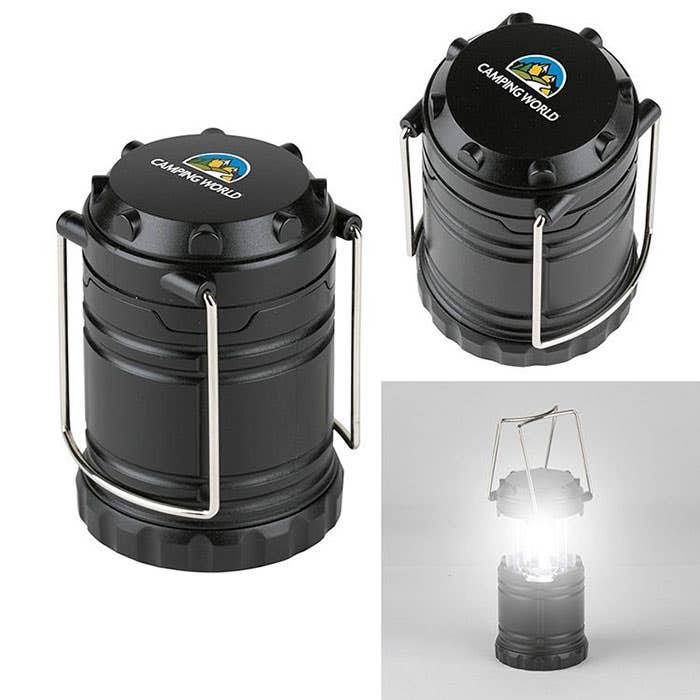 ---
Everybody likes to give a little flair to their business attire. Novelty socks with fun prints are in style! Best of all, they are great to keep warm during the colder weather seasons. Make your brand part of your clients' everyday style by gifting them amazing-looking custom socks printed with top-quality digital ink. Some great business socks are a detail that can really bring a wardrobe together. Each sock has a pre-knit base and is fully customizable to meet all your branding needs. Make it more distinct with custom packaging available. 
---
Fall is the season for hot drinks. Some all-time favorites include pumpkin spice lattes, tea infusions, and delicious hot chocolate. This gift will surely catch the recipient's attention and have them rushing to warm up some milk to enjoy this beverage. Best of all, the mug is the perfect corporate gift that can be used for many years to come. Have your brand or artwork printed in vibrant colors and wrapped around every mug.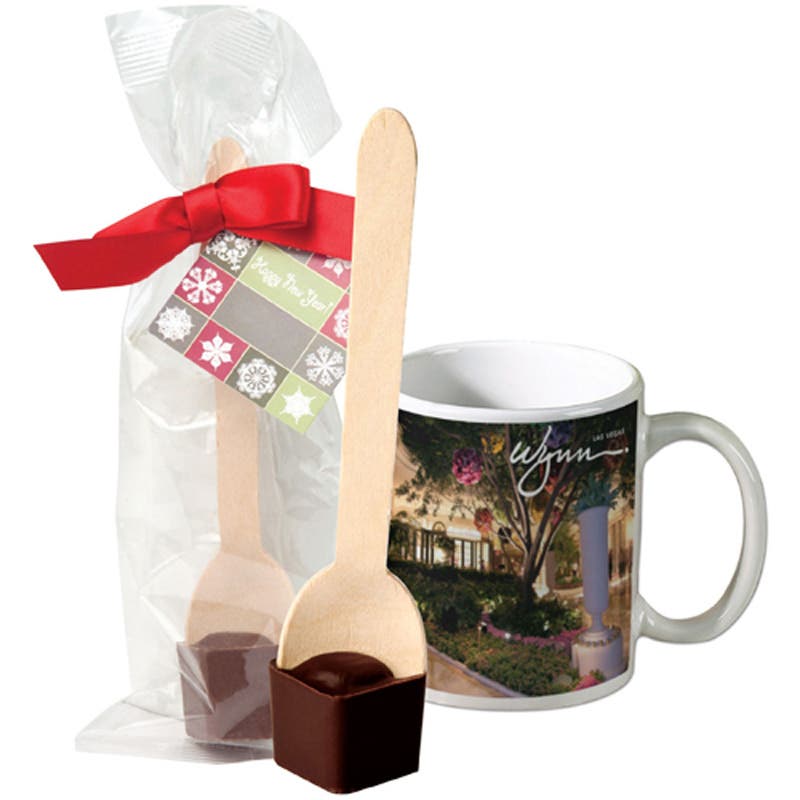 ---
As the warm weather starts to dissipate, it's time to start layering up! This means wearing a warm fleece sweater, a great beanie, and covering your hands with some mittens. This gift is a demonstration of care for your employees or clients. They are fully lined with fleece and have fold-up cuffs to avoid any cold air from getting in. You can choose from a variety of different colors and have your brand elegantly embroidered on the front. 
---
Backpacks have replaced the briefcase. This comes as no surprise because employees often transport electronic devices to and from their workplaces. The Field & Co. Rucksack Backpack has space for a 15" laptop and interior organization segments for all those everyday items. The top pocket provides quick access and has a stylish design that is inspired by vintage camping bags. This backpack is made with a durable blend of wool and polyester. Your logo can be embroidered, printed in full color, or heat transferred onto the front of the back.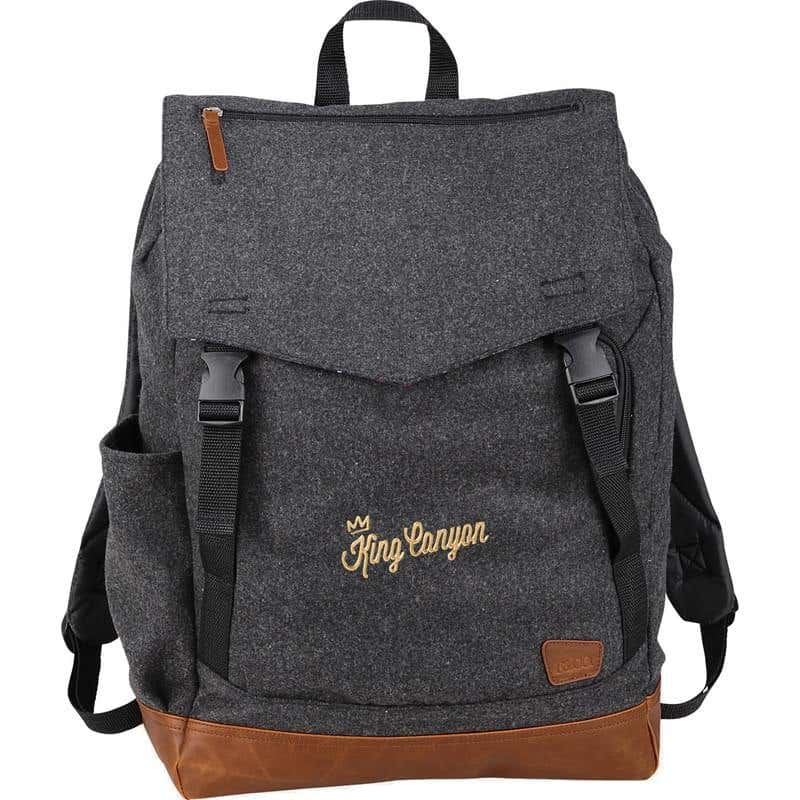 ---
The Takeaway
The best corporate gifts are those that can be used for many years to come. With the arrival of colder weather, people want to be as warm and comfy as possible. Make this easier for them by gifting a warm blanket, a useful piece of clothing or product that promotes fun door activities. Who knows, maybe a smores camping kit or a powerful lantern could be the first step to planning a memorable weekend? Bundle items together to create themed gift baskets that are unique. At iPromo we'll provide you with all the custom corporate gifts you need for this awe-inspiring season.