If you're evaluating your options for disposable gloves, it's important to consider the type of environment they'll be used in. There are multiple options when it comes to price point, sizing, colors, durability, and flexibility. Your industry and your need for risk protection will also inform which type of glove is best for you.
Both are latex-free, so they're both safe for people with allergies to natural rubber. However, there are some big differences between nitrile gloves and vinyl gloves. For instance, nitrile is highly durable and offers much better protection against toxic materials and human fluids that could be infectious. That's why healthcare workers use nitrile gloves as their latex-free glove of choice.
On the other hand, vinyl is more affordable and is a better option for people who don't need the highest-rated protection of nitrile gloves. Vinyl is great for beauty technicians, food handlers, and people who prefer to protect their hands during everyday errands. 
Ultimately, you want a glove that protects your staff in your particular environment. Not only do you need to ensure that you can do your job properly but you also need a product that's gentle on your hands. 
Nitrile Disposable Gloves
---
What are nitrile gloves?
Nitrile is a synthetic rubber that feels similar to latex. It doesn't require the use of natural resources to fabricate, however, which has made nitrile gloves really popular. However, there's not much of a difference when it comes to wearability between nitrile gloves and other types of disposable gloves. But there are some pros and cons to consider.
The first is that nitrile gloves are protein-free and allergy-free. You don't have to worry about activating your allergies or someone else's! Nitrile is flexible. You can wear these gloves all day, if necessary, and they are durable enough to last. One specific benefit of nitrile is that it's highly-rated against petroleum products, whereas latex breaks down in the presence of oil-based petroleum products.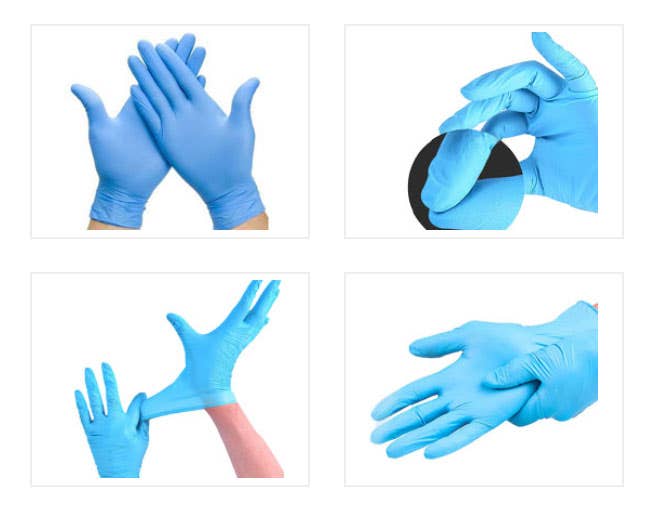 But the major advantage of nitrile is its durability. It offers robust protection against tears, punctures, and other dangerous materials like toxic chemicals. People who work with cleaning supplies, auto parts, human fluids, and other risky materials only use nitrile gloves for this reason. It's critical to protect your hands and your body from infectious or toxic materials. Equally important, you need gloves that allow you to work comfortably and precisely. Nitrile gloves are the best solution for these types of tasks.
You should know that nitrile gloves are not biodegradable and are more expensive than vinyl gloves. But their functionality and durable material is reflected by their price point.

Are nitrile gloves latex free?
Yes, nitrile gloves are latex-free. People with latex allergies are responding to an organic protein from the rubber tree. Rubber is a key component in latex gloves. Studies show that only about 1% of the U.S. population suffer from latex allergies. However, it's not something that you want to risk. There's nothing worse than aggravating someone's health situation by introducing latex gloves and discovering a serious allergy.
If you need gloves that are safe for a majority of people, then nitrile is a great choice. Latex-free gloves are simply the safest choice for people who work with human bodies every day. Nitrile is a durable, effective choice for latex-free gloves.
Where to buy Nitrile Gloves?
You can buy nitrile gloves online from iPromo. Our nitrile gloves are FDA and CE-certified (approved by both American and European regulators). They are powder-free, latex-free, and you can order them in bulk (100 gloves per box).
When requesting a quote, you can let us know which size, thickness, and color you need. You can choose from XS to XXL sizing, and there are options for colors, too. 
Disposable Vinyl Gloves
---
What are vinyl gloves?
Vinyl is another type of synthetic rubber. This makes them a viable alternative to latex gloves for people with allergies to latex. Vinyl gloves are made of flexible PVC. As a result, they are quite durable for normal everyday use. This type of glove is mostly used by people in low-risk environments.  Vinyl gloves are a great choice if  you need a more affordable, non-latex option for everyday disposable gloves.
Difference between vinyl and Nitrile gloves?
The main difference between vinyl and nitrile gloves is wearability and durability. Vinyl is not as well-fitting or flexible and strong as nitrile. You'll have a harder time doing precision-tasks with vinyl gloves. Vinyl also has lower resistance to chemicals and is more likely to puncture. If you work with toxic or infectious materials and can't risk exposure, then nitrile is a more protective option.
Are vinyl gloves latex free?
Yes, vinyl gloves are latex-free. They do not contain any natural rubber so people with latex allergies won't have a reaction to proteins. In fact, vinyl gloves are typically the most affordable latex-free option on the market. Vinyl is synthetic, non-biodegradable, and protein-free. 
Keep in mind that although the majority of people do not have a latex allergy, anyone can develop this allergy at any time. You may not know whether a customer has a latex allergy. For an affordable solution to this problem, use vinyl gloves.
Are vinyl gloves safe?
Vinyl gloves offer reasonable protection against infection and toxic materials. However, they are not as highly rated as nitrile. Some studies show that vinyl has a much higher cross-contamination rate when used in food handling than nitrile gloves.
If you're looking for an economic option for disposable gloves that are latex-free, then vinyl is a good choice for you. However, if you need absolute protection against chemicals and human infection, you should go with nitrile. But for casual applications like food handling and cleaning, vinyl is a perfectly safe option for disposable gloves.
Where to buy vinyl gloves?
You can buy vinyl gloves in bulk online from iPromo. They are the most affordable non-latex gloves on the market. Remember, vinyl gloves are not for medical use and they're not the right options for handling toxic materials. However, you can buy bulk vinyl gloves for food handling, beauty applications, office workers, or everyday daily use.
There is a minimum order quantity of 5,000 gloves at iPromo. There is a variety of sizing options available, from XS to XXL. Keep in mind that transparent is the only color available for vinyl gloves.
Now that we've reviewed vinyl and nitrile gloves, you should be able to understand the pros and cons of both materials. Both types of gloves are made of synthetic rubber, so they're safe for people with latex allergies. It's important to have latex-free gloves on hand if you'll be interacting with other people.
If you need flexible, durable, and highly protective gloves, then you should purchase nitrile gloves. Healthcare workers, janitors, and industrial cleaners can use nitrile gloves to feel safe in their professions. Plus, nitrile gloves come in a variety of colors. You can order black or purple gloves if medical-blue is not the right brand look for your company.
If you need a low-cost latex-free glove for everyday use, vinyl gloves are probably the best choice for you. It's affordable, perfect for short-term handling, and a good option for protecting your hands against everyday germs in the environment. 
Luckily, you're now a glove expert! Order a few boxes of gloves today and help your team feel confident about heading into work. With stylish, durable, and lightweight options available at iPromo, it's easy to find the perfect disposable glove solution for your business.