17 Employee Appreciation Quotes & Notes To Build Your Company Culture
Saying thank you to employees (read co-workers) along with genuine words of appreciation and recognition goes a long way. Have you ever thrown out a well written thank you note?
Why is Company Culture Important?
Having a strong corporate culture will help your company build its identity, improve its brand reputation and image, and help reduce churn rates.
A strong culture will help employees feel a greater sense of belonging within their organization as they develop mutual values and share beliefs with others within the organization.
They will feel like they fit in better and will be likely to want to stay there for longer periods of time. You can even expect your employees to develop a greater emotional connection with the company, which will make them more committed to its success and therefore want to invest more time and effort into their work — which means better results.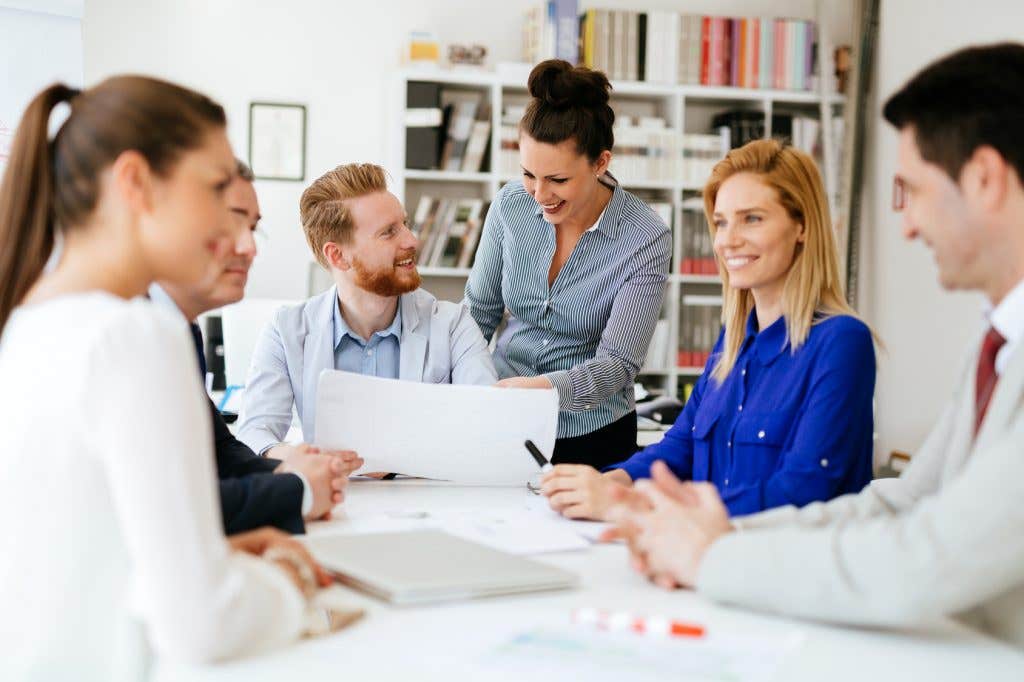 How Can You Build a Strong Company Culture?
There are many ways in which you can build a positive company culture — setting mutual and individual goals for your employees and team, building a sense of meaning and purpose in the workplace, and creating a positive, supportive atmosphere.
But above all, one of the greatest things you can do is expressing your appreciation for your employees, which will make them feel more valued and satisfied at work. 
Showing Appreciation for Employees
To help you start expressing your appreciation and gratitude towards your employees, we have compiled a list of 17 employee appreciation quotes and notes that will inspire you to express thank you to your employees.
Not only will you be benefiting your employees by helping them feel more valued and confident, but you will also be building up your company culture and ultimately benefiting your organization. Keep reading to discover a few employee appreciation quotes:
"Employees like you can even make Monday a joy. Thanks for your hard work and super attitude!"
"You are such a joy to work with. Every interaction is a positive one and I know you have big things ahead of you."
"You do great work. You deserve a huge thank you from the entire office."
"Your hard work and creativity is appreciated by all! We hope we have you for many, many more years to come."
"Complaining is finding faults. Wisdom is finding solutions.' Thank you for continuously being wise!"
"Your attention to detail and determination to see the company succeed and grow is a HUGE asset."
"People make a difference. And one of those people is you. Thank you for making a difference in our company."
"Thank you for bringing such great energy to the office every morning at 8AM."
"Attitudes are contagious — that may explain why everyone around your desk is perpetually infused with dedication and enthusiasm. Thank you for being you!"
"We appreciate you for more than just your work. We also want to celebrate your character and the positive effect you have on others. Congratulations!"
"You have the perfect combination of personality and an ability to provide the best client work. Congratulations!"
"When we need to get things done right, we don't need to do it ourselves. We give it to you. Thank you for your great work!"
"Take a moment to appreciate how awesome you are. We really appreciate all the hard work you do!"
"Many thanks for all your hard work. We are so grateful to have you!"
"If desks could talk, yours would say 'ouch'. Thank you for your very hard work!"
"Even when you're not supposed to be positive, like if a hurricane is about to hit or something, you somehow still remain positive. This positivity adds so much value to our team."
"No matter what project you're tackling, you always bring invaluable insight and motivation to the task."
All of these appreciation words for employees are positive, uplifting, and incredibly supportive. They're focused on thanking employees for their hard work, positive attitudes, and engaging personalities that uplift the workplace and add to the quality of work produced.
If you express your gratitude to your employees regularly, you will help them gain confidence in themselves and in their abilities, feel more satisfied in the workplace, and want to stay for longer periods of time. It's always a good idea to express employee recognition words and show how grateful you are for them. They will feel more valuable and capable than ever before.
Other Ways to Express Your Appreciation
Following these employee recognition quotes can help you be more vocal and explicitly express your appreciation towards employees. But besides saying it, did you know there are other ways you could also express your appreciation? You can find a few ideas below:
Corporate Gifts For Employees
Giving out corporate gifts for employees is a pretty clear way of showing your employees that you care about them and really appreciate their efforts. Throw in a personal handwritten card with employee appreciation notes and your employees are bound to feel special, even when you're handing out gifts to everyone. You'll want to make sure your gifts are high in quality and utility, as your recipients will want to have a use for them and be able to keep them for a long time.
A few examples of high-quality corporate gifts that would go perfect with cards citing employee appreciation quotes would be outerwear, apparel, desk accessories, and other tech products, as these are among the most kept promotional items. Even though your goal here isn't to promote your business, it's still helpful to know what kinds of gifts consumers tend to keep.
A good example of a high-quality corporate gift for female employees would be this Ladies' UA Ultimate Team Jacket. It's high in quality and goes beyond office use, as recipients can wear these outside on regular days, to the gym, and out to sporting events. This Men's Coldblack Address Polo is a great option for the men in your office, who could wear the shirt to work, events, and even on days off. You could even go above and beyond and get your employees' names engraved on their jackets and shirts for greater personalization.
Provide Feedback
While you should definitely follow these  employee appreciation quotes to express how grateful you are to your employees, it's a good idea to provide more specific feedback for specific projects and tasks that your employees complete. Make sure it's positive and uplifting when you have good news — share the results of their hard work with them, and express how grateful you are for how well the project turned out. They will feel more confident in their abilities and also be more open to constructive feedback when you share ways in which they could improve.
Ensure Ongoing Communication
Communicating with your employees is a surefire way to show them you care about what they think and how they're feeling. You don't want to leave anyone out of news or updates and make them feel left out. Instead, make sure you're clear on expectations, goals, and updates, and take your time to communicate those with them.
Go Out and Celebrate
Another way to help employees feel more appreciated in the workplace is by offering opportunities for celebrations. Whether you meet a team goal or one of your employees achieves an individual accomplishment, make this a time to celebrate and enjoy that success. Celebrate milestones, anniversaries, and birthdays, and everyone will feel more special and valued.
Offer Rewards
When your employees do a job well done, it's a good idea to utilize these employee appreciation quotes and say thank you to your employees. While words of appreciation are great, it would be even better to follow these by offering rewards and benefits. You could offer raises, opportunities for growth and promotions, and special treats (like taking them out for lunch or going out for drinks) to thank them for their hard work. 
Saying Thank You to Your Employees
We hope that by reading through these employee appreciation quotes you will feel more inspired to say thank you to your employees. Remember to keep things positive and show them how valued and appreciated they really are.
The more appreciated your employees feel, the more satisfied they will be at work and the more confident they will be in their abilities. By expressing strong appreciation words for employees you will be creating a more positive, uplifting company culture where your employees are likely to become more motivated and dedicated to their work.