The Do's and Don'ts of Corporate Gifting
Corporate gift etiquette is a touchy subject as it pierces the heart of business ethics for many organizations; and with Christmas and the holidays (always) around the corner, we'll to help you navigate the evolving gifting policies of your clients.
Corporate gifting is an interesting concept. While you want to make sure you're handing out high-quality gifts that signify thought and detail you put into your business, you don't want to overdo it and make it seem like you're trying to bribe customers into attaining more business from them. With so many rules and different tips and suggestions out there, how can you know what you should and shouldn't be doing?
Discover some of the major do's and don't do's when it comes to corporate gifting, which will make the gifting process easier and more effortless than before.
Why Do Companies Hand Out Corporate Gifts?
Whether they're for clients, employees, or business partners, companies typically hand out corporate gifts as a form of showing appreciation and establishing or growing long-lasting relationships that will help your business succeed. It shows recipients that you think about them, care for them, and see your relationship with them as a top priority that can't be replaced. It also helps you stand out from other companies in terms of how they treat employees, clients, and partners, and will help you build your reputation in a more positive light.
Do's of Corporate Gifting
Now that you understand the importance of handing out these types of gifts, it's time to dive right into the do's and don'ts to help you better understand corporate gifting etiquette, starting off with some of the major do's when it comes to gift giving in business ethics: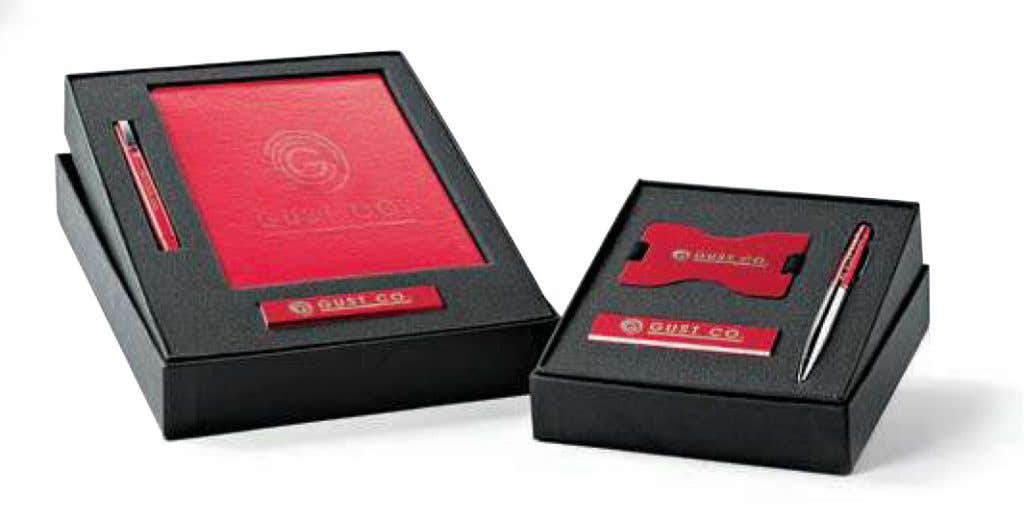 Do Personalize Your Gifts
If you're looking to hand out meaningful gifts that your clients, employees, or business partners are likely to keep and enjoy for a long time, the best way to make them more meaningful would be by personalizing your gifts. To make them more personal you could take the recipient's interests into consideration.
Since you're spending time and money on getting a gift anyways, you should make sure you're finding items that your recipients will actually like. You can even take it a step further and get them professionally laser engraved or screen print embroidered with their full name on the front or side, imprinted on a product like this YETI Rambler Mug. You can even attach a handwritten note thanking your clients for their partnership, or thanking your employees for all their hard work.
Do Be Considerate of Your Recipients
When it comes to handing out corporate gifts, you'll want to make sure you're being considerate and sensitive. Be aware of the policies that come with corporate gifting etiquette, and do what you can to avoid breaking any rules or conditions that may be present.
Try to avoid gifting anything that might be insensitive on a cultural, gender, or age basis, and avoid gifts with underlying discriminatory messages or hints. Be considerate of your audience, and make sure you're being sensitive towards them. Also be aware of certain circumstances pertaining to individuals — for example, if they have a wheat allergy make sure you avoid giving out bread and cookie baskets.
Do Focus On Delivering Quality
Another factor that you should take into consideration is quality. Not only should you focus on finding fits that are considerate and appealing to recipients, but you should make sure they're high in quality, as well. Quality is one of the major factors why people choose to keep promotional items, which is useful to know, even if your goal at the moment isn't to promote your business.
Knowing this, you'll want to make sure your gifts are high in quality and don't come across as too cheap — otherwise your recipients won't care too much for them, won't want to keep or use them, or will assume that you either hand them out to everybody or don't care too much about them. This Custom Ember Ceramic Mug can be personalized with name imprints and provides great quality that enables drinkers to maintain their drink's temperature.
Do Make Sure They're Useful
Along with quality, utility is another one of the major reasons why people decide to keep promotional items. Even though your goal isn't to hand out promotional items, it is pretty important to make sure your corporate gifts are useful. If your recipients can't use them, why would they want to keep them? And if they don't keep them, why would you want to dedicate money and energy into finding them?
While your clients or employees will probably appreciate the gesture, they'll be so much more appreciative if they truly love their gifts and find a good use for them. A good example of a useful gift could be this Desk Lamp With Fan, which has a clear purpose of lightening up and cooling down a working space.
Do Make Them Visually Appealing
No matter how amazing your gift is, if it's poorly wrapped or packaged, your gift isn't going to have a good visual appeal. Aesthetics are extremely important for corporate gifting, as you'll want to ensure that your gifts are being presented in an elegant yet presentable manner.
If your gift isn't very decorated it's going to seem like you didn't have the time, energy, or care to make it look nice, which will deter clients and business partners who you're trying to show your appreciation and gratitude towards. The Deluxe Travel Mug Gift Basket comes prepared in a basket, filled with crinkle cut paper of your color choice.

Don'ts of Corporate Gifting
Now that we've covered some of the do's of corporate gifting etiquette, it's time to cover some of the things you should avoid. This way you can develop a greater understanding of the cultural practices and really wow your clients, employees, or business partners. Below you will find some of the major don'ts of corporate gifting:
Don't Only Focus On Just the Holidays
During the holidays everyone's in great spirits and is ready to give. While you might assume that learning the Christmas and holiday gift giving etiquette is the key to corporate gifting etiquette, it's certainly not all there is. During this time of the year everyone will be handing out gifts, so you might not be very likely to stand out with yours.
It can be nice to hand out corporate gifts during the holidays, but you shouldn't focus only on this time. When you hand out gifts during other seasons throughout the year you'll really surprise your clients, employees, or business partners, because they won't be expecting it. Your gift will come across more as a token of appreciation than an obligatory holiday gift, which will make recipients feel appreciated and prioritized.
Don't Overspend
While corporate gifting is a good practice to make recipients feel appreciated, that's not always the case. Although you'll want to make sure you're putting in the money to get good quality gifts that will make your clients or partners happy, if you spend too much, you might be coming across in a different way.
If you hand out a gift that's extremely expensive and valuable, your recipients will feel like they have to repay you, or like you're expecting them to repay you with increased business. Your gift might even come across as a bribe, which won't be likely to generate the positive outcome that you're going for. Your best bet would be to avoid underspending and overspending and do your research on how much you should spend on corporate gifts.
Don't Be Over Promotional
Although imprinting your brand's name and logo on your corporate gifts might seem like a great way of killing two birds with one stone (by developing relationships with corporate associates while gaining exposure for your business), you might want to think again. The whole purpose of corporate gifting is to develop closer relationships with your business partners or clients and show them how much you appreciate them, rather than trying to sell them your business.
Chances are you're already working with them, and should show how grateful you are for that, rather than how much you need more business. While imprinting a small name and logo might seem like the instinctive thing to do, it's better to save your promotional gifting strategies for promo items that you hand out at conferences and events. Simply by wrapping your gift in custom packaging, the branding experience will be so memorable that they'll remember where the gifted item came from without your logo on it.
Gifting Corporate Gifts With iPromo
While corporate gifting etiquette can be complex and complicated to understand, it certainly doesn't have to be that way. We hope that these do's and don'ts will help you better understand the gifting culture and find ideas for corporate gifts that you plan on giving out to your customers, clients, employees, or business partners — which you can hand out to express your gratitude and appreciation towards others.