5 Home Office Essentials to Improve Video Conference Calls
To say that 2020 changed how we do business is an understatement. Most employers hadn't even heard of Zoom before March of last year, and the idea of having a corporate meeting in their bedroom or at the dining room table was utterly foreign. But social distancing has necessitated a shift in the way companies communicate with their employees. Fast forward to a year later, and video conference calls are now the norm across the globe. However, this isn't to say that they're easy.
Pretty much every company has experienced growing pains during the transition from in-person to remote meetings, and no doubt so have your employees. The questions are endless—everything from finding the right lighting to choosing the best angle, to deciding whether having books in the background really does make them look smarter.   
There's no doubt that businesses—and your employees—have adapted surprisingly well to video conferencing. Still, people are always looking for ways to improve the virtual work environment. One way you can support your team and improve your daily work communications is by arming them with these 5 handy accessories.
It's widely known that headsets provide superior audio. And when you're running a meeting with multiple employees talking over each other—not to mention the odd dog bark or toddler wail—you'll want a crisp sound so you can hear the conversation. The Skullcandy Riff On-Ear Bluetooth Headphones tick all the boxes. Boasting over twelve hours of playback time, these headphones will keep your employees in the game during your daily meetings. 
Better yet, they can be charged in just ten minutes when not in use to provide two hours of playback time. The Riff Bluetooth Headphones microphone lets employees control the volume depending on how many people are talking and track or answer incoming calls. These stylish headphones are also collapsible and lightweight, so they can be easily stowed for a much-needed weekend away. Finally, they can be screen-printed with your company logo.    
A laptop and tablet video light can mean the difference between looking polished and professional and low quality lighting and video quality. Give your employees a leg up with Laptop & Tablet Portable Video Light. 
The Laptop & Tablet Portable Video Light instantly increases the clarity of your laptop or tablet camera. Making it the perfect accessory for your laptop or tablet. With virtual meetings becoming the new "norm" the light can be used for video conferences through Skype, Teams, or Zoom!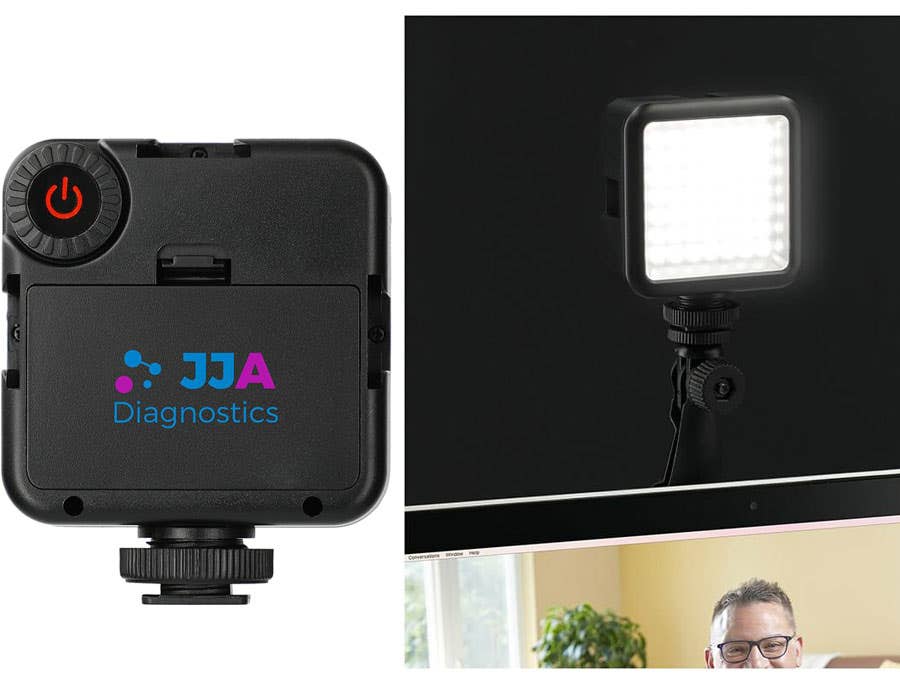 Take your standard notebook to the next level with a Rocketbook Everlast Smart Notebook. This notebook will allow your employees to take notes during meetings and then transcribe them later, as well as organize and tag pages. They can even save audio recordings! The design of these notebooks is quite ingenious: when your employee writes in one of them using a special pen from the Pilot Frixion line, their writing adheres to the pages like a traditional notebook. Once they've transcribed their notes and are ready to erase them, all that's needed is a damp cloth.
The beauty of these notebooks is that they're reusable and can be connected to the cloud services that your employees use most. They're the ideal notebook for today's eco-conscious workplace. By incorporating Smart notebooks into your office's daily workflow, you can boost productivity in your office and help keep your employees organized— particularly important when you're all working from home!  
The 36-page Rocketbook comes with a towel to clean the pages efficiently. Better yet, you can choose from 5 different colors and screen-print your company's logo onto the cover to boost company spirit while working from home.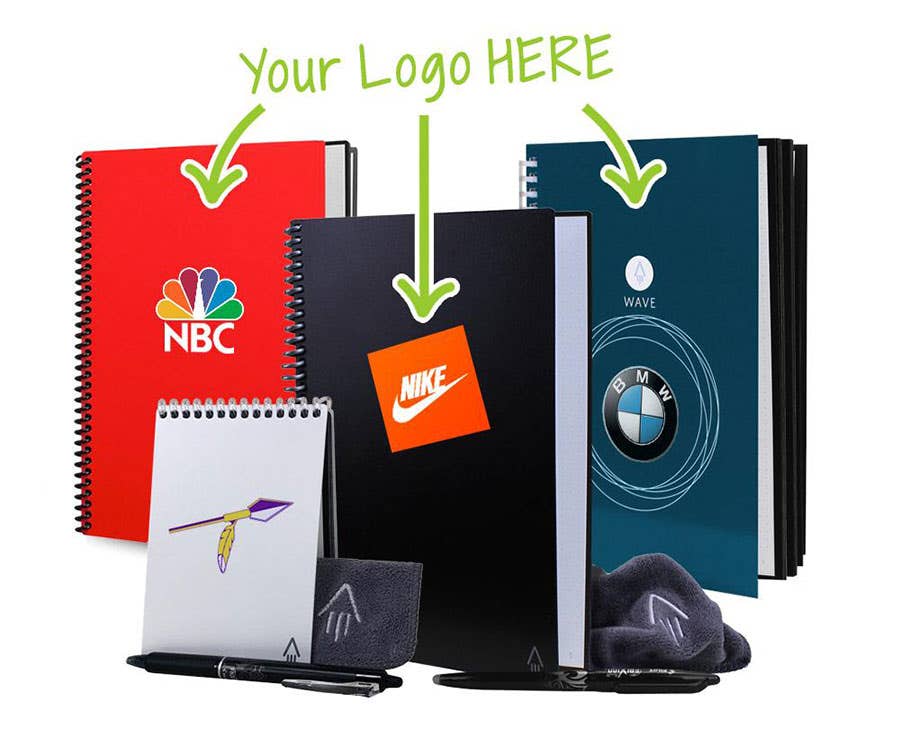 Early morning meetings are a fact of life whether you're working out of an office or from the comfort of your living room. In these situations, having a strong cup of joe is as essential as downloading the latest version of Slack. With the Arctic Zone copper insulated tumbler, your employees will be able to focus on the meeting without having to reheat their brew. 
Do not miss the most trendy tumbler of the year. Durable, powder spray color. Double-wall 18/8 grade stainless steel vacuum construction with copper insulation, which allows your beverage to stay cold for 24 hours and at least 8 hours for hot beverages. 
Increase brand recognition and ensure your team's devices never go without juice with this handsome portable charger. The Skullcandy Fat Stash Power Bank combines a 10000 mAh Grade A Lithium Ion battery with a digital power display. You can charge up three devices at one time with a Type C port of 5V/2.4A output and two USB-A ports with a max output of 5V/2.4A Includes a Dual Micro USB and USB-C Charging Cable and a premium gift box.

Or, go with one of our curated all-in-one BRAGboxes and ship it directly to each of your employees doorsteps.
This box features all the swag you need during all those video calls and stay comfortable while doing it!Relax in the Elevate Mather Knit Half Zip heathered pullover with moisture wicking, UPF protection, and a subtle and textured pattern. It's a perfect layering piece that's available in men's and ladies' fits. The durable Arctic Zone Titan Thermal wine cup is great for hot or cold beverages, and with a push-on lid it is the perfect beverage accessory and is made with durable stainless steel vacuum construction and copper insulation. The Wireless Auto Pair Earbuds with case features auto Bluetooth pairing, and the earbud case doubles as a charger with built in music control.
Who doesn't want to look their best on video calls? The Laptop & Tablet Portable Video Light is a great addition for any event or meeting from. It features 49 built in LED lights that are adjustable and include 2 AA batteries, and mounts perfectly to your laptop or tablet. Your BRAGBox™ is expertly packaged with a custom card, tissue paper, branded label on the outside of the box and can be drop shipped to multiple locations, all-inclusive in your BRAGBox™ price.
If you're looking for more working from home gift ideas, iPromo has you covered. We can also help you create your very own unique custom BRAGBox™ curated with items of your choosing. Contact us today, we look forward to helping make your next corporate gifts or promotional items memorable!