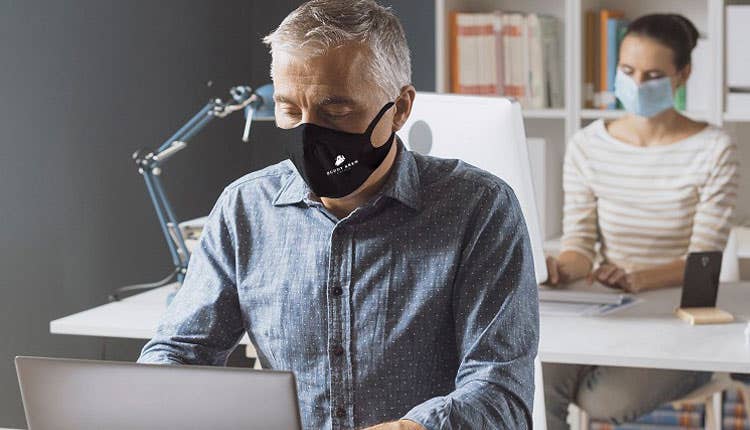 As employees start to return to the workplace in 2021, safety and protection will be top of mind. As Face masks and coverings continue to be a necessity per CDC recommendations, thankfully there are now comfortable custom reusable face masks that an employer can creatively brand and give to their employees, which provides protection from the virus and are much more hygienic and eco-friendly than disposable ones. Below are some of our top reusable face mask options. But first, what are the benefits of cloth reusable masks? And what should we look for in a mask?
Why Use Reusable Masks Over Single-Use Masks?
We've all been there: one last breath of fresh air before returning to a public indoor space where face masks are mandatory. But as soon as you make your way back home for the day, you have to toss your single-use mask in the trash. Wouldn't it make more sense to save a face mask and reuse it? While you can reuse a throwaway mask once or twice, single-use masks need to be tossed out before they disintegrate and become ineffective.  
While disposable masks provide convenience and avoid the hassle of cleaning reusable masks, it's worth remembering that each mask you throw away will stay in a landfill for hundreds of years, as will the chemicals used to make each mask. You'll also be exposed to the ingredients in each mask when you wear it, which can cause skin irritation, allergies, and even infections. Face masks that are reusable avoid these issues: they are more comfortable, easy to clean, and they don't contain chemicals found in some disposable masks. In brief, reusable face masks save you money and help protect the environment.
What Makes a Mask Protective?
There are many different styles of cloth reusable face masks, but the basic principle behind each of them is the same. By covering your face with a cloth, you are protecting yourself from the outside world while allowing yourself to breathe. Certain styles will breathe better than others, depending on the material used, but they all serve the same general purpose. 
A face mask typically follows guidelines for it to be considered protective. Specifically, a face mask must cover both your nose and mouth to be most effective against spreading the virus. All cloth reusable masks should provide an additional layer of protection by blocking droplets, which is the primary way people spread the virus.  A good mask will have two fabric layers and will not be impacted by a wash. Furthermore, the masks should also fit snug around the face without any gaps.
Of course, no mask is 100% effective, but there are ways to reduce the spread of disease. By keeping masks clean, for instance, you can reduce the risk of spreading germs. And, by being mindful about coughing and sneezing, you can reduce the risk of passing a virus to others. The masks below include safe and stylish options appropriate for returning to the office.
Custom Logo Masks
If you are concerned about your employees' safety when it's time to head back into the office, now is the time to start distributing reusable face masks with added custom graphics to promote your business. iPromo knows that many businesses use custom cloth face masks as a new way to promote their brand. While many of them are still using screen printing or digital printing to get their logo or message out to the world, a lot of them are also turning to a relatively new custom application method called dye sublimation printing. Dye-sublimation printing uses a vaporization process that's similar to what's used to print photographs. Dye is applied to the mask's surface, vaporized, and then fused to the mask material. The result is an attractive looking logo on a unique product. All you have to do is send in your design, and the rest is taken care of. 
Top Picks
The Number One All-Purpose Mask
You can't go wrong with this versatile face mask. The adjustable toggle makes it comfortable to wear. The mask has two layers of material for extra protection. Also, the seam in the middle allows the mask to fold to better fit your face. If you get a design printed on the mask, you'll have to be aware of the seam in the middle when creating your design.
In terms of customization, your company's logo can be printed on the side with screen printing or full color printing. If you have a colorful logo, it will pair nicely with one of the neutral colors available, including black, dark grey, light grey, navy, and camo. Your employees will appreciate the light, non-intrusive feeling when worn.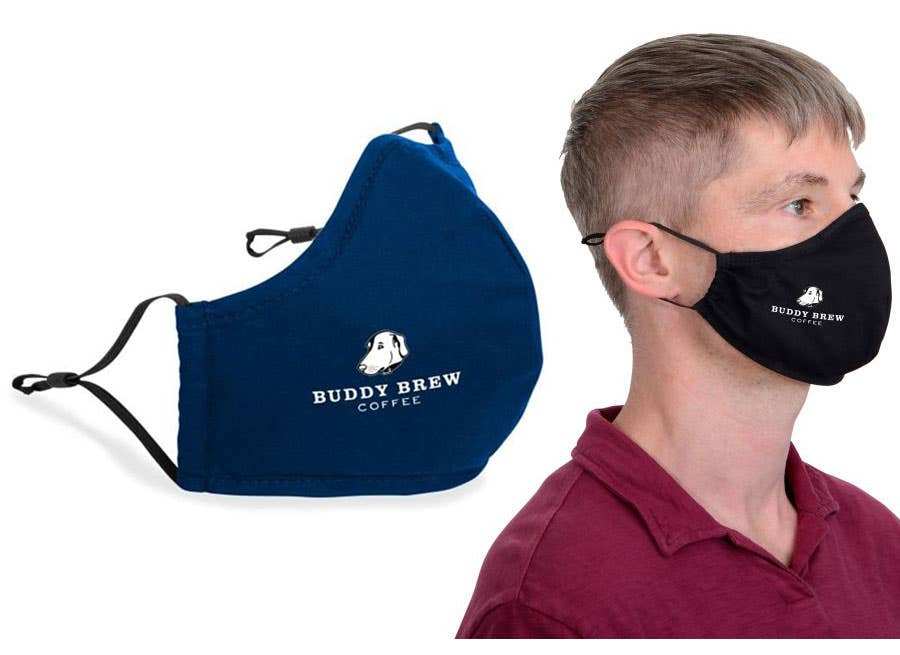 The Second Best All-Purpose Mask
These reusable masks are great for any business wanting to show off its brand front and center. These masks come in a variety of colors; white, black, blue, red, orange, and more. This mask falls under the category of full panel face masks, meaning it's a single piece of material that covers the face.
Your business's logo can be printed in the middle with screen printing. Unlike the middle seam in the mask above, this mask will be able to print your logo's design without being cut off by a centerfold.
The Mask For The Eco-Conscious
Are you tired of seeing single-use masks all over the ground and worried about their impact on the environment? Reusable masks are already better for the environment since they can be worn multiple times before getting thrown out, but some of them are also made from recycled materials, making them even more eco-friendly. These masks are made of 40% recycled polyester and 30% recycled cotton. They are easy to wash, too. 
Choose the size you want your business's logo to be printed on the Eco Face mask with screen printing: small, medium, large, or extra-large. The mask size itself comes in one size large enough to fit most people.
The Mask to Recognize Facial Expression & Hard-of-Hearing (DHH) Community
Face masks make it difficult to interpret or hear what people are saying if they are wearing them while at work. Anyone in the office can benefit from an anti-fog window mask, particularly in the DHH community. The mask's front window makes it easier to interpret verbal and nonverbal communication. These masks are particularly helpful for seeing facial expressions and reading lips. With the open window, these masks don't have room for your company's logo.  Still, the most important part here is that other people can see your mouth for communicating effectively at work.
The Multi-Functional & Comfortable Gaiter Face Covering
Port Authority ® Stretch Performance Gaiter
This is an alternative option to standard face masks. This is a multi-functional face covering that can protect you from the elements, and that allows you to look stylish. It comes in black, white, blue, and grey, so your logo can be printed on a neutral face mask covering that your employees will approve of, using screen printing or embroidery. A gaiter is extremely multi-functional and works as a headband, neckerchief, and sun guard in addition to a face mask. Think of this as a more stylish type of face mask that also provides some warmth and can be worn around the neck.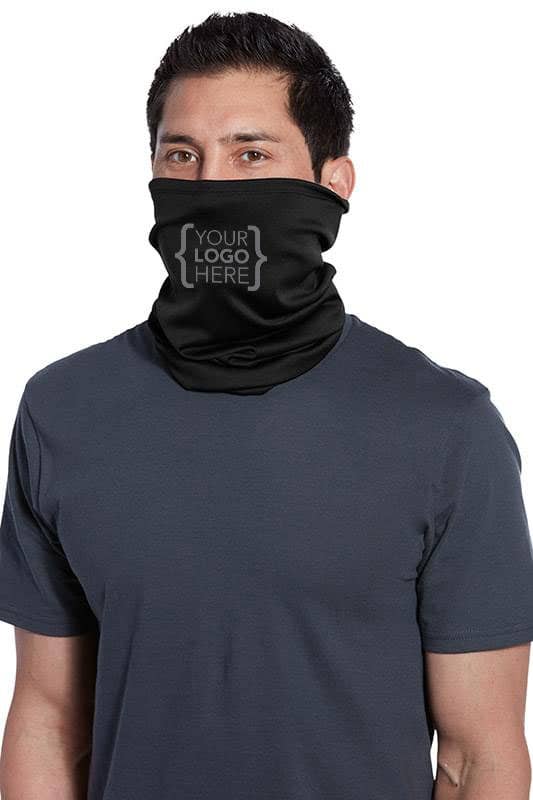 Safety Measures Heading Back Into the Office
The pandemic has been a long one, and your office is starting to get back on its feet. You've been keeping everyone at the office stocked with hand sanitizers, and you're still taking extra precautions like wearing cloth reusable masks to prevent any potential exposure to the virus. While custom reusable face masks can help protect you and your co-workers from the virus, it's still necessary to make sure everyone in the office is taking necessary safety precautions, check out all of out PPE essentials here. 
In summary, custom cloth face masks are a great way to protect yourself from any dangerous germs that may be floating around the office. It's the simplest way to protect yourself and others from spreading the virus. If your employees forget to bring one with them from home, it will be good to have spares available at work.  Visit iPromo today to check out entire catalog of reusable face masks to protect your employees returning to the office.