12 Health & Safety Essentials to Promote Office Wellness in 2021
As businesses worldwide navigate a return to the workplace in 2021, health and wellness are top of mind for most employers and employees. Things will look a little different this year, but there's a lot you can do to support your employees as they settle into their "new normal." We've compiled a list of 12 office-friendly products to promote health and safety to show support for your team. 
Help your employees create awareness of their comfort level with these 3-piece social distancing wristbands. To successfully return to the workplace, employers need to ensure that staff respects their co-worker's differing levels of comfort around social contact. Wearing a social distancing band helps spread the word. These bands come in 3 colors, each representing a different message. A green band says "Okay with hugs and high-5s," while a yellow band says "Okay with talking but not touching," and red says "keeping my distance."
Not only are these bands ideal for the workplace, but they're also perfect for other crowd situations to communicate your comfort level in proximity to others. Better still, you can boost company awareness by printing your logo onto the band. 
The 17 oz. LARQ Bottle is the World's First Self-Cleaning Water Bottle–using innovative non-toxic mercury-free UV-C LED technology to purify water and clean the inner surfaces of the bottle by eliminating odor-causing bacteria and viruses. Pure water in 60 seconds – Works at the touch of a button and self-cleans by intelligently activating every 2 hours to keep your bottle fresh and stink-free. Uses UV-C LED light to eliminate up to 99.9999% of bio-contaminants from your water and bottle. 
A perfect travel companion! If you are storing your LARQ Bottle for an extended period of time or to conserve battery life, be sure to put in travel mode which deactivates Self-Cleaning Mode .
Your company logo will stand out on this sleek bottle design and can be imprinted by pad printing or laser engraving. A durable powder coating will lend this bottle staying power way past 2021.
This cutlery collection comes in 5 striking colors, including gray, lime, natural, orange, and blue. By encouraging employees to bring their own lunch containers and utensils, you'll reduce the spread of germs in your workplace by eliminating community kitchen wear. Screen print your logo on the lid for maximum branding recognition. Your employees will appreciate the sustainability of this product constructed from wheat straw polypropylene. Rest assured that this set meets FDA approval and is BPA-free.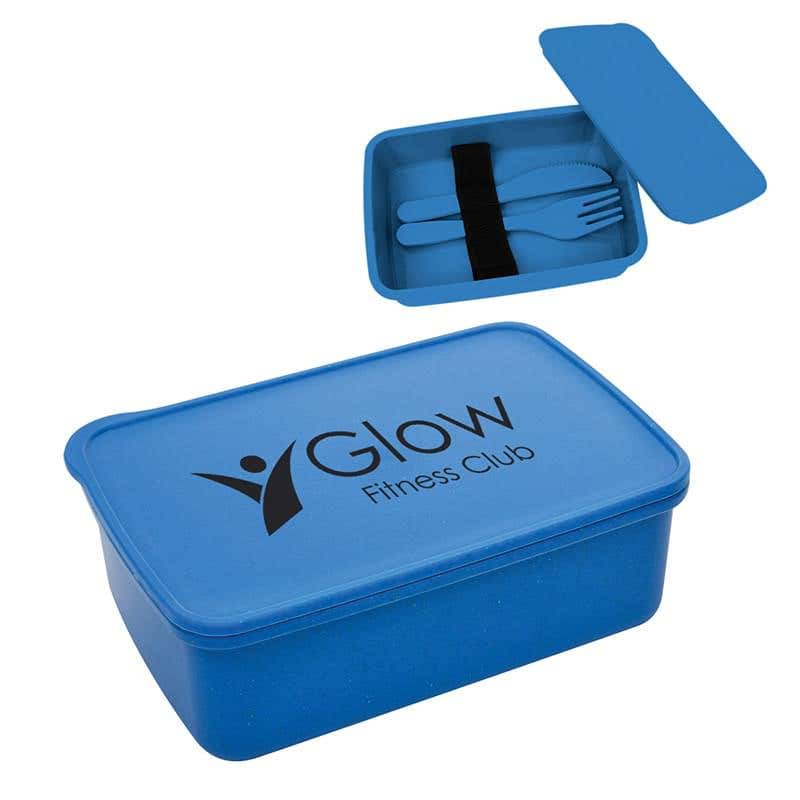 Welcome your employees back with a handy 8 oz container of hand sanitizer gel made with 70% alcohol. This unscented formula is perfect for home, work, and everything in between. Help protect your employees from infection as well as harmful germs and bacteria. The lid also doubles as a measuring cap, enabling your staff to release the perfect amount each time. 
This gel is paraben-free, kills germs in as little as 15 seconds, and keeps hands smooth to boot! 
The new office essentials are no longer things like highlighters and sticky notes. In 2021, you'll want to get your office ready by stocking up on PPE essentials to keep your space disinfected and your team healthy. This PPE kit contains 100 single-use face masks and 1 non-contact infrared thermometer to stay on top of temperature checks. You'll also find 5 10-oz bottles of pump-hand sanitizer. Show your team you care about their personal health and safety by investing in one of these kits. Kits come conveniently packaged in a large cargo box and can be branded with your company logo via screen print embroidery. 
The CDC recommends the regular use of an alcohol-based sanitizer with a minimum of 60% alcohol if no soap is available. Create a safe workspace in 2021 and beyond. Your employees will thank you. 
Equip your employees with their own supply of pens and stop bacterial spread in its tracks. The Bic PrevaGuard Clic Stic pen is the ultimate promotional tool for your company. Available in 8 trims, including black, navy, white, blue, and red, and teal, burgundy, and purple, there is surely one for every employee's personality!
These pens are ingeniously protected by PrevaGuard, an antimicrobial additive that's molded onto the pen. PrevaGuard blocks bacterial growth and algae, fungus, mold, and mildew commonly found in the workplace— especially in high-moisture environments. And PrevaGuard is known to contain zinc which is said to boost the immune system. And these pens aren't just beneficial for COVID. You'll want them in your office tool kit for cold and flu season too. Pens are a classic branding tool, and this pen is no exception. 
Face masks are a given in any office setting and will continue to be indefinitely. So, you might as well showcase your company logo via screen printing and outfit your employees with comfortable masks for everyday use. 
Say goodbye to "mask-ne" with these stylish reusable 2-layer face masks constructed from a 100% cotton outer layer and 96% polyester/spandex inner layer. These unisex masks will let your employees do their job and collaborate without feeling unsafe. The masks come in 5 trendy colors and have an integrated nose clip so your team can adjust the mask to fit their face.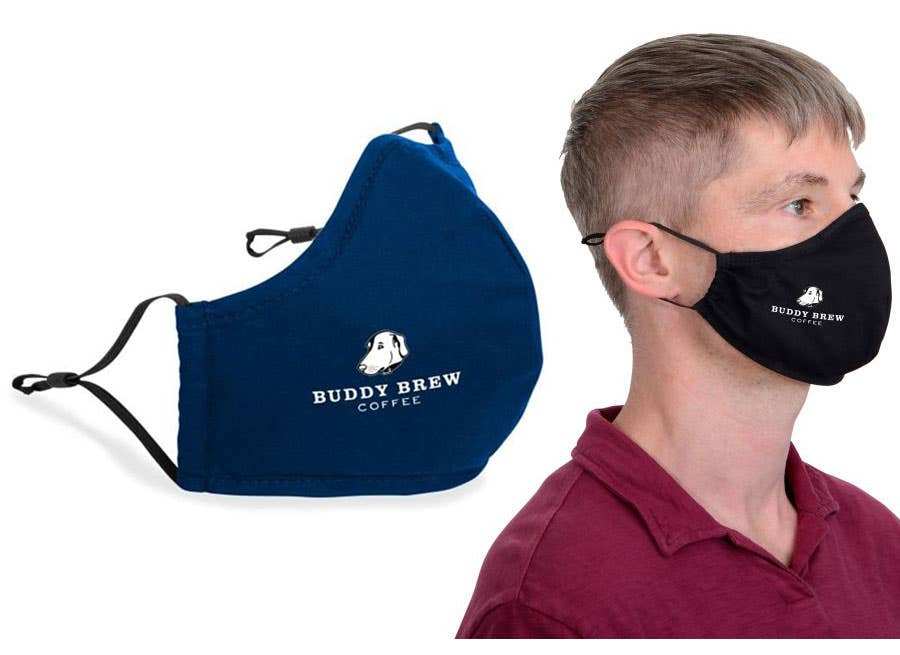 Help create a smooth transition back to the workplace with this sterilizer wand perfectly suited for a wide array of items, including desktops and door handles. The sterilizer wand is also ideal for disinfecting toilets, cell phones, and tablets. Encourage your staff to disinfect their devices regularly to keep your meetings and workspace free of harmful bacteria. 
Studies show that UV Disinfection is more effective and comprehensive than traditional forms of disinfecting. The sterilizer wand is odor-free, chemical-free, and doesn't leave any harmful residue. And this UVC disinfection lights boast a brilliant design: it works by destroying DNA or RNA's molecular structure and boasts an anti-germ rate of up to 99.9%. Your employees can take their wand to and from work and also use it at home or in transit. It has a rechargeable battery and is extremely lightweight to store. 
By allowing employees to clean air right at their desks and protect their lungs, the Wynd Essential Smart Personal Air Purifier frees up brainpower to focus on their job. The air purifier is portable, highly adaptable, and powerful enough to rid your workspace of germs, dust, and mold. 
It intuitively knows the different air quality environments in your office and magically adjusts accordingly. And when your employees start to travel together by car, this smart air purifier will handily rid the cabin of pollutants in under 15 minutes. Affix your company logo on the front upper panel of the purifier for sleek on-brand messaging. This black wand is app-integrated and has a battery life of 8 hours. 
After a year of remote work, the mere thought of stepping into an elevator is enough to send heart rates soaring. That's why this brass, no-contact keychain is so brilliant. Your employees can take this multi-purpose keychain wherever they go. It's perfect for opening doors and pressing elevator buttons, along with other activities common to high traffic areas. 
The keychain's hook-shaped design makes it perfect for opening fridges in the company cafeteria or kitchen. It can even be used to hold shopping bags. Better yet, the top of the key chain doubles as a bottle opener!—your employees will thank you. The no-contact keychain should be a mandatory part of every company's PPE. Boost your company profile while keeping your company safe by having your logo printed right on the contactless tools.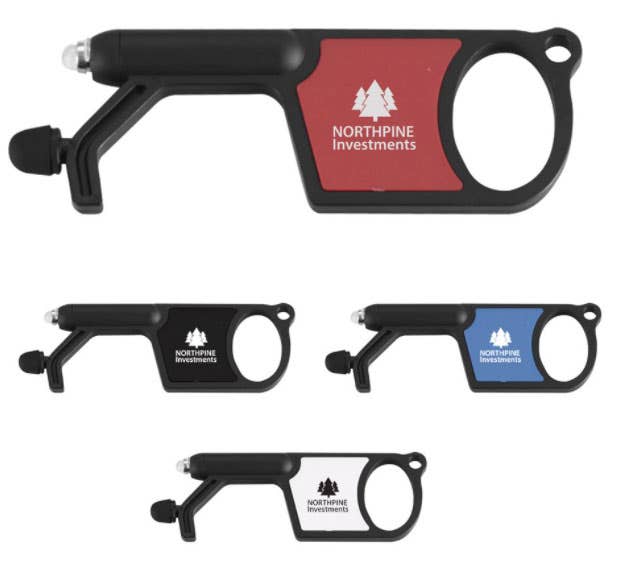 This isn't just any ordinary mouse pad. It also helps keep your employees healthy through an antimicrobial preservative built into the fabric. Made of polyester and rubber, this 8" round pad will contribute to a healthy office environment and help keep it free of harmful bacteria, and fungi, and dust. 
Better still, you can showcase your company logo or add a message for your team—the importance of healthy habits, for example! The mouse pad broadcasts your message via a 4-color process imprint.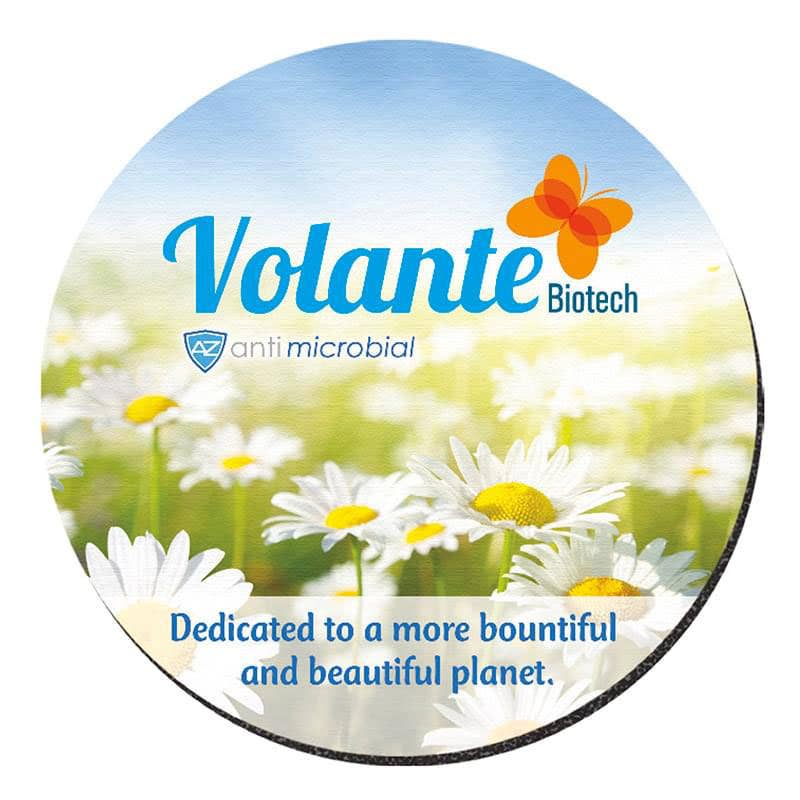 These multi-purpose wipes in bulk are a staple of any office. Encourage your employees to place a canister on their desks and put one in all high-traffic areas, including board rooms, lunchrooms, and washrooms. Each canister contains 75 disinfecting disposable wipes. These bleach-free wipes kill 99% of bacteria on a variety of surfaces. They're ideal for frequently touched surfaces like handles, countertops, and vending machines.
Protect your employees with these products, and consider other PPE Essentials that you can purchase on iPromo.