6 Smart & Sustainable Promotional Products For Your Brand
It's no surprise that eco-friendly promotional products and corporate gifts have become super popular in last couple of years. These items are great for our planet and great for your brand too! Make "green" marketing strategy a priority by offering these top sustainable promotional products to your customers and employees and boost your brand at the same time. 
This lunch cooler is the perfect item for those employees on the go. Whether you're offering this product to employees or customers, this lunch cooler will be a hit. The Merchant & Craft cooler is made from recycled water bottles, so you can rest assured that this purchase is helping the environment. Your branding will look fantastic on the front of bag, and your recipients will appreciate that your organization cares for the planet too.
This cooler includes a front hook, loop closure pocket, and PEVA lining, which is a practical choice and easy to handle. Even better, One percent of every order will be donated to nonprofit organizations dedicated to protecting the planet. It's a fantastic choice, for your brand, for your customers, and for the planet!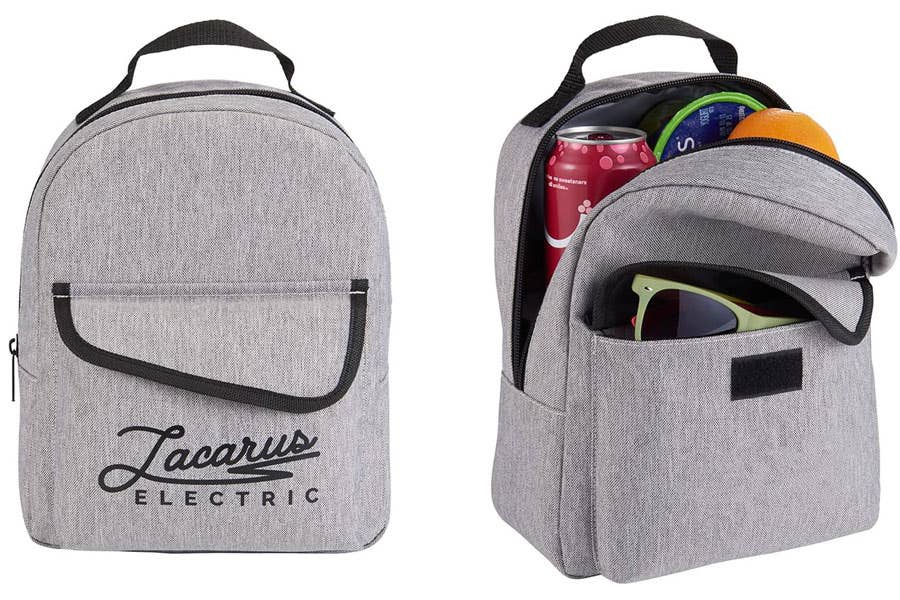 CamelBak is one of the best sustainable drinkware brands on the market. You'll be able to offer your recipients an amazing product that prominently includes your branding . The Camelbak Chute is made from durable Tritan material, which means it's built to last. It's resistant to shattering, stains, and odors. Camelbak is known for its durability, and will serve your recipients perfectly in their outdoor activities, and they'll come to associate your brand with that positive experience.
The two-finger magnetic carry handle keeps the cap stowed while drinking for convenient access while on the go. The clever design allows access to 25oz of BPA-free water without sloshing or spillage. This Camelbak water bottle will make staying hydrated a breeze and your logo will be prominently displayed throughout the entire process.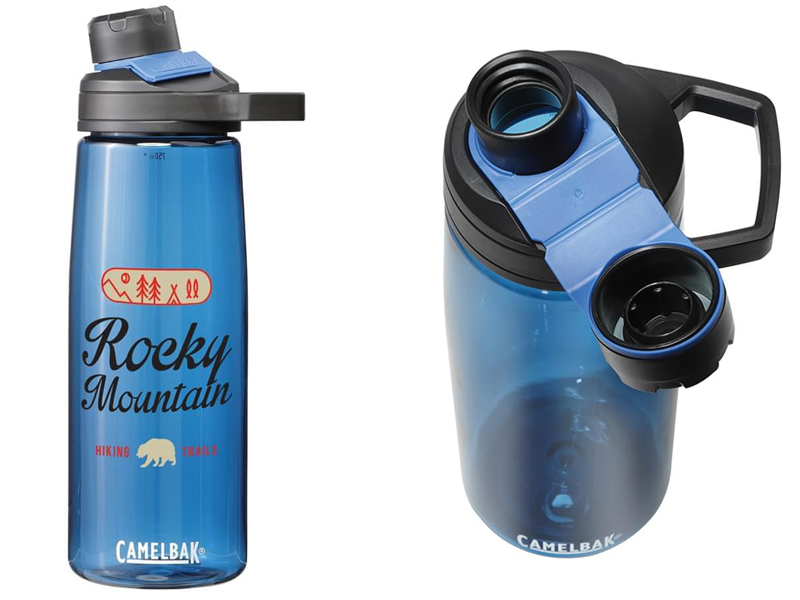 Reusable straws have gained popularity all over the world the last few years. Environmental consciousness has never been more prominent, and many people are pushing to reduce waste wherever possible. That makes reusable straws perfect as a promotional item. This straw is reusable and stretchable for the convenience of your employees and customers alike.
It makes for a practical and sustainable promotional item and will see a ton of use due to its durable design. It's made of food-grade stainless steel, so you know it'll be useful for years to come without any wear and tear or other damage. Avoid damaging your teeth or a metallic taste with our silicon-tip straw, and make it easier for people of all ages to use. This eco-friendly straw is not only durable, but it's easy to clean, making it longer lasting. With your logo displayed on the side, this is an excellent way to make countless positive impressions over the item's lifetime, and perfect for those looking for budget friendly options.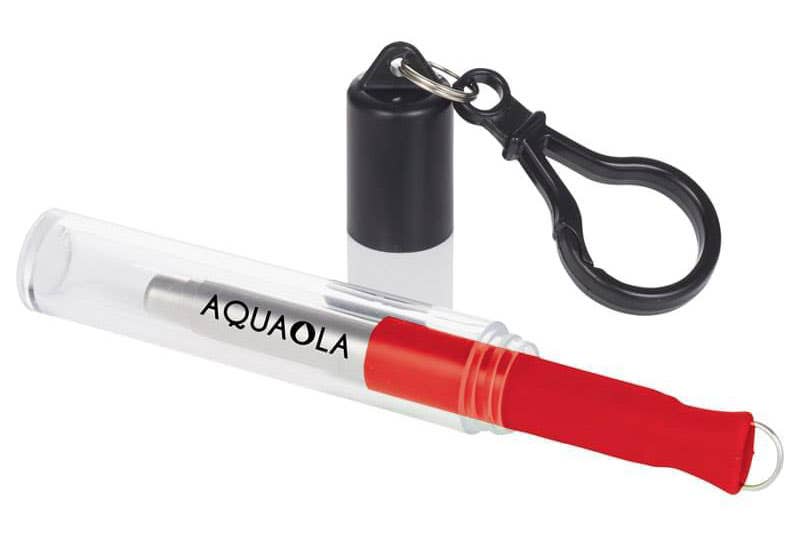 This wheat straw mug makes for an amazing sustainable promotional item for your customers and employees. The mug features a push-on lid with an easy twist to shut feature. There won't be any spillage issues with this wheat straw mug. This mug features double-wall construction with a stainless steel liner, keeping those drinks warm or cool for a longer period of time. The outer walls and lid feature wheat straw mixed with plastic. This design is both highly effective and sustainable.
Additionally, 1 percent of profits will be donated to nonprofit organizations dedicated to protecting the environment. When you use these mugs as promotional items, you'll be helping the environment, making positive impressions, and spreading your brand awareness. 
People are more conscious than ever of the consequences of using plastic bags for their grocery needs. Why don't you help make things easier on them and help them make environmentally friendly choices? This is one of the best sustainable promotional products available because of its usefulness and price point. These bags will feature your branding right on the side, and your customers or employees will love the on trend design and colors.
Your brand will come to be associated with greener choices, and that matters now more than ever. You'll also be making many impressions with your customers and clients taking this tote out on every trip they go on. 
This lunch box will help your customers and employees to eat their lunch in style while also being kind to the planet. This box contains a tray to help keep the food separated and a handle to make carrying it nice and easy. This box is FDA-approved, BPA-free, and microwave safe, so it's easy to use for any lunchtime needs. One percent of all of the profits will be donated to nonprofit organizations that are dedicated to protecting the planet. Anyone using this beautiful lunch box will also be showing off your logo.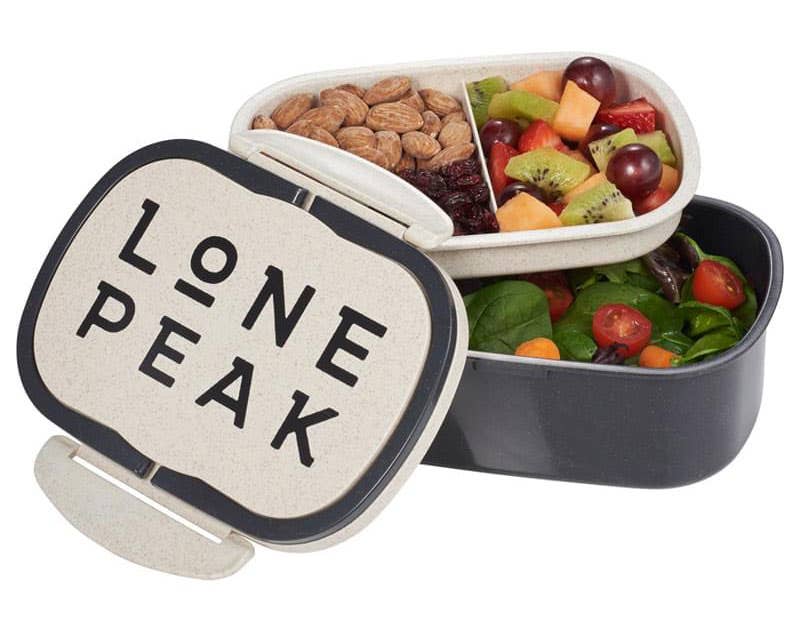 These items are a great way to associate your brand with caring for the planet. You'll be able to help the planet while making an impression on those who use and see these items. iPromo carries a curated selection of sustainable promotional products ready for your logo to shine on. Reach out today for a quick quote and free preview of your design on any of these great options.