Where to Buy Rapid COVID Test Kits in Bulk
iPromo is the best place to buy bulk COVID tests for employees because we offer a huge selection of FDA-authorized tests offering fast, reliable results for your employees and guests.
As a business owner, you're no doubt concerned about the spread of COVID-19. According to the Centers for Disease Control and Prevention (CDC), over 45 million cases and nearly 700,000 deaths have been reported in the United States since the start of the pandemic. With the advancement of high-quality rapid COVID test kits, as well as a widely available vaccine, companies are quickly finding ways to get back to normal and ramp up their business back to pre-pandemic levels.
But this has been a challenge, even with these precautions. As we all know, the staggering statistics have had a massive impact on business, causing many to slow operations, make massive changes to how they do things or even close for good. Studies show that the virus' economic implications are broad-spanning — about 200,000 more U.S. businesses closed in the pandemic's first year and many more than that had to scale down or completely revamp their operations.
One of the simplest ways to protect your business from the spread of COVID is to invest in the rapid COVID test kits for sale. Testing employees, visitors, students and anyone else who comes through your business or operation can help prevent unnecessary shutdowns, keep your business safe from liability and, most importantly, safeguard your workforce and community against the spread of the virus. This will help you keep your workforce strong and reliable so you don't face unnecessary staffing issues.
Consider the Abbott BinaxNOW™ COVID Test
Best Place to Buy Rapid COVID Tests in Bulk
iPromo is the best place to buy rapid COVID tests in bulk online. We have a wide variety of options to suit your company's specific needs and capacity. You can trust us to provide you with the most accurate, reliable and cost-effective COVID tests for an excellent price. In fact, we're the proud test kit supplier to the U.S. Army and the Department of Defense, so you know our tests are trustworthy. When shopping for COVID tests kits online, make sure to look for a supplier that offers the following options:
FDA Emergency Use Authorization

. The Food and Drug Administration (FDA) occasionally issues Emergency Use Authorization (EUA) to certain medical products to make them available to the public during health emergencies. Always look for retailers that only sell COVID test kits with EUA, like iPromo, as all others may not be as safe or accurate. Eventually, many test kits may have official FDA approval. When that happens, be sure to prioritize those that have been approved.

Easy Shipping and flexible quantities

. Let's face it — you never know how many test kits you're going to need, regardless of estimates. Always buy your rapid test kits from a retailer that offers quick shipping and flexible order minimums so you can re-supply as necessary without having to wait. You'll also want to work with a supplier who gives you a break when you order large quantities. This way, you'll save more on those large orders.

Extended shelf life

. Work with a supplier that sells rapid tests that have a relatively long shelf life. A year to 24 months is a good shelf life to shoot for when shopping around for different tests. If you do order more tests than you can immediately use, you know they won't go bad sitting in storage for a year or more. Just be sure you choose an option that won't go bad quickly.

Rapid results

. The best part about rapid COVID tests is that they deliver accurate results in just minutes, making them excellent for events, concerts, meetings and returning to the office. What's more, they typically don't need to be sent to a lab. This makes them ideal for identifying the presence of the disease and preventing its spread within your facility. Most of the rapid COVID tests available at iPromo will deliver clear results in as few as 10 to 15 minutes.
On-site and home test options

. As a business owner, you need to consider which type of test is best for you. On-site tests typically require a medical professional or trained administrator, while home tests can be self-administered. The benefit of on-site testing is that, due to professional administration, they tend to have higher rates of accuracy. With that said, many of today's home tests are incredibly accurate as well. What's more, some home tests are available with digital guidance, which results in higher accuracy. Most businesses may want the option to have both on-site and home testing capacities. You'll find both at iPromo.

Accurate testing

. Unreliable retailers will often sell lesser-quality tests that are less sensitive and accurate than the ones sold at iPromo. Rapid tests are evaluated for accuracy in two ways — sensitivity and specificity. Sensitivity measures how often a test correctly provides a positive result when the person taking the test has COVID. Specificity measures how often a test correctly gives a negative result when a person does not have COVID. Look for sensitivity rates of over 84 percent and specificity rates of over 98.5 percent, which all of our tests at iPromo deliver.
Which Rapid COVID Tests Are Best?
Now that you know where to buy rapid COVID tests and what to look for, it's time to consider some of the specific options available. The iPromo team hand-selected a variety of reliable, easy-to-administer COVID test options to suit the specific needs for different employee situations. Some of the best at home test kit options include: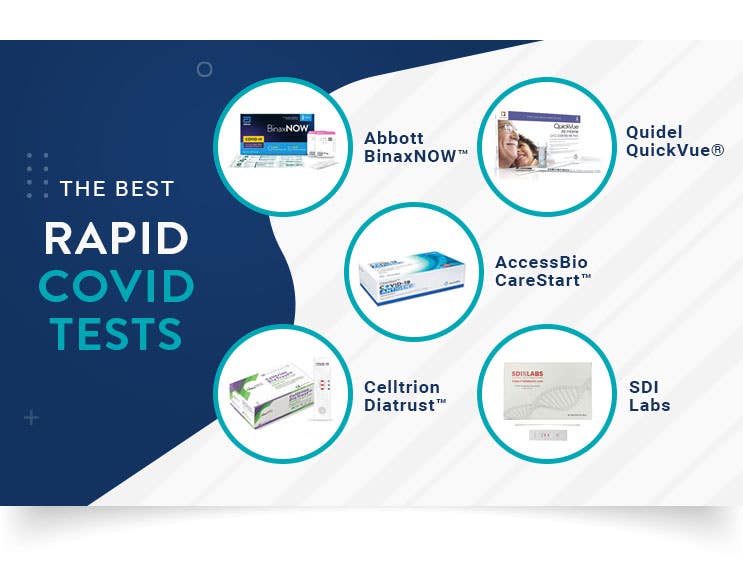 Abbott BinaxNOW™ Rapid Test Kit

– As the most widely used end-to-end COVID-19 test,

the Abbott BinaxNOW™ COVID test

is an excellent option for those who are in need of quick testing. Depending on whether you choose the home, home with digital health pass or on-site test, you can expect excellent sensitivity and specificity rates. The Abbot BinaxNOW™

On-Site Test provides a 97.1 percent test sensitivity and 98.5 percent specificity rate. 

Celltrion Diatrust™ Covid-19 AG Rapid Test Kit

– This rapid test will give you precise results in 15 minutes with a test sensitivity of 93.33% and specificity of 99.03%. Great large scale use, the test also incorporates a cloud based app for accessible digital collection for testing and reporting. Choose

the Celltrion Diatrust™ Covid test

for all your testing needs. 

AccessBio CareStart™ Rapid Test Kit

– For reliable self-administered home use, consider

the AccessBio CareStart™ COVID antigen test

. AccessBio's self-administered home test is one of the fastest in our lineup, delivering results in just 10 minutes. They offer a sensitivity rate of 87 percent and a specificity rate of 98 percent. AccessBio also offers an on-site testing option you may want to consider.
Shop the AccessBio CareStart™ COVID-10 Antigen Test
Quidel QuickVue® Rapid Test Kit

– With results delivered in 10 minutes,

the Quidel QuickVue® at-home COVID test

is another rapid testing option that offers at-home convenience and a long shelf life (up to 24 months). This convenient at-home test offers a sensitivity rate of 83.5 percent and a specificity rate of 99.2 percent, making it the most specific option in our lineup. Because of its extra-long shelf life, the Quidel QuickVue® is ideal for businesses that don't know exactly how many tests they'll need over a longer period.

SDI Labs Rapid Test Kit

– Ideal for rapid testing in an on-site environment — such as at concerts, conventions and all sorts of large gatherings —

the SDI Labs COVID test

must be administered by a medical professional or trained administrator. Delivering results in just 15 minutes, it promises a sensitivity rate of 94 percent and a specificity rate of 97 percent.
Not sure which rapid COVID test is best for your company and its precise needs? The iPromo team is always here to help! Simply reach out to us via phone, email or live chat, and we'll help you evaluate your options based on your needs and budget.
More Ways to Protect Your Business
Keeping a supply of bulk COVID tests on hand is crucial to limiting the spread of the virus within your facility or office. However, there are a few other things you should do to make sure your company doesn't face putting employees at risk or experiencing unnecessary shutdowns or staff shortages. Here are some more great ways to protect employees, clients and visitors from the virus:
Require masks for the unvaccinated

. The CDC recommends that those who are not fully vaccinated and those age two and under

always wear a mask in indoor public places

. Be sure to have disposable kids' and adult masks readily available for anyone who may have forgotten to bring theirs. We sell

bulk face masks

at a great price — only a few cents per unit — so you always have enough on hand.

Require masks for employees, volunteers or partners

. Consider requiring your workers to wear masks regardless of vaccination status. This not only helps control the spread of the virus but will also signal to customers, clients and guests that your business is taking their safety seriously and prioritizes cleanliness. You might consider

investing in branded masks with your company's logo

to give your workers a professional, uniform look and to help reinforce brand messaging.

Keep hand sanitizer and soap readily available

. By now, this is probably like second nature to your team. Don't forget to always keep plenty of hand sanitizer and soap and water available throughout your facility. A great way to encourage workers to keep their hands clean at all times is to hand out hand sanitizer bottles and hand sanitizer wipes to every employee and always have them available at entry points for visitors. You may also want to consider

ordering branded hand sanitizer

with your company's name and logo to reinforce brand messaging.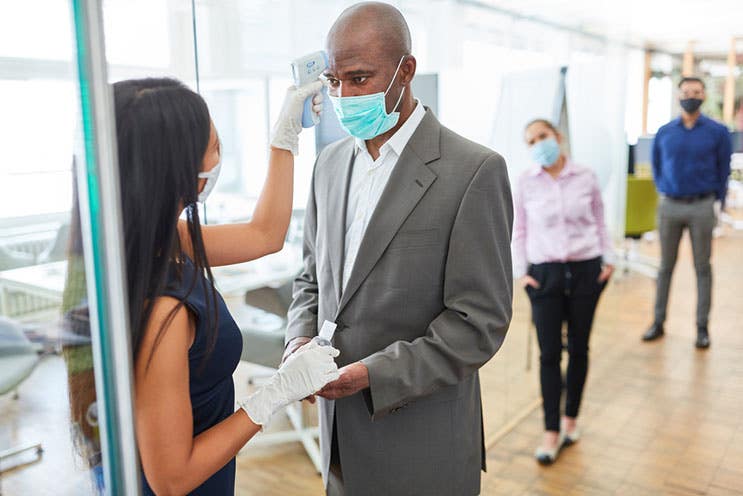 Continue taking temperatures

. Taking the temperature of everyone who enters your facility can help you detect symptoms of the disease, even in asymptomatic people, before they have a chance to bring it into your business. Keep this practice going until the virus is under control and numbers drop to less-concerning levels.

Request proof of vaccine in lieu of a negative COVID test.

Having rapid COVID tests on hand is essential, even if the vast majority of your workforce is vaccinated. However, you may want to consider requesting proof of vaccine from employees or visitors to help prevent the spread and encourage vaccination. This is also a great route to take for special events, conferences and meetings.

Re-evaluate your sick policy.

Make sure your employees aren't bringing COVID-19 and other illnesses into the workplace by encouraging all workers to stay home if they feel sick, without fear of reprisals. The CDC recommends

advising all employees to stay home from work

if they experience symptoms of COVID-19 or influenza. If possible, set your team up for at-home work so they're able to continue working once they feel up to it.
The Bottom Line: Buy COVID Tests at iPromo
If you're wondering where to buy COVID tests in bulk, you're already in precisely the right place! The team at iPromo has done the hard work to weed out the less effective or too complicated tests, so you know you're getting a reliable, easy-to-use option when you place your order with us. We can also help outfit you with bulk face masks, hand sanitizer and sanitizer wipes to help you keep COVID out of your business so it runs smoothly no matter what.
Image Credits
kmzway/Shutterstock.com
fizkes/Shutterstock.com
True Touch Lifestyle/Shutterstock.com
Halfpoint/Shutterstock.com
Octus_Photography/Shutterstock.com
Blue Planet Studio/Shutterstock.com