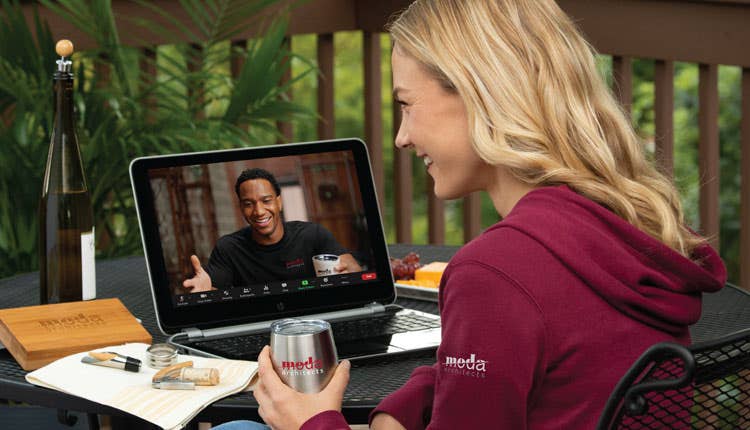 7 Must-Haves For Virtual Holiday Party Kits
The holidays are coming up, which would usually mean in-office holiday parties filled with music, excitement, food, drinks, and general good times all around. However, with the current state of the world as a result of the COVID-19 pandemic, the traditional in-office holiday party simply isn't an option for most companies this year. 
This is a shame for a number of reasons. Other than the missed good times, not having a company holiday party can have a huge hit on morale and team comradery. In many cases, company holiday parties are a great way for employees to get to know their colleagues outside of the work environment and recharge for the upcoming new year. 
Many companies will be hosting virtual holiday parties as an alternative to in-person parties of years past. While virtual parties may not offer the same level of closeness as in-person parties, they can still serve as a powerful connecting force for employees while allowing them to remain safe and distanced from one another. 
And there's no better time to start looking at the swag and kits needed to pull off this event than right now. If you're not sure where to start, or you're having difficulty narrowing down your options, don't worry one bit–we've got you covered. Below you can find 7 must-have virtual holiday party kits to make your next holiday party the best one yet. And as always, you can reach out to iPromo anytime and one of our promo experts will help you through the process.
7 Items to Add Some Extra Holiday Cheer to Your Virtual Holiday Party
The first toasting and sip at a holiday party set the tone for the rest of the party. This is why making sure that everyone has access to delicious beverages and their favorite snacks is so important.
To give something unique and fun, check out the Soirée! Virtual Happy Hour Gift Box. It comes with 2 Soirée Tritan Old Fashioned Tumblers, W&P Old Fashioned Cocktail Syrup, sweet and tangy mustard with dipping pretzels, smoked almonds, and oatcakes. With this gift box, the biggest challenge will simply be keeping your employees from tearing it open too early! 
You can also outfit your gift box with a custom ribbon, which is available in white, red, navy blue, royal blue, black, and grey. You can even print custom artwork onto the front or wrapping of your tumblers.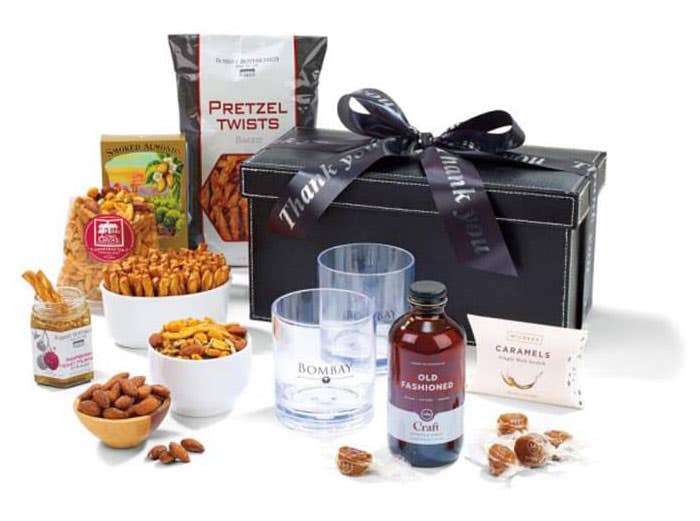 ---
Another great thing about traditional holiday parties is the sheer diversity in available drinks and foods. If you're not into mixed drinks, you can grab a glass of red wine instead. You also don't have to worry about your drinks going cold, as most holiday parties tend to chill their drinks beforehand. Without this diversity and added attention to detail, your holiday party can feel less classy than what your company deserves. 
This is why something like the Aria II Two-Piece Wine Tumbler Gift Set is such a great idea, which comes with two 12 oz. Aria tumblers with protective,  push-in lids. Not only do these tumblers make a great addition to any wine lover's collection, but they also keep cold drinks cold for 12 hours and hot drinks hot for 8 hours. This can help virtual holiday parties provide a better seasonal effect, in that companies in warmer parts of the world can create colder cocktails and companies in colder parts the opposite. 
You can also personalize your tumblers with company branding or custom artwork printed on the side. 
---
A holiday party isn't complete without a generous offering of sweets. In fact, sweets are often what give holiday parties their effects of relief and enjoyment.
Well, it doesn't get much sweeter than the Festive Holiday Sweets Tower, which is a 9.75″ tower packed with a wide variety of treats your team will love. This includes chocolate truffles, almond cookies, dark chocolate covered almonds, white frosted pretzels, almond butter toffee, and shortbread cookies. Other than the tastiness factor, the festive packaging is bound to bring joy during the holiday season. In addition, you can customize the tower's ribbon with your logo to give it a subtle branding touch. 
---
When people have had enough sweets, salty snacks are the logical next step. These are the snacks that in a traditional holiday party would be carried around by your employees as they made their way from one social group to the other.
To make sure your employees have all the salty snacks they need, be sure to hook them up with a Designer Plastic Tray topped with cashews & pistachios. The name says it all, cashews and pistachios are often times the favorites of most people, and a great addition to your virtual holiday party. As always, you can also brand the tray top using a decal on the lid of the tray.
---
The final piece to the holiday party puzzle in terms of food is the cheese platter. Setting your employees up with not just a cheese platter, but the likes of a 3-Piece Bamboo Cheese Server Kit can really drive home the appreciation of your employees, and also something they can use year round. This kit includes a cheese fork, flat cheese knife, a small spade, and even a serving board with a slide-out storage tray. Such a gesture will likely be remembered and cherished even after the party is over.
Plus, you can laser engrave your logo on the middle of the kit's serving board surface for a nice branding touch.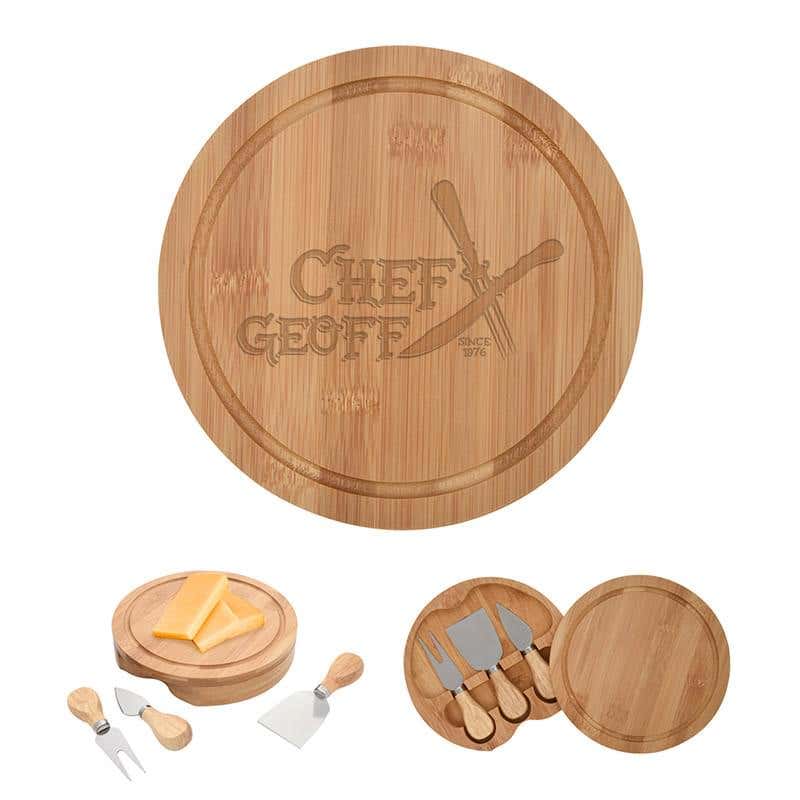 ---
Aside from food and drink, entertainment is the next most important part of any holiday party. Without quality entertainment, you risk your employees losing interest and leaving prematurely, especially online. 
To encourage people to stick around, it's worth investing in something like the Signature Collection Games Kit. This portable kit includes a customizable gift tin, luxe dominoes, dice, and playing cards. With these four things at your disposal, you can then put out the call to your employees and see what kinds of games they want/know how to play virtually.
---
Part of why people feel like they can be more casual at holiday parties is the setting. Things like changed lighting and music can make people feel more relaxed and ready to have fun with their coworkers.
This is why Music Beat Activated String Lights are the perfect addition to any virtual holiday party. Employees can set up these lights, which pulse to the beat of any music playing, in their respective rooms to temporarily transform their everyday workspaces into something closer to a fun and relaxed setting. Plus, everyone having the same lighting on their screens can add to the collective feeling of your holiday party.
This shared collective feeling can be strengthened by printing your company's logo (or any other artwork your desire) onto all of your employees' light covers.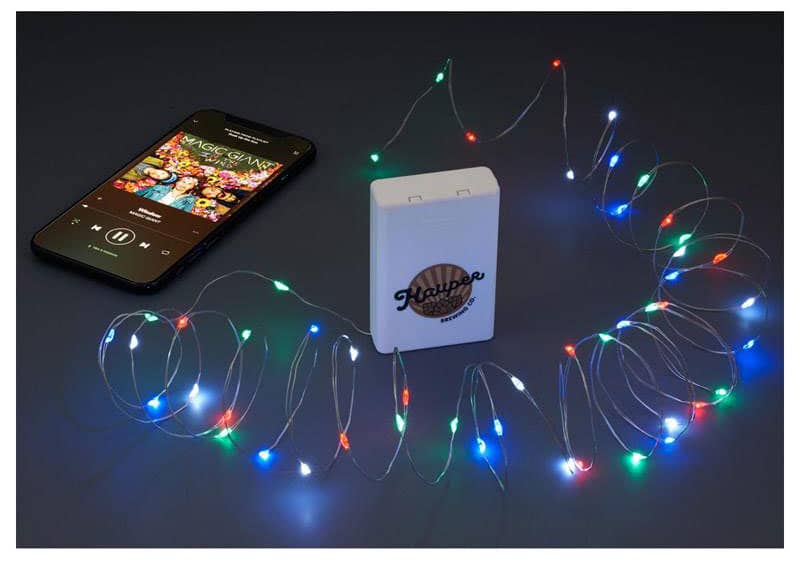 ---
Takeaway
Holiday parties may be harder to organize and rally your employees around this year, but that doesn't mean you should ignore them altogether. Whether it's obvious or not, holiday parties work to strengthen the bonds between your employees, help your employees blow off some steam, and return in the new year refreshed and more productive.
This is why you should still make an effort to organize a virtual holiday party for your company. To set up your employees with all the necessary items they need to enjoy your virtual holiday party as much as in-person parties in the past, start by hooking them up with any of the stellar virtual holiday party kits from iPromo.