8 Best Promotional Plants For Corporate Gifts This Year
If you want to give something unique in 2020 that will leave an impression, sending plant gifts is a great way to accomplish this. For people who are working from home, it's a welcome addition to the home office, and a bit of green will freshen up their workspace.
For people who are working in the office (or at home), promotional plants can be a welcome change of pace to the typical onslaught of plastic and paper seasonal items. Best of all, plant corporate gifts offer a perfect balance of gorgeous greenery with on-brand promotional imagery. Whenever the recipient goes to water the plant, not only will they smile and get a boost of positivity, but they will also see your brand and remember your company. Here are some of the best options if you're planning to give plants as corporate gifts this year. 
1. Air Plants
Air plants are lightweight and on-trend. Because they don't need to be planted in soil, you can ship them much more cheaply. Plus, the recipient can display them immediately without having to purchase additional supplies. This makes air plants our number one recommendation for plants as corporate gifts.
It's easy to maintain air plants, too. When giving plants for corporate gifts, you sometimes worry about the plant dying and how that would reflect on your company's brand. Air plants don't need very much care to stay alive. Once every few weeks, depending on the humidity of the air, the recipient needs to soak the air plant completely in water. Alternatively, they can simply mist the plant with a spray bottle of water. 
Air plants enjoy bright but indirect light, which makes them great for indoor office spaces. For such a beautiful plant, the care and keeping process couldn't be easier. Your recipients will love their plant corporate gifts. Bonus: your company's logo will be emblazoned on a classic wooden cube, reminding employees and clients that your company stands for joy and delight.

---
2. Modern Sprout Glow & Grow Live Well Gift Set
If you want promotional plants that pack a double serving of thoughtfulness, then check out the Modern Sprout Glow & Grow Live Well Gift Set. The gift is a gorgeous, artisan-style ceramic container with small feet. You can select amber, burgundy, or blue-green for the external glaze. Your logo is neatly printed on top. 
When your recipient opens up the gift, she will first discover a beautiful and lightly-scented soy candle. She can burn the candle down and then move onto the second part of the gift: a grow kit with seeds. After many hours of enjoying the flame (and seeing your logo), she can put the ceramic vessel to good use as a planter. Choose between aloe, daisy, or basil seeds. If you're giving plants for corporate gifts this year, the Glow & Grow set sends a strong message that you value the recipient's well-being. The Glow and Grow set is also a part of our Warm & Cozy Swag Box if you're looking for custom gift box curated with great items your clients and employees will love!
---
3. Hydropod 
For a slightly more futuristic and sleek option, Hydropods are a great choice for plants as corporate gifts. A glossy white circular planter is an impressive surface to display your logo, which is applied by precision printing press to the frosted glass exterior. 
This look is perfect for receptionist desks and cubicles, although the recipient might like it so much that they take it home to their kitchen island! Hydropods offer soil-free planting, so they make great plants for corporate gifts. With a bit of water, your recipient can enjoy fresh basil grown in their very own hydropod. Basil is the only seed option for this kit so make sure recipients can give it plenty of light so their basil can thrive.
---
4. Modern Sprout One For One Tree Kits
Show your green side by giving plants for corporate gifts that also give back to nature. These Modern Sprout One For One Tree Kits make a donation to plant a tree for every kit purchased. You can feel confident that your gift will be well-received once the recipient knows you're committed to reforesting the future. 
It's not every day that you receive your very own tree in the mail! There's something special about the Modern Sprout Kits for just this reason. The container is upcycled and biodegradable, and the recipient enjoys a small keepsake fabric bag with your logo applied via precision printing press.
The non-GMO seeds are specifically chosen to be likely to thrive in most areas of the country. With this gift, your recipients can take their promotional plants and actually plant them in the ground. For decades to come, your plant corporate gifts will continue to grow and thrive in nature as a reminder of your company's investment in the future.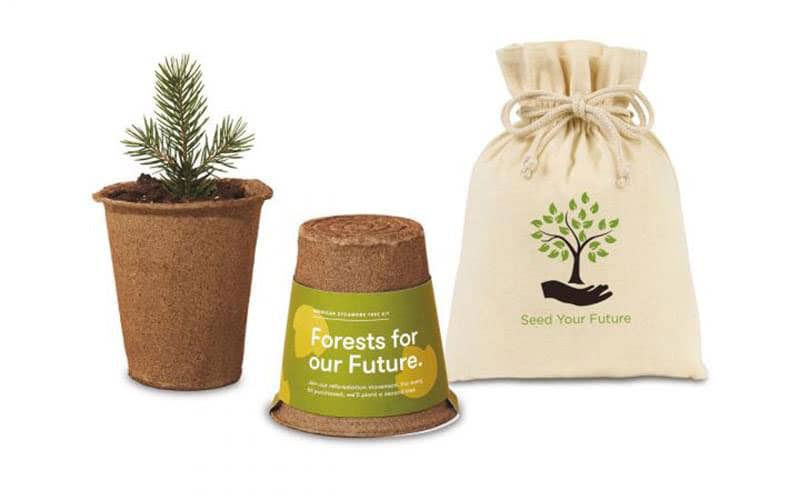 ---
5. Modern Sprout Indoor Herb Garden Kit
Ready for some adorable vintage-style promotional plants? The Modern Sprout Indoor Herb Garden Kit pairs vintage-looking mason jars with a self-watering hydroponic system. Your recipients can enjoy fresh herbs with minimal effort, and your logo is affixed to a teal, emerald, or ice blue jar. The ice blue jar has mint seeds, the emerald jar comes with cilantro seeds, and the teal jar contains basil seeds.
This is a great option for year-round herb growers and people who prefer indoor planters. Best of all, these are not just plant corporate gifts. They are jars that can be reused over and over again. For people in very cold climates, these indoor herb garden kits would make great promotional plants. 
---
6. Sproutscape Desktop Garden Sprout Tyme
Get quirky by giving away a miniature desktop garden! The Sproutscape Desktop Garden Sprout Tyme is a highly unique way to give promotional plants. With a branded miniature box, your recipients can sprout their own tiny garden.
By adding a bit of water, they can enjoy edible broccoli sprouts in just a few days. You can choose from a variety of lightweight display carton images, like wood grain or wildflowers. For maximum impact, choose a unique cutout shape to signify your business. These are plants as corporate gifts like your company has never gifted before!
---
7. Dinosaur Planter
Make someone smile with this one-of-a-kind Dinosaur Planter. It's made of high-quality ceramic and comes with pre-seeded soil, so your recipient can immediately start growing their plants. Your company name or logo is imprinted on the dinosaur's back, just outside the edge of the soil. Stand out and give promotional plants that will bring joy to your employees' lives for months with Jornik's Dinosaur Planter.
---
8. Musical Planter + Wireless Speaker
This unique speaker + plant combo is certainly a conversation starter and great addition to any office desk. The wireless speaker is hollow in the inside to fill with soil and a variety of seeds to choose from. The speaker base has multi-color changing light ring that plays along with the music. Add your logo on the side to create a great branding gift your clients and employees will love!
It's important to show appreciation to the people who make your business possible. From frontline workers to behind-the-scenes tech magicians, show your appreciation with promotional plants this season. Not only can you customize the appearance of the gift packages, but you can choose the seeds that best align with your company's brand, from wheatgrass to forget-me-nots. You get to showcase your brand's commitment to sustainability while displaying your logo on a high-quality product. Your recipients get to enjoy a lively bit of greenery with minimal effort. For a win-win corporate gift strategy, go with plants for corporate gifts from iPromo.