7 Retirement Gift Ideas for Women
Retirement gifts need to be tasteful and classy, yet useful for life after the office. Since they celebrate many years of service, you want to choose one that is befitting such a celebratory send off. Below, we've rounded up seven of our favorite retirement gifts for women:
Custom wine glasses are always a fantastic gift for any wine lover, and we particularly love this set of two stemless Riedel wine glasses. The stemless construction adds a modern twist to the classic wine glasses and also makes it less prone to breaking. The glasses include a generous logo space right on the front for prominent brand placement. Be sure to check out the many other custom wine glasses that we offer if this style doesn't fit your exact specifications!
If your gift recipient prefers coffee to wine, then they are sure to appreciate this coffee-themed care package idea. The set includes a 20 oz. two-tone Himalayan tumbler; a Chateau Chenille fringed blanket; and rectangle custom candy box with peanut butter cups, sea salt caramels, and ground coffee. This set include not one, not two, but three logo placements — on the tumbler, on the blanket throw, and on the candy box — for a truly unforgettable retirement gift.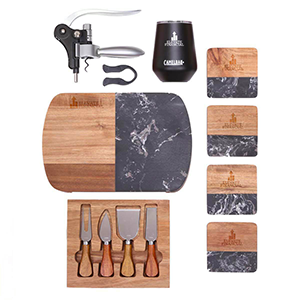 Speaking of gift boxes, we absolutely love this classy curated set from BRAGbox. It features a set of four coasters and a cheese board made from black marble and acacia wood, four cheese knives in a wooden case, a CamelBak® Wine Tumbler, and an ergonomic wine bottle opener. The cheese boards and coasters are each etched with your logo, and your logo will also be printed on the wine tumbler and the outside of the gift box. This upscale gift set is the perfect retirement gift idea for the women in your office.
Show Your Appreciation with Our Corporate Gifts
If you're looking for a retirement gift that isn't a food or beverage item, then we definitely recommend this fashionable computer tote from Kenneth Cole. The vinyl exterior looks like pebbled leather but is cruelty free (not to mention easy to wipe clean) and the interior is lined with fabric branded with the Kenneth Cole logo. The main compartment comes with a gold zipper to keep your items secure and also features a smaller interior zippered pocket, as well as a hook and loop closure computer sleeve. Your logo will be embossed on a gold tag attached to the tote for a thoughtful finishing touch. And if this design isn't to their tastes, check out our other personalized tote bag options!
If you really want a memorable retirement gift that they will use every day, then we definitely recommend the Ember Gen 2 Ceramic Mug. The smart mug allows you to set an exact drinking temperature, and then will maintain it for 80 to 90 minutes depending on how much liquid is inside it. If placed on the charging coaster, the mug will maintain the temperature all day. Your logo will be printed on the front of the mug so your recipient will think of you every time they take a sip of their coffee or tea.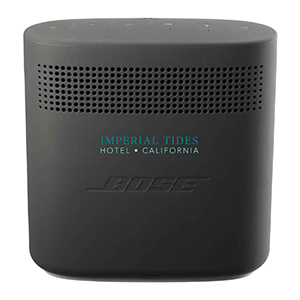 On the subject of technology gifts, a high-quality Bluetooth speaker is an excellent retirement gift idea for anyone. The Bose® SoundLink Color Bluetooth® Speaker II has a rugged, water-resistant design so you can take it with you without worrying about it. It delivers eight hours of playback on a single change and weighs just 1.2 pounds, making it a no-brainer to pack in your bag or car. Your logo will be printed right on the front so it will be visible whenever someone hits "play."
Send them off with this delicious array of gourmet treats! The hammered metal tub is filled with individually wrapped packets of Chocolate Dipped Pretzels, Ghirardelli® Chocolate Squares, Private Stock Mild Pepper Cheese, Pirouline Chocolate Wafer Cookies, Walkers Scottish Shortbread, Lemon Meringue Cookies, Seasoned Pretzels, Bleu Cheese Stuffed Olives, Beef Summer Sausage, Island of Sumatra Coffee, Olive Oil & Sea Salt Crackers, and Chocolate Sea Salt Caramel Corn. The entire gift is wrapped in a ribbon that is foil-stamped with your logo for an elegant presentation.
At iPromo, we offer thousands of products with promotional branding opportunities to fit every budget and situation. Whether you need a retirement gift for women or a budget-friendly trade show giveaway, we've got you covered. Contact us today to get a quote started for your promotional item order.