9 Best Budget-Friendly Corporate Gifts Under $10
One of the best ways to show your appreciation for your employees, boost company morale, and keep your employees happy is by sending them thank you gifts. In many case, you don't actually have to break the budget to provide your employees with gifts they'll love; you just have to know where to look. Knowing where to look starts with taking the time to understand what gifts might be useful for your specific employees; after all, they're the people who will end up using your gifts on a daily basis. 
After pinpointing the most useful types of gifts for your employees, the next step is to find those gifts that fit within your budget. You can certainly do this on your own, but to save you time, we curated a list of corporate gifts under $10 to get started. These gifts are sure to brighten their day, improve productivity, or keep them safe both at work or at home. 
Corporate Gifts Under $10
to That You're Employees Will Love
This first list consists of gifts that are more likely to benefit your employees in a work setting compared to any other type of setting. These are the types of gifts that can help them feel safer at work, streamline their workflow, take better notes, be more organized, and generally be more productive throughout the day. "Safer" in this context refers largely to the social-distancing measures currently in place around the world, with many of the gifts below helping your employees stay safely distanced, clean, and hydrated. 
This Eco-Inspired Notebook is one of the best corporate gifts under 10 dollars because it helps your employees stay organized without negatively impacting the environment as much as you would with other non-recyclable notebooks. With 80 pages of writing space, the option for a custom decal applied via precision printing press, and an included pen, it's the perfect all-in-one notetaking package.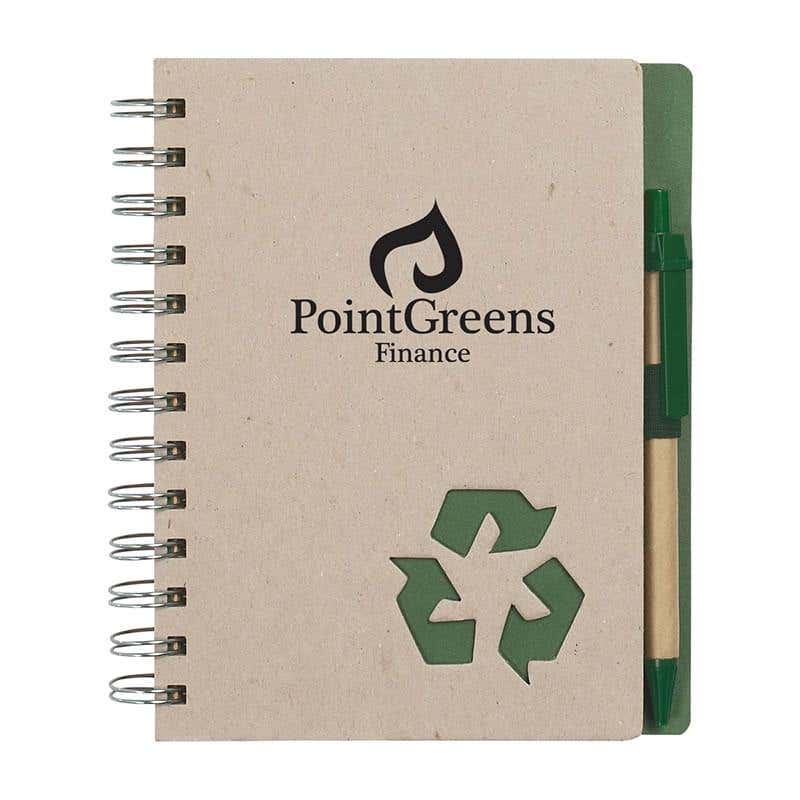 ---
If you're looking for corporate holiday gifts under $10, look no further than the Reusable SS Straw. Help your employees avoid coffee stains on their teeth (and on your office floor) with this durable and easy-to-clean straw. Plus, you can take extra pleasure in the fact that one percent of your purchase will be donated to nonprofits helping to protect the planet. If you're looking to add your own branding, you can also add custom decoration with up to 4 colors down the center of the straw.
---
The workday starts well before your employees reach the office; it starts with their first coffee brew at home. To help your employees bring their favorite beverage from home into the office, hook them up with a customized Carmel Travel Tumbler with your logo printed across the grip area. Its double-walled, stainless steel construction makes sure that your employees' beverages stay hot for as long as they need, and its generous 16oz size ensures that they keep the caffeine flowing all day long. 
---
Shared fridges aren't so popular at the moment. To help your employees be able to still enjoy their favorite lunches without feeling unsafe, gift them a Classic 6-Can Lunch Cooler. Available in 10 different colors, and with your company branding printed across the middle of it, this cooler is equipped with PEVA insulation, a zippered main compartment, and an additional front open pocket to keep your employees' food cool and fresh until eating time. It even comes with a fashionable shoulder strap for easier transport. 
Corporate Holiday Gifts Under $1
0 for at the Office or Working From Home
Whereas the gifts above are more suitable for inside the office, the gifts below are just as likely to improve your employees' personal lives as they are their professional lives. This is because the gifs below can be helpful in more scenarios than just those found in a typical workday, such as traveling, working out, lounging around at home, and preparing meals.
In this sense, the gifts below are also great to give your employees before the holidays, where they will have more time to break them in and try them out. Of course, you can still customize all of the gifts below with your company's branding to make sure they don't forget about you.
One of the best corporate gifts under $10 to help your employees in their work and personal lives is a spacious, stylish, and compartmentalized backpack. This Graphite Computer Backpack offers a zippered sleeve big enough to hold a 15" laptop, as well as a sleek design that you can customize with printed artwork. There are also a number of ways to carry the bag for easier transport, including a comfortable over-the-shoulder strap and a grab handle on top. 
---
Your employees have enough wires at their desks. To help clean things up and streamline their workflow, set them up with a Sphere Wireless Charging Pad. Not only can you print your company logo onto the middle of these charging pads for easy identification, but they also work with most modern Android and Apple smartphones. This makes a great choice for larger companies with diverse phone usage among employees.
More specifically, the Sphere Wireless Charging Pad supports: 
iPhone 8/8Plus/X/XS/XS Max/XR 

Samsung Galaxy Note5/S6/S6 Edge/S6 Edge+/S7/S7 Edge/S8/S8+/S9/S9+/Note 9 

Google Nexus 5/6/7

HTC Droid DNA, 8X

LG G3/G4, Lucid 2/3

Nokia Lumia 920/930
---
It can be hard to find corporate gift ideas under 10 dollars that help your employees both in and outside of the office, but the Sherpa Vacuum Tumbler and Insulator is one of those gifts. Not only will it keep your employees' drinks at their desired temperature for longer (up to 5 hours hot and 15 hours cold), but thanks to its vacuum insulation and stainless steel construction, it can also double as a hot lunch container. Instead of your employees having to heat up their soup lunch in the busy lunchroom, they can save time by simply drinking it hot right out of the tumbler from their disk–who doesn't like that? Plus, you can have custom artwork printed either in the middle of the mug, or around its entire gripping area.
---
Gone are the days of shared mugs in workspaces. Now, individual water bottles are a much better, safer choice. To ensure that your employees stay safe, hydrated, and productive throughout the workday, you can hook them up with a Montego Sports Bottle. You can even add your company logo or any other artwork onto the side of the bottle (or wrapped around). 
---
Lastly, during this socially-distanced time, a great germ fighting add-on item to any corporate gift box for your employees is hand sanitizer. With a pleasant citrus scent, and a beaded silicone strap for easy attachment to any backpack, this hand sanitizer is perfect for keeping clean hands and brightening things up around the office and elsewhere. Plus, you can have your artwork printed onto the label in full color for a bright branding touch.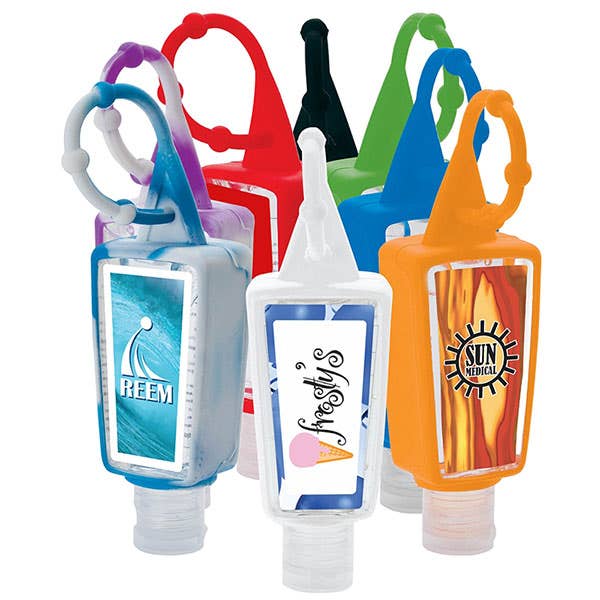 Takeaway
It's completely natural to want to spoil your company's employees with only the finest gifts. After all, they commit 8 hours of their day Monday to Friday trying to make your business a success. But before you go out and spend money you don't have on gifts for your employees, it's worth knowing that you can reward them just as well with more thoughtful and affordable gifts. 
However, with an idea of the types of gifts that might be useful for your employees, you can start searching for versions of those gifts that fit within your budget. Regardless of how small your budget actually is, you'd be surprised how easy it is to find gifts within your price range. 
If you're looking for something different from the list above, be sure to check out iPromo for even more corporate holiday gifts under $10.