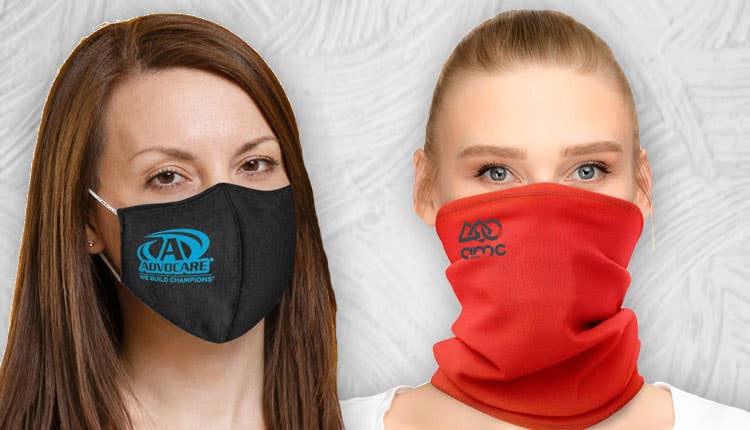 No one could have predicted that the hottest fashion accessory of 2020 would be face coverings. But in light of COVID-19, people are wearing face coverings to help reduce the spread of the virus. Experts recommend wearing them inside public spaces and wherever it's impossible to maintain social distancing. The two most popular and comfortable options are cloth face masks and neck gaiters.
It took a while to adjust to "The New Normal." But now, people have discovered that it's more bearable to wear a face covering when they're proud of the design and the fit. Not only are people wearing a mask whenever they go out, but they typically need several face coverings to use throughout the week. The DIY movement has passed, and people are now interested in purchasing high-quality, well-fitted face coverings.
People may even wish to purchase a combination of cloth face masks and neck gaiters. Cloth face masks are good for quick errands and secure fastening, whereas neck gaiters are more casual and comfortable to wear for longer periods of time. Either way, this is a powerful opportunity for companies to promote their brand while also upholding public health and safety.
Overall, masks and neck gaiters are simple to use and people love to show off their style— or your brand—with customized face coverings. So which product is right for you? Let's explore cloth face masks and gaiters to understand various product options and their benefits. From multi-functionality to effectiveness against COVID, here is an overview of the features you should be evaluating in your face coverings.
Cloth Face Masks
This type of face covering is lightweight and very easy to wear. With two straps for the ears and multiple layers of protective fabric that covers the nose, mouth, and chin of the wearer, a cloth face mask is easy to take on and off. It can be used in a variety of locations, including work, school, shopping, commuting, and casual social gatherings. It's easy to tuck away into a bag and then wash with hot water and soap at home.
The best part about cloth face masks is that they are often adjustable or stretchable. Without knowing the size of the intended wearer, it's possible to guarantee a great fit thanks to ear loops that can be adjusted. This means that men, women, and children can easily pick up one of these face masks and adjust it to their particular sizing needs. 
GOOD
For employees returning to work, Custom Printed 2-Layer Cotton/Polyester Face Masks are a great option. With flexible polyester on the outside and cotton on the inside, these masks offer good protection against the virus. Plus, the adjustable ear loops ensure that all people can wear the masks comfortably.
The 2-Layer Face Mask is the perfect canvas for a logo or phrase. It's easy to get a full-bleed color imprint and it will stand up to daily washing. This comfortable face mask is a good choice for workers who need to wear and launder their face coverings on a daily basis. Before sending employees back to work, it's important to make sure they have proper protection. Even better, make sure their face coverings are branded and professional-looking. Demonstrate your commitment to their health and safety with customizable 2-Layer Face Masks.
BETTER
For even better protection against COVID-19, choose a 4-layer cotton face mask. Custom Cotton Reusable Masks are durable and washable, so they would be a good investment for people who wear masks frequently. These masks come in a variety of beautiful colors to align with any branding. Companies can imprint the design of their choices on a rectangular area on the front of the mask. There is also an attractive option to do a heat transfer in a corner of the mask for more subtle branding.
These masks provide extra protection thanks to four layers of 100% cotton. This layering helps prevent droplets from getting out or getting in. For a bright and friendly mask that also offers protection and long-lasting durability, choose Custom Cotton Reusable Masks.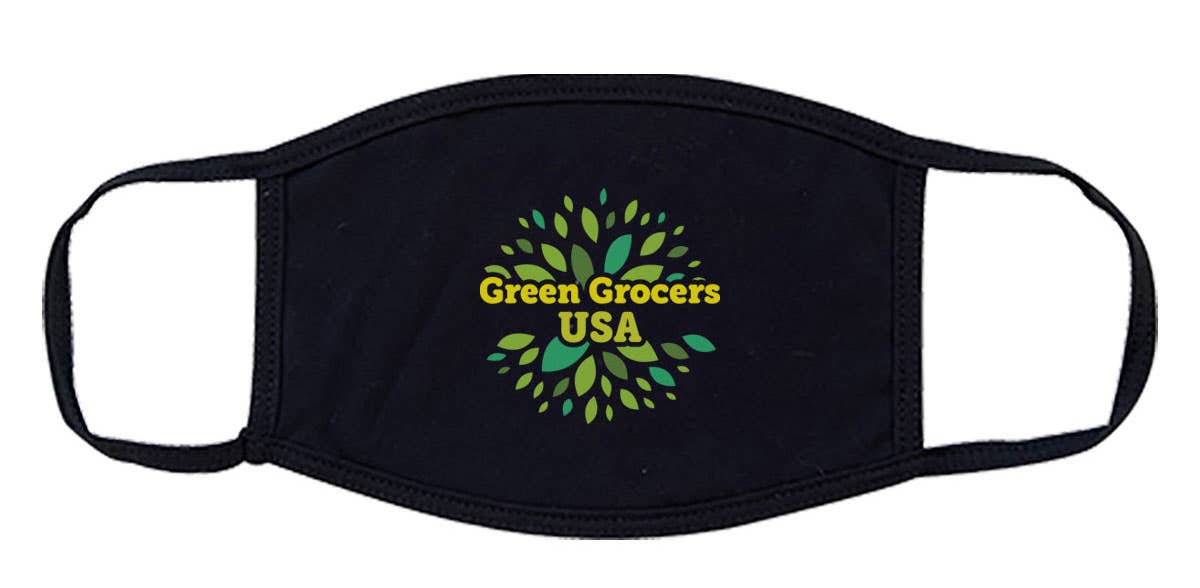 BEST
Available in four classic colors (black, white, red, and blue), the Escort Cotton 4-Ply Face Mask is the best option for bulk reusable face masks with ear loops. Roomy and spacious while still offering protection, these 4-ply masks are perfect for everyday use. People find these masks comfortable to wear, easy to wash, and delightful to show off. 
At an affordable price point, companies can obtain large quantities of these customized masks with an attractive logo emblazoned on the small print area on the front. For a cloth face mask that gets the job done while looking good and feeling comfortable, the 4-ply face mask is a great choice for your team.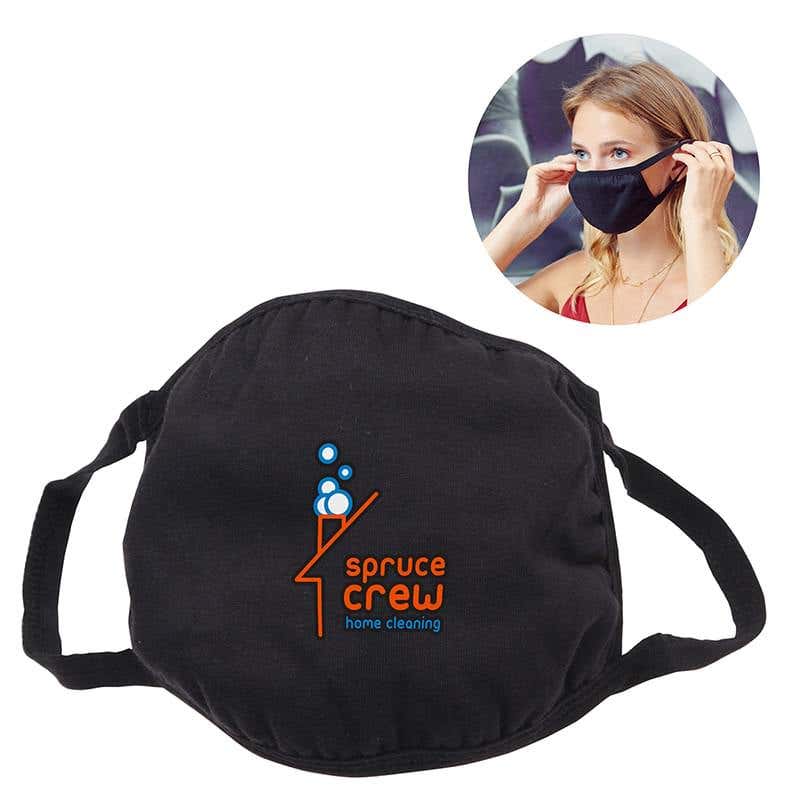 ---
Neck Gaiters
Neck gaiters offer similar protection to cloth masks but they have several key differences. Gaiters are circular, or tubular, and made of fabric. They are worn around the neck and pulled up to cover the nose and mouth. Neck gaiters do not have ear loops and as a result, they are easier to wear for longer periods of time. Many people wore neck gaiters before COVID to cool their neck in the summertime. 
This product is far more versatile than a cloth face mask. The loop of fabric can be used as a face covering as well as a headband, wristband, bandana, and lightweight scarf. People working in construction, contracting, or warehouses may prefer gaiters to cloth face masks. Here are some neck gaiter product options, ranging from a 100% moisture-wicking polyester gaiter to a cotton gaiter with a pouch for filters. 
GOOD
For a comfortable and stylish way to cover their faces during the pandemic, the Multi-Functional Cooling Gaiter is a great choice. With a variety of colors, this neck gaiter can give a casual and friendly appearance to what can otherwise be an intimidating face covering. It's made of polyester, which is moisture-wicking and flexible. However, although polyester is anti-microbial, it is not as effective as cotton against COVID. 
The Multi-Functional Cooling Gaiter has a rectangular area on the front that proudly displays a logo when the gaiter is pulled up to cover the nose and mouth. Otherwise, it can hang comfortably around the neck of the wearer and be pulled up on demand. For people who work long hours and need a comfortable face covering, this neck gaiter is a good choice.
BETTER
This unique neck gaiter has ear loops built in. It's the best of both worlds, where the wearer gets the comfortable experience of a neck gaiter with the added security of ear loops to help the face covering stay up. The Neck Gaiter Face Cover is made of cotton, which makes it more effective against COVID. It's also a versatile athletic accessory for anyone who enjoys spending time being active outdoors. 
This neck gaiter can be transformed into a variety of products, including a sunhat, a bandana, a face covering, and a beanie. It feels as comfortable to wear as a light scarf, but the ear loops make it easier to wear for long periods without the need to adjust its positioning. For people who would enjoy a versatile product that is effective against COVID, the Neck Gaiter Face Cover is a great option.
BEST
The absolute best option for neck gaiters is this Heathered Cooling Gaiter with Filter. It is extremely comfortable to wear, a lightweight 95/5 cotton-spandex blend, and includes a built-in filter pocket for extra protection. The heathered pattern on the fabric gives a casual feeling to this neck gaiter. It is the perfect product for exercising, as it can also be worn as a bandana or headband. Plus, it can be customized with a precision printing press.
The filter pouch is easy to access, allowing users to swap out their filters daily without hassle. Studies show that cotton fabric masks with the right filters are more effective against COVID than masks without. For a stylish face covering that also protects, go with the Heathered Cooling Gaiter with Filter.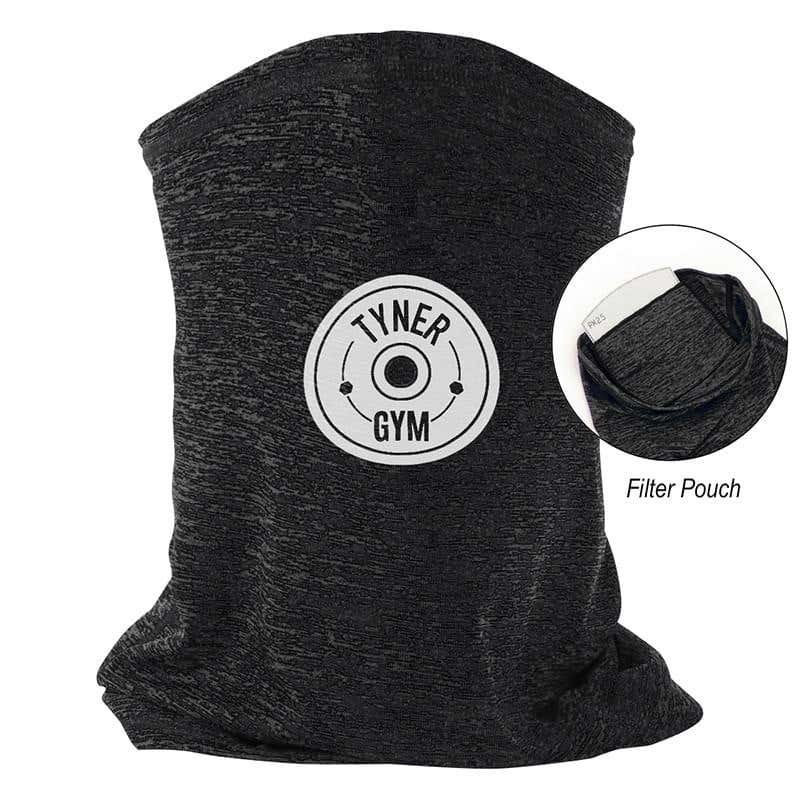 It's obvious that face coverings are here to stay, at least for the foreseeable future. Hopefully, there will come a time when a vaccine is made widely available and regular life can resume. Experts say this could be years away. Now is the time to embrace face coverings in every area of life. From grocery shopping to exercising, it's good for public safety when everyone wears a mask. It's also a great opportunity for businesses to support public health and get their brand out there. 
With a growing need for comfortable, reusable masks, it's a good time to look into neck gaiters and cloth masks. Depending on the needs of the wearer, there are attractive and effective options for face coverings at every price point. Whether you choose a cloth mask or a neck gaiter with a filter pocket, you can find a stylish and easy-to-wear product that makes it simple to cover your face. Explore iPromo's PPE essentials to find all of the protective equipment for your team.