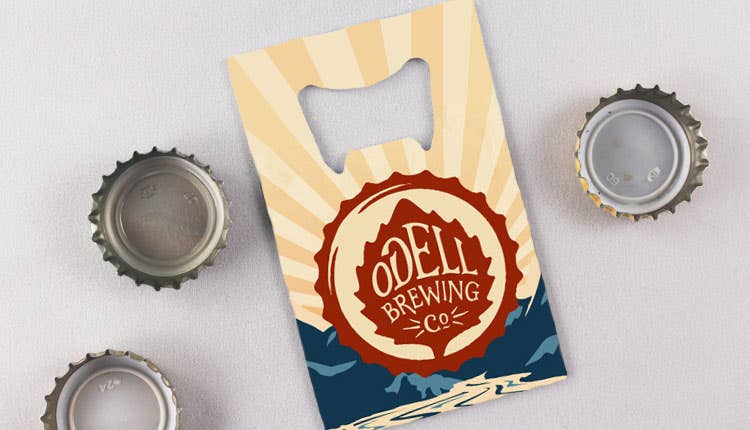 9 Custom Bottle Openers Your Clients Will Want To Keep Around
Although personalized bottle openers can be found on many keychains, your beer and wine loving customers deserve more creative options that showcase your logo.
When you are thinking about embarking on a promotional giveaway campaign, the most important thing you want to consider is your product's usability. You want your customers to use the products you give them so that they will be reminded of your company with at least a little frequency. It's also always nice if other people eventually see your branding.
With bottle openers, it can get a little tricky to find models that customers will want to keep around. This is because almost everyone who needs a bottle opener already has one.
Still, custom bottle openers can be a great promotional gift if you choose the right design. Yes, there are countless different bottle opener models, any one of which might be perfect for your intended audience. Of course, you can also spice up any bottle opener with a unique logo or branding design to really help it stand out.
For the most part, however, people care more about the quality of the product and its utility rather than its aesthetic qualities, according to a 2019 Advertising Specialty Institute study. With that in mind, here are 9 of the best bottle openers that your customers won't soon throw away.
---
1. Credit Card Bottle Openers
What is the one concern someone might have about carrying around a bottle opener? Usually, it's the portability of the product. Some bottle openers are bulky, and, beyond that, many people just might not want to carry one around.
Custom credit card bottle openers solve that issue by being no larger than a standard credit card. They are designed to fit in wallets, purses, or literally anywhere you might keep your cards or other accoutrements.
The bottle-opening mechanism is simply carved out of a credit card-like material, allowing your recipients to save the day any time a more standard bottle opener is nowhere to be found. Imagine you're at a party and you can't find a bottle opener anywhere. Wouldn't it be nice to just have one on you?
A credit card bottle opener can also be a talking point among friends, meaning that your initial recipient will likely spread the word about your company. You can't really go wrong with one of these items, and there are plenty of different models and color options available.
---
2. Bullware Wall-Mounted Bottle Opener
We're going to switch it up a bit by shifting from portable bottle openers to a completely stationary one. The Bullware Wall-Mounted Bottle Opener gives your customers the convenience of a permanent bottle opener that they can place anywhere throughout their home.
Custom wall-mounted bottle openers are handy because they eliminate the need to search through drawers for a bottle opener. Once mounted, the bottle opener will also likely stay in place for years to come, which will keep your company fresh in your customer's mind.
Again, bottle openers are also often communal. If your recipient has guests over, they will use this device, and your company will get more impressions.
This particular product comes with a strap to hang on the wall and a backward-facing magnet if you just want to place it on your fridge or other metal surface. There's also a neat little chalkboard that lets you write down the beer your drinking or just leave a nice note. The stylish design ensures that it will fit in with any kitchen décor.
---
3. Flashlight and Bottle Opener Combo
Another great way to ensure that your customers will continually use a bottle opener is to combine it with an entirely other useful product. At iPromo, you can get a variety of different custom flashlight bottle openers.
You may be wondering what value there is to combining a flashlight and a bottle opener, but there's more than you might think. It is especially useful for outdoorsy types who maybe like to go on long hiking or camping trips. In that case, having a 2-in-1 item like this is especially useful.
There are also several smaller options that might be useful to more "indoorsy" folks. For instance, there are models that offer a small LED keylight attached to a bottle opener. These keylights help you see at night while also ensuring that you have a bottle opener handy whenever you are ready.
---
4. Coaster Bottle Openers
If you like to keep a tidy house, then you understand the importance of using coasters to keep your surfaces free from stains and water damage. Custom coaster bottle openers add a second layer of utility to the standard coaster.
You can literally have friends over, hand them an unopened brew, and they will be able to open it on their own with a bottle opener on their coaster. Both functions of these custom bottle openers are directly related to drinking, making them even more useful.
There are also plenty of bottle opener coaster options. You can rugged and rustic with a nice wood design, cheap and easy with the Econo model, or go big with a coaster that lights up, opens bottles, and serves as a phone stand. There are also many options in between. In any case, your customers are sure to get a lot of use out of these bottle openers.
---
5. Multi-Tool Bottle Openers
What's better than a single bottle opener? A multi-tool that can open multiple types of bottles, of course. While custom beer openers are great, you might be alienating your wine-drinking audience. So, simply give them a tool that opens both beer bottles and wine bottles.
There's nothing worse than searching through your drawers for a beer bottle opener only to find a corkscrew for wine bottles or vice versa. Now, your customers will simply have an all-in-one tool that can handle both jobs. They won't need to purchase individual beer and wine bottle openers in the future.
Again, there are also many options available so that you can find the right multi-tool that suits your clientele. If your intended audience is filled with beer geeks or wine connoisseurs, then your product will get a lot of use over its lifetime.
---
6. Magnetic Bottle Openers
One of the main complaints with most bottle openers is just how easily they can get lost in the shuffle. They always end up shoved into the back of a kitchen drawer, or they just seemingly disappear without a trace. You can throw one party and end up never seeing your favorite bottle opener again.
Custom magnetic bottle openers attempt to meet that issue head on by having a designated spot on the fridge or other metallic surface. There's nothing easier than pulling a bottle out of the fridge, grabbing a magnet on the fridge door, and popping open the brew.
It's also virtually impossible to lose a bottle opener magnet because most people just snap it back on the fridge when they are done. Another benefit: it's always there for people to see when they get into the refrigerator regardless of whether they are actually reaching for a beer. You will always be on your customers' minds because of that.
---
7. Pizza Cutter Bottle Opener
While we have discussed several other combo items, there may be no more perfect a marriage than that of a pizza cutter and a bottle opener. Pizza and beer go together like peanut butter and jelly for adults. This makes it a perfect combo item to give out as a promotional giveaway.
On top of that, most people probably don't have a pizza cutter or at least not one that's in good shape. So, you would really be killing two birds with one stone for most individuals. Anytime they make a homemade pizza and crack open a few beers, your company will be fresh in their memory.
---
8. Bottle Opener Sunglasses
Imagine this scenario: a group of friends heads out to the beach with a few six packs in tow. They set out their towels and umbrellas and start soaking in the sun and the surf. When they begin reaching for beers, they realize they forgot to bring a bottle opener. One thing no one forgets on their beach day, however, is their sunglasses.
If those sunglasses happened to be equipped with bottle openers at the ends of each arm, then that group of friends is in business. Your company can be the savior of this situation with these bottle opener Malibu sunglasses.
These items provide your customers with something they would already be wearing anyway and infuse it with even more utility beyond blocking out the sunlight. Help your customers avoid the unfortunate eventuality of a forgotten bottle opener by literally letting them wear it one their head.
---
9. Custom Bottle Opener Keychain
There couldn't be a discussion of bottle openers without at least mentioning the old standby: personalized bottle opener keychains. Many people carry these items around for situations when a bottle opener isn't readily available.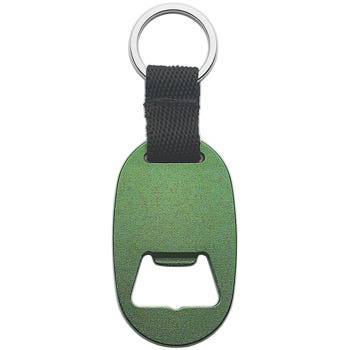 They are convenient, easily portable, and there are dozens of different styles to choose from. You can even opt for keychain bottle openers that come in novelty shapes like:
Of course, we have also already discussed bottle opener keychains that feature little LED lights to make getting in and out of doors a little easier in the dark. But, you can always go with the conventional wrench bottle openers.
No matter which way you cut it, custom bottle openers are a great promotional gift. You always want your promotional gifts to be useful, and, unless your customers have particularly strong teeth, they will need a bottle opener at some point in their lives. To get started on your promotional campaign, contact us as soon as you can.