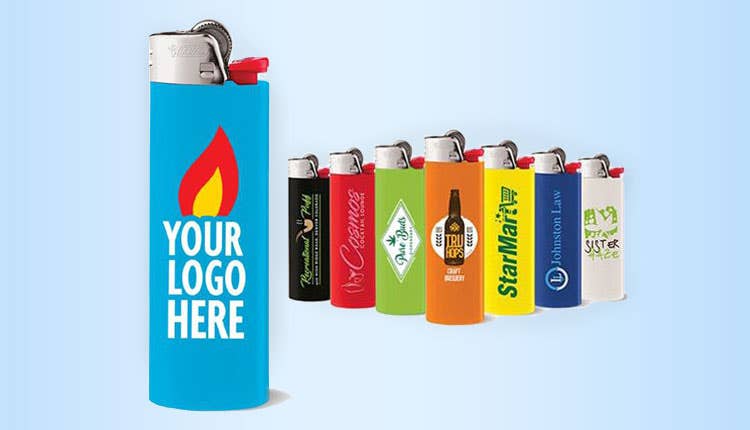 Custom Lighters Bring Old School Swag to Your Brand
Personalized lighters can be found in every home, your company's logo should be there too.
There is an oddly satisfying experience of using a lighter. Since its discovery, fire has always intrigued and inspired people. For so many of us, the simple task of flicking a lighter feels both relaxing and invigorating. There is just something about holding the power and mystery of fire in the palm of your hand.
Maybe it is part of our subconscious due to the significant role fire has played in human advancement. Perhaps the flickering and sizzling flame reminds us of simpler times, free from the hustle and bustle of modern life. We may never know specific reasons behind this effect, but we do know this: custom lighters are a great way to promote your brand, with an old school twist.
"The appeal of the American-made lighters has grown to the point that sales in the United States and overseas are split nearly evenly." – Business News Daily
Along with triggering nostalgia for many, and a inducing a sort of "throwback" feeling, lighters are a handy tool. This gives personalized lighters a unique ability to connect consumers to your brand. Whether through therapeutic flame-watching or a backyard grilling experience, your brand can make a positive impression on potential clients.
These old school devices have been a staple item for most all American households. On the road, at the barbecue, and in your kitchen, lighters are essential to many of our favorite pastimes. Figures from a 2019 Advertising Specialty Institute study show that an average U.S. household contains 30 promotional items. This supports an important scientific conclusion: People love free stuff! Here are a few reasons that custom printed lighters make great promotional items:
Virtually everyone has use for a lighter, from emergency survival kits to candle-lighting
Lighters are frequently used in a public setting, facilitating more views by more people
They make great gifts, if the initial recipient does not have a use for the lighter
Today we will introduce several of our favorite bulk lighter options for your company to consider. With these options, you'll tap into the "old school" aura that surrounds timeless products like the lighter. Get in touch with one of our product experts to find the right one for your needs.
Precision Printing of Custom Printed Lighters
Now, thanks to our process of precision printing, you can purchase personalized lighters to promote your business. Together with our trained experts, you can design, review, and approve a virtual proof of your selection before ordering. Once it meets your satisfaction, simply decide on your color and quantity. Orders are filled in approximately 10 business days from the date the order is placed.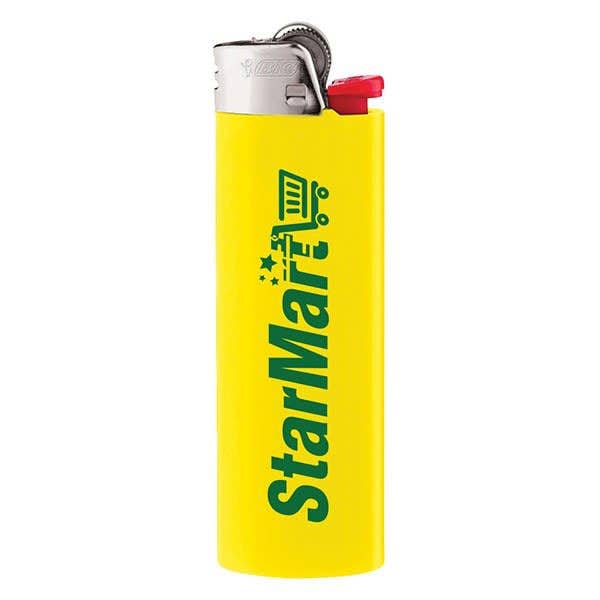 The imprinted area of each lighter is approximately ¾" wide and 2" tall. No matter your color choice, you will always find it available to perfectly match any logo. These options include
Black
Blue
Green
Light Blue
Orange
Red
White
Yellow
As always, you can purchase a higher volume which will be discounted accordingly. For the known quality and dependability of BIC lighters, you can't go wrong! Individualized lighters are perfect for an effective and affordable promo. Starting prices include one print on one side, but double sided printing is available at additional cost.
Zippo lighters are renowned for their smooth, ergonomic, and precise construction. The protective cover, secured with sturdy nickel silver hinges, protects the inner workings of the lighter from grease and grime. They also incorporate a specially made windproof "chimney" that protects the flame from the elements. Unlike disposable lighters, these engineering marvels are designed for a lifetime of use. Built with a removable, stainless steel insert, refilling is a breeze.
BIC Maxi Lighter
If you use lighters, the chances that you have used a BIC lighter are extremely high. Since its first lighter debuted in the 1970's, BIC lighters have grown into an international leader in its industry. To date, BIC has sold more than 30 billion lighters across over 160 different countries. In addition, 6 million new lighters are produced every day!
BIC Maxi Lighters are good for as many as 3,000 lights. For the average person, this means a long and lasting impression made by your brand. These lighters are even family friendly, featuring a patented childproof guard that protects little ones from accidental ignition. Rest easy knowing it's safe to give these out at formal, adult only outings or events where children are welcome.
Due to their disposable nature, wholesale BIC lighters make a great repeat gift. Even if someone has received one in the past, there is always the need for a new one in the future. Since use of lighters is so common, even the occasional person who won't use one can still gift it to someone they know. This provides an opportunity to reach out to potential customers that you may not have otherwise reached.
Zippo Windproof Lighter
While BIC rules the world of quality, disposable lighters, Zippo takes the title when it comes to higher end lighters. The rivalry between BIC and Zippo will always exist, but each is a champion in their own right. Disposable lighters will get the job done right every time as well, but Zippo lighters raise the bar. Think of them as the Rolls Royce of lighters.
If you are really looking to up your brand, you can team up with one of our sales specialists to attach your custom logo to the luxurious Zippo Windproof Lighter. As with our many other items, you can permanently affix your logo to the lighter using our precision printing presses. The solid brass case of the Zippo lighter also allows for laser engraving. For a more modern and eloquent look, work with us to design an amazing laser engraved logo.
"Established way back in 1932, the Zippo windproof lighter easily found its way into the popular culture references and won many hearts with its unique design and unwavering durability." – Mensxp
Starting in quantities as low as 48 lighters, you can treat clients to a high quality, refillable Zippo that is sure to impress. Screen printed lighters can include up to four different colors, located on a 1" by 1" imprint area. Laser engraving is applied to the same square area, resulting in a sharp, metallic contrast. Our custom Zippo lighters are available in the following looks:
Black Ice: a shiny and metallic black finish
Black Matte: textured, dark, non-reflective surface
Brushed Chrome: silver finish with distinct brush strokes visible in the finish
Polished Chrome: silver finish, polished to a reflective and mirror-like quality
Street Chrome: silver finish with distinct scrapes and scratches for a rugged feel
Zippo Mini MPL Lighter
In case the expertly made, effortlessly used original Zippo is not sleek enough, check out the Zippo Mini MPL Lighter. Unlike the traditional Zippo, the Mini MPL has a strikingly small profile and noticeable different mode of operation. Instead of flicking open a cap and striking a thumbwheel, the Mini is operated with the push of a button.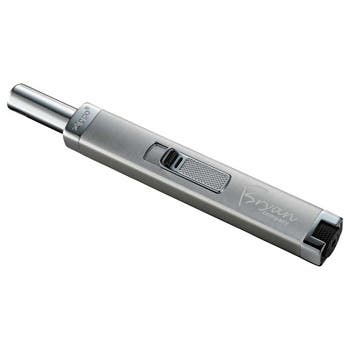 While it does not provide quite the same protection from a windy day, it does make for simpler one-handed use. This is due to the soft-touch ignition system. To deter accidental use by young children, it also has a patented child resistant safety feature. The result is an effective balance between ease of use for adults and accident protection for children.
As with the original Zippo, choose between screen print or laser engraving to apply your design. Screen-printing allows for up to three different colors. Although the imprint areas are smaller, you have the option to choose from two locations. You can even elect to use both available imprint areas, one on either side of the lighter's switch. Your logo against set on the lightweight and durable aluminum housing provides the polished, professional look one would expect.
Always in Style
While some products ebb in and out of the flow of "popular" items, lighters have been a constant. This is not surprising, given the versatile ways in which they come in handy in our daily lives. Simple as it may be, just the act of "flicking" a lighter to produce an instant flame is strangely therapeutic. Many of us probably remember the mesmerizing experience of using a lighter for the first time. As if by magic, you command the flame from the palm of your hand!
As a company, there are certain items that are certain to be popular with your prospective clients. According to the 2019 ASI study referenced earlier, some of the most popular items can stick with the same owner for over a year. Specifically, the study cites items such as desk accessories and USB drives. While the study did not track lighters in particular, these similar categories showed impressive staying power and high numbers of impressions.
If you are having trouble choosing, you can always speak with our team to decide between the more affordable BIC Maxi, or the upscale Zippo Windproof and Zippo Mini. Regardless of your choice, both are sure to resonate with your target audience and provide them with a useful tool. For many, it may trigger an "old school" feeling that takes them back to their glory days. This in turn establishes invaluable rapport between recipients and your brand.