9 Unique Promotional Products & Gifts for Insurance Agents
Finding the right promo items to giveaway to potential clients is no easy task. We selected 9 "out of the box" ideas that have worked for data-driven insurance clients like State Farm, Nationwide, and Farmers.
Take a mental look around your own house. Notice any free items you have received that promote a particular brand? For the majority of American households, the answer is yes!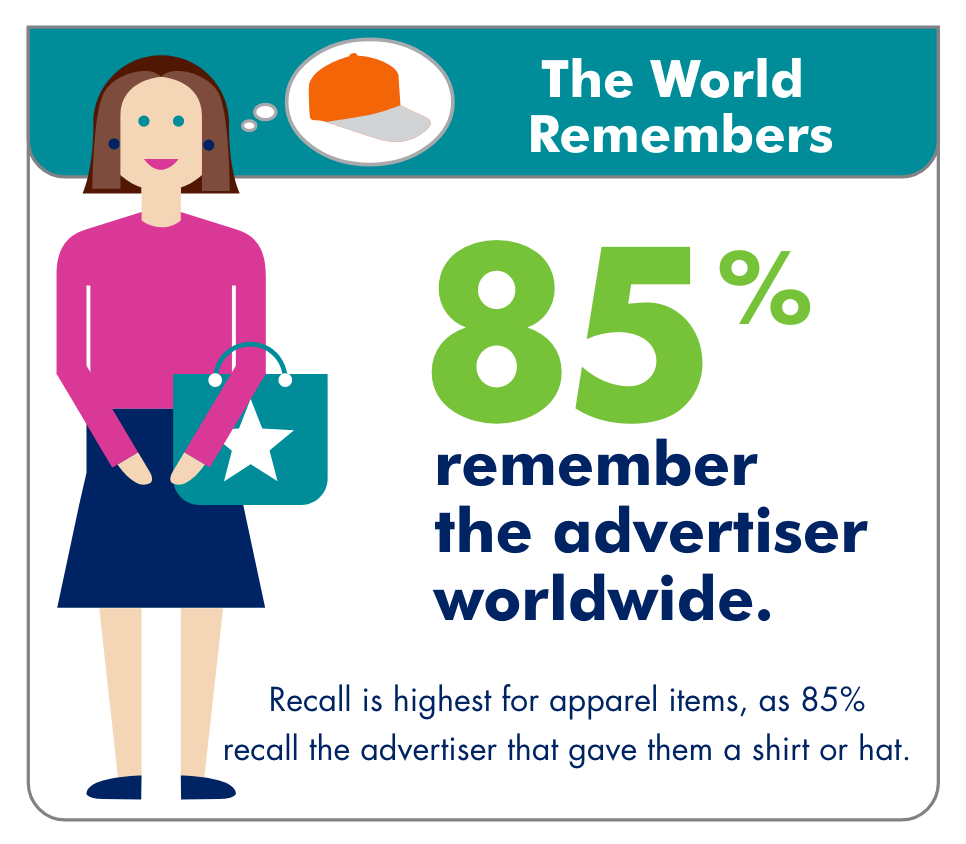 According to a 2019 study conducted by the Advertising Specialty Institute (ASI), the average American household owns 30 promotional items. A closer look at the findings of this study reveal why:
Consumers are 2.5 times more likely to think of a brand positively as the result of a promotional product compared to viewing an online advertisement.
People younger than 55 years of age find promotional products more valuable than any other advertising medium. This includes television, internet, radio, and print.
Recall, or the ability to remember what company gave you an item, is as high as 85% for apparel such as shirts and hats.
Such statistics strongly support the argument that insurance companies can reap the rewards of a high return on investment using promotional items. Another portion of the study found that consumers are likely to keep certain kinds of promotional products for an extended period of time. This is especially true with "Millennials" and "Generation X."
"Promotional products can be used in a variety of contexts and applications. One of the most common uses is to raise brand awareness for your B2C company by mass-distributing a promotional item to ensure your brand name is seen and remembered by a larger-than-expected percentage of your target demographic." – Entrepreneur.com
Millennials and Xers consist of people currently between the ages of about 24-53. This group is more likely to make large purchases requiring insurance coverage, such as a vehicle or a house. These facts suggest that promotional products spread the word about insurance brands at a higher rate within the most targeted demographic.
What Makes A Promotional Gift?
Of course, there is more to effective promotional products than one might think. When looking for the right kind of gifts for your insurance clients, there are a couple of key characteristics to strive toward.
Usefulness – Above all else, the perceived value of a promotional product determines how long it is kept around. No matter how flashy or well designed an item is, it simply won't last unless it is useful
Visibility – In advertising, "Cost per Impression" (CPI) refers to the cost of a promotional item relative to the number of times it is seen. For instance, $1.00 spent on a branded pen, seen by 100 different people, has a CPI of one penny. The lower the CPI, the more effective the promotional product. Look for items that are inexpensive, but seen by many people
Perception – How an item reflects on your brand is very important. Negative views of a promotional item lowers your chance of earning business. However, positive impressions greatly increase the chances of a sale. For example, ASI studies have found more than half of Americans prefer items made in the USA. By extension, American-made promotional products cast your company in a positive light
Based on this knowledge, we have put together a list of insurance agency promotional items that check all the boxes for being a success. Think outside the box with these. While most insurance companies are giving away roadside emergency kits, you can give something more unique and person.
---
1. Tire Pressure Gauge
Part of the battle of picking a good promotional gift for an insurance client is making it both useful and relevant. Since a large part of the market is auto insurance, and an overwhelming majority of people own a vehicle, a tire pressure gauge is a natural choice.
Not only is it an essential item for car owners, but it is also an item that can easily exchange hands when one client is done using it. If a classic tire gauge seems too "blah" to feel impressive, go all out with a sleek and modern digital gauge.
---
2. Tire Tread Gauge
Going hand in hand with a tire pressure gauge is a handy little tool that measures the remaining tread on a car's tires. When the tread on a tire gets low, it can have catastrophic consequences.
A worn-out tire can burst, resulting in an accident. This could not only physically harm the driver and passengers, but also be considered an "at-fault" accident. Of course this could also lead to higher car insurance premiums. It is in the interest of everyone on the road that all drivers have a tool to help monitor and preemptively dispose of worn out tires.
---
3. Peel and Stick Calendars

No matter how hi-tech and modern the world becomes, calendars continue to be a useful. Peel and stick calendars can be placed in highly visible areas. Often, they are viewed on a daily basis, possibly multiple times if hung up in high-traffic areas. This means anyone using a branded calendar can be reminded of your insurance company on the daily.
Car dashes, refrigerators, and bulletin boards are among the most popular locations. Since every year brings with it the need for a new calendar, there is always an excuse to give one to clients. For added utility, think about marking the due date for your client's insurance payment as a helpful reminder.
Also, the average calendar leaves a whopping 850 impressions while in use, resulting in an unbelievably low CPI.
---
4. Collapsible Organizational Crate
In this day and age, there is no such thing as too much storage space. Since everyone can use another place to keep their belongings, a collapsible and portable storage crate is a great addition to anyone's promotional item arsenal. These versatile drawers collapse down to take up virtually no space when not in use. They then expand to hold anything from groceries to hiking gear.
Your clients can keep them in the trunk of their car and be amazed at the number of ways they'll find to use them. Each time they find a use for it, they will be reminded of your company and think positively of your brand.
---
5. Sunglasses Carrier
Another automobile essential that is popular among motorists is a great pair of shades. While tastes and preferences for sunglasses are too unique for them to be a great giveaway product, sunglasses carriers are perfect. Carriers are a practical way to protect and store sunglasses from damage and premature wear. They are also universal enough to be useful to anyone who owns a pair of sunglasses.
Think of how satisfied your client will be when they have a great place to keep their sunglasses. They will appreciate it when they get home from driving their newly insured vehicle.
---
6. Folding Umbrella
A sunglasses carrying case is perfect for a sunny summer's day, but what about the inevitable, unexpected rainstorm? A folding promotional umbrella embellished with your company's logo can come to the rescue, leaving a positive feeling with your current or potential client.
As is usually the case, you rarely have an umbrella on the day that you end up needing it. That is why a compact umbrella that stores easily in a trunk or glove box is a great insurance promotional item. People will not soon forget the logo that shielded them from icy cold rain as they walk the last few blocks home as the result of a flat tire.
Also, umbrellas average 1,100 impression during their lifespan, making for an excellent CPI.
---
7. Compact and Portable Multi-tool
Have you ever had a tiny screw become loose in your sunglasses? How about lost an earring in the dark void beneath the dishwasher? Inevitably in life, unexpected events leave us thinking, "If I just had a…!" That is why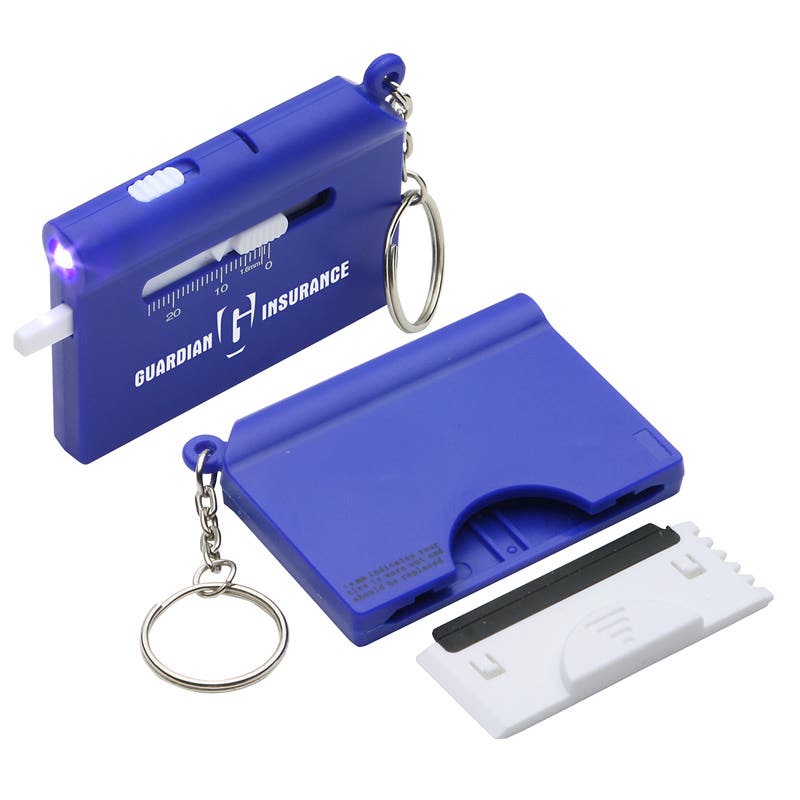 a multi-tool can be a useful and positive insurance agency promotional item.
These gadgets come with an endless variety and combinations of tools, including these popular features:
Pen light or small flashlight
Mini screwdriver
Bottle opener
Mini pliers
Nail file
Since most of these are available as an attachment to a keychain or key ring. Your client will never have to worry about forgetting it at home.
---
8. Ice Scraper Mitt
If you are serving clients in a cold and snowy climate, there is a special place in your customer's hearts for gear that makes winter more bearable. One of the best new promotional products for cold weather situations is the ice scraper mitt.
Exactly as the name suggests, this mitt will allow hands to stay warm as they chip away at a frozen layer of ice on the car. This is a different, but valuable sort of insurance policy for those who neglect to carry gloves in their coat pockets!
---
9. Auto Alert Heat Warning
On the other end of the climate spectrum, there are those who have to be much more concerned with overheated vehicles. On a hot summer day, it does not take much for a car to become heated. It can quickly get to the point of being unsafe for passengers.
Babies, young children, and the elderly are at particular risk for this kind of danger. Just a few minutes in an extremely hot vehicle can result in permanent damage or even death.
An Auto Alert Heat warning tag turns a warning red color if conditions within your vehicle are unsafe. This can potentially save motorist from making the fatal mistake of not checking the internal temperature of their car. Ultimately, it could save someone's life.
---
Everyone Needs Insurance – Let It Be You They Chose
The nice thing about insurance is that virtually everyone needs it. This leaves the options for insurance promotional items wide open! Get creative and don't be afraid to think outside the box.
If you know your client base well, you can further cater to their wants and needs, just remember these three important factors: Usefulness, visibility, and perception. Feel free to reach out to any of our knowledgeable product specialists to discuss your options, or receive advice on the right gifts for insurance clients in your specific situation.