5 Ideas to Market Your Salon with Promotional Products
Salon advertising strategies will always recommend promotional items, but which ones actually work? From barber shops to beauty salons – we'll help you choose the best swag to promote your business.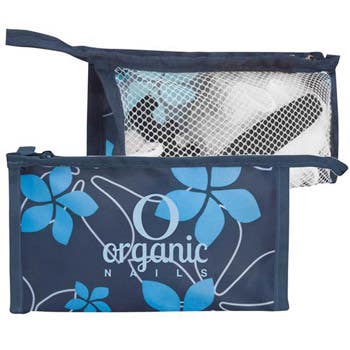 Every business needs a good marketing strategy and salons are no different. No matter what type of marketing you decide to engage in, you should always consider giving salon gifts for clients. We'll show you why salon promotional products can be a great way to retain current and gain new business.
According to Modern Salon, you must have brand awareness to be successful. "The secret to successful marketing involves a combination of brand awareness and fostering long-lasting relationships with your community."
So, what is one of the best ways to increase your salon's brand awareness? You guessed it – using salon promotional products.
"While the quality of the service and customer experience dictate perception of your salon, the first impression actually starts with your salon marketing efforts." – Square.com
Promotional products are always a good idea for marketing. No matter what your strategy, incorporating them in some form can help you build brand awareness.
We may be a little biased since promotional items are what we do for a living. As such, let's look at some statistics that will help you see why using promotional products in your salon can be a homerun.
Why Use Salon Promotional Products
There is only one way to make money as a hairstylist or salon owner. That is to bring people in to buy your services or purchase salon products.
"Your objective is to fill up your chair with bookings. Unfortunately, most hair stylist schools don't teach marketing." – Salon Iris
It is fine to spend money on advertising to get people into your shop, but retaining current customers is the key. It is cheaper to retain a customer than it is to earn a new one. So how do you retain customers?
The first way is to make sure you offer a great service. That part is up to you. The second is to make sure the client remembers you. That is where we come in. By having salon gifts for clients, you are sure to be remembered by your clients when it comes time to get their hair done.
According to the Advertising Specialty Institute, using promotional products is better than online marketing. "Even though we're in the midst of the internet age with everybody glued to their screens, consumers are nearly 2.5 times more likely to have a positive opinion of promotional products compared to online advertising."
"U.S. consumers own a wide variety of promo products, and some categories remain especially popular." – Advertising Specialty Institute
Statistics also show that over half of consumers in the Untied States are more likely to do business with someone who has given them a promotional product. That stat alone means you have a chance of retaining at least half of your business simply by using promotional products for your salon.
Giving salon promotional products to current clients will help them remember you when it comes time to get their hair done. With more than half of them more likely to do business with you from receiving a product, you can be sure to get return business.
Now, not all promotional items are the same. As such, let's take a look at some that are widely used and beneficial for your salon business.
1. Personal Care Items with Custom Logo
One of the most obvious and useful items you can use as a marketing tool is anything in the personal care item category. This would include hair brushes and items such as lotion or body butter. The cost for these items is low compared to the return you will have from earning a repeat customer.
Salons are also known for more than just hair services. Most salons offer additional services such as pedicures, manicures, makeup and personal grooming. There are many items that can be used as salon gifts for clients that fall into these categories. These include manicure tools and cosmetic sets.
Spa kits are a gift that anyone would enjoy. The next time they decide to take a bath using an eye mask and sugar scrub with your logo, they will think about calling to make their next appointment. Remembering you when they are relaxed gives a good impression and one they want to revisit time and time again.
2. Promotional Bags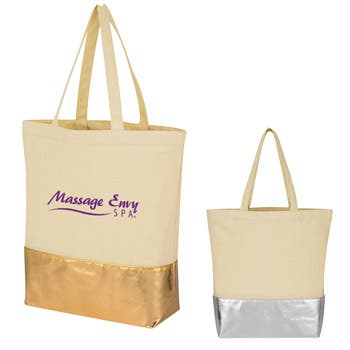 Do you sell salon products like gels, sprays, and shampoos? Then chances are you are putting them in a bag when people take them out of the shop. Why not have a custom bag with your name and logo which people will reuse several times.
Don't believe bags are that popular of a marketing item? Well, consider these facts:
73% of U.S. consumers own a bag with promotional wording.
These bags are kept an average of 11 months.
When people are done using them, they are more likely to give them to someone else than discard of them.
Bags generate an average of 3,300 brand impressions throughout their lifetime.
The cost of advertising with a promotional bag is less than 2/10th of a penny per impression.
Now that you know bags are popular, you also need to know that half of everyone who receives a promotional bag is likely to do business with the person who gave it to them. That could be you.
Bags come in many forms, but the most popular promotional bags for salons would include shopping bags and tote bags. Especially in states like California where plastic bags are no longer given away in stores, having a custom tote bag that is reusable will generate plenty of brand impressions for your salon.
3. Salon Apparel
Salon apparel is one of the most flattering forms of swag. Your employees wear shirts with your company name. Now, its time to get your customers to do the same. The best item you can use for promotion is a custom t-shirt.
Not only do t-shirts get you over 3,400 brand impressions, they are also kept for more than a year by 63% of people who receive them. In addition, almost half of the people receiving them will keep them for 2 years or more. If you cater to Millennials, you are in luck. Statistics show that Millennials own an average of 5 promotional t-shirts.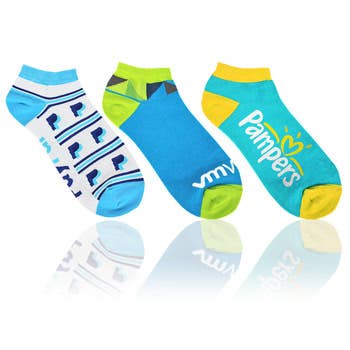 Don't just stop at t-shirts. Outerwear like pullovers, hats, and jackets are also very popular. In fact, 42% of women who own promotional outerwear wear it on a weekly basis.
Additional apparel you should consider would include:
4. Workout Items (Health and Fitness Swag)
If someone is paying attention to their personal care at a salon, chances are they are also taking care of their heath. This means that many people who visit your salon will also be visiting a local gym. It would be nice if they would promote your salon while they are there.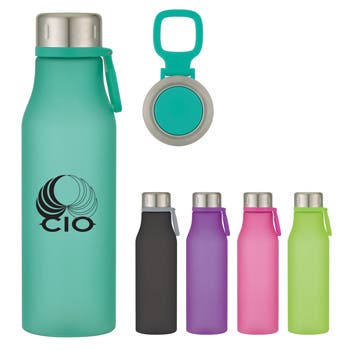 So how do you get them to do that?
One way is to give away swag that your customers will want to take to the gym. Sports bottles are the easiest way to accomplish this goal. They are versatile and everyone has one. You just need to make sure that it is the one with your logo that they own.
Of course, we need to throw in a few more statistics to prove our point.
71% of Gen X'ers are more likely to do business with someone who gave them promotional drinkware. This means that ¾ of your clientele will likely be coming back. In addition, the drinkware you give them will generate 1,400 brand impressions from them using it out and about (especially at the gym).
Sports towels also come in handy at the gym. No one wants to use the same old dirty gym towel that has been used over and over by hundreds of strangers. People will love to bring their own towel that you supply them (with your brand printed right on the front of course).
5. Calendars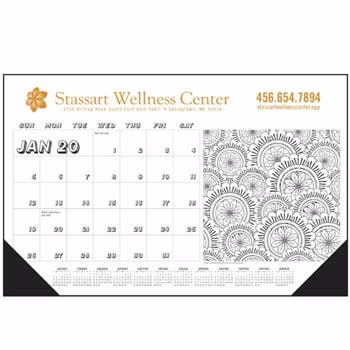 Calendars are a unique promotional item. Not because of what they are, but because of how you can use them.
Next time a client makes a follow-up appointment before leaving the salon, mark the appointment on a calendar instead of an appointment card. They will be appreciative of the gift and likely hang it in a visible place where it will get plenty of brand impressions.
How many brand impressions? Glad you asked.
Calendars receive an average of 850 brand impressions throughout their lifetime. The cost is also less than a penny per brand impressions which makes them an affordable salon gift for clients. With 62% of consumers owning a promotional calendar, you just need to make sure that it is yours that is hanging on their wall.
Fill Your Salon With Clients

Remember, retaining current customers is cheaper than earning new ones. Spending money on promotional items to do so is much cheaper with a greater return than using online advertising. In addition to retaining current clients, you also have a chance at earning new ones with the number of brand impressions you will be generating through current clients.
Salon promotional products come in a wide range of styles that fit just about any budget. If you haven't quite decided on what items to use for your salon business, give us a call to go over some additional options.
Regardless of the items you choose, keep in mind that stats don't lie. Salon gifts for clients can keep your place of business filled with paying customers.