December 2, 2022
Best Holiday Gift Ideas for VIP Clients
The end of the year is the perfect time to show your VIP clients how much you appreciate them — but not just any old corporate gift will do. You need something of high quality and unique enough to make your end-of-year holiday gift stand out. Here are seven of our best holiday gift ideas for VIP clients in 2023:
High-Quality Custom Pens
If you picture cheap plastic when it comes to custom pens, think again: There are plenty of high-quality custom pen options that are perfect for the VIPs on your corporate shopping list. These pens feature upgraded touches such as metal construction and gift boxes to create a premium gift-giving experience that is sure to impress your biggest clients. Engrave or print the sides of the pen with your business name, and your clients will think of your business every time they take notes or sign a document.
Customizable Thermal Cups
Traditional travel mugs are a great giveaway idea, but they're not special enough for those truly VIP clients who make up the bulk of your business. That's why one of our best holiday gift ideas for VIP clients this year is a customizable thermal cup like those from Ember. Available in both metal and ceramic versions, this thermal cup will keep a hot beverage at the perfect temperature for up to 90 minutes (or indefinitely when left on the charging coaster). The entire side of the mug can be emblazoned with your company logo, making for a memorable VIP client gift.
Tabletop Stove
Another one of our favorite premium gift ideas for 2023 is the new model from cult favorite brand Solo Stove. The tabletop Mesa version can be used on any patio even if you don't have room for a full fire pit, creating an unmatched holiday ambiance. Even though the stove may be small, it's still made with the same high-quality stainless steel and 360° Airflow Technology as all other Solo Stoves. The stove comes in six different colors and can be laser engraved on the front with your business name or logo for a truly unique VIP client gift idea that will set your company apart from the crowd.
If you need VIP gifts for individual executives, you can't go wrong with a pair of custom AirPods Pro, a.k.a. one of the best-selling headphone models of all time. AirPods Pro 2nd generation offer even better noise-canceling technology than the previous model, and are very helpful for business calls, and their small case makes them the perfect size to throw in your bag for a business trip. We can print the front of the case with your business logo or a graphic of your choice for an unforgettable branding opportunity.
If you love the idea of an audio-technology-themed gift, but you've already done AirPods before, then a high-quality Bluetooth speaker is a great alternative. In fact, Bluetooth speakers make one of our favorite holiday season giveaways because they can be used for everything from holiday parties to campfire singalongs. Select a speaker from a trusted brand such as Bose or Sony to make a lasting impression on your VIP clients.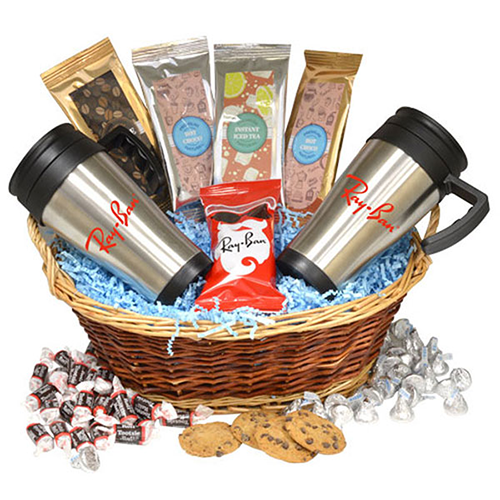 Christmas Gift Box Set
If you are looking for a curated collection of gifts rather than a single item, we offer a huge selection of Christmas gift box sets, including many premium options that are well-suited for VIP clients. Choose from more traditional gourmet snack sets, or get more creative with gift boxes themed around self-care, wellness, and more. Our BRAGbox collaborations are big sellers around the holidays, and their high-quality product selections are perfect for VIP clients you need to impress.
If nothing on this list struck you as being the perfect gift idea for a VIP client, then we strongly urge you to check out our list of high-quality retail brands. You can get your logo added to everything from Allbirds wool sneakers to coolers from YETI to the ever-popular The North Face black vest. All make excellent gifts for big clients and other VIPs on your corporate shopping list. If you need help narrowing down your options, contact our customer service team today, and we will help you find the perfect VIP client gift.
It's always smart to plan your gifting early this year. The sooner you order this year's VIP client gifts, the greater a selection you will have. Reach out to iPromo today to get started on a pricing quote or design proof for your chosen holiday gifts!