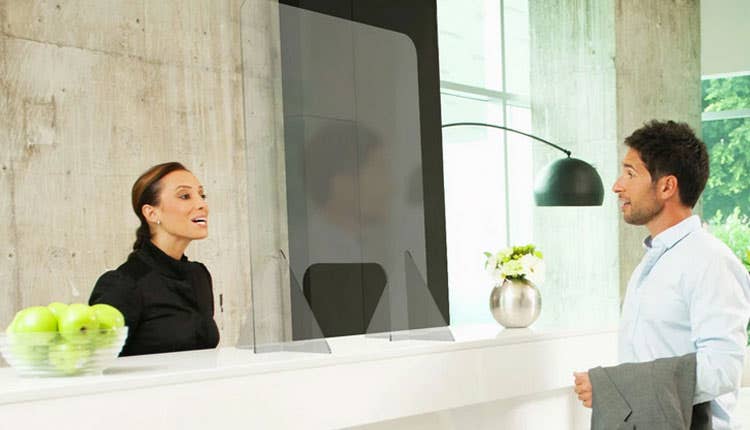 If we talk about industries that have been hit hard financially by the COVID-19 pandemic, the hospitality industry, like hotels and resorts, are at the top of the list. As non-essential businesses, they were among the first to be shut down, and travel restrictions mean that even for those that were not, getting customers is nearly impossible.
Social Distancing & PPE For Hotels The New Normal
The volume of people traveling through hotels and resort settings from far-off locales makes these businesses a major potential disease vector. International travel is one of the major reasons why COVID-19 spread at a rapid rate in the first place, hence the travel lockdown currently in effect around the world. As a result, PPE is going to be necessary to protect staff and other guests from travelers that may be asymptomatic carriers of COVID-19.
Chances are we're going to see a large change in different aspects of the hotel and resort experience. Here are a few examples:
You may not be using the front desk anymore. The idea of multiple people waiting in line to check in is something that we want to avoid moving forward. Any prolonged periods in close proximity to each other are likely to raise the risk of infection.
Buffets are done, maybe forever. The buffet experience is an appealing one, but the idea of multiple people handling different utensils and eating from the same areas simply has too many variables in terms of transmission to manage.
It may be harder, and more expensive, to get a room. Many different hotels and resorts may stagger their vacancies in order to keep from running at full capacity. This not only minimizes the amount of contact different guests have with each other but also gives the cleaning teams more time to do a more intensive version of their traditional regimen.
Rooms will have less accessories. If your hotel rooms look a little more barren moving forward, that's by design. Many hotels are planning on removing items like notepads, pens, and minibars that may be difficult to disinfect.
The Best Options For Branded PPE For Hotels and Resorts
With all this said, in the hospitality industry, branding is still king. You want PPE for resorts and hotels that are effective for protection but can also be customized to fit your brand logo and artwork. So, what options make for a good fit?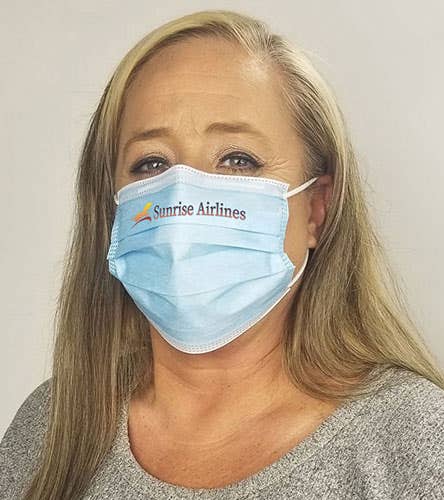 Let's talk about face mask options first. With facemasks likely to be mandatory in public settings for the near future and beyond, customized options are great for providing branding for your customer-facing employees. We offer a few different options for versatility.
For example, you may prefer a disposable mask in order to save time rather than having to clean and reuse other ones. In this case, consider our Custom Printed USA Made 3-Ply Face Masks. This is a non-woven mask that provides 97% bacterial filtration efficiency. In terms of customization, you can put your hotel/resort logo on the front of the mask using either screen or full-color printing.
It may be a major part of your company branding to be sustainable. In that case, you may want to look into reusable cloth masks. As custom options go, one great option is our Custom Cotton Reusable Masks. These 4-layer masks are comfortable and breathable and feature your brand prominently by adding the logo through screen printing. If you want some different fabric alternatives, consider our Custom Microfiber Face Mask Washable and Reusable or Custom Champro Triple Layer Sublimated Cloth Mask. These masks are not only super comfortable and easy to wear, they can also sport your full-color logo.
Supplementary items are also a key part of PPE for hotels. For example, your staff may not be used to wearing masks for a whole shift, and these can easily cause discomfort or a looser fit as they go about their regular tasks. For a brandable solution here, consider looking into the Custom Face Mask Snap & Hook Ear Savers. All you need to do is snap your mask between the front and back piece, hook the mask around the snap, and repeat the process. These accessories are also easy to clean and are brandable. Add your logo to the front and back of all 4 snaps via full-color printing. This not only works with masks, but headbands, hats, bandannas, and other items people may use as mask substitutes in a pinch. These are easy to sanitize.
Of course, things like gloves are an essential part of PPE sets, but when it comes to branded PPE for hotels, there are other options you want to keep in mind. For example, hand sanitizer is naturally going to be something you want in every room and workstation, along with plenty of other additions in storage. To help provide some branding while you stock up, we offer Custom Sanitizer Wipes – 160 Wipes Per Container. These are great for spot cleaning and supplying to guests, and you can use screen printing to put your company logo on the container.
On the topic of supplying things to guests, one of the most commonplace practices you are going to see with custom PPE for hotels moving forward is providing PPE kits for every guest that comes in. Ideally, every customer you have will fully understand the risks of travel and pack accordingly, but nothing is guaranteed. Some people may come from an area where virus cases are low, forget to pack PPE, or their PPE may be damaged/used up. In these cases, rather than turning them away, you want to show that you have their safety in mind with prepackaged PPE kits. We have a variety of options available, like our starter PPE Value Kit – Black. The bag can be customized with your hotel or resort logo using screen printing and contains a 3-layer non-woven face mask and a pair of nitrile gloves.
Say that you know your guests are going to be out and around the local area, rather than staying on-premises the whole time. It's essential that they stay safe out there so they don't bring germs back into your business. Something like the Super Shopper Kit – Red is perfect for this scenario. This contains a stylus pen, mask, set of nitrile gloves, and a single-pack use of sanitizer. The pen allows people to safely operate elevator buttons and shared screens without fear of transmission. The kit is contained in a waist storage pack, and you can apply your hotel logo with screen printing, which serves as a great branding opportunity while your clients are out on the town.
Luxury is also a major part of branding for hotels, and we offer a PPE kit that works perfectly, the LUX KIT. This kit has a  CleanKey™ antimicrobial brass non-contact hand tool, Tile Mate Bluetooth Tracker, and S'well 17 oz bottle. For an added charge, you can add your hotel logo to these different components.
Many concierges or cleaning staff may be entering a lot of rooms, which means coming into contact with common disease vectors like doorknobs. A smart branded option to avoid this issue is through the Custom TouchTool-White. This enables you to operate a variety of different machines/items without having to physically come in contact with it. You can also apply your logo via screen printing.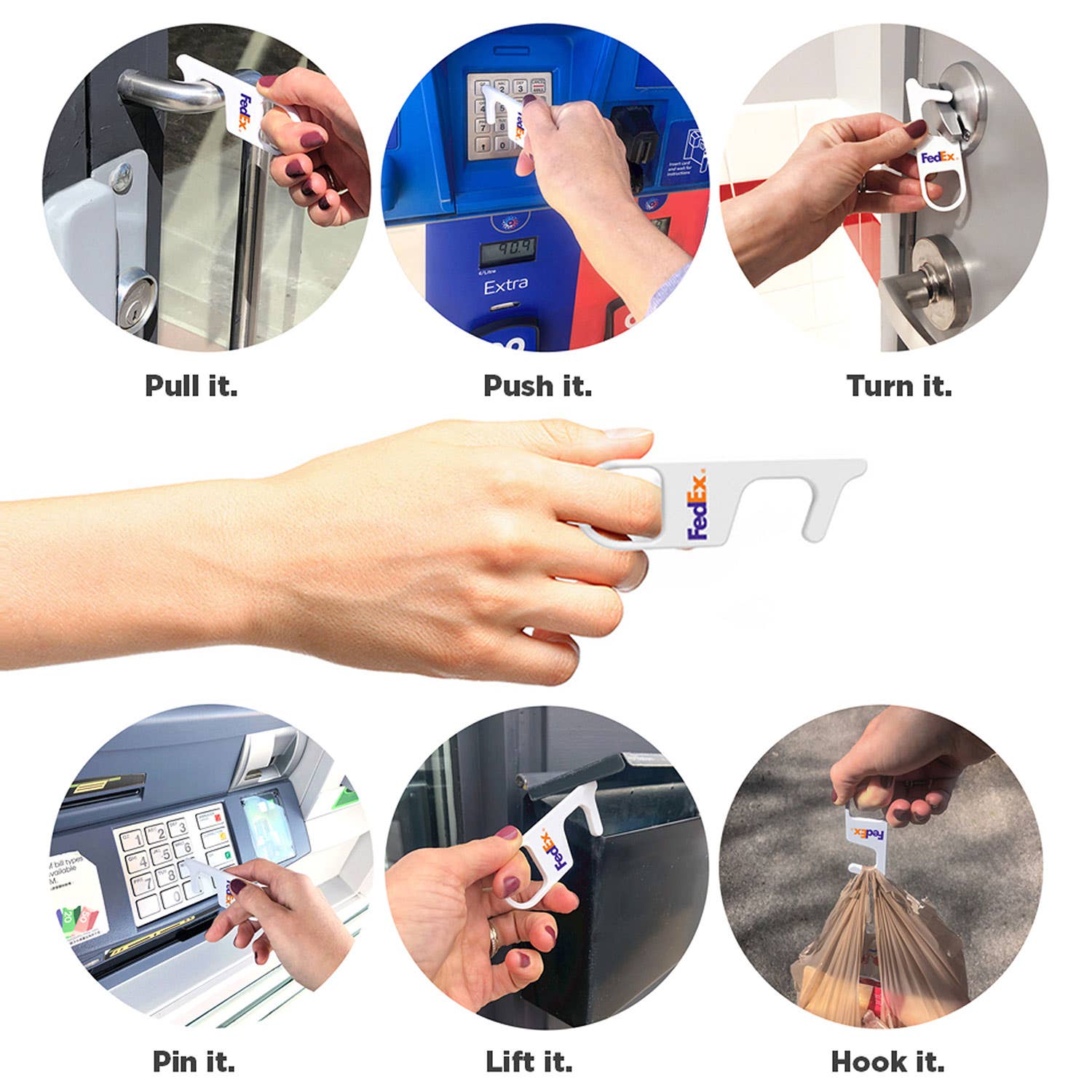 Equally important is making sure that lines and crowds are seperated. Our 24″W x 24″H – Workplace Table Top Shield with Antimicrobial Base – 1/4″ Polycarbonate provides a physical barrier in place for things like front desks while still allowing conversation.
In addition, when we talk about PPE for hotels, it's important to remember that a lot of the practices being introduced are going to be new for your staff. Mistakes need to be avoided, but refreshers may be necessary. To this end, we offer the COVID-19 Coronavirus Prevention Custom Utility Sign 5.5"x 8.5" Vinyl Sticker. This shows key information on how your staff can cut down on potential COVID-19 spread. You also have the ability to brand these by using full-color printing to apply your logo. Our 12" Circle 6ft Apart Floor Decals will remind customers of the rules, also.
There's a lot of uncertainty moving ahead when it comes to the hospitality industry in general, hotels and resorts included. However, one thing we do know is that PPE for hotels is going to be essential both for safety compliance and consumer confidence.
You want to make sure you have a stockpile large enough to go above and beyond to keep your guests safe. At the same time, you also want to make sure this PPE is customized so your customers are aware that your establishment has their safety at top of mind. At iPromo, we understand the difficult balancing act that these businesses need to walk, and are happy to help with our wide selection of custom PPE for hotels.