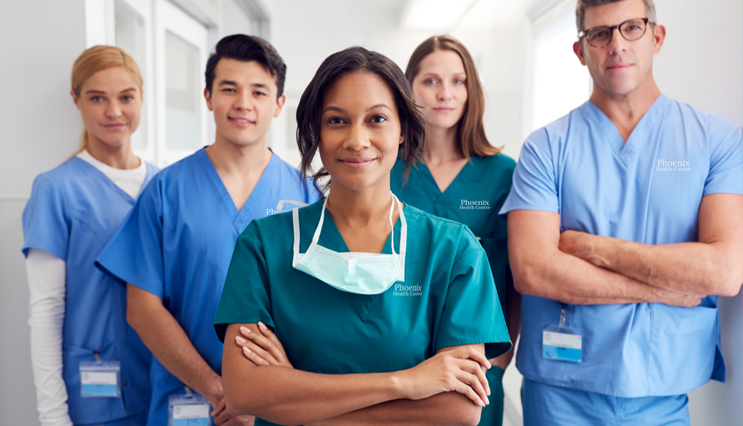 Ultimate Guide to Ordering Custom Scrubs With Your Logo
When a patient enters a medical facility like a hospital, dentist's office, or vet clinic, seeing employees in the same uniform is reassuring and promotes a feeling of competence, trust, and security. Medical nursing scrubs, including caps, are the go-to option for modern healthcare and medical uniform.
For many healthcare professionals and medical experts, such as nurses, scrubs are a lifestyle. They are part of the official uniform and are always worn in the workplace. However, what if you had another option? What if you could get custom scrubs with logos made from sustainable fabrics?
Perhaps, even better yet, what if these scrubs were stylish, attractive, and comfortable? If this is appealing for your team, we will provide insights into designing scrubs with your logo and explore some of the benefits of investing in customized medical scrubs in bulk with your logo.
What are Custom Scrubs with a Logo?
Customized scrubs with logos are medical uniforms that can be personalized and tailored with your organization's logo, name, or design. These custom scrubs are made to order, and you can customize them with embroidery to add your logo, name, or any other design element to the uniform.
As custom medical and healthcare scrubs can feature the logo, color scheme, or other design elements of your clinic or healthcare organization, they can help create a sense of unity, establishing a distinctive visual identity.
For instance, the Barco® Grey's Anatomy™ Stretch Murphy Scrub Top for men is a V-neck style with short sleeves. It is designed with spandex stretch material and features antimicrobial fabric properties, ensuring a comfortable and hygienic workwear option.
Custom scrubs with logos and names are an excellent way to create a professional and cohesive look for your organization, whether it is a hospital, vet clinic, medical clinic, or any other healthcare facility. This can help your patients easily identify and remember your organization, which can be particularly valuable and important in large healthcare systems and hospitals.
They provide elements not only promote a professional and cohesive appearance but also help reinforce a brand's identity and boost brand recognition.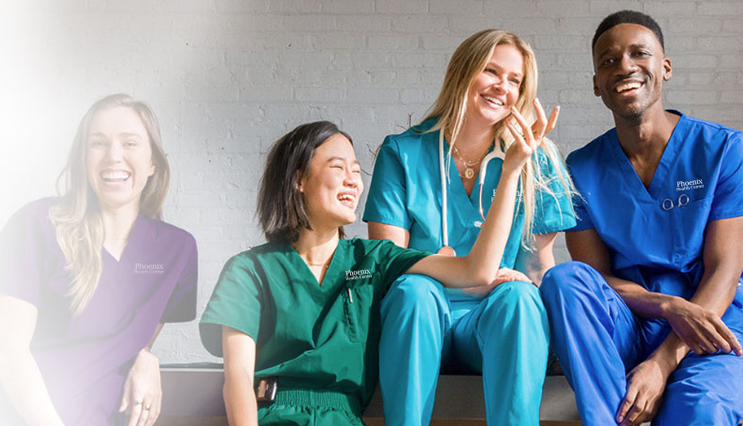 Designing Custom Scrubs with Logos
Let's walk you through the steps of designing custom scrubs with logos for your healthcare organization, from selecting the right garments to choosing the perfect design.
The perfect scrub for medical and healthcare uniforms should be:
Easy: Simple to source and buy, readily available, simple to customize
Convenient: Comes with multiple pockets that are handy and convenient for work
Professional: Matching scrub set with scrub top and pants, and coordinated team scrubs
Choose Your Garments
Custom scrubs come in various styles, colors, and sizes in order to fit the unique needs and preferences of your healthcare facility or the wearer.
The first and most important step is to decide on the type of scrubs you need. When choosing scrubs, you should consider the needs of your medical team, like the level of comfort, breathability, and range of motion required for their daily tasks.
Select Your Logo
After deciding on the type of material you need, you should choose the logo that will represent your healthcare brand and/or specific department.
You should consider the font, colors, and overall style of your logo to make sure it stands out on the specific color of scrubs.
Decide on Placement
This is another important thing to keep in mind. The placement of your logo on the scrubs is vital for visibility and brand recognition, and you cannot overlook it. Some common locations for logo and name include the chest or sleeve of the scrub top, the side or front of the scrub cap, and the waistband or leg of the scrub pants.
You should consider the logo size and its placement on the garment to ensure it is visible from a distance.
Choose the Fabric
The fabric of your customized scrubs with logos can impact their overall feel and look. It is best to consider the level of comfort, breathability, and durability required for your medical team's daily tasks. Some options include:
Cotton
Polyester, and
Blends of both.
Did you know that using sustainable fabrics in customized medical scrubs has become more common? This is because consumers and healthcare organizations, such as hospitals, seek to reduce their environmental impact.
It is worth noting that sustainable fabrics are made from materials that are biodegradable, renewable, or produced with energy-efficient and environmentally friendly processes. Some common examples of sustainable fabrics that can be used to make customized medical scrubs with logos include:
Organic cotton
Bamboo
Recycled polyester
Some special fabrics are also designed to wick away moisture or repel stains, which can be beneficial and valuable in a healthcare environment.
Decide on Colors
The color of the custom scrubs can also impact their overall look and feel. The medical industry relies on blue as a primary provider more than any other industry. You may be surprised to know that blue appears in more than 85% of all logos. Note that this color choice makes a lot of sense when you consider what people associate with the color blue: tranquility, knowledge, security, reliability, and trust.
In the stress-laden environment of modern healthcare, where both finances and well-being are vulnerable, blue is among the best way to show your competence. Other popular choices include green and white.
You should consider the colors of your logo and any current branding guidelines and marketing literature when selecting colors for the garments. Also, you may want to consider the color coding of your healthcare facility or nursing department to ensure your team's scrubs fit in seamlessly and align with your message.
Customize Your Scrubs
After making all the necessary decisions, it is time to customize your scrubs. It is best to work with a reliable company that specializes in custom scrubs with logos to ensure high-quality embroidery of your logo.
iPromo is a leading provider of premium custom scrubs and uniforms with logos, and you can buy scrubs with ease and peace of mind. The company supplies different styles of scrubs and lab coats with logos to suit your needs, departments, and professional specialties.
You can also include additional customization, such as titles, names, or department logos for each team member.
Three Ways to Customize Your Scrubs
Customization in bulk is the ideal and affordable way to personalize medical scrubs for your hospital, clinic, medical practice, or healthcare service employees. Here are some ways to personalize and brand your medical scrubs:
Custom Logo
Embroidery is the standard and best decoration method for scrubs
Custom Color
By team
By specialism or department
Adding color accents
Custom Design
Custom-fit, such as contoured fit with princess seams
Add-ons: cargo pocket and chest pocket
Varied style: round neck, v-neck, single-breasted, etc
How can Custom Logo Scrubs Support Your Organization and Work
If you believe that scrubs are simply uniforms for doctors, nurses, and other healthcare workers to wear to work, you'll be pleasantly surprised to know that customized logo-embroidered scrubs can bring several benefits. There are many benefits and advantages to using custom scrubs with logos and names for your organization.
These scrubs greatly facilitate the work of health workers, like being simple to identify, creating a connection, improving mental health, and looking more attractive.
Professional Image
Custom scrubs and caps with logos create a professional and unified appearance for your healthcare team. This is important as it can help instill confidence in patients and clients.
Simple to Recognize
When peers in the same hospital, medical clinic, or medical center wear customized embroidered scrubs, the healthcare staff in your clinic will stand out from the staff that works in other clinics.
Team Cohesion
Custom scrubs with logos can help create a sense of team cohesion and identity among your medical staff, improving morale and fostering a positive work environment.
Good for Patient Mental Health and Anxiety
Many research studies have demonstrated that colors, images, and textures have a considerable impact on human psychology. So, scrubs with logos not only look more professional, they can help patients feel more comfortable, confident, optimistic, and less anxious.
Improved Hygiene
Custom scrubs with logos can be designed with high-quality, antimicrobial fabric. This can help reduce the spread of infection and diseases and improve overall hygiene in your clinic or healthcare facility.
Recognition
When your team wears customized scrubs, patients will quickly recognize them in case they need urgent medical help.
Conclusion
It has become standard among medical professionals in leading hospitals and clinics to wear scrubs that are customized for their departments. You have many different ways to make your scrubs and lab coats more attractive and beautiful. For instance, you can embroider logos and images on your scrubs.
If you are looking to find the perfect custom scrubs to add with your logo, and branded products, iPromo offers a wide range of customized scrubs and promotional merchandise and products to suit any type of business or brand identity.
Find all types of scrubs and caps that best fit your particular niche of the healthcare industry, and then add logos and custom printing to these scrubs. Regardless of how small or big your healthcare organization is, iPromo offers top-class customized scrubs and other products with top-notch service. Contact us to get started!