Branded Wine Accessories For Wineries, Parties, and Weddings
From branded wine stoppers & openers to promotional corkscrews for your next event, we curated the best personalized wine accessories for you to choose from. Did you wine accessory gifts are kept for an average of 3 years?
All the Best Wine Logo Gear for Weddings and Parties
When it comes to the branded wine accessories that you need to make your next big event, wine show or promotional giveaway a roaring success, we have everything that you need to really get the party started. Here are some of our top picks to help get you inspired.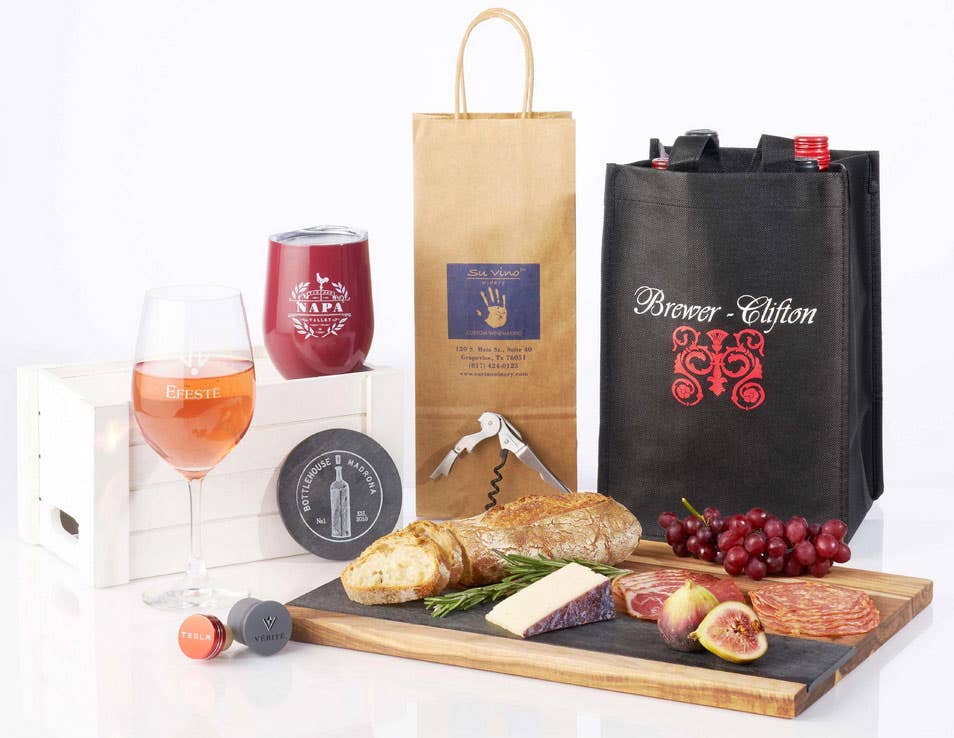 The Wine Drinkware That Everybody Wants to Get Their Hands-On
Every great bottle of wine needs a vessel, and this is why you can't go wrong with wine glasses and drinkware. The good news is that when it comes to getting your name out there, we have all the portable wine glasses, stemless drinkware and flutes that you really need to really rock the party.
For instance, everybody will be toasting to classic picks like these gorgeous 8 oz Champagne Flutes of Soirée Tritan Wine Glasses, not to mention more modern ware like these 15 oz Perfection Stemless Wine Glasses. After all, etched stemless wine glasses are all the rage these days, and these elegantly embellished 18 Oz. Florence Stemless Wine Cups are a great way to set off a celebration in style. Meanwhile, these 16 oz PET Wine Cups are the perfect fun-colored way to jazz up and outdoor events or tasting.
However, when it comes to really nailing it with drinks and giveaways, why not give the type of portable drinkware that your clients and employees can show off all over town? These eye-catching 12 Oz. Vinay Stemless Wine Glasses are perfect for office parties and outdoor campfire gatherings alike and are the type of thing that everybody loves to have on hand. Meanwhile, this BPA-free Aviana™ Vine Double Wall Stainless Wine Tumbler will always keep wine at the perfect temperature rain or shine with sweat-proof vacuum-insulated technology and high-grade stainless steel design.
Be sure not to sleep on the rest of our amazing selection of etched stemless wine glasses either!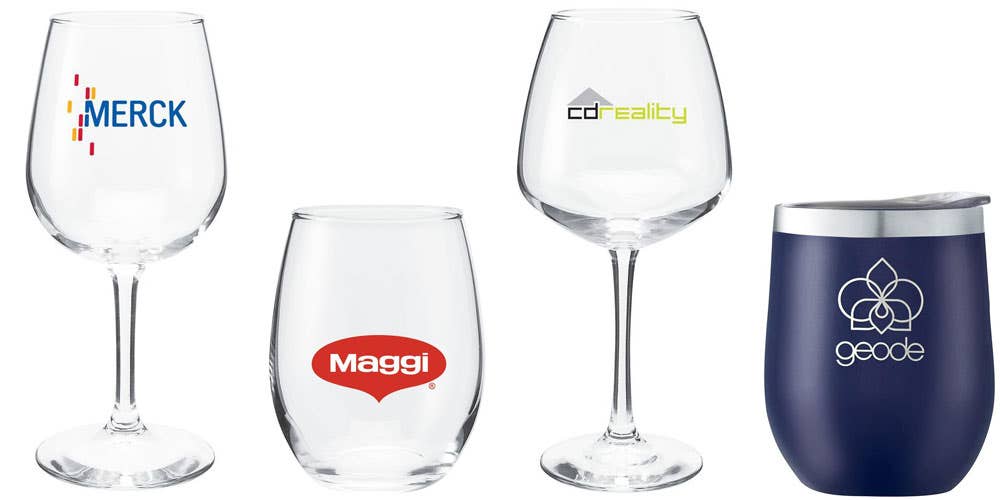 ---
Stunning Custom Decanters to Leave a Lasting Impression
When it comes to the type of corporate or employee appreciation gift that people are going to love to show off, a stunning branded wine decanter is a surefire win.
After all, more people site quality than any other popular attribute as their reason for keeping a promotional product, so this type of stunning branded swag is the type of investment that is bound to pay off, not only in terms of loyalty but through endless exposure over the years. This is the type of gift that people who appreciate good wine are not going to take lightly, and when people receive this type of thoughtful and timeless product that really shows you care, they will naturally want to give back.
Take, for example, this chic glass hourglass decanter. Your customized etched imprint is sublimely offset by this show-stealing centerpiece that is sure to turn heads and really get people talking. You can choose to offset your logo or design and eye-catching precision selection of black, bright gold, classic gold, silver and white, and with a minimum-order quantity of only one item, you are free to order as many or as little of this handsome product as you would like to suit the occasion. Or, for those who really want to steal the show, this sublime u-shaped decanter is the way to do it.
For those who are on a tighter budget, this super practical Acrylic Wine Decanter with Stand is a perfect pick. It comes with an elegant black stand so that it can be displayed when not in use. You only need to order one item in order to qualify, and your stylized precision screen printed logo will be printed front and center for the whole crowd to admire.
Not only do these sleek decanters make for a gorgeous mantlepiece that will drum up plenty of positive exposure when they become the stunning centerpiece of parties and gatherings, but they will also ensure that your product is always tasting its best. Talk about a win-win situation!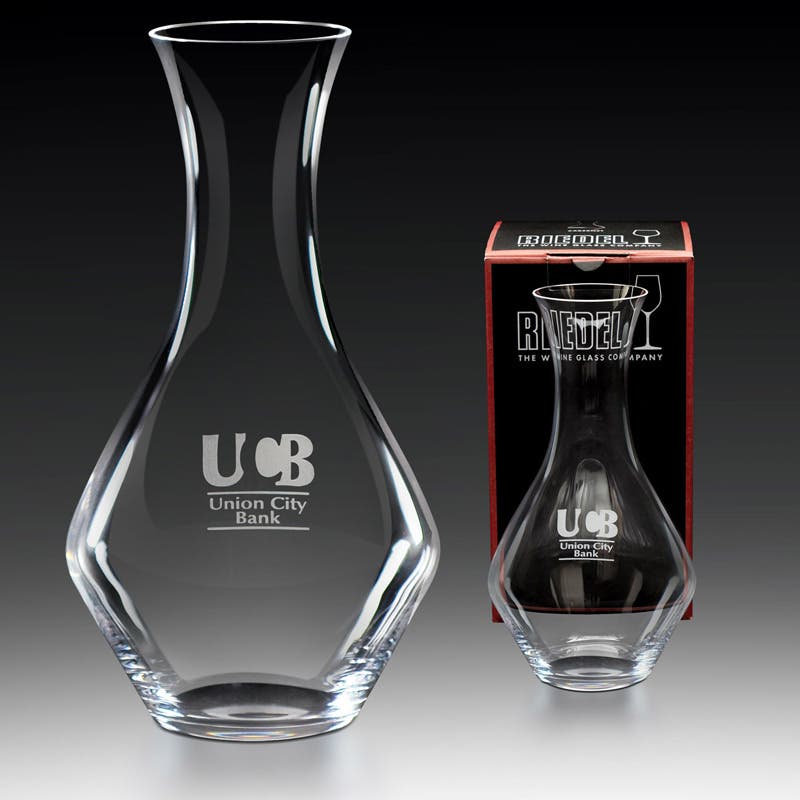 ---
Eye-Catching Wine Stoppers to Take the Party to Go
Want to take that party on the fly? These stunning portable wine stoppers will make sure a corked bottle never goes to waste and can be easily taken to go without having to worry about spillage. These are the type of super practical branded wine accessories that people just love receiving, and when paired with super affordable price points, everybody wins!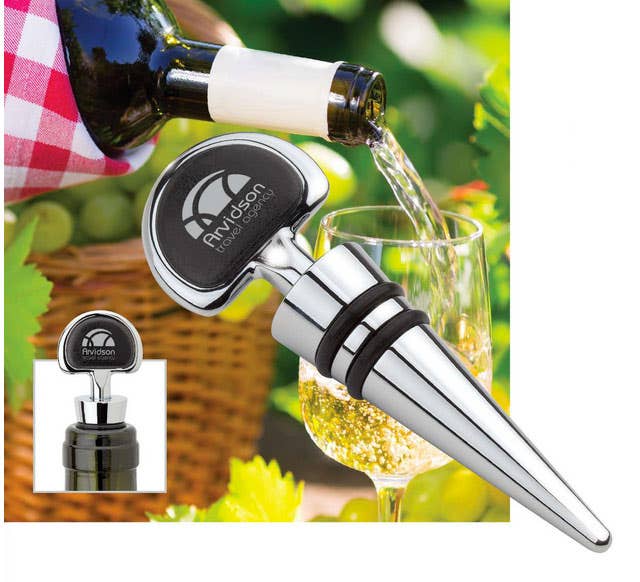 Check out, for instance, this elegant Basilia Bottle Stopper that features your stunning screen printed logo front and center on an understated leatherette inlay. Meanwhile, these Chic Portable Wine Stoppers create an easy-release self-locking vacuum seal that means that you can easily take that bottle to go without having to worry about spills or leaks. The fact that these products are so handy and portable means that your clients will be sure to have them on hand wherever they go.
For those who want to add a splash of color, don't miss these fun Bonito Silicone Stoppers or Silicone Wine Bottle Stoppers. They come in at a super affordable price point and make for a fantastic giveaway item that everybody will be lining up to snatch. Meanwhile, for those who want to class it up with a more upscale offering, this 3D Crystal Circle Bottle Stopper is the best way to really turn heads.
However, when it comes to hitting all the bases, this Pica Bottle Opener / Wine Stopper is a real winner, combining a wine stopper and bottle opener into one compact and cool package. This type of highly portable, multi-purpose item is right on trend for 2020, and with a super affordable price to boot, there is no reason not to stock up!
---
Our Growing Love Affair With Small Wineries
Wine isn't just for Europeans anymore. Small wineries are popping up by the hundreds in North America in recent years, particularly in the states and provinces that border the Midwest coastline.
While it is fantastic to see the marketplace finally opening up, North American winemakers have a lot more competition than they used to, and thus, small winery marketing is essential to get your name out there and set your brand apart.
That said, when it comes to popular advertising mediums, a lot of formats don't exactly stack up when it comes to small winery marketing. With limited staff, resources, and finances available, it can be a real challenge to find ways to really get the word out there, whether advertising events, tasting or just wanting to get your name on everybody's lips.
No need to sweat it, though. Promotional product advertising is the perfect solution to drive the most successful small winery marketing campaigns. Indeed, recent research by the Advertising Specialty Institute has found that branded product advertising is 2.5 times more likely to actually generate a positive impression of your product when compared to other popular mediums like internet advertising, but people who receive personalized branded merchandise boost almost total recall when it comes to remembering an advertiser who gave them a custom product.
This is great news for anybody struggling to get their name on the map, and an amazing selection of branded wine accessories out there means it easy to make the type of impression that people will actually appreciate while still being able to keep it classy. The thing is that when it comes to small winery marketing, it is all about knowing your audience, and our branded wine accessories are designed with the wine drinker in mind.
So, what's the big takeaway here? Our amazing selection of branded wine accessories is the best way to get your name on everybody's lips. Meanwhile, for those of you who are wondering where to start, we are going to walk you through some of the hottest pairings that you really need to make your small winery marketing campaign a big success.
---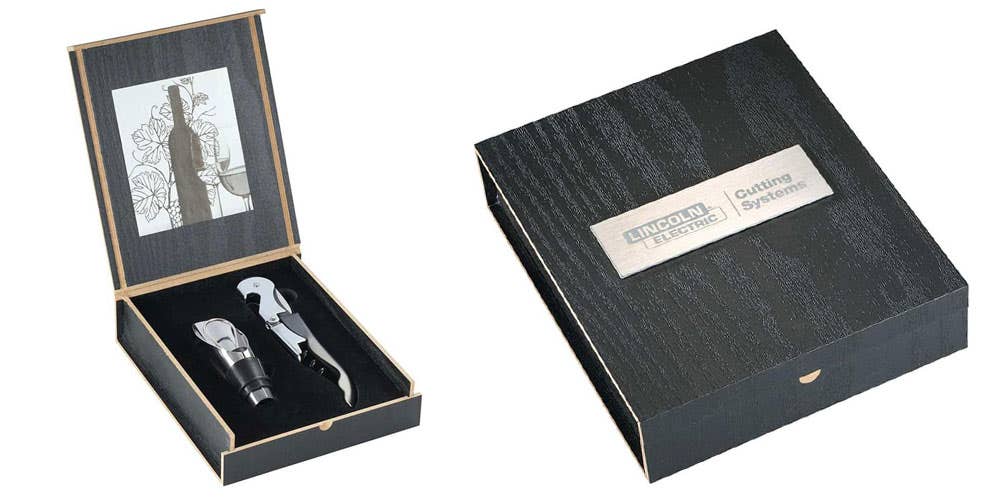 Sleek Wine Accessories are the Gift That Keeps on Giving
Want to really give your clients the full package? These indispensable accessories and combos are the type of winning gifts that everybody wants to score.
For instance, check out this refined Belgio 2-Piece Wine Opener and Wine Pourer Ensemble. With a stainless steel waiter corkscrew and a sleek bottle pourer/stopper combination all served up in a stylish contemporary package, the only thing missing is the wine! Meanwhile, this understated 4 Piece Bamboo Wine Gift Set is the perfect companion to any party.
Of course, don't miss out on this Belgio Insulated Double Wine Tote to carry everything you need for a fun night out with ease or products like this Executive Napa Wine Case that will ensure your small winery marketing campaign really takes center stage.
Ready to Raise a Glass?
If you are ready to make a splash at your next tasting, promotional event or giveaway, you have come to the right place. We have everything you need to set your small winery marketing campaign off in style, not to mention all the easy online uploading tools to make customizing your perfect etched stemless wine glasses or branded wine accessories a breeze, so let's get this party started today!