Best Healthcare Promotional Items & Ideas For Medical Giveaways
Health industry appreciation gifts and swag are the true secret ingredient when it comes to building a strong healthcare marketing strategy for conferences, events, or product education.
Here's Why Branded Medical Products are Healthcare Marketing Must-Haves
When it comes to creating the type of healthcare marketing strategy that is a cut above the rest, branded medical products are the secret weapon that every planner needs to have on their side.
Here's why.
First and foremost, promotional products are hands-down the most effective and affordable way to leave the type of positive impression that people will really remember. Building a successful advertising strategy is already tough enough, but when it comes to healthcare marketing, it can be especially difficult to get people to pay attention.
This is why medical promotional products are such a smart way to fuel your campaign, whether you are doing healthcare marketing for conferences, promoting a new product or service or just wanting to spread the right kind of message.
The thing is that, unlike most other popular advertising formats, branded promotional products are the type of thing that people actually like and appreciate receiving. Meanwhile, the fact that they are tangible and concrete and can be put to good use time and time again not only means that your cause will drum up tons of positive impressions as these products make the rounds, but also your branded logo or campaign name will always be on people's lips.
Not only that, but when people receive something that they enjoy owning, they are likewise going to feel naturally inclined to want to return the favor. This means that branded medical products are not only a great way to generate positive impressions that really make the right type of impact, but they will also work to generate long-term loyalty as well. In other words, there is really no way to go wrong.
How to Find the Type of Branded Medical Products That Really Hit the Mark
So, where are some good places to start when it comes to selecting the best type of branded medical products that will really ensure that your healthcare marketing strategy stands out from the crowd?
Well, as evidenced above, any type of popular promotional product is always a great way to win over fans, but with our amazing selection of branded medical products, there is really no reason to think outside the box.
These nifty products are designed with people's best interests in mind and will not only promote better health practices that will intuitively remind employees and clients of your practice, but also are incredibly handy to have around.
Essentially, we have all the branded medical products that people really want to get their hands on, so read on to learn about some of the top medical giveaway ideas that will really steal the show.
Looking for the Best Medical Giveaway Ideas?
Want to ensure that your next healthcare marketing campaign gets off to a healthy start? These are some of the best medical giveaway ideas to make it happen!
Put Your Best Foot Forward with Branded Dental Swag, Sunscreen, and Lip Care
As many health practitioners are already well aware, health isn't just about what's on the inside. Maintaining good care practices for the skin, lips and mouth are essential to holistic health as well.
These Tooth Shaped Dental Floss Keychains are as convenient and portable and the cute design will be sure to turn lots of heads while everybody will appreciate receiving them. Meanwhile, multipurpose items like this SPF30 Sunscreen Lotion With Carabiner and SPF15 Lip Balm really do double duty when it comes to covering lip and skin care needs on the fly. Still not convinced? These EOS Lip Balms in five eye-catching color picks are the type of popular products that people really love to receive.
For those who want to really hit all the bases, this Premium Travel Kit Cotton Zip Tote with Carabiner is a great bet. The eye-catching clip-on zip pack comes in your choice of four fun color accents with everything your clients need to take their health and hygiene on the go including toothpaste, dental floss, a folding toothbrush, a pain reliever, a hand sanitizer, a sewing kit, bandages, antiseptic towelettes and triple antibiotic ointment with customizable options available.
---
Keep Germs at Bay with a Great Selection Custom Hand Wipes, Tissues, and Sanitizers
One of the best ways to keep oneself and others in good health is to have the tools to keep harmful germs, bacteria, and viruses at bay. This is especially vital in crowded public spaces where adequate handwashing facilities aren't always available.
This also means that custom hand sanitizers like this cute and portable 1oz Color Pop Hand Sanitizer are always a surefire way to drum up support, all for a very affordable price point to boot. Wet hand wipes are yet another type of swag that will almost always come in 'handy,' and these Mini Canister Anti-Bacterial Wipes in your choice of five fun color picks are as charming as they are practical.
Speaking of another great thing to have at hand, how about tissues? Cold season or not, anybody will appreciate receiving this nifty Tissue Packet that they can easily take on the fly. Or for the type of creative swag that will really get people talking, don't miss out on these car-friendly Tissue Cups available in your choice of full-color printed design.
---
Take a Load Off With Promotional Relaxation Swag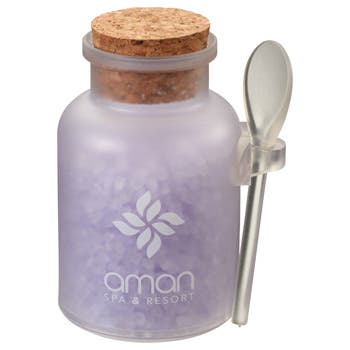 Healthy stress-management practices are vital components when it comes to maintaining good health and an overall sense of vitality and well-being.
That's why thoughtful gifts like hot/cold packs or scented spa bath crystals are bound to hit the mark. Of course, the classics, like this Serenity Gel Hot/Cold Pack are always a hit, but innovative products like these Natural Scented Wonder Beads for Neck and Shoulders are a great way to steal the show.
Meanwhile, convenient kits like this Plush Hot/Cold Packs Gift Set are a great way to give the gift of total body relaxation on the go.
---
Fuel Your Healthcare Marketing Strategy With Promotional Pill Case Organizers
When it comes to medical giveaway ideas, branded pill case organizers are the type of thing that people will really appreciate receiving.
Portable products made to be taken on the go like this Fill, Fold And Fly Medicine Box and this Pill Case Keychain are always a hit, and a smart way to drum up plenty of free exposure as well. However, nobody is going to say no to colorful takes on classics like this 7-Day Release Pill Box either!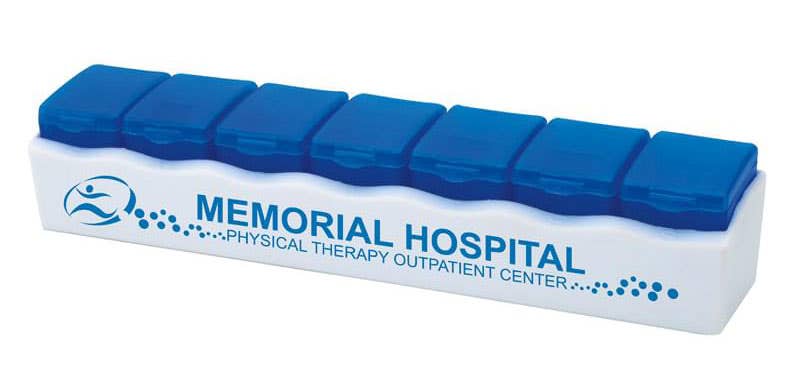 Meanwhile, this BPA-free Medicine Reminder Drink Cup does double duty by holding drinks and medicine all in one convenient color-accented container. The 7-day medicine case has marked compartments for each day of the week and is fully removable to make refilling a breeze. Talk about maximizing convenience!
Speaking of convenience, this super cute 3 In 1 Kit packs a pill sorter, hairbrush and mirror all in one amazingly small package. This one is bound to get people talking!
---
The Best Promotional Totes to Take Your Healthcare Marketing Strategy to Go
When it comes to gift packs and healthcare marketing for conferences 101, your clients and employees are going to need the perfect bag to rock all those cool branded medical products that you are giving away.
The good news is that we have all the custom totes that you need to really leave a killer impression. Of course, these stylish bags are already a major score on their own. For instance, this simple Canvas Promotional Tote is the perfect medium to get your message across, set off by no less than 31 stunning color choices to really make your logo pop.
Of course, people love receiving these types of high-quality bags because they are strong and durable enough to be used time and time again, which makes them a super sustainable pick as well. The best part is that people are actually 42% more likely to be left with a positive impression if a brand aligns itself with eco-friendly gear, so best-sellers like these eye-catching Non-Woven Zippered Tote Bags are a great way to really knock your healthcare marketing strategy out of the park.
---
Ready to Level Up Your Healthcare Marketing Strategy Today? Let's Get Started!
If there is one big thing to take away from this all, it is that no matter what type of healthcare marketing swag you are seeking, we have everything you need to up your game and ensure that you're campaign makes a healthy showing and then some.
Of course, with our handy online upload tool, ordering is really as easy as one, two, three, so don't hesitate to try it out for yourself. With just a few simple clicks of the mouse, you can have your own one-of-a-kind healthcare marketing swag designed and ready to go, and we will even be happy to send you out a free sample first, just to make sure you love it.
Don't forget that we always have plenty of rush delivery options available for anybody looking to score the best medical giveaway ideas in a hurry, and our talented team of designers just loves taking custom orders, so don't be afraid to reach out to us with your unique product ideas today. We can't wait to get started.