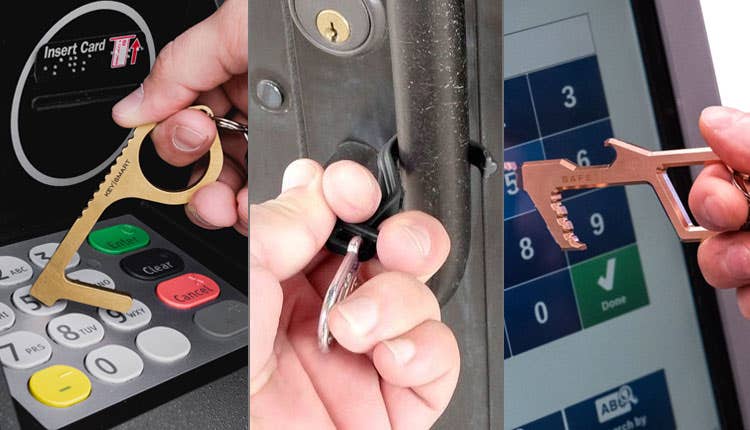 Cleankey vs Safetouch vs Kooty Key: Review of Hand Tools
COVID-19 is changing shopping behaviors on both a personal and industrial-sized scale. The fact that face masks have become a universal article in workplaces and public spaces is a key part of this. However, there are laws and mandates partially behind that. Other articles may not be required, but are steadily rising in popularity. 
Contactless hand tools are a good example of this. Barely even a novelty a year ago, more and more people are buying these products for themselves, their employees, and their customers. Not only do they offer a great amount of utility,  but some are considering treating them as a bit of a fashion statement. As of right now, there are 3 major brands in the marketplace: 
Cleankey

Safetouch

Kooty Key
Here's a closer look at their differences and why your employees and customers need one in their lives.
Why Use Contactless Hand Tools?
The basic principle behind these contactless hand tools is the fact that the droplets that contain COVID-19 viruses aren't just transferred by proximity to people not wearing a mask. These droplets  (when they fly out of someone's mouth or nose) can also sit on shared surfaces. These include:
Items on the shelf in a store

Office equipment like a copy machine

Buttons in an elevator

Stair railings

Doorknobs
This is far from an exhaustive list, as droplets can land and rest anywhere. In turn, if you touch these then touch your face without cleaning your hands, you may be exposed. However, what science has taught us is that not all surfaces are created equal when it comes to COVID-19. For example, the particles can last on steel or plastic for days, compared to surfaces like copper where it only lasts a few hours. As a result, many of these tools have specific antimicrobial formulations to make sure germs just don't end up lingering on the tools as well as your hands.
So, how exactly does this transfer to contactless tools being a great promotional item or gift? For one thing, many people may not be entirely aware of the risk of shared surfaces like a doorknob versus not wearing your mask or crowding in a space. Medical experts were alerting workspaces about the risk of transmission long before the COVID-19 outbreak. This tool gives you a chance to educate along with providing a useful gift. There's an immediate need for your workplace to lower any transmission risk, and making sure there's as little shared contact as possible can go a long way here. This is especially important if you work in an office, salon, or similar environment where lots of contact with different surfaces were once common.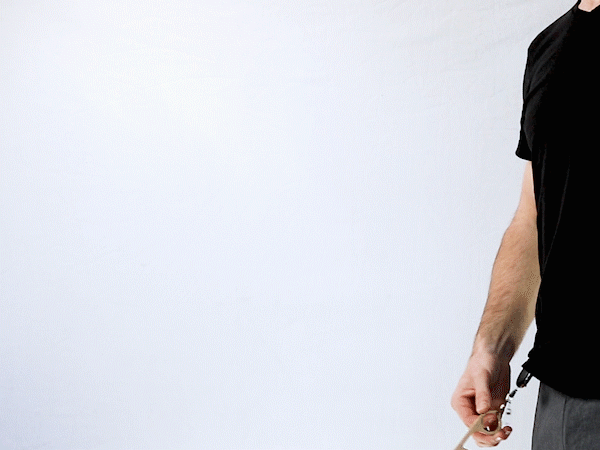 Along with this, you need to think about the long-term. Even after this pandemic subsides and a vaccine is available, you're still going to see a generation of people far more informed and concerned about germ transfer than ever before. Chances are there's going to be a natural aversion to certain activities out of fear of exposure to new diseases or common ones like the cold or flu. As a result, there's probably going to be a lot of demand for these tools for a long time. Getting ahead by providing them now not only provides an immediate benefit but helps your customers stay ahead of the curve.

The 3 Main Options Compared
Before we get into these 3 brands, we should also mention that there are some generic options available for businesses that want basic-no contact tools. A good example of this is the Custom TouchTool-White. While it may not have some of the additional functionality of the other options on the market and features of the other 3 options we are going to cover, it still does have the basic use of operating and contacting different items without you physically having to touch it. Also, as we mentioned, these items are only likely to trend upward as we move past this pandemic and people are more aware of the potential for germ transfer. Get ahead of this by branding your logo on the tool and providing it as a gift for employees or customers.
Now, with this said, we can start to talk about the three major brands.
CleanKey
The Custom CleanKey™ Antimicrobial Brass Hand Tool is one of the most popular options on the market, coming with a retractable carabiner with a customized imprint as well as a gift box. While the tool design makes it possible to operate items without contacting them, it's the material that it is made from that should be noted. The copper alloy 260 is antimicrobial and kills 99% of bacteria due to its high copper content. The carabiner also makes it easy to carry around to use during the workday, rather than having to constantly go in your pocket or purse. 
To keep with the theme of easy operation, cleaning off your Clean Key is simple. All you need to do is use a disinfecting wipe or steel wool. Note that using disinfectant won't affect the alloy, so your tool will be every bit as effective as when you first buy it. Whether you're buying it for your team or as an industry gift, you want the recipient to see your company as a conscientious organization. Get this started by applying your company logo to the tool with pad printing.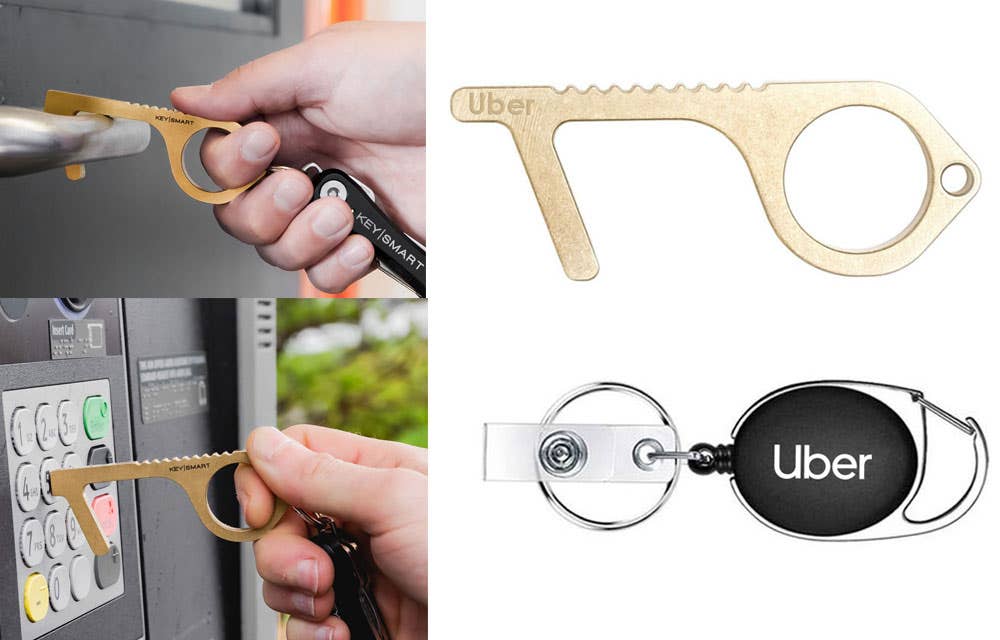 ---
Kooty Key
Like the CleanKey, the Custom Kooty Key Anti-Germ Utility Tool With Retractable Badge Holder is designed to provide minimal contact in a variety of different situations. The Key is made from an antimicrobial hardened plastic, and the signature tool is a reinforced nylon hook. Perfectly designed to open door handles, it can open a door up to 35 pounds, while still feeling lightweight as you carry it around. The rubberized tip is also perfect for typing on shared keypads like an ATM, but note that it's not a stylus. The Kooty Key also comes with a carabiner to hold on your belt or at your side, like the CleanKey. Also, it's made in the USA.
Again, it's important that you make sure that the people you give these tools to remember your brand and how it's helping to keep them safe. You can accomplish this by putting your company logo on each tool with pad printing.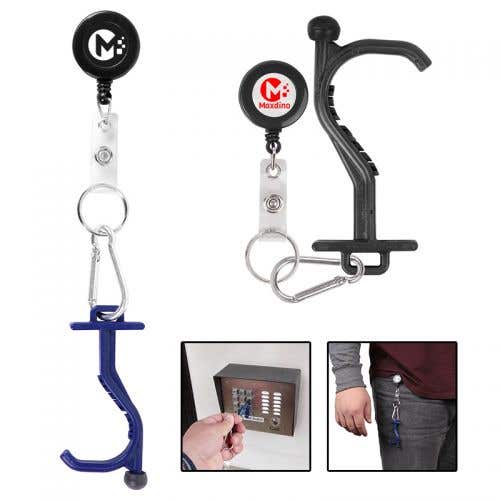 ---
SafeTouch
Lastly, we have the SafeTouch® Hygiene Multi-Tool, the only option that's not available on this list. Like the other two options, it's designed to make it easy to open doors, press buttons, and pull levers without any physical contact. It's made in the USA, derived from high-quality copper that will provide an extra antimicrobial layer. The only other additional piece of functionality is a built-in bottle opener. This can be useful in food service settings, or if you need to open a box or package in a pinch.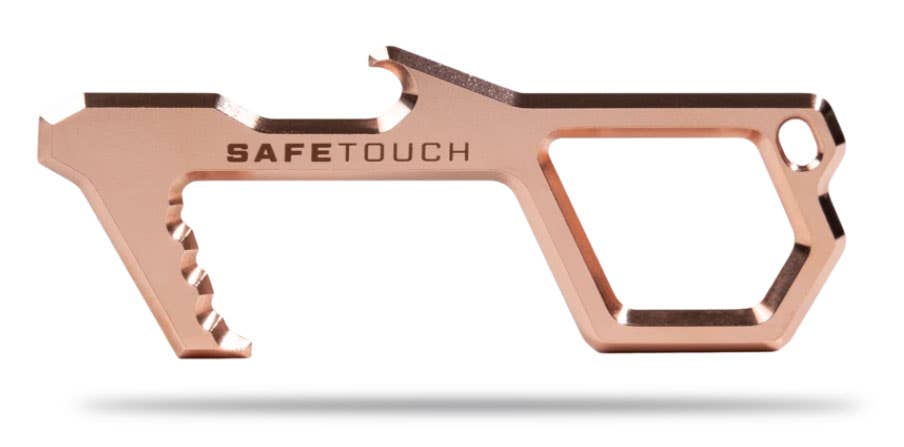 To be fair, the SafeTouch is perfectly serviceable if you are looking for a contactless tool. However, as a promotional item, it falls short of the rest. The reason, naturally, is that SafeTouch has no option for you to customize the tool with your company logo. As a result, if you give it away as a company gift, you're not going to see any brand penetration.
---
As a final note, as useful as these different tools can be, these tools are not designed to replace all the other safety measures that you take in and outside of the workplace. Using things like a mask and gloves is still recommended in any public spaces, and you want to make sure that you're stocked up on sanitizer and other cleaners at all times. One good way to get around this is looking at a kit that includes these tools, rather than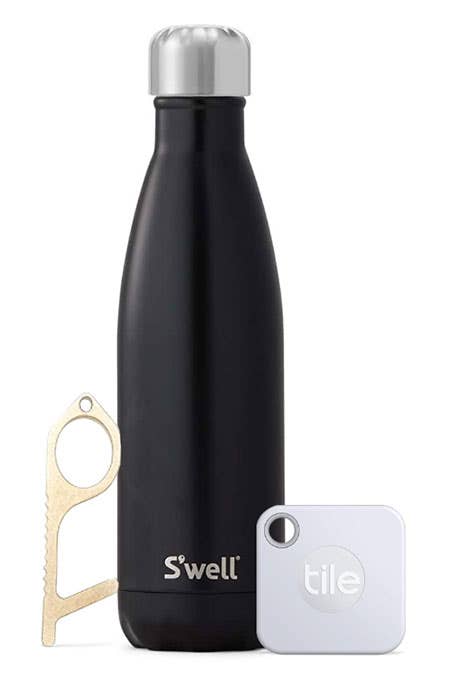 just buying the tool solo. One such example that we offer is the LUX KIT. The kit contains a CleanKey™ antimicrobial brass non-contact hand tool, along with a S'well 17 oz bottle and Tile Mate Bluetooth Tracker. Bundling the tool with other popular branded items is a great way to make it more appealing for those new to the concept of an antimicrobial tool. For an additional charge, you can also add your brand logo to each component of the kit. 
Contactless hand tools are going to be a useful item that not everyone necessarily thinks of when it comes to PPE in the workplace and other public settings. However, the sooner you use these and find the best match for you, the sooner you can reach the benefits. Our goal at iPromo is to help you find the ideal options for keeping you protected, including Clean Key and Kooty Key hand tools. Combine this with the other PPE we have available, and your team can feel safe and confident as they go back to work. In addition, you can get ahead of a trend that's likely to expand in the months to come.